Tim Millikin: Reading to Reading
The first night I pushed my bike through the heavy sand towards an abandoned building. I was pushing into the wind which howled with such ferocity over the empty plain. The wheels of the bike slowly sank into the soft sand. It was like pushing the bike through jelly. As I got close to the structure, I realised it was a train line and what looked like an abandoned station building. This must have been how they built the road, I mused before setting up my bed for the night. I made a small fire, cooked some dinner and looked up at the millions and millions of stars overhead. With nothing around me, there was no light pollution, and I could see the Milky Way above me, shining in all its beauty. There was something in the air that night. Even though I was totally alone that first night in the desert, I felt a presence with me, as if my Grandad was checking on me. I felt like he was making sure I was OK and, in his happy, go-lucky way, telling me that I was on the right track and everything was going to be alright. I would have complete silence to sleep in until around 2 a.m. when a goods train would come thundering past with lights on full beam and horn blowing for some unknown reason!
As I left that morning, I began cycling at my slow and steady pace, but my headspace was filled with a new and annoying companion. At each turn of the pedal, there would be a loud and audible click. At first, this did not bother me, but as it continued, it began to grow more and more frustrating. I tried to apply grease and oil to the pedals, but this didn't work and I realised that I must have some grit within my bottom bracket, the device which holds the cranks to the bicycle. I did not have the specialised tool with which to fix this problem, so there was nothing I could do to stop the noise. Each turn of the pedals brought its own little irritation. I even found myself stopping and shouting at my bike as if that would fix it. I solved the situation in the short term by listening to music, but I knew my batteries soon would be exhausted and I would have to endure the mild torture of the rhythmic clicking.
I was close to the plateau so the uphill cycling had become easier, and I was able to make a slightly faster pace. Although the sound of the grit inside my bearing was increasingly annoying, the sheer fact that I was going faster made my mood improve. I was not fast, but I was steady, and a steady cyclist is a happy cyclist. I was going strong until midday, where my belly started to complain of hunger. All I had to eat for lunch was plain spaghetti or plain oats, so it was not with any real excitement that I started to look for somewhere out of the wind to cook my food. When presented with a choice of two simple carbs, the joy of stopping is replaced with a feeling of resentment and disappointment. It was not long until I saw a building on the side of the road and aimed for this for my spaghetti lunch.
As I pedaled away, I felt the joy of a shared connection. It felt like happiness was radiating through my body. I had not spoken to a single person for five days and had been struggling with thoughts of self-doubt. Deep inside my chest, I felt a nagging pull to return home and be with my loved ones to grieve and reminisce. But now, as I cycled away, I was smiling. I knew I was on the right path

Tim Millikin, author
As I pulled closer, the building looked to be in better condition than I first thought, clean white walls, large windows, and even an electricity port on the outside. I immediately saw the potential to charge my phone and therefore drown out the noise my pedals were making.
As I stepped off the bike, I saw a police vehicle parked behind the building, meaning someone was in. I approached cautiously, and a young Chilean police guard came out and greeted me, asking what I wanted. He was a small man in uniform, but he did not look happy to see me, a contrast to the excited greetings from my previous meetings with the Chilean police. I told him about my bike trip, about my need for somewhere to stop for lunch and asked if I was able to charge my phone. He looked disapprovingly at me at first and told me to go. In broken Spanish, I begged for a few minutes shelter from the sun and wind, and he eventually relented, giving me a precious five minutes before he wanted me gone. I was downhearted by the experience, so I sat in the shade with my phone collecting power from the external plug socket. I was tired but happy just to sit. I wanted to try to maximise my time for rest, so I didn't bother to eat anything. I just sat there.
After five minutes, the young guard came out, his stony face set. I started to gather my bits together, but he motioned me to stay where I was, and pulled an ice-cold bottle of water out from the inside of his jacket. I grinned my thanks. He could obviously see that I was no threat at all, I was just a lonely cyclist resting in the shade of his outbuilding. We talked briefly before he told me he had to go back inside. Slowly I drank the ice-cool water and felt my body rehydrating. I had been drinking warm and tepid water for the previous six days, so this refreshed my body like nothing else. A coolness which radiated my insides with icy joy, it cooled me down instantly, and my mouth was thankful for this simple gift. I had been sitting in the shade for about 15 minutes now when the young guard came out of his air-conditioned building a third time. This time he had a smile across his face. He was holding a small bag and he offered it to me, telling me to take it. I looked down inside the bag to see a treasure trove of delicious food. He had given me what can only be his lunch: a cheese sandwich, a cereal bar, yoghurt and an apple. I protested, but he quickly shut me down telling me he is off shift in an hour and will go to the restaurant in his hometown 60 kilometres away. My spirit lifted. My mood lifted. My heart ached for the kindness of humanity, and my stomach churned in the expectant joy of varied and delicious food. Everything I had been feeling and struggling with suddenly eased as I took the first bite into the most amazing cheese sandwich I had ever eaten. Not only had my palate been starved of taste in the desert, but my soul had been starved of compassion. The loneliness, isolation and all the malicious thought processes started to lift. The young Chilean guard never knew how happy I was to sit there and eat. It was as if I was in a computer game, and my character had just received a power-up. I sat outside the house for half an hour before leaving and felt more refreshed and energised than when I first started cycling in South America. I knocked on his door and thanked the young man with all my heart, he gave me another bottle of water and wished me luck.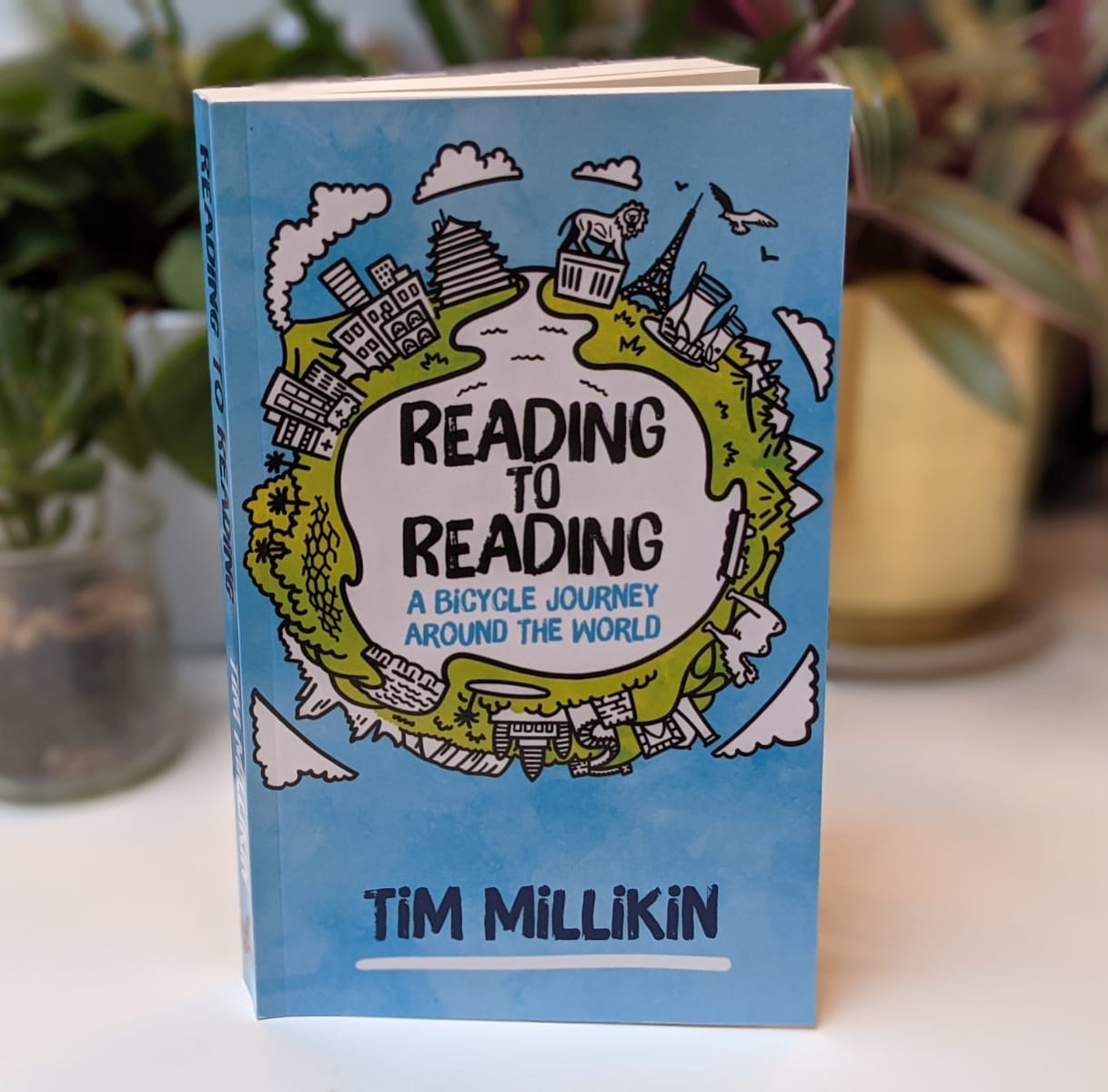 As I pedalled away, I felt the joy of a shared connection. It felt like happiness was radiating through my body. I had not spoken to a single person for five days and had been struggling with thoughts of self-doubt. Deep inside my chest, I felt a nagging pull to return home and be with my loved ones to grieve and reminisce. But now, as I cycled away, I was smiling. I knew I was on the right path. To experience pure joy, one must feel sadness first. Every time I think of that part of the trip, I think of the kindness of the young guard rather than all the times I struggled through the desert.
I put in my headphones and was able to listen to a podcast rather than the annoying noise. I knew that I could get the bike fixed the following day. I continued cycling, my eyes wandering around the majestic desert valley around me, an alien planet of rock and dust. I knew how lucky I was to be out here and to be dwarfed by everything around me.
I thought of my Grandad who did not want me to return home for his funeral. He knew I was living a life very few would ever understand. I believe he was able to understand me. He had seen the world as a young man and was one of the few from his squadron to put his name forward to serve in Malaysia at the end of the second world war. He had wanted to see the world, and so did I. I would see it for myself and think of this trip as something which would bond his memory to mine. I wanted to finish this bike ride for us both, and I was reinvigorated in my intention after experiencing the beauty of humanity served up in cheese sandwich.