Review: Stolen Goat Climb and Conquer winter cycling jacket
Climb and Conquer – it's a strong name for a hardy jacket, which first made an appearance in 2014. This new women's version has a strong new look, too.
With female cyclists still crying out for more choice when it comes to design, this 'mash-up' of coloured stripes is certainly head turning, and probably the reason why the popular sizes sold out as soon as it was released – more have been ordered.
I got my hands on a medium in the nick of time – just before Storm Diana lashed the country in late November 2018. "Inland gusts of 50mph and persistent heavy rain" looked like the perfect first test for a jacket that promises to "keep you warm and dry in the harshest conditions". So I set off for a reasonable 25-mile loop.
Fit and function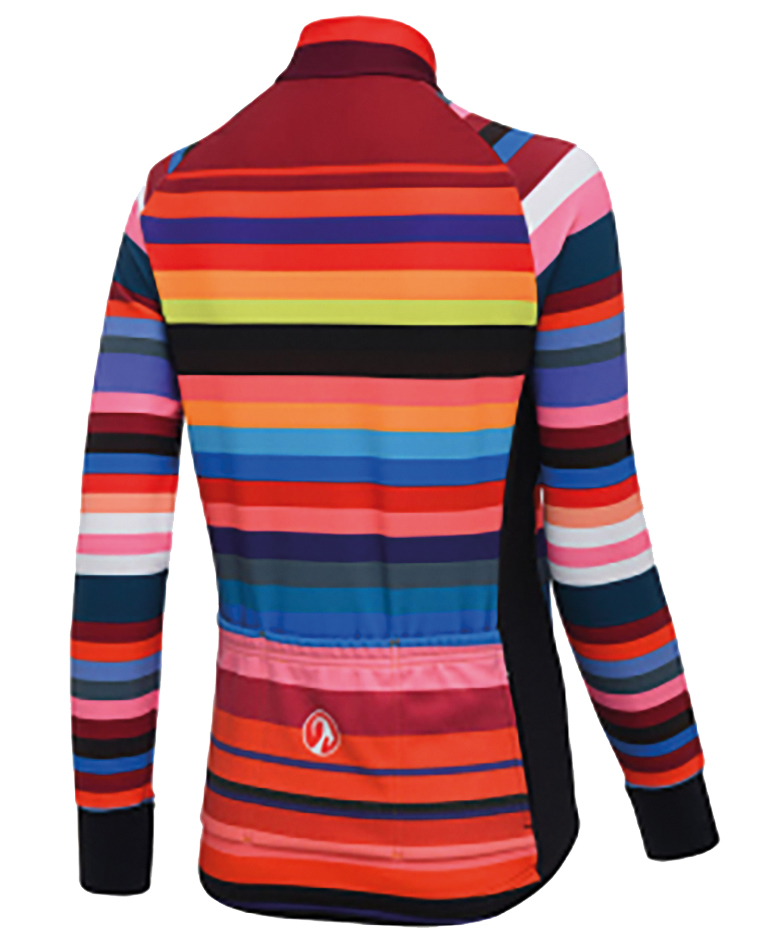 With swimmer's shoulders and a long body, the fit wasn't perfect for me. The sloping-shoulder cut of the jacket is better suited to a more delicate frame, and it bunched at the back of my neck and around my waist. However, the arms were just right, and the soft cut of the stretchy cuff fabric perfectly hugged my wrists and was a breeze to tuck gloves under.
Despite the storm, the temperature was hovering at a mildish 9°C, so I opted for a short-sleeve base layer underneath. Although the jacket is made from 'Tempest Protect' waterproof fabric, the seams and zips aren't sealed. It offers excellent breathability. I arrived home overly warm (the jacket is recommended for wear in sub 8°C temperatures), but with a bone-dry top and phone.
That day, the jacket fended off the rain and the wind and everything else Mother Nature threw at me, while the brushed cream-coloured lining was soft on my arms. After another few weeks of riding and a few washes, the performance was still excellent. And to this day it smells unusually fresh.
For commutes home in the cold and the dark (the price of this jacket means I wouldn't just save it for best), I upgraded to a long-sleeve base layer and was still toasty in almost-freezing temperatures. The back pockets, made reflective with 'pixelated fabric', helped to keep me seen, although, for long A-roads with fast traffic, I would prefer some brighter-coloured stripes in the mash-up.
Tech spec
Sizes: XS-XXXL
Women's specific fit
Water repellent and windproof fabric
Water-resistant fourth pocket
Temperatures: -5 to 8°
Pros & cons
+ Effective UK weather protection
+ Stylish design
- Suits a lean build best
Verdict
A warm and weatherproof winter jacket for women in an interesting – and top-selling – design. The cut suits leaner frames better than a swimmer's build.
First published in Cycle magazine, February/March 2019 issue. All information correct at time of publishing.