Great Rides: The Hebridean Way
With our heads still buzzing from what we had achieved, I felt the need to put down on paper our great adventure, just in case it had all been a fanciful dream. In early June, my husband Phil and I cycled the length of the Outer Hebrides on the Hebridean Way, and I needed to keep saying it to believe it. Ten islands. Six causeways. Two ferries. 297km.
We'd just retired when Covid hit and we were straight into lockdown. So, back in March 2020, we dusted down our bikes for our allotted 'one hour of exercise' to cycle around our local area. Over the weeks and months our one-hour loops took less and less time and we increased our distances.
We explored the local lanes accessible from home and quickly realised we did not really know where we had lived for the last 25 years. Quiet roads, unexplored local lanes, great cafés. Bliss.
We'd purchased Tour de Fer touring bikes in 2018 with a view to going on some multi-day adventures but had hardly used them. Now bitten by the cycling bug, we invested in padded shorts, chamois cream, paniers, a lightweight tent and more.
Camping out
As time went by, we started feeling fitter and more confident on our bikes, and in August 2020 we faced our fears and cycled to Andover. We camped for two nights, allowing us to test our kit and explore the Test Valley and the Wiltshire Wallops.
Summer 2021 saw us attempt King Alfred's Way, but we quickly realised that we and our bikes were not up to it. We started from Reading, fought our way through the sandy Surrey Hills, struggled up the Devil's Punchbowl and were too exhausted to continue – luckily Storm Evert arrived, and we 'had to' cut short our attempt.
So, what to do? A brief conversation with a newbie cycling friend over dinner In March this year ended up with the three of us, all in our early 60s, committing to cycle the length of the Outer Hebrides in the first week of June. We spent a busy few weeks researching the Outer Hebrides, booking ferries and campsites and loading the route onto our 'tech'.
Then, before we knew it, we were on our way to Oban with our bikes strapped to the back of the car and our stomachs churning. Could we do this? What about the dreaded midges? The rain? The wind? Our legs? Camping for more than two consecutive nights?
With a heady mix of excitement and trepidation we simply went through the motions of our plan. We were doing this! We left our car with a friend of a friend (handy) near Oban and cycled to the Scottish Youth Hostel in Oban. A great start with a five-star location and cracking breakfast.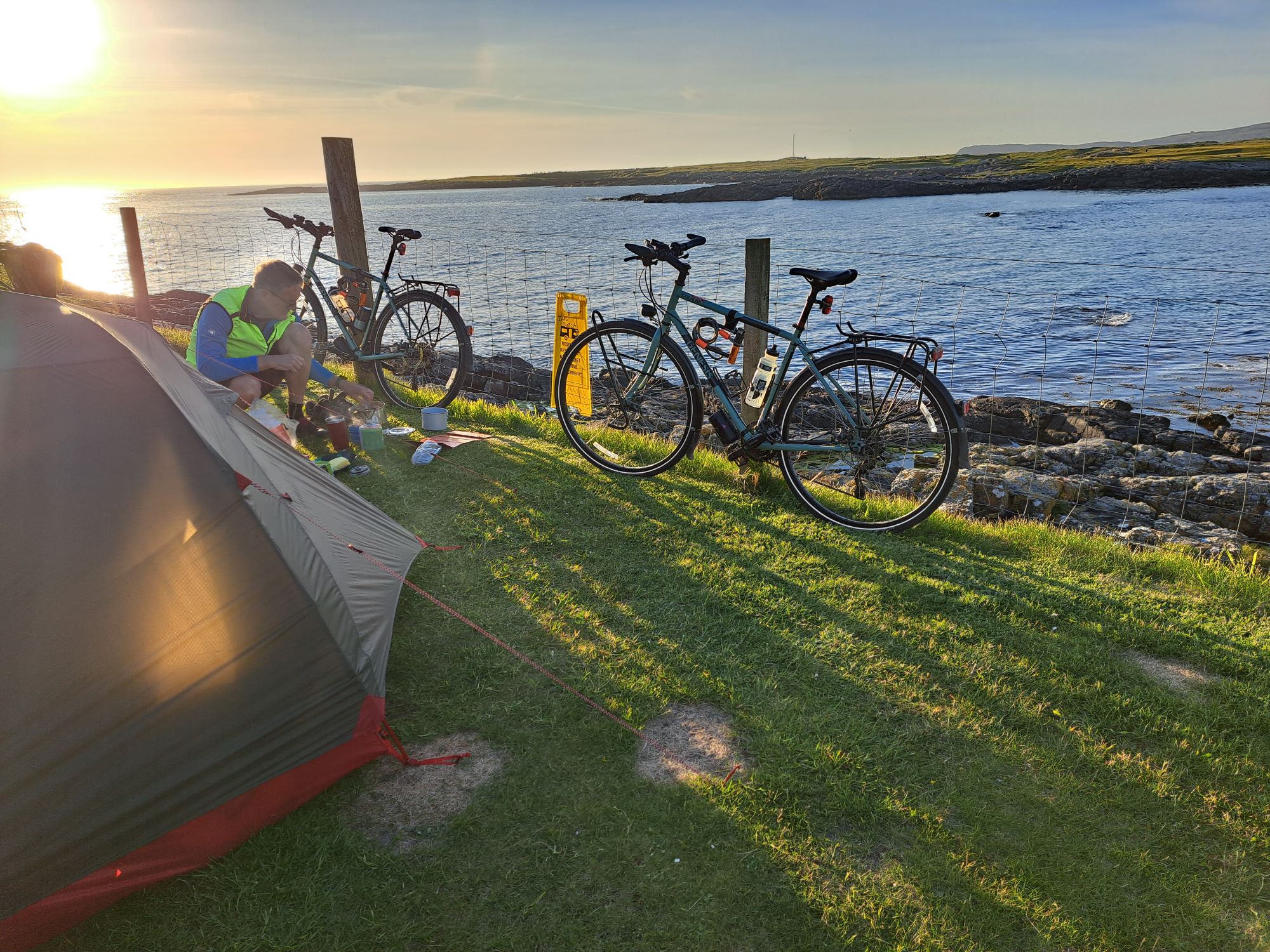 Sea crossing
The next day we took the 1.15pm CalMac ferry to Castlebay. The sun was shining, the sea was like a millpond, and we were surrounded by fellow travellers on their own adventures. After nearly five glorious hours spent trying to spot dolphins and name islands, we landed on Barra, our first Outer Hebrides Island, and the ferry 'released' all the cyclists to race up the hill from the jetty.
We decided to head south and cross our first causeway, complete with otters, to Vatersay, the first island on the Hebridean Way. We totally missed the Hebridean Way sign and cycled to the very end of the road. Not a good start with all our navigation tech!
We were already falling in love with these beautiful islands with their white beaches, turquoise seas and abundant wildflowers. A complete sensory overload. We cycled back over the causeway to camp at Borve on Barra, overlooking the Atlantic above a west-facing beach with a gentle breeze. No midges…but loud and relentless Corncrakes calling all night! And no need for a headtorch for that sprint to the toilet block in the wee hours, as we had a warm red glow in the sky.
Running on excitement and in awe of our surroundings, the next morning we cycled to Barra Airport to watch a scheduled flight land on the tidal beach, accompanied by a round of applause from all of us onlookers. We then cycled on to Armor, had delicious seafood and coffee, and caught the 40-minute ferry to our third Island, the tiny rocky Eriskay.
We met up with a few of the cyclists from our Oban ferry and as we landed, it was once again an exhilarating race up the hill from the ferry port. We cycled down to the causeway and across to South Uist, our fourth island.
Cycling by causeway
Before the causeways, travel and communication between the islands was challenging. The last of the six causeways, the Eriskay Causeway, was only completed in July 2001. The causeways, along with the ferries and bridges, have boosted the economic survival and population on the islands by enabling inter-island trade. And they're a fabulous cycling experience!
We arrived at our campsite at Kilbride short on supplies – the food shop near the ferry was closed. With the campsite café also closed, we were relieved to find the nearby Polochar Inn serving amazing seafood.
We quickly realised that there's not much around in terms of shops and places to eat. You need to be self-sufficient with food, and eat and stock up whenever you can. In addition, most places were closed on Sundays and some on Mondays too. Plus, in June we were early season. Fortunately, we had with us a camping stove, dried pasta, stir-through sauces, instant porridge and teabags.
From Kilbride we cycled up the western side of South Uist, visiting the excellent Kildonan Museum, where we checked out the café. We crossed a short causeway to Benbecula, our fifth island, and stocked up with supplies at the Creagorry Co-Op. I'd never been so excited to see a Co-Op before!
We cycled on and camped at the Otters Edge campsite, hungrily enjoying a pre-booked Sunday roast in the evening at the Dark Island Hotel. From here we scrambled over the sand dunes to walk along the wide-open beach, our long shadows trailing us in the evening sun.
Leaving the military housing and top of the hill radar station behind us at Benbecula, we cycled 35km. We crossed a short causeway to skirt the western edge of Grimsay, our sixth island, and then alongside Clachan beach resplendent with its panoramic white shells sand, and machair brimming with wildflowers and birds.
Going north
We were now on North Uist, our seventh island. We camped at Balranald on the edge of the blustery Atlantic and adjacent to a RSPB sanctuary. The further north we travelled the larger and wilder the landscape became, all blanketed by limitless blue skies.
From Balnarald we cycled to our eighth Island, another small one: Berneray. We were early for the midday ferry and enjoyed a second breakfast which segued into an early lunch at the Berneray Shop and Bistro. Delicious.
We caught the ferry to Leverburgh on Harris and cycled on to Tarbert. This was our longest day so far, with a 33km cycle to the ferry, a one-hour ferry trip and a 33-km ride to Tarbert including a steep 730m climb. Tough going with our fully laden bikes.
However, with views across to Skye and the Cuillin Mountains from the top, the climb was certainly worth it and was followed by a long downhill stretch to our hotel in Tarbert. We stayed at the Harris Hotel and once again met up with the cyclists from the Oban ferry, plus some new fellow travellers. Seems we all fancied a night in a proper bed!
The freewheel down to Tarbert the previous day came back to haunt us as we had to cycle back up out of Tarbert to reach the Harris moors. After about 15km, at Loch Seaforth, we crossed onto our 10th and final island, Lewis.
Now in open moorland and battling our first head wind, I felt like I was cycling with Kate Bush and Wuthering Heights in my head for hours. Eventually, we reached Balallan and found the most wonderful community-run Balallan Bistro. Fuelled up with a Thai curry, the last 28km to Callanish sped by.
Standing stones
And then we saw them: the spectacular standing stones. Older than Stonehenge, the Callanish Stones were most probably for rituals and astronomical observations. We were certainly thankful to have reached them, plus the visitor centre serves great food!
We stayed the night in a well-fitted-out camping pod at Callanish in sight of the standing stones and on the banks of Loch Rog an Ear, where we watched for sea eagles and otters. There was a bit of a trek to the kitchen/toilet/shower pod, but it was well worth it for the views and tranquillity.
We had enjoyed long sunny days, gentle breezes and no midges on our whole journey, but now the weather was changing. Lewis was starting to be battered by the tail end of a tropical storm and the forecast was for heavy rain and high winds. The good news was we should have a tail wind…
Our final night on the islands was at Eilean Fraoich campsite at Shawbost, to put us in striking distance of the lighthouse at the Butt of Lewis, the end of the Hebridean Way. An early start on our final day saw us head off fully packed up at 6am to ready to race the storm to the top of Lewis.
We arrived at the lighthouse at around 9.30am and had the whole place to ourselves. We felt exhilarated and proud. We were windblown, battered and feeling emotional, but we had done it.
For me, this was the trip of a lifetime. It was magical, mysterious and magnificent. A feast for the senses with a wide range of vistas, welcoming wonderful people and beautiful wildflowers and breath-taking beaches.
The cycling is safe and the drivers considerate. We enjoyed single track roads next to homes and farms, long stretches of gently undulating roads with the wind behind us and open, exposed moorland. The only busy road was the A858 across Lewis, but not as busy as Reading!
Finally, a big shout out to Alastair from Bespoke Cycling Shop in Stornoway who delivered a new tyre, on trust, to Leverburgh, and tucked it behind the creel (lobster) pots for us to collect.
Do it yourself logistics
Buy the pocket-sized Cycling the Hebridean Way Map.
We drove to Oban and parked our car with friends. There is long-term parking at a garage just outside Oban. We stayed overnight at the Scottish Youth Hostel in Oban, took the ferry to Castlebay and followed the well-marked Hebridean way to the Butt of Lewis. We booked all our ferry crossings, campsites and hotel in advance. We took our navigation tech with us, but this was not needed as the Hebridean Way is well signposted.
Our friend had an e-bike and there was no problem charging the battery overnight at the campsites and in cafés. All the campsites were spotless, had great facilities and were very welcoming. Some of the campsites were full, so definitely best to book ahead of time.
We arranged a transfer with Hebridean Travel from the Butt of Lewis to Stornoway with our bikes. We camped overnight in Stornoway and caught the early ferry to Ullapool. We camped in Ullapool and booked a van transfer back to Oban with Hebridean Way Transport.
Our biggest costs were the petrol to drive to Oban, the cost of the transfers and the fabulous fresh seafood meals.