Decarbonising transport means designing out car-dependency
What can be done to maximise the role of cycling in decarbonising transport? That was the question discussed by a panel of experts from the UK and the Netherlands in a webinar hosted today as part of London Climate Action Week 2020.
The session, organised by Cycling UK and the Dutch Embassy, shared data and experiences from both nations to explore how cycling infrastructure needs to be combined with other measures to provide an effective transport solution.
Chaired by Cycling UK's head of campaigns, Duncan Dollimore, the panel comprised:
Erik Tetteroo, consultant at APPM for urban planning and bicycle-inclusive mobility
José Besselink, urban planner for the City of Rotterdam
Jillian Anable, professor of transport and energy at the Institute for Transport Studies, University of Leeds
Roger Geffen MBE, policy director of Cycling UK.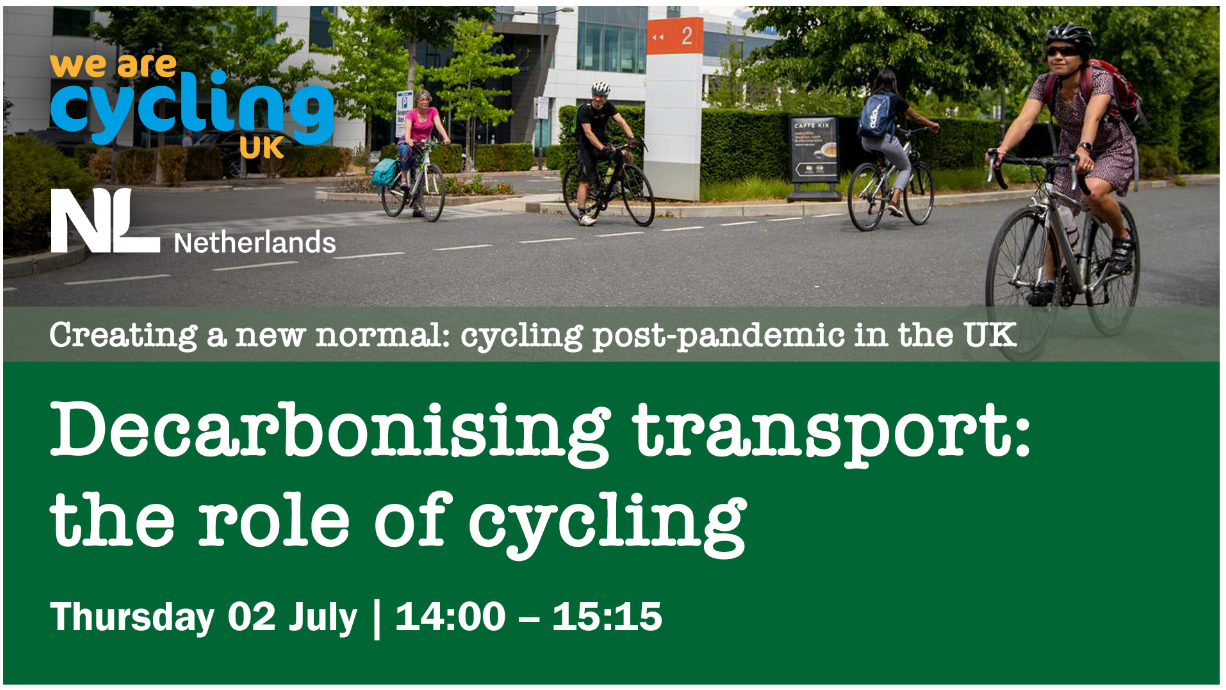 A key issue highlighted in the discussion is that simply promoting cycling is not enough by itself: measures also need to be taken to discourage car use. "That's not to say we don't need to invest massively in cycling," said Professor Anable. "But we need to 'pull the drawbridge up' behind it – as we invest in cycling we also need to limit how much we travel by car, otherwise we will get both a rise in cycling and a rise in car use." She made the point that, much as the Dutch are praised for their high rate of cycling (29% of journeys by bike, compared with just 2% in the UK), car use in the Netherlands is still as high as it is in the UK on a per capita basis.
Roger Geffen agreed that while replacing short car journeys – the 65% of trips that are less than five miles, mostly in urban areas – would do "a huge amount" to reduce pollution and congestion and make streets safer for children to play on, that is only a start. "We need to reduce longer trips too. So we need to think about land use – where we put housing – in order to make journeys shorter. It is much easier to shift journeys to cycling or public transport if they are shorter in the first place."
We need to think about where we put housing in order to make journeys shorter. It is much easier to shift journeys to cycling if they are shorter in the first place

Roger Geffen MBE, policy director, Cycling UK
A report published last month by Transport for New Homes called Garden Villages and Garden Towns: Visions & Reality, found that the laudable concept of garden communities that encouraged active travel was often lost between design and delivery, with emphasis ending up on road access to motorways, for example, and minimal investment in sustainable travel. "Designing for car-dependency, planning for poor health," as Duncan Dollimore put it.
This is in stark contrast to the "hybrid-oriented development" (HOD) model seen in the Netherlands, outlined by Erik Tetteroo, which prioritises a bike-train-bike journey model and seeks to build new housing development within easy cycling reach of train stations: almost 50% of travellers on Dutch trains arrive at the station by bicycle.
Geffen also pointed out that cycle infrastructure within a housing development is little use on its own: "It's no good if the development itself has the facilities but is miles from anywhere people want to go, so as soon as you are outside the development you have to get in the car." The accessibility of sites for walking and cycling should be taken into account and written into the planning policy framework, he said, to ensure that when new settlements are built, they are in the right place.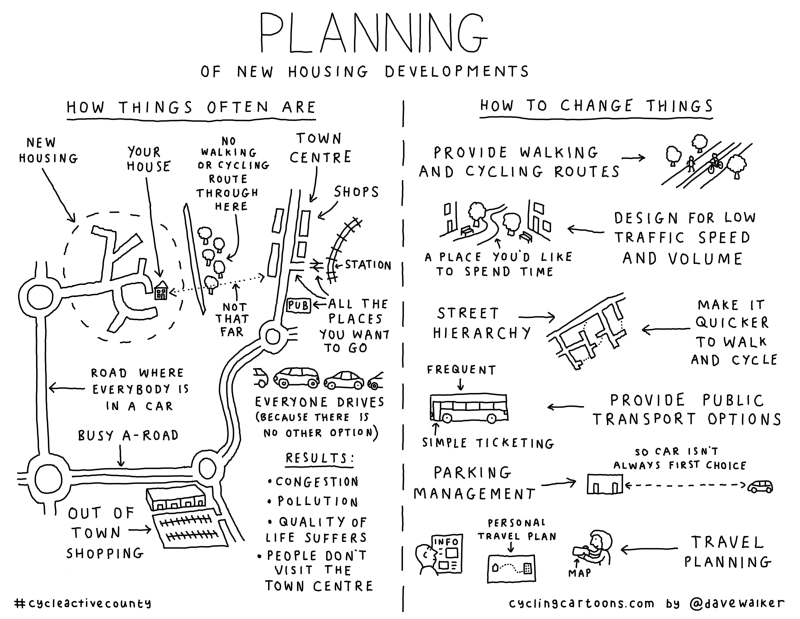 However, research by the University of Leeds shows that initiatives such as shared e-bike schemes are often not targeted at areas where they are most effective. The greatest reductions in carbon emissions from these schemes is not achieved in city centres, where they are generally found, but on the outskirts and in small towns. As Anable puts it: "We need to retarget to get more bang for our buck."
I truly believe e-bikes could be transformative

Prof Jillian Anable, University of Leeds
Roger Geffen also emphasised the vital role e-bikes have to play. "Pound for pound, investment in e-bikes delivers twice the carbon savings as investment in electric cars," he pointed out. More than that, however, is the opportunity to open up cycling to different demographics – older people, and those with health conditions and disabilities, for example, but this will only happen if practical projects are put in place to encourage people to "try before they buy".
"E-bikes are such fun: they eat miles, they eat hills," Geffen said. "But people don't know if they don't try."