Jeanie Welford - The first female member of Cycling UK
Making history as the first female member of the club
A set of John Player & Sons cigarette cards issued in the 1930s to celebrate cycling history features an intriguing image of a well-dressed Victorian couple riding a sociable tricycle. The back of the card identifies them as W. D. Welford, the CTC's Founding Secretary, and his wife, the first female member of the club. Mr Welford's contribution to the CTC is well known, but who was Jeanie Welford and how did she come to play a pivotal role in the club?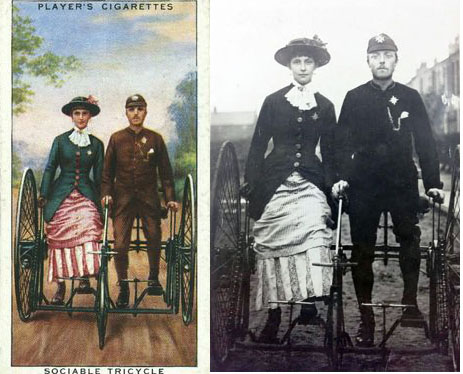 Lady tricyclists and the early BTC
Membership was limited to men when the Bicycle Touring Club (BTC) was established in 1878. Most members rode highwheelers, with a few tricycles thrown in, which was the trend at the time. Over the next few years cycling technology advanced rapidly, making the pastime accessible to a wider audience. By 1880 it was clear that the club needed to make room for a new type of rider: 'the lady cyclist'.
Women were ever present on the margins of the BTC during its founding years. Longstanding CTC member E. R. Shipton noted that 17 lady tricyclists took part in early runs. These women were likely the wives and daughters of members. A close look at the background of a group photograph showing 200 men at the BTC mass meet held in Harrogate in 1879 reveals that a few women were present.
Tricycles became increasingly popular with women in the late 1870s and 1880s. From the beginning, tricycling was considered a respectable form of leisure suitable for both men and women. Tricycles were safer than highwheel bicycles, could be adapted for women with a bench seat and treadles, and their three-wheeled configuration made them relatively stable. Tricycling was a highly exclusive pastime, since tricycles were expensive to purchase and maintain. Lady tricyclists were expected to be chaperoned and ride with moderation and decorum, often on a tandem under the watchful eye of a male relative.
The BTC welcomes women as members
The BTC broke with tradition when it decided to open membership to women in 1880. Some cycling clubs experimented with allowing women to join, as long as they were associated with a male club member, but at reduced subscription rates and without full privileges. Other clubs rejected women outright. The BTC, in stark contrast, was the first club to extend membership to women on equal terms.
The BTC, in stark contrast, was the first club to extend membership to women on equal terms.

Sheila Hanlon, Cycling UK historian
Like men, women interested in joining the BTC needed to be proposed and have references provided by current members. A list of membership candidates ran in the CTC Gazette each month. In September 1880, for the first time ever, the names of two women were submitted to the list. Jeanie Welford, who had been the first woman to apply, was one of them.
In October 1880, Jeanie Welford (née Jeanie Agnes Morgan) became the first woman officially inducted into the BTC. Jeanie was born on 8 December 1854 in Oldbury in the West Midlands, making her 25 years old when she joined the club. Jeanie's brother Stanley was an avid cyclist who took her on tricycle outings and likely introduced her to the BTC. Jeanie was still using her maiden name when she applied for BTC membership. Soon after joining, she married fellow club member Richard Walter Deverell (W. D.) Welford of Newcastle-on-Tyne.
Jeanie's husband W. D. Welford was an influential and founding member of the BTC. He served as the club's first paid secretary from 1879-1881. He was well known for his photographic work, an interest that he combined with his love of cycling. He edited a number of popular magazines, including Cycling and Cycling and Camera. W. D.'s expertise spanned the artistic, technical, and commercial side of photography.
Jeanie was an accomplished photographer in her own right. She specialised in topographical images and studio portraits. Her work was exhibited nationally and internationally, often alongside that of her husband. One of her photographic images, 'Early Morning News', appeared in the 1897 Royal Photographic Society Exhibition and Catalogue. She won over a hundred awards for her work. A collection of her medals that was recently auctioned indicates that her skill as a photographer was widely recognised. When her husband died, Jeanie carried on the family photography business with studios in London, Birmingham and Rottingdean, on the edge of Brighton.
Jeanie's BTC member's ticket, a copy of which is held at the Modern Records Centre in Warwick, is dated October 1880. Her membership number was 3621. The card was signed by her husband in his role as club secretary and treasurer S. H. Ineson. 'Mr' was crossed out and replaced by 'Mrs', a reminder of how quickly Jeanie joined once she was able to – before the membership cards were even updated to reflect the club's new co-ed status.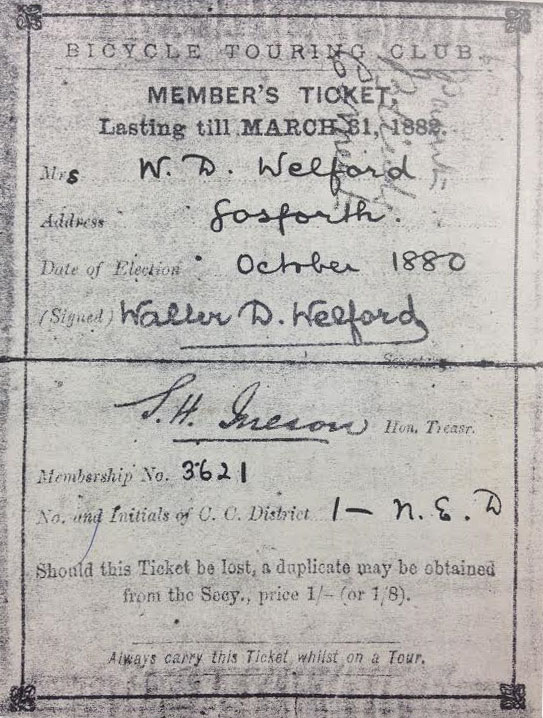 The Welfords rode a Salvo sociable tricycle in the 1880s, a variation on the tandem with a side-by-side configuration for riders. A rare photograph shows the young couple riding their shared machine. W. D. sports a BTC uniform, including the club badge on his cap and secretary's lapel pin. Jeanie wears a fashionable tricycling habit with an overdress ruched up to just below the knee and a pleated underskirt reaching her ankles to allow maximum movement with full coverage. Her jacket is long and tailored. The outfit is topped off with a matching hat and a club badge.
This photograph was adapted by John Player & Sons for their set of collectible cigarette cards commemorating cycling history, 1839-1939. Note how colourful Jeanie's outfit is on the illustrated card. Her skirt is an eye-catching shade of pink and her hat and jacket are the dark green of the CTC uniform. The back of the card notes: "In the early '80s the tricycle was being developed in so many types that the cycle trade was embarrassed by its own ingenuity. Two-seaters became the vogue, and a novel pattern was the 'Sociable' on which the riders sat side by side, but they were slow, heavy and awkward, and had only a short period of popularity." 
The Welfords eventually upgraded to Safety bicycles. In a CTC Gazette article, Jeanie recalled learning to ride a solo bicycle at an indoor academy when she moved to London with her husband in the 1890s. The couple lived in a flat, and "she had to carry her machine up and down the stairs, and how she practised, after the traffic had subsided in the evening, around the Law Courts and Chancery Lane."
During the cycling craze of the 1890s, more and more women followed Jeanie's lead and joined the CTC. By the mid-1890s, one third of new members were women.
A member for life
W. D. Welford died in 1919 after a lifetime of health problems. This did not, however, end Jeanie's relationship with the CTC. Jeanie was an honoured guest at many CTC events. She participated in the CTC's Diamond Jubilee in 1938, and sat at the head table of the annual dinner with dignitaries including club founder Stanley Cotterell. Jeanie was made an honorary member of the CTC as part of the celebrations, a distinction she retained for life.
In 1947, a remarkable chance meeting took place between Jeanie and another old-time CTC member in Brighton. Jeanie, then aged 93, bumped into George Smith Sayner, aged 85, in the coastal town. They soon discovered they were the oldest living members of the CTC. George held the title of oldest riding member, and had ridden from his home in Streatham for his annual holiday. Jeanie was living in Brighton and from the look of the photo taken that day, was in excellent health.
When Jeanie passed away a few years later in August 1949, CTC President George Herbert Stancer wrote a touching tribute to her in the CTC Gazette (below). In the 1930s, Stancer had discovered that Jeanie was living on the south coast and sought her out. "She was then eighty-four," he wrote, "but with the mental alertness, physical activity, and upright carriage of a woman many years younger. In her youth, she had been extremely beautiful, in the typical Victorian manner, and to the end she remained a striking figure – stately, dignified, gracious."
Jeanie spoke with delight about her early involvement with the CTC and the progress the club made over the years. For Stancer, her death marked an end of an era for the CTC, since "another of the Club's historic figures has passed into the shadowland of memory…the last link with the far-off days of our first salaried secretaries was broken." Over her long and full life, Jeanie Agnes Welford made a significant contribution to the BTC, CTC, and Cycling UK, from being the first woman to join the BTC in 1880, to supporting the club in later life.
The whimsical John Player cigarette card featuring the Welfords on their sociable tricycle notes that Jeanie was "still hale and hearty in 1939 at the age of 85!" Perhaps cycling was part of Mrs Welford's secret to longevity and a good life.