Never underestimate the importance of well-designed, high-quality and convenient cycle parking. It influences the decision to cycle and reduces the chances of a bike (or its handlebars, seat, wheels etc) being stolen.
Lampposts, railings and gutter pipes simply aren't good enough.
Where to install bike parking
Ideally, cycle parking needs to be:
closer than, or as close to, the nearest available car parking for the destination in question
in public view (or covered by security measures such as CCTV or a cage with an access code)
sheltered (if long-stay)
well maintained
lit at night.
If not, it's almost bound to be underused. Installing cycle parking in unsafe and remote spots is pointless unless you've addressed the problems that will inevitably cause.
How much bike parking to install?
Don't think that just because you've only seen one lone bike at the location, you only need one stand. It could well be that other people have always dreamt of parking bikes there, but couldn't find anywhere safe. 
In other words, cycle parking should cater for both existing and potential/suppressed demand, so be as generous as possible.
What kind?
To establish this, ask yourself:
1. Who the users are most likely to be and, indeed, who you wish to encourage. Will they be:
Shoppers?
Employees?
Commuters?
Visitors?
Residents?
Students?
Children?
Other?
A mix?
2. How are they going to use the facility?
Will they be leaving their bikes for a long time/late in the day/overnight (e.g. while at work/travelling), or just for a short time (e.g. shopping, popping to the cafe)?
Will they need to park non-standard cycles (adapted/cargo etc), or smaller frames (children's bikes)?
3. Where is the parking going to be?
In constant view?
Out of the way? (Of necessity, that is - remote parking is not at all ideal).
Factor in all of the above when deciding on the type of parking to provide, its dimensions and the level of security it needs.
For instance, cages or compounds with CCTV and access by a security code are about the most secure you can get outdoors, but they're by no means necessary, nor indeed workable, everywhere. A simple row of covered racks may well be fine. 
Types of cycle parking 
When reading the advice below, bear in mind that basic security for any bike means locking both the wheels and the frame to some robust, solidly entrenched external object. Thieves are quite happy to carry off bikes that are locked to themselves - they can remove the lock in the privacy of their own homes (or wherever). 
'Sheffield' stands, the most common type of cycle parking, are inverted 'U' shapes, supporting the whole bike. They help keep a cycle steady while it's being locked, when luggage is being unhooked or panniers stuffed with shopping. What's more, both the frame and wheels can usually be locked to them (a theft deterrent).
Inexpensive, durable and easy to maintain, these stands are perhaps the most sensible option for most workplaces. Given that staff will be leaving their bikes for much of the day or night, racks are best lit, protected from the weather by sheltering and, if not in constant sight, covered by CCTV, compound, or other security measures.   
Slotted concrete slabs, or 'butterfly' wall racks are unpopular because they tend to bend wheels, may be too narrow for fatter tyres, don't support the whole cycle and make it difficult (impossible, sometimes) to use a lock effectively.
Semi-vertical racks are common inside buildings and where space is limited. They do have a downside, though: using them involves lifting bikes up, something that's not easy for some people and for heavier machines. Also, some tyres are too wide to fit into the slots. If you can, provide an alternative too. 
Two-tier racks are very common in Holland, and often found at railway stations in the UK. Their footprint makes for an efficient use of space, and they cater for users who can lift up their bikes and those who can't, or don't want to. Some designs don't lend themselves to locking up both the frame and wheels, however, and sometimes the racks are so close together that bikes clash and tangle, and panniers and baskets are almost impossible to store. (If that happens, you'll find that the facility may not be used to capacity because cyclists can only use every other rack). 
Individual bike lockers are particularly attractive to people who've invested in high-end cycles. They may be heavy on space and admin but, in the right locations, they're well worth it and much appreciated.
Heritage/designer stands cater for locations looking to enhance their aesthetic appeal (e.g. historic town centres, statement public realm projects etc). They're fine as long as the fancy design is usable. Before investing, check that they support bike frames properly, don't have rungs in all the wrong places, or are too thick for smaller D-locks. 
If you're happy about security, consider supplying extras too - e.g. pumps, maintenance stands, tools and/or a separate rack for leaving locks (some are so heavy that they're difficult to carry while you're out and about on your bike). 
A note on workplaces: for sites that don't enjoy any outdoor space, the solution may be to offer cycle commuters a lockable room somewhere inside, either downstairs or easily accessible by a bike-sized lift. Where space is extremely limited, think about high-quality wall-mounted racks or hooks.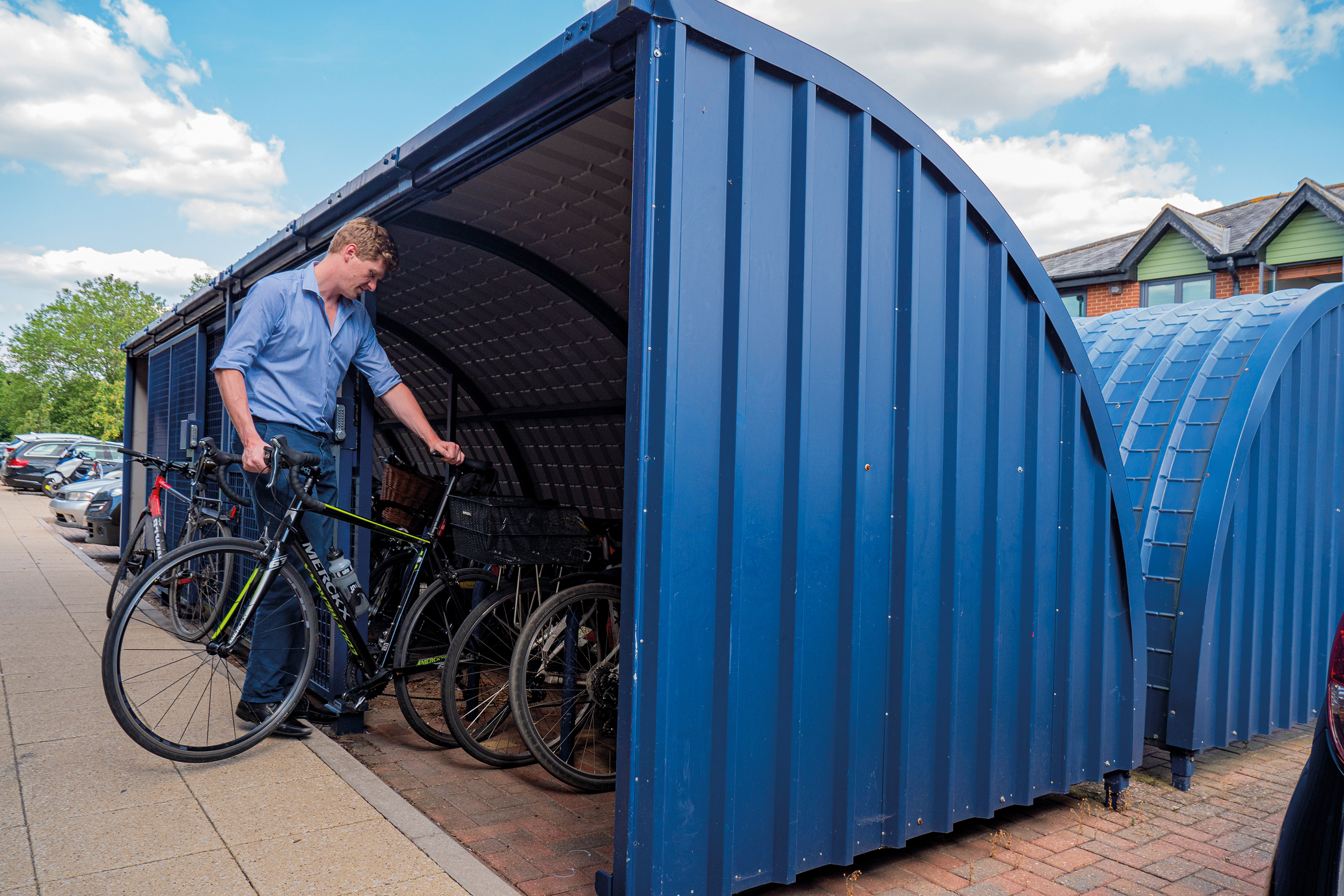 Keep the bike parking well-maintained  
When you're planning to install cycle parking, you also need to plan for its ongoing maintenance and appeal. This means:
Clearing out litter and rubbish, including broken locks and collapsed bike frames. Note: advanced warning of any deep cleans will give users the chance to remove their property beforehand (remember that some people may not visit their bikes every day, so don't be mean with your advanced warnings; also don't assume that all ropey bikes must be redundant and need to be removed - some are meant to look like that to deter theft).   
Regular audits and reviews to check that no one's tampered with the parking (for example, thieves have been known to saw through racks, cover them with heavy duty tape and come back later to steal bikes by slipping the locks through the cut).
Further reading:
The Department for Transport's cycle infrastructure design guidance published in 2020, has a section on cycle parking (Chapter 11), with some detailed advice on dimensions.
Bicycle Association / Sustrans's  Standards for Public Cycle Parking, to help people purchasing, installing and managing public cycle parking to procure products and installations (June 2021)