All smiles at Portsmouth's Women's Learn to Ride group
It's a bright but chilly Thursday morning in Portsmouth, and a group of women, many of them with colourful headscarves under helmets, are inching their way around a car park on bikes. An array of bikes in all shapes and sizes have been lined up, some with the pedals taken away to become balance bikes, an easier way of getting to grip with the sensation of cycling. A particular favourite among the unconfident is the Brompton, with its little wheels and low saddle allowing feet to be firmly placed on solid ground.
"I really love cycling," Holy Tanzam tells me. "I've wanted to learn for a long time but it's really hard for me. I tried once with my husband but I found it really hard so I just skipped it. When I saw this opportunity, to learn and people will teach, I thought that would be good. It's really fun, and we can meet with other people and it's really nice.
"I lived in a very busy town, I was busy with my studying so no cycling. This was in Bangladesh – I was born in Bangladesh – and when I came here I got my driving licence and so I had a car. But now I'm thinking if I can ride a bicycle, it will be better for my physique and exercise and it's fun."
Holy moved to the UK 21 years ago, and has three children who've all learned to cycle. She's keen to catch up.
"They are very good at cycling. When we go for a holiday, we take our three kids and our three cycles and some time I would like to ride."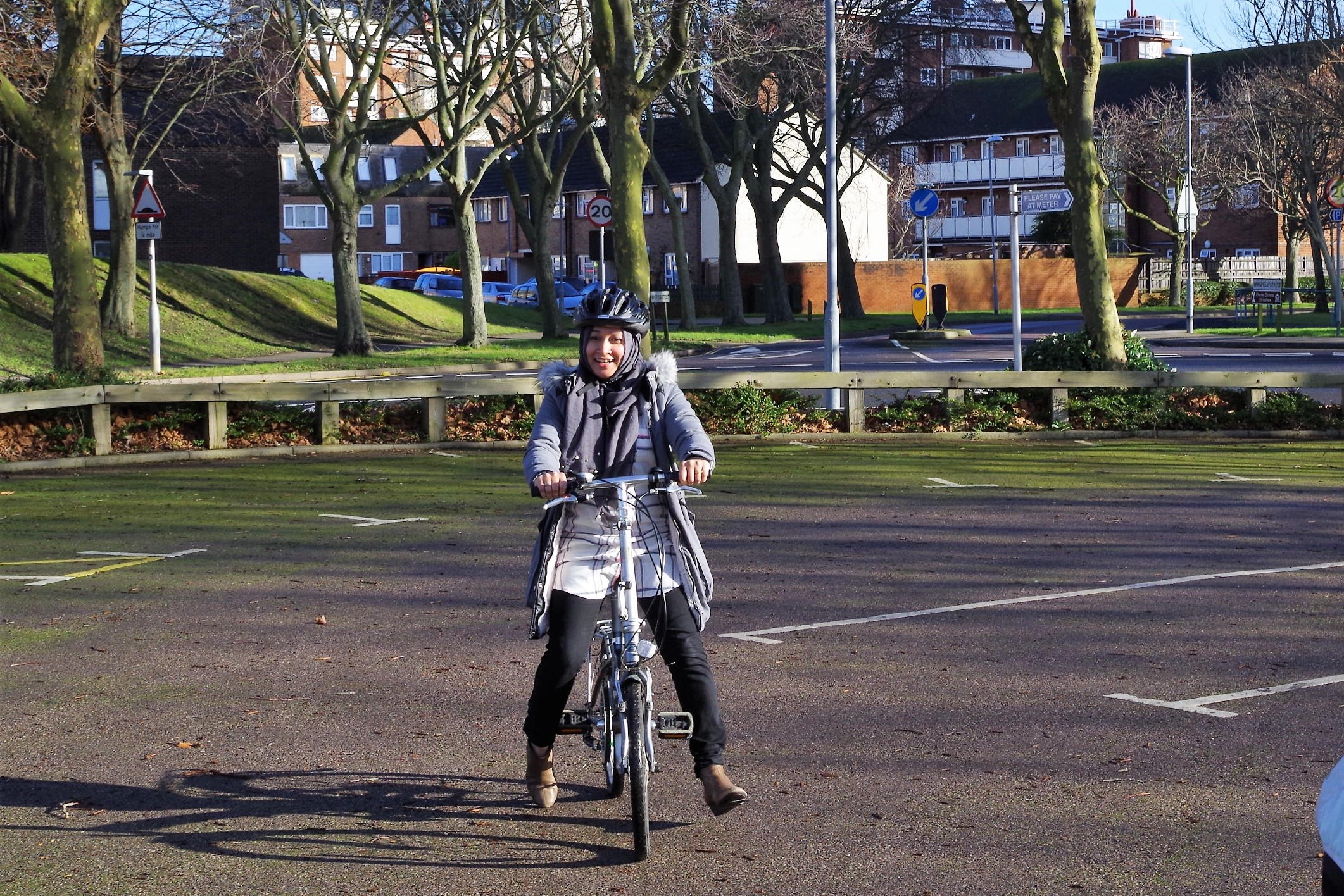 "I think I'm never going to learn biking!" Khaleda Begum expresses to me in frustration, stopping to the side for a break and a chat.
Khaleda has been coming to the group for the last three weeks.
"When I was at school I wanted to learn to ride a bike, but we haven't got any brothers, so we haven't got any bikes in our home. I'm from Bangladesh; in Bangladesh if there is any boy, he will get a bike, but it's not for girls. I didn't have any chance to learn."
Being one of four girls, Khaleda couldn't get anywhere near a bike. Khaleda settled in the UK in 2005 and now has three children.
"My daughter is 11 years old, and she rides," she says proudly. "She got a bike when she was, like, three years old!"
When I ask if Khaleda will be out riding with her, she laughs "Maybe, I don't know!"
It's clear she really wants to try.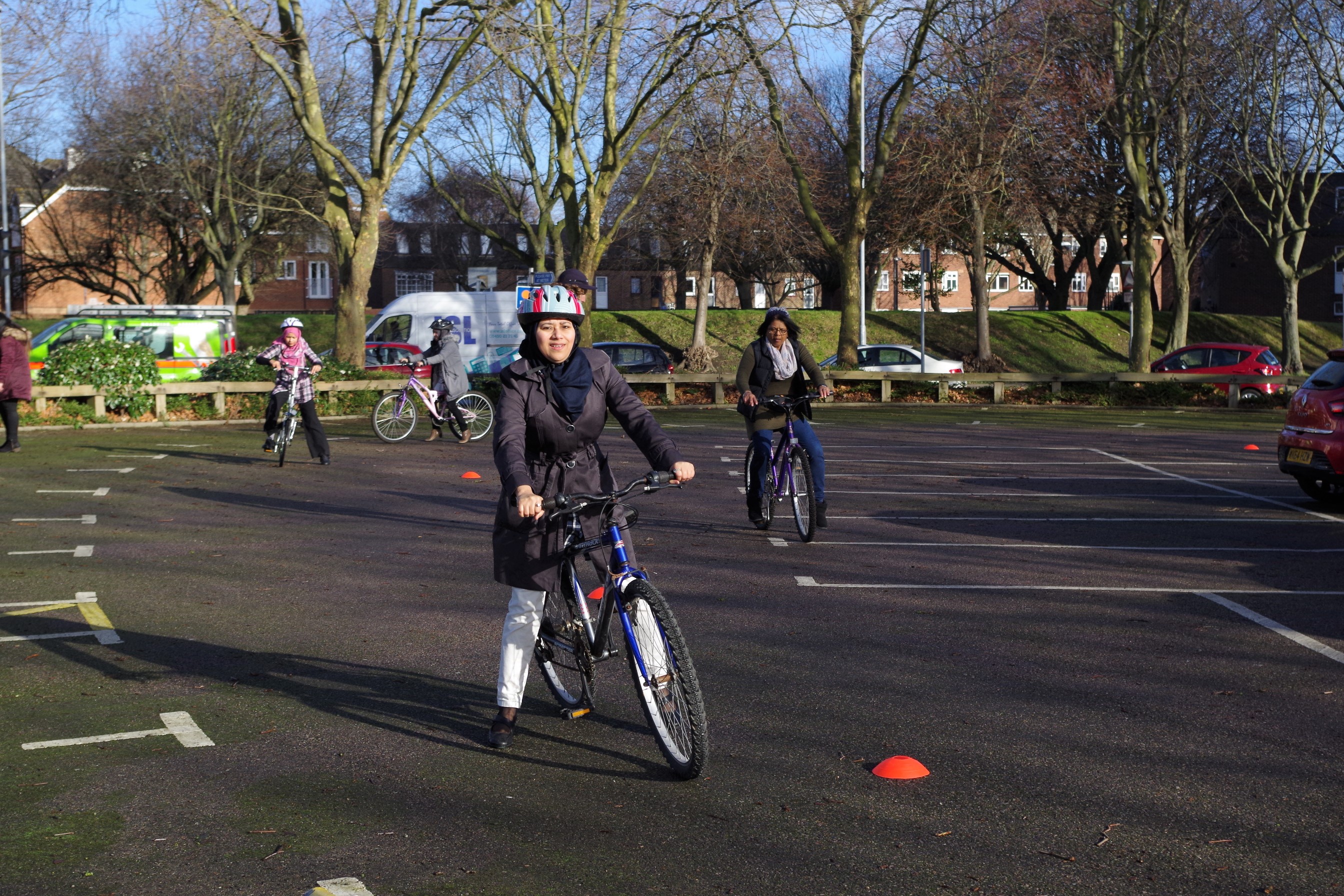 Rowshonara Reza from local council works with the group, having participated in the past.
I probably had a ride when I was 15, 14. It was my brother's bike. Obviously at that time it was like, 'girls shouldn't be riding bikes' and 'culturally it's not appropriate' and so on.

Rowshonara Reza
"I probably had a ride when I was 15, 14. It was my brother's bike. Obviously at that time it was like, 'girls shouldn't be riding bikes' and 'culturally it's not appropriate' and so on. And the 25 years later I bought a bike through my work scheme. I had a ride two times, I think, before it was stolen, and I was quite disheartened about that."
A couple of years later, Rowshonara found the women's group and finally got her chance to ride. Now through her role in the council, she's helping this weekly event keep going. Her cheers when a lady pedals a few metres are the loudest.
"I also run the 'Chat over Chai' group, the social group we have for BAME communities," says Rowshonara.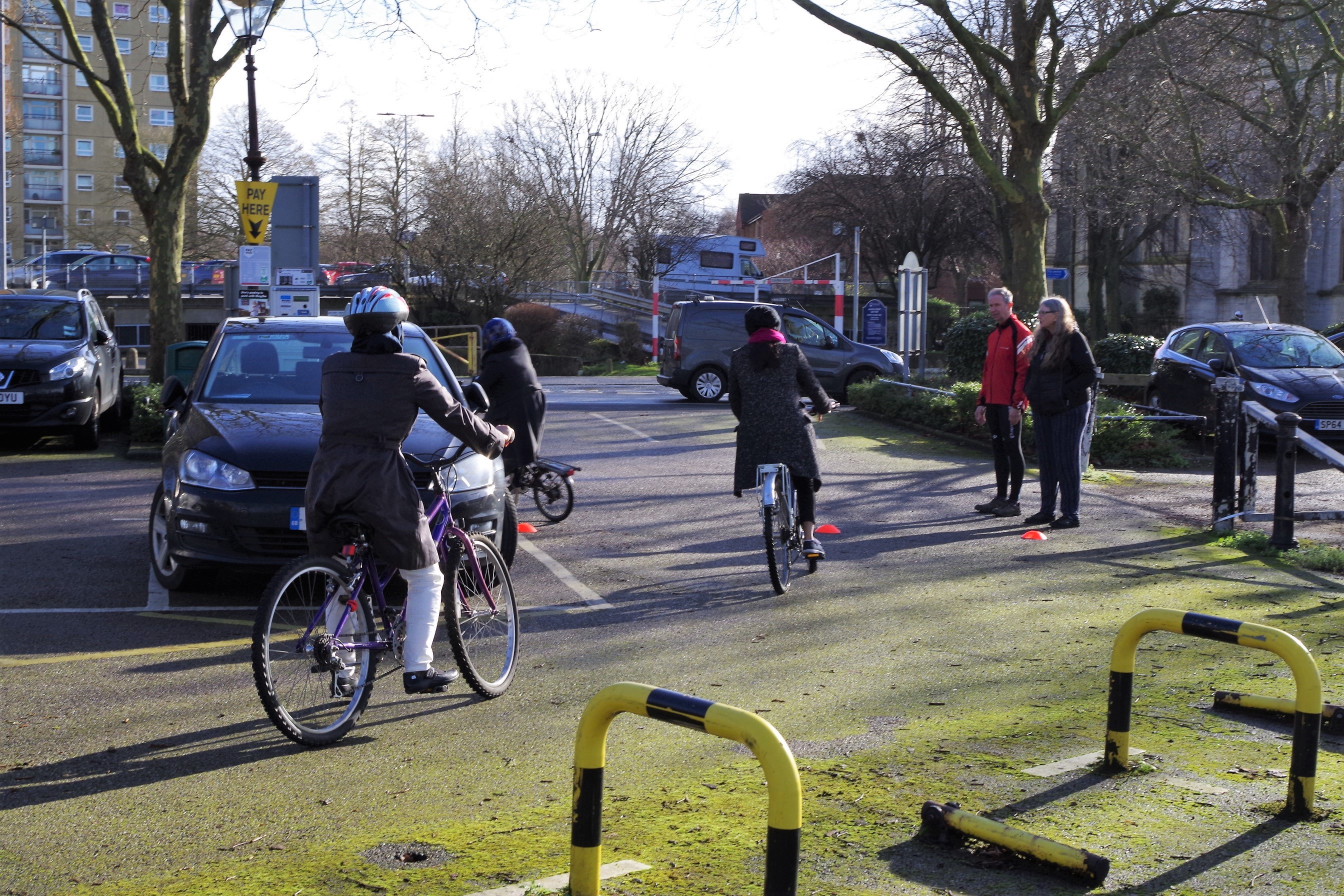 As the session ends, some of the ladies have been trying for over an hour and half in the bitter cold. Some shins are bruised from errant pedals, but all of them, without exception, are still smiling.
Instructor Josh, who splits his time between working with Sustrans and at Monty's Bike Hub, a Community Cycle Club in Southampton, is impressed.
"It's an amazing little project to shout about," he says. "It's amazing how far they've progressed. Compared to teaching kids on bikes, they pick things up a lot quicker. They actually listen to what you say!"
At the ladies' current rate, there's no doubt they'll be ready for a group challenge and celebration: a group ride around Portsmouth on March 8 – International Women's Day.