Women's cycling fashion from the 1870s onwards
Cycle clothing throughout the last century has not only rapidly changed, but it evolved alongside the technological developments of the bicycle. The fluctuating attitude of society towards gender conventions and the bicycle manifested itself in the cycling fashion, too.
In 1878 when Cycling UK (first known as the Bicycle Touring Club, then CTC from 1883, becoming Cycling UK in 2016) was first formed, high-wheelers or penny farthings were the bikes of the era and they were mostly ridden by men. The "customary attire for male cyclists was a militarised jacket, tight knee-breeches, and a cap or pith helmets", a formal style that represented the advanced economic status of those who rode. With the addition of BTC badges, this was the uniform adopted by the club in its early days.
High-wheelers or penny farthings didn't match up to the dress or behavioural expectations of the day for women, and mounting the cycle in a dress was difficult and dangerous. There were, however, a few cases of women of the time who defied convention and wore breeches or gymnastic costumes so they could experience riding a bike.
In 1874 a British manufacturer even proposed a 'ladies high-wheeler' bike that would conform to women's dress standards. It looked very much like the side saddle used by equestrian riders to accommodate full skirts. Designed by the Starley Company as part of its Ariel line, the ladies side-saddle high-wheeler did not come into popular use.
Tricycles were different, however, and were considered a respectable form of recreation for upper-class women of the day. Jeanie Welford became the first woman to join what was at the time known as BTC in 1880. She is depicted on the Player's cigarette card riding a Salvo Sociable Tricycle with her husband, club secretary WD Welford.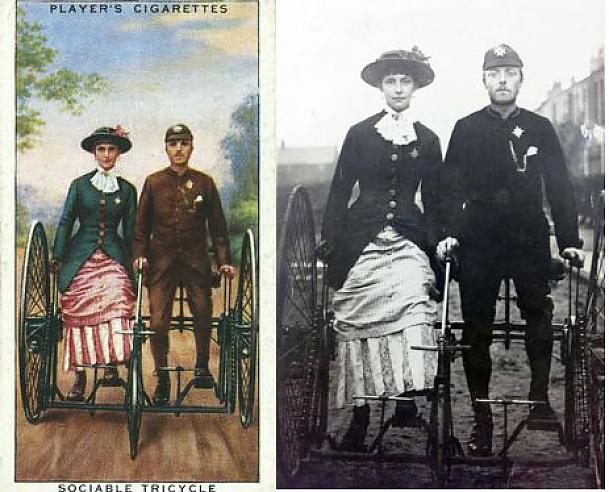 Cycling clothing evolved in the 1880s to allow for decorum as well as freedom of movement. Mrs Welford embraced the latest cycling fashions. As shown in these images from early cycling history she wore an underdress, slim and pleated in two alternating pink printed fabrics, covered by a pink ruched overskirt falling just below knee level.
Welford's jacket resembles the standard club issue uniform, dark green Devonshire tweed and cut long for maximum coverage while riding. If you look carefully you can see that she is wearing a club badge. In recognition of its growing membership among women, the CTC soon added a ladies' uniform to its catalogue.
During the 1890s cycling fashion tied to the safety bicycle took off, as did the new 'cycling craze'. There were impressive new inventions during this era, from skirts that could be unfastened at the back to divide safely over the wheel to the more extreme 'convertible skirts' consisting of clever systems of buttons and pulleys to adjust them for riding. Trendy cycling costumes could be purchased in exclusive West End shops or ordered by post.
There was a more radical solution to the 'dress problem' that was linked to the fight for women's equality as cyclists: rational dress. The CTC accepted rational dress, making a knickerbocker version of its club uniform available to women in the mid-1890s.
One of Cycling UK's first high-profile campaigns involved the battle for rational dress. In 1898 CTC member Lady Harberton was refused service at the Hautboy Hotel in Ockham for wearing rational dress (baggy knickerbockers and a jacket) rather than a more conventional ankle-length skirt.
The charity took the hotel to court but lost, a decision made by an all-male jury. But the story made major headlines and paved the way for the advancement of women's cycling. Interestingly, and rather fittingly, Lady Harburton now lends her name to a French brand of female urban cyclist gear!
Today the charity still supports comfortable clothes for cycling whoever you are; take a look at the Cycling UK shop see our range of tops and accessories.
Dr Sheila Hanlon is Cycling UK's historian; she will be exploring our rich cycling past and present in an ongoing series within the history section of Cycling UK's website
Sources
Bicycle Fashion Files Part One: Early Inventions 1790-1860s
​​Bicycle Fashion Files Part Two: Tricycles and Highwheelers, 1870-1880s
Bicycle Fashion Files Part Three: The 1890s Craze
Photos
1. Row of lady cyclists 'NUWSS Pilgrims near Clayton on the Brighton Road', Postcard c 1913, The Women's Library/LSE, TWL.2002.371
2. Player Cigarette Card, Private Collection of Dr Sheila Hanlon; Jeanie and WD Welford Riding a Salvo, Photograph c 1880s, National Cycle Archive/University of Warwick, MSS.328/C/12/4/22c
3. Lady Harberton Riding in Rational Dress, Lady Cyclist, 33 January 1897
You can find more history highlights on the Cycling UK history timeline.