A tribute to cycling dads everywhere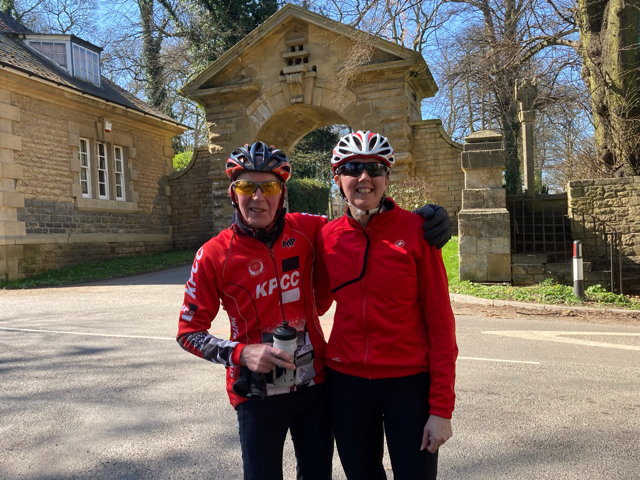 My early memories of my dad, Ray, are of him not being around that much. He worked full time and spent his evenings in the garage doing up bikes, any bike. He was the local bike man. I rarely had the same bike for more than a couple of weeks before it was swapped and sold.
His Christmas Eves were spent delivering lovingly done up bikes to local families. When I was 10, in 1981, he opened a bike shop in the village. He was the bike man and I was the bike man's daughter which obviously meant that in the middle of double maths some lad would expect me to know exactly how much an inner tube was.
Through the shop, he met a man* who ended up building his wheels for him. His family were cyclists and he invited me on a touring holiday to Scotland, I wasn't a cyclist, but my dad got me a bike together with some second-hand panniers.
It was the best holiday ever and the start of my love of touring. My dad, also not a cyclist at this point, decided to start riding. With help, he revived the village cycling club and we had a magical time in the 1980s. The next year, he was also touring in Scotland.
The club went from strength to strength and attracted some racers. Soon my dad caught the racing bug, but I tried a 10 mile time trial and couldn't see the point! My dad went on to travel up and down the country time trialling and even did a 12 hour – he even dragged my older sister into cycling.
I stopped cycling regularly once I left home although I did marry a cyclist. We didn't do much until we had children. Roll on 12 years and my son did his first time trial where I was allowed to follow him at a distance. The next week I was racing and his dad was following him.
Soon we were all racing together; it was lovely to see my son riding with his grandad. My dad gave up racing in his late 60s – I had beaten him at a time trial for the first time and he obviously decided it would be the last time too. At 71 he completed a 100-mile sportive with the club. He was worried about it so we took him out a few weeks before for a 100-mile test ride. He had nothing to worry about.
After much nagging, he finally retired and closed the shop at a sprightly 76 after 40 years. He still goes out every Sunday and Wednesday; I ride with him and a group on Wednesday and he's still giving it some beans.
In April this year he got on a plane for the first time to go cycling in Majorca. He obviously has no intention of stopping anytime soon! He is an inspiration and I think I get my determination from him. I think he proves that 'you don't stop because you get old, you get old because you stop'.
* The man is Mr Brian Knapp and I have to thank him for getting me into cycling. I still see him and his family as we live a few doors away. He is in his 80s now and still cycling.
– Cycling UK member, Rachael Eyre
'The Lynsted bike ride' dad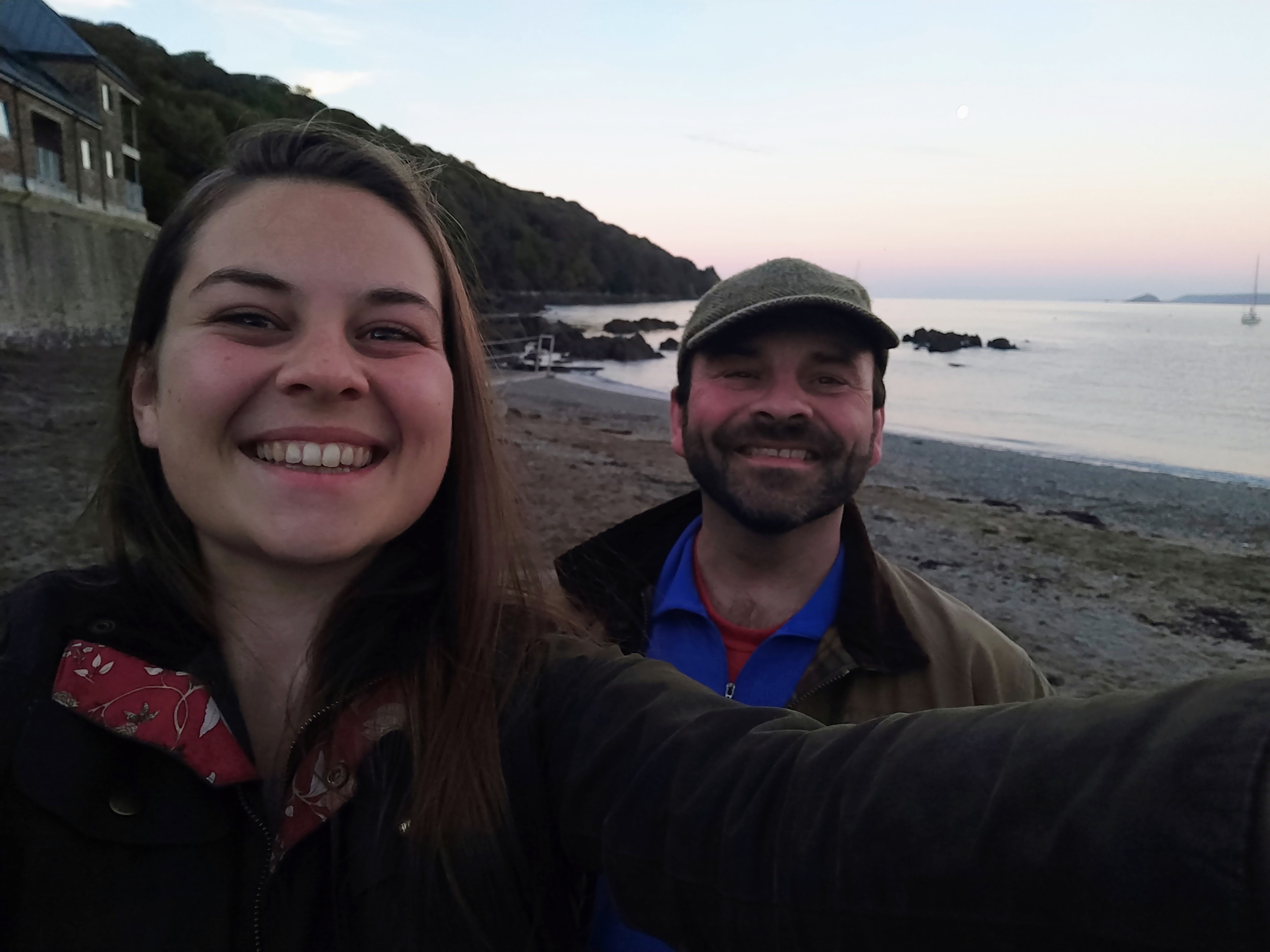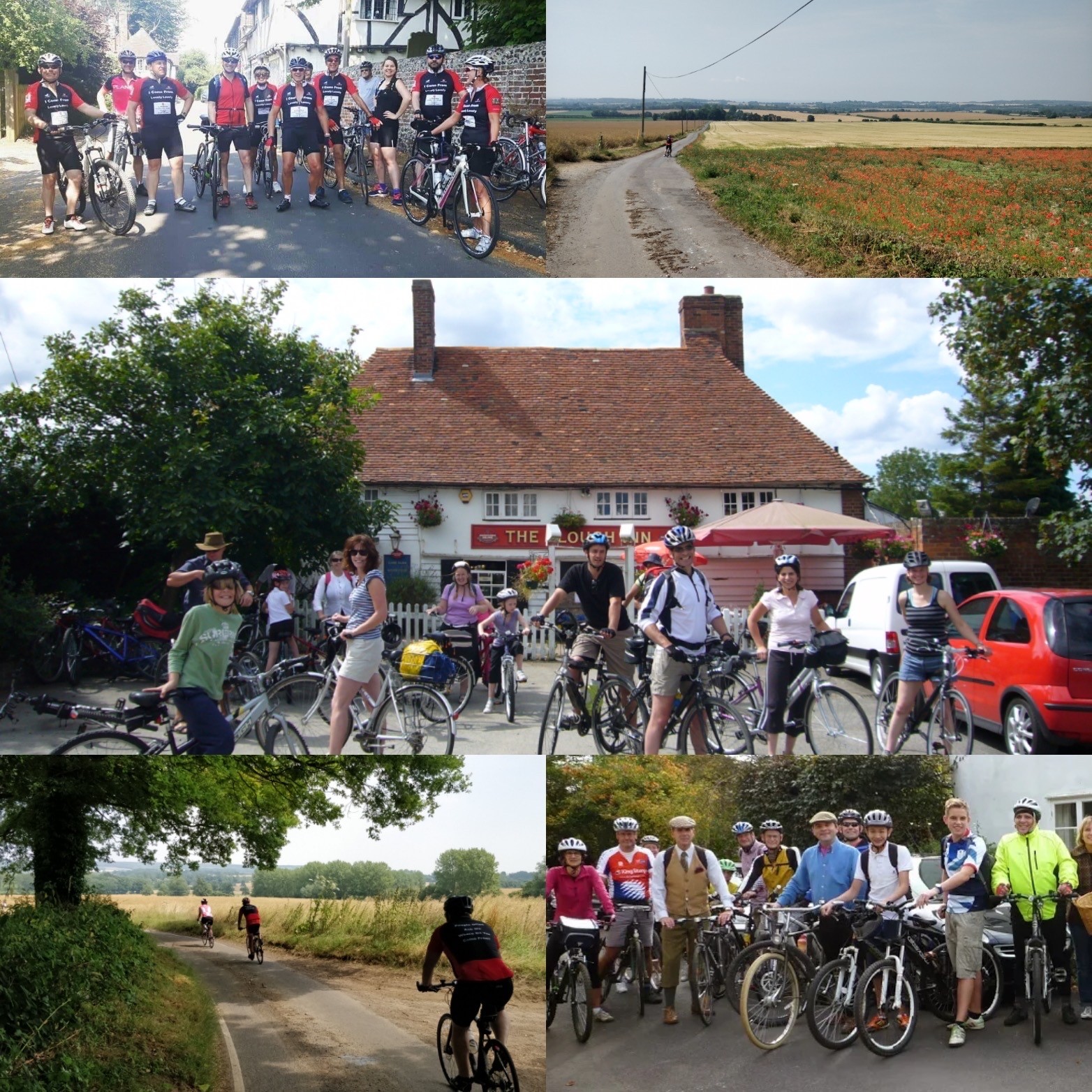 My family moved to a village called Lynsted in Kent, in 1994. Since that first summer, my dad has organised a 'Lynsted bike ride' around local neighbouring villages (and importantly the pubs!). It has brought together neighbours, parents and kids every year for 29 years.
Back when we were younger, we used to see big numbers for the ride. Today it's a smaller crew, but every year it's just as much fun thanks to my dad's hard work route planning and ensuring a strict code of nonsense is adhered to.
The nonsense has spanned from pickled egg forfeits to the anointment of a 'chapeaux rogue' (old coca cola cap) that you could win for being the first kid to the end.
For context I am also almost 29 so it's been my whole life, without a doubt he is the reason I love cycling and why I work in it today. They say it takes a village to raise a child and thanks to dad getting the community together like this every year, I was that child.
– Cycling UK's senior monitoring and evaluation officer, Kezia Stewart
'The lyricist' dad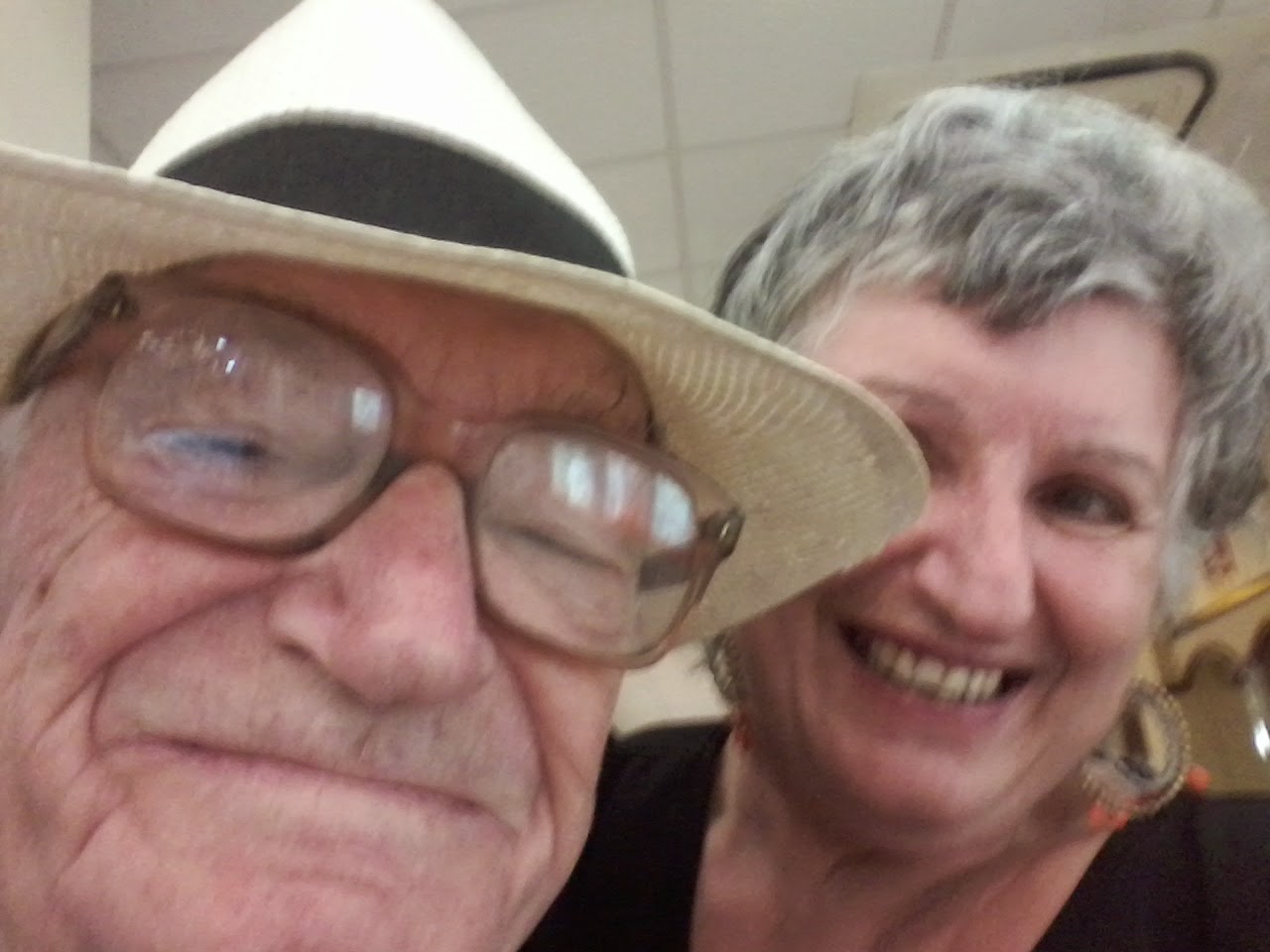 I cherish the times when aged seven I used to sit on the top tube of my dad's bike and we used to cycle along singing and inventing silly lyrics together. It was a period when the bike was the main transport for most people in our small village on the island of Malta, and the only thing I remember about my father's bike was that it was black.
It's his birthday today, and he has cycled on, but his distorted song words and cycling fun have remained with me. I wrote this poem – originally in Maltese – as a tribute to him:
Nonsensical words
Created while on the bike
Pedalling with Pa
Balbuljata kliem
Ivvintat fuq ir-rota
Waqt qadfa mal-Pa
– Marian Farrugia
'The island hopping' dad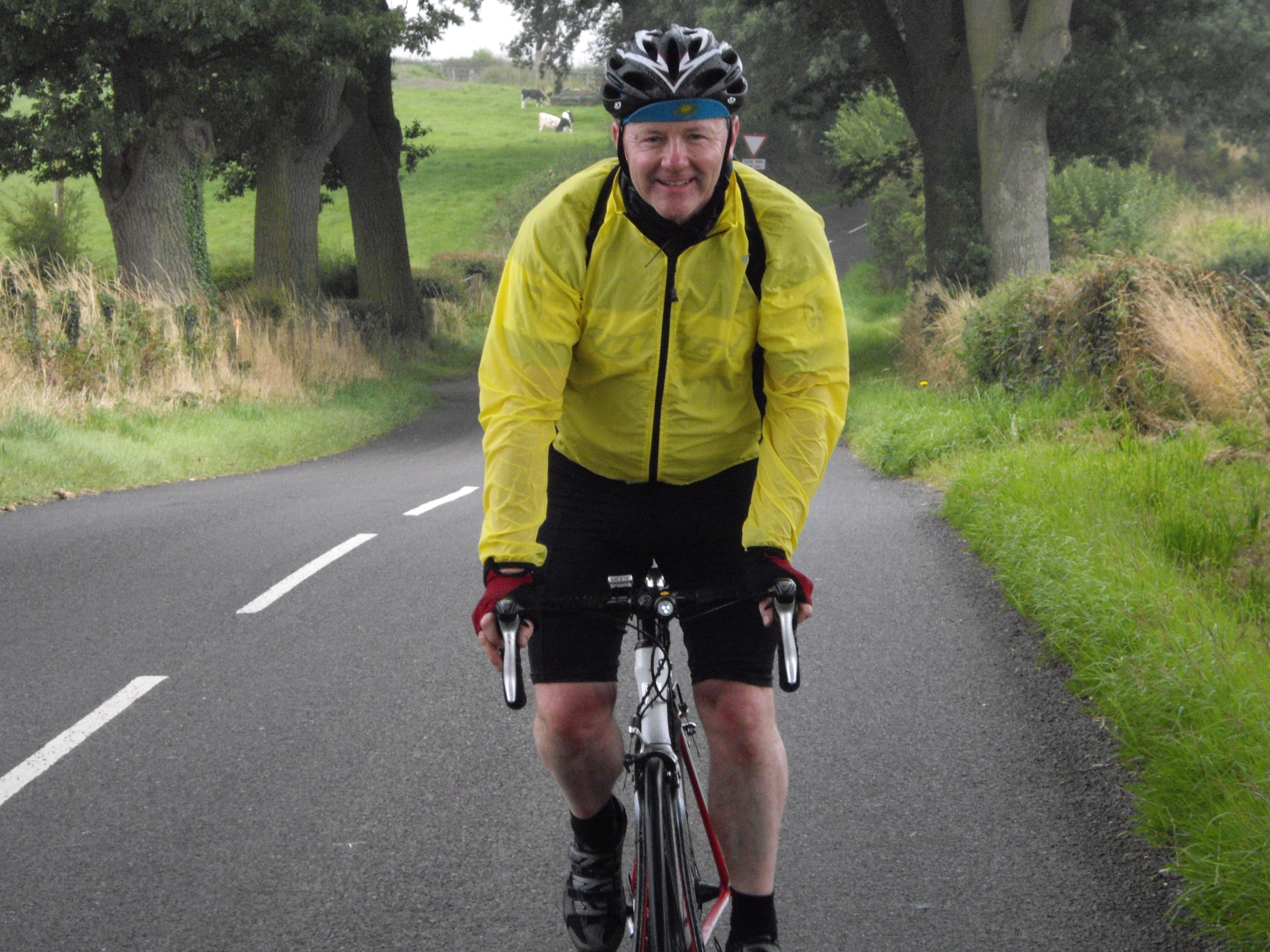 My dad (known to others as Steve) is an inspiration to me! In all walks of life, but cycling is one of them. Ever since I can remember, my dad has been completing rides at home and abroad on the bike and has been a big inspiration for me to do the same.
My first memory of cycling with my dad is being in a child carrier on the back of his bike in the lakes. Then following him and other family members on the coast-to-coast (C2C) as back up, then, when I was old enough, completing the C2C with him and the rest of my family.
My dad attempted his first Land's End to John o' Groats with my grandad, maybe before I was born, or when I was very young. Unfortunately, he didn't make it to the end; however, we went back in 2009 and me and Dad completed it together in 12 days (Dad will say 11 and a half). This was my first big multi-day ride and from then on, I was hooked.
After a few tours around Scotland on his 'Island Odyssey' island-hopping route, we went back on my 21st birthday, and after a few too many drams at the Jura distillery tour, he had a little whisky-induced fall off his bike, which I will never forget. (Don't drink and cycle!)
In 2019 he went off to Italy and cycled (most) of the way back home and I always find him planning for his next adventure. Happy Father's Day Dad! You will always be an inspiration to me.
– Cycling UK's cycling development officer for Tyneside, Jordan Matthews
'The full of stories' dad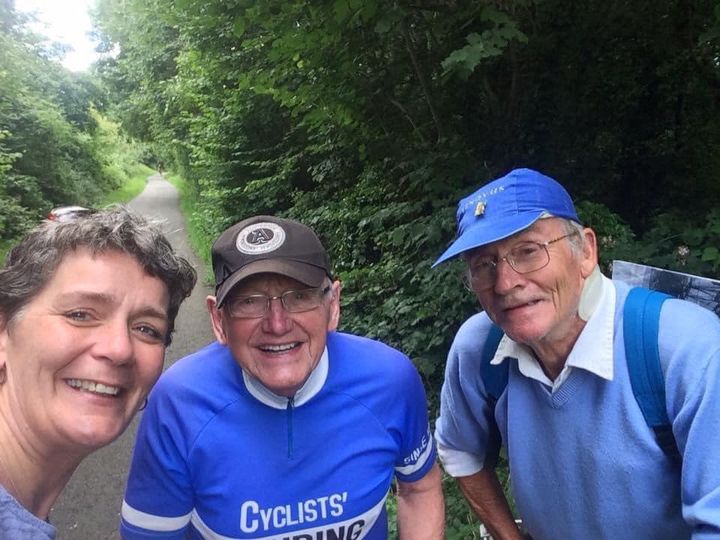 It was my dad that got me into cycling. He rode to work as a teacher and on holidays he'd take my sister and me as slightly reluctant teenagers on adventures by bike, over the mountains to Aberystwyth to visit cousins and along the flat paths from Bruges to Amsterdam.
He's never had expensive bikes and I've often wondered how they survived some of the trips he took them on. But he's made the most of every opportunity to explore, heading over to France most summers on his long holidays from school.
At 65, he rode one of the pilgrimage routes to Santiago de Compostela, and spent a few years after recounting his tales. At 88 he's still cycling; he now chooses to walk up hills, but is lucky to live very close to Lon Las Menai, a flat route to Caernarfon.
On a recent visit to Cardiff he took his bike by train to explore the Rhondda Valley and some of the history we'd recounted in our Tales of the Trails. Just hope I can have as long a cycling life as him.
– Cycling UK's engagement officer in Wales, Gwenda Owen
'The gone but not forgotten' dad
When Cycling UK's bikepacking expert, Sam Jones, suffered the sudden loss of his father, the Chianti Hills of Italy's wine country called to him.
"Should I go? I asked myself while packing up my bike and gear ahead of a flight to Italy only eight hours away. I had no answer. Like an automaton, I packed, occasionally freezing to stare off into the distance, unpacking something, only to put it back again. Should I go?
"Everyone was saying I should, that there was nothing I could do here in England, that everything was taken care of, that I should go off and ride the route I had planned for months, that it would be good for me, that it's what he would have wanted.
"All of which may have been true, but my father had passed away less than 36 hours earlier. Going away didn't feel right. I was in a state of shock. Uncomfortably numb."
The trip gave Sam the time and peace early one morning while busying about the barren campsite preparing tea to take stock of what had happened.
"It was a time to be left alone with my thoughts, and inevitably they turned to my father. The exhilaration and exhaustion of the previous day meant I'd not had much of a chance to think about him. I wondered what my life would be like without Pa, knowing his favoured armchair by the fire would sit empty and I'd never hear one of his familiar tales again.
"It was a strange time for a cycling journey, but I'm glad for the bike, my friend, and the adventure that gave me a break from grief and a glimpse of life.
"Recently becoming a daddy myself, in those infrequent moments when there's time to think, I do find myself wondering and planning for those future opportunities to take to the trails and road with my son. There's a life time of adventure ahead of us, and I can't wait for us to embark and start building our memories of time together."
– Cycling UK's communications delivery manger, Sam Jones