Naomi's confidence boost thanks to Big Bike Revival
Naomi Milne, from Aberdeen, is a keen runner, but was never a very confident cyclist. A bad fall a couple of years ago shattered her confidence further and she hadn't cycled since.
Last summer, following an injury which prevented her from running for a while, and with some encouragement from her husband and father, who are both cyclists, Naomi decided to give cycling another try.
She said: "I had been looking for adult cycling skills lessons in my area for a while but nothing existed until the Big Bike Revival came along. I signed up to a cycling skills session run by Aberdeen Cycling Forum which took place in Duthie Park. Although that's only half a mile from my house, I had to walk my bike there!"
The skills session was funded by the Big Bike Revival, a Cycling UK project which inspires communities to get pedalling by supporting grassroots organisations to deliver their own cycling activities.
Despite the pouring rain that day, the instructor took the group round the park, demonstrating skill areas such as taking hands off bars to signal and judging narrow spaces, as well as providing advice on collision avoidance by looking ahead rather than at obstacles. Following some loops of the park, Naomi felt comfortable enough to ride home afterwards.
With her new-found confidence, Naomi set out to explore her local area on quiet roads, starting with short distances. She soon began to appreciate the joy of travelling on two wheels using nothing but leg power.
Even if it's just a social ride, meeting others for an ice cream feels satisfying when I've got there by myself

Naomi Milne
"There's a real satisfaction from feeling that you are getting out and doing something. I've been able to go further than I could run which has taken me to beautiful scenery in a part of the county I hadn't been to before, because it's easy on a bike. Even if it's just a social ride, meeting others for an ice cream feels satisfying when I've got there by myself."
When the coronavirus crisis meant she started working from home in her role as a health, safety and environment adviser for BP, Naomi took full advantage of the quieter roads to build up her fitness to take on longer rides.
"In lockdown it was easier to build up confidence to ride on roads. I needed that quiet time to build my confidence."
Often accompanied by her dad, Ian, Naomi rode 25-30 miles before work in the summer, feeling the benefit of the fresh air and exercise for the rest of the day.
"That couple of hours on the bike helps me concentrate and of course working from home means I can sit at my desk in my cycling gear. My dad is a source of motivation as knowing that he's waiting for me means I have to get out of bed.
Sometimes my mum comes too, but my husband is just too fast."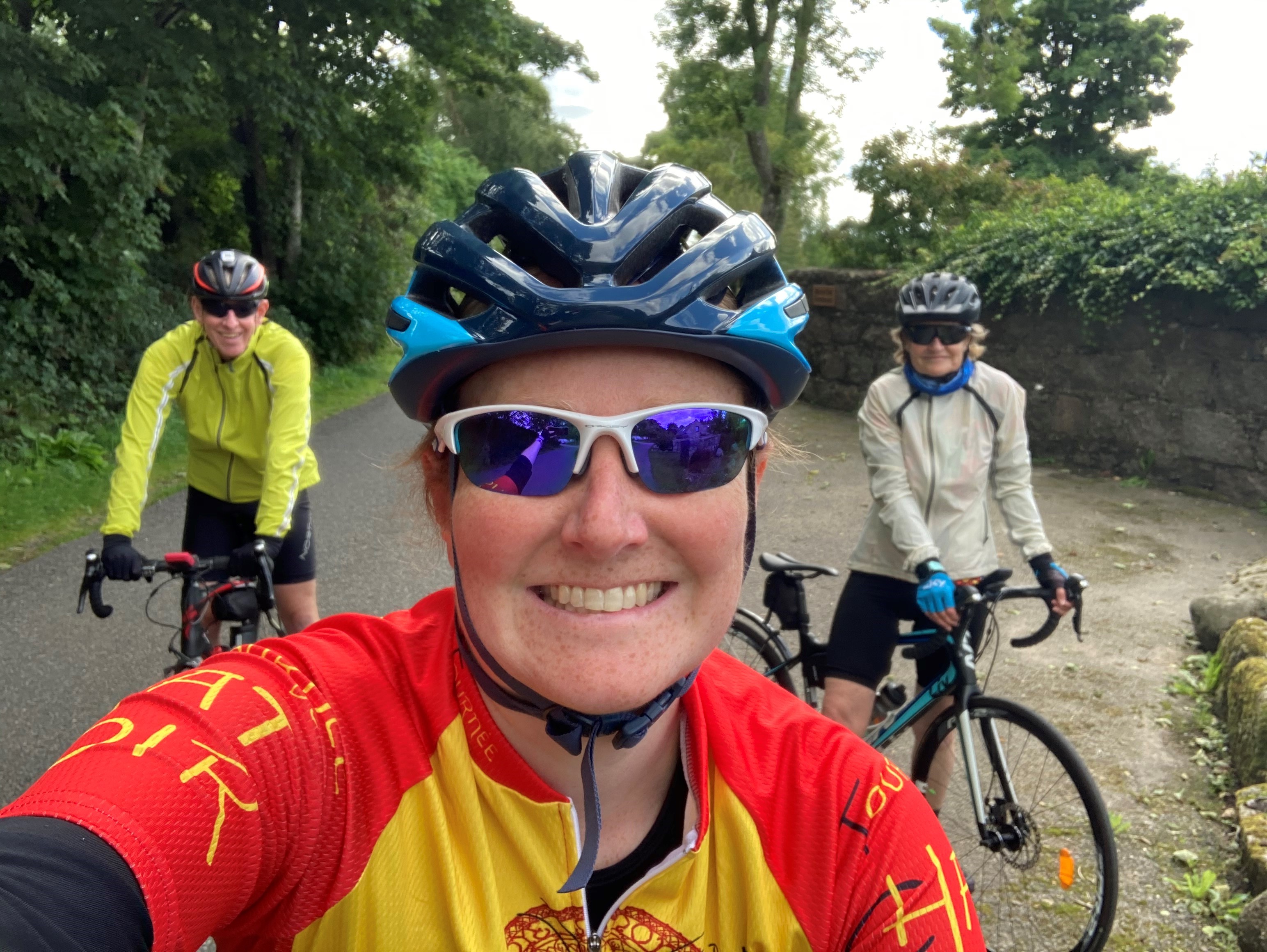 She didn't stop there, going for weekends away to tackle adventurous rides including part of the Etape Caledonia route and the tough Ben Lawers climb in Perthshire.
Naomi's next challenge was the big one – a 100-mile ride. Having signed up for a 100-mile sportive in September which was cancelled, she decided to attempt an epic ride herself.
"I took a day off work when the weather looked good and planned my route on Strava. It was a loop to the north of the city followed by a loop to the south of the city, so there was a point in the middle when I could bail out if needed, but I managed to do the lot!"
After that, her plan to pedal the eight miles to work once she returns to the office, may seem less of a challenge, but considering she had to wheel her bike to a cycle skills class only a year ago, this represents an amazing transformation.
And Naomi hasn't lost her appetite for a challenge.
She said: "I've signed up to do a duathlon (running and swimming) and also joined a triathlon club, so I'm hoping to do a triathlon next summer."