My life as a cycling student in Japan
The opportunity of a lifetime
When I was studying for my degree in International Relations and International Development at Sussex University, the opportunity came up in 2018 in my third year to spend it abroad. I decided on Japan as it was a place I'd never been to but had always wanted to visit for its culture, its people and, of course, its fashion and food.
My steed
For the first few months, I lived about an hour outside of the city and so I relied on the trains a lot. I really missed the freedom and fun of cycling as I'd used my bike to get around Brighton, having been a cyclist since childhood.
When I moved to an area in the north of Kyoto, my top priority was to get a bike. In this rush of excitement, I opted for the same bike my friend had, what's known as a 'mamachari' – an iconic model, meaning 'mum's bike', complete with a basket on the front, low crossbar and a rack on the back. However, it was a bit small and my knees began to hurt as I struggled up the steep hill to my house.
Quite soon, I upgraded to a faster and lighter single speed Natural Cycle Kyoto road bike. It was a beautiful green colour and I loved it immediately. I felt back to my speedy self; it was perfect for commuting to uni and exploring all over the city.
The badge on the front read: 'The end of Oil Age – Wear off the fat in your Body & Soul', which I thought was a very cool message! Sadly, it proved impossibly expensive to bring the bike home so I sold it before I left.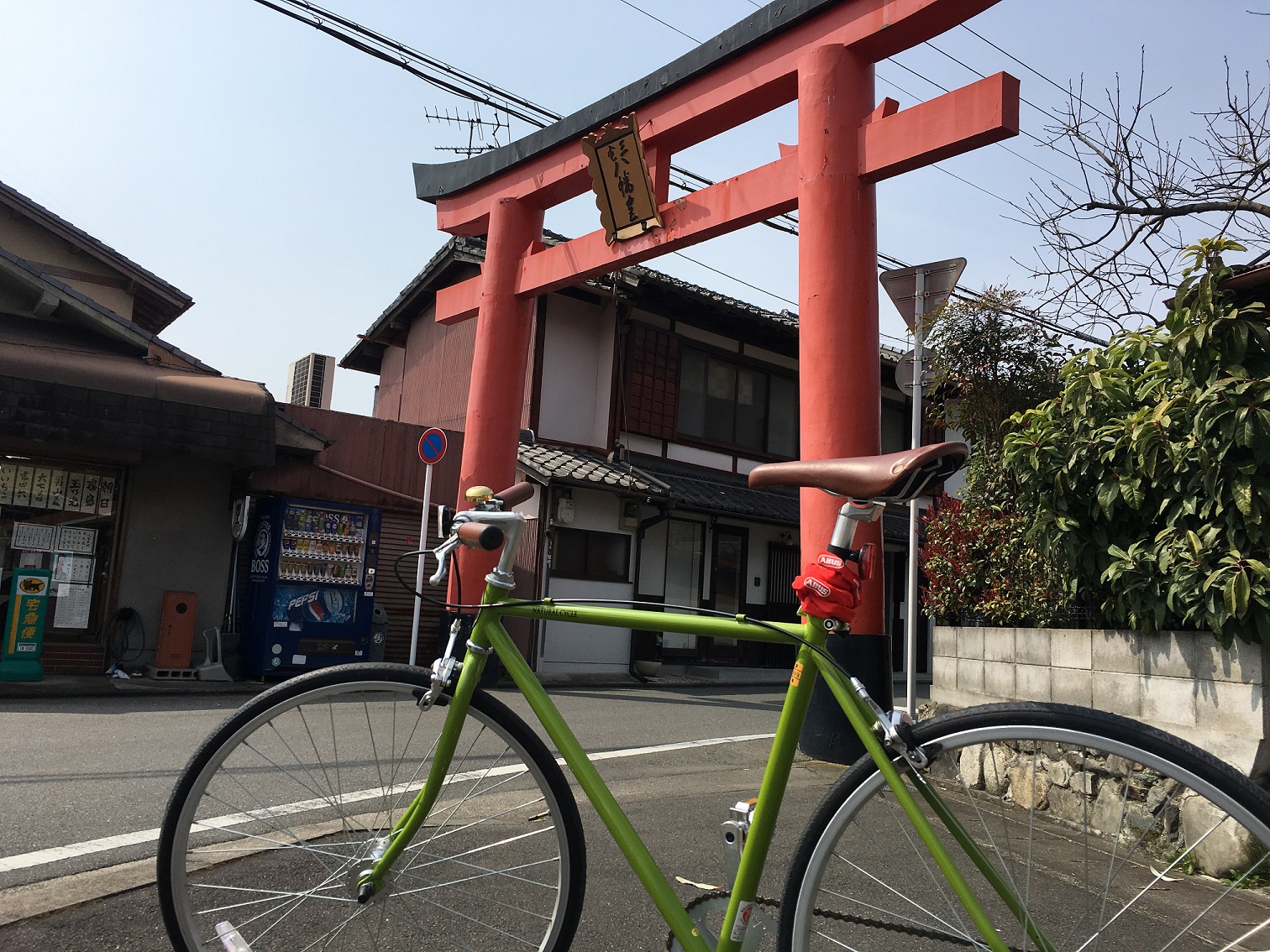 Kyoto
Kyoto is laid out in a grid system, which made it very easy to navigate and get around quickly. The best way to get from the north to the south of the city was down the Kamogawa river running through the middle of the city.
There are wide gravel paths on either side, a popular spot for people to hang out in the spring and summer when it becomes very lush and green. From here there was a beautiful view of the mountains which surround Kyoto.
There is an abundance of cycle lanes on the long straight flat roads, which don't have a single pothole. Off the main roads, it was very quiet, perfect for admiring the plethora of Buddhist temples and Shinto shrines as you glide along.
Japan is famous for its well-organised, polite and ordered society; a plethora of written and unwritten social and cultural rules are believed to be important for maintaining peace and harmony between people. For example, it is considered rude to make noise on the train or eat or smoke while walking in the street. There are also a lot of rules for cyclists.
However, cycling seemed to be the one activity that had the least social pressure or law enforcement. Many people cycle on the pavement and on the road – even down the wrong side!
I was always impressed by the normality of seeing people carrying large clear umbrellas in one hand while cycling in the rain. This is technically illegal and you could be fined up to 50,000yen (£360), although many people have fixtures on their handlebars to carry the umbrellas more safely.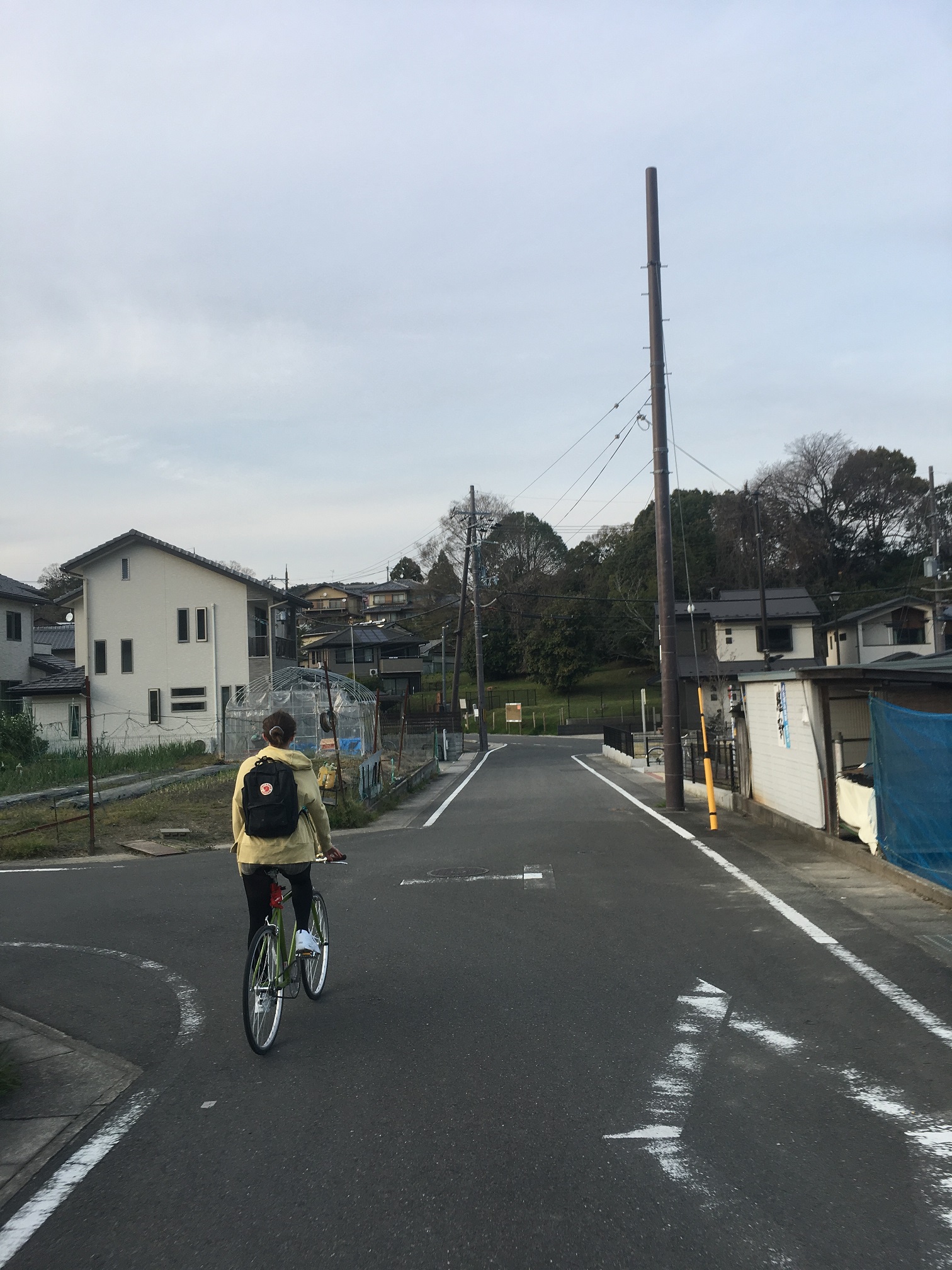 Strictly enforced
The rules about where you can park your bike were very strictly enforced, though. If it is in the wrong place, it will be taken by the council to a compound and you have to pay 2,600yen (£18.67) to get it back.
The first day my friend visited, we parked our bikes underneath a bridge and when we returned, they were gone. We knew they hadn't been stolen but we had to travel across the city to get them back. I'll never forget the man whispering 'gaijin' – meaning foreigner – under his breath for us not understanding how this system worked. The compound was full of thousands of bikes!
Despite this, it is usually much easier to park your bike in Japan. You can leave it outside a shop or café either unlocked or by simply locking a wheel to the frame with peace of mind that it will not be stolen.
At Doshisha University where I spent my year abroad, many people cycled in and there were large spaces to park bikes but nothing to lock them to. There was even a security guard guiding you into a space and moving the bikes to create more room.
Impressive
Equally impressive were the girls I saw cycling and dismounting very gracefully in long skirts, their hair perfectly in place as they glided smoothly into a space – compared to me arriving all sweaty in the extreme summer humidity, late for class and jumping off my bike in haste. It was also normal to see people hitching a ride on the rack on the back of their friends' bikes.
There are many bike shops so it was easy to get things fixed or hire bikes for when friends visited; when my mum and uncle came over, we spent a wonderful day riding around sightseeing.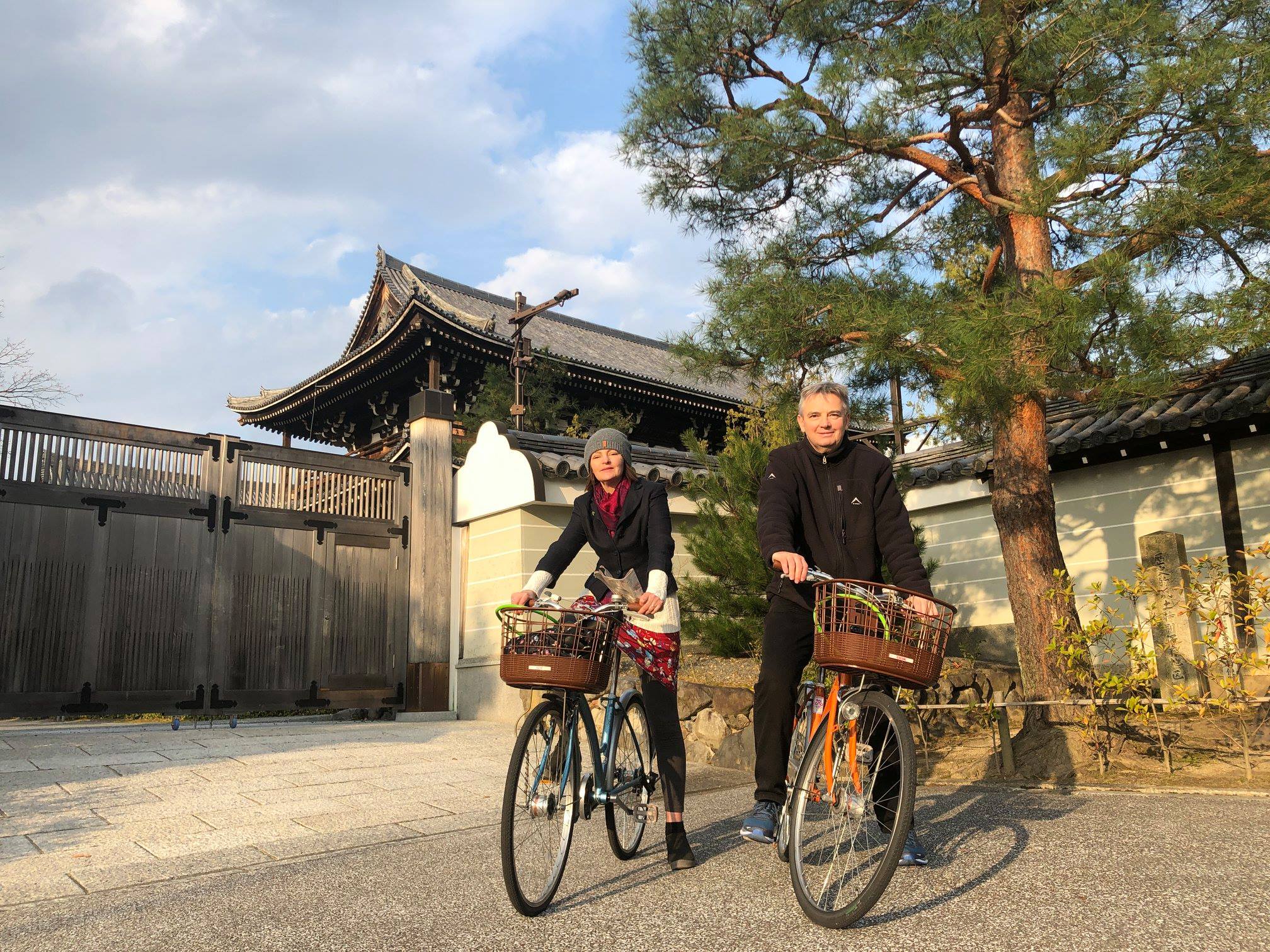 The cycling culture
Cycling in Japan is an accepted and respected form of transport, and part of the culture. But this didn't mean that I never experienced any issues such as cases of bad driving – it seems that is universal. For example, it was common for taxis to be parked in the bike lanes and for cyclists to not be given space when being overtaken.
However, the simple road layout and cycle lanes everywhere made cycling a much less stressful experience than is common on British roads – although I was once told off by a policeman for wearing headphones while cycling, and for cycling on the main road through the centre at the wrong time (it was banned for cyclists between 8am and 9pm).
I had to register my bike, an overly complicated process of filling in forms and handing them in to various offices at uni. I also had to attend a bicycle safety lecture, featuring some rather comedic videos of people falling off their bikes. For these reasons, I wouldn't say it was actively encouraged, but cycling is such a common part of the culture that it is the norm to have good infrastructure and space for parking.
Safety is paramount in Japan so these extra measures are put in place, but no encouragement was needed for many students to cycle, and a higher proportion of students do so in Japan compared to England.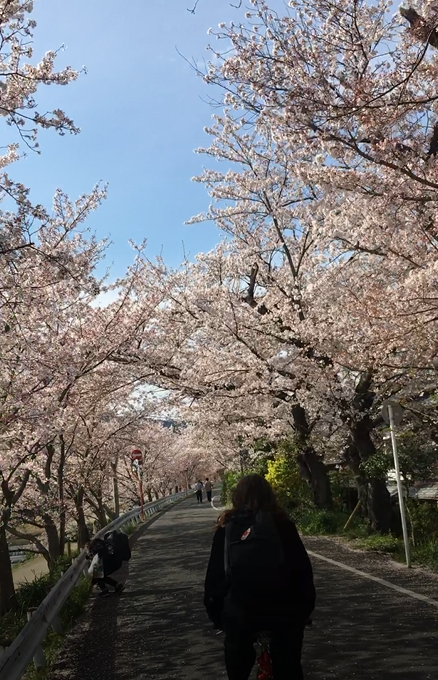 Everyone cycles!
In Japan, cycling seems more common among the general population, and is done more casually – I rarely saw people cycling with 'all the gear'. It is also more common to see parents cycling with children and babies on board and children cycling to school together. This is probably reflective of the safer cycle infrastructure and calmer traffic.
Everyone cycles! From little children in their bright yellow school hats, to students riding to university in stylish clothing, to mums and dads with children on the back and lots of shopping on the front, to business people in suits, and elderly people. I never once saw someone wearing a helmet or special cycling gear.
The true joy of having a bike in Kyoto
Now I had a bike and was fully au fait with the cycling culture, I was finally ready to experience the true joy of having a bike in Kyoto.
As the last of the crimson and yellow autumn leaves ('momiji') fell, a much-loved sight in Japan, I enjoyed the quiet next to the Kamogawa with the kites circling overhead and herons, egrets and cranes standing elegantly in the water. In spring, I marvelled at the cherry blossom ('sakura') as I passed through a tunnel created by trees either side of a road on my route to uni.
As it became warmer and wetter into the summer months, the greenery along the river intensified and everywhere became more luscious. I loved cycling out of the city to swim in rivers

Ruby Seber, cycling student
As it became warmer and wetter into the summer months, the greenery along the river intensified and everywhere became more luscious. I loved cycling out of the city to swim in rivers.
Sometimes, in the early evening I would cycle to Gion, the geisha (known as 'geiko' in Kyoto, while 'maiko' are apprentice geikos) district. This was the perfect time to see the geisha quickly shuffle between tea houses, and I was always mesmerised by their beauty.
One of my favourite memories is when a friend and I explored the city in the warm night air, our intuition guiding us at each turning in an attempt to get lost. It was a magical experience and felt like a form of meditation.
We marvelled at all the temples, even more peaceful as they were empty of people, and only lit up by big red and orange lanterns. We found a steep hill to fly down which had a 'torii' – a large red gate and the symbol of Shintoism – at the bottom of it, the city lights ahead of us rushing towards us.
I also really enjoyed cycling through the Imperial Palace in complete darkness when it was empty. It was the closest thing I could get to off roading, speeding down the windy gravel track, avoiding potholes and splashing through puddles, the route memorising.
Back in Brighton
Like many students, I suddenly had to leave the city I love in March 2020, as the UK went into lockdown, completing my final year from home.
When I think of cycling in Brighton after my pre-pandemic year abroad, it conjures up feelings of confusion and stress.
In the centre of the city there were hardly any bike lanes. The few that were had roads crossing through them constantly. There was often a lot of congestion and it felt badly planned out.
Riding from where I lived in the centre to the seafront was full of stopping and starting and a lot of fast-moving traffic. It always felt confusing as to where you can ride if you want to stay off the main road as much as possible.
However, at a certain point it becomes impossible to avoid the main road – not ideal for friends who are less confident cycling. Getting to the seafront felt like a wave of relief; you could finally relax and enjoy the ride.
Cycling gets easier once you got out of the city towards the South Downs and Sussex University. There is a convenient bike lane all the way from the centre to the uni, although you still have to deal with buses as the path tends to go round the back of bus stops, with cars parked in the bike lane. You might not be surprised to find out that drivers in Brighton are also much more likely to be rude and intimidating!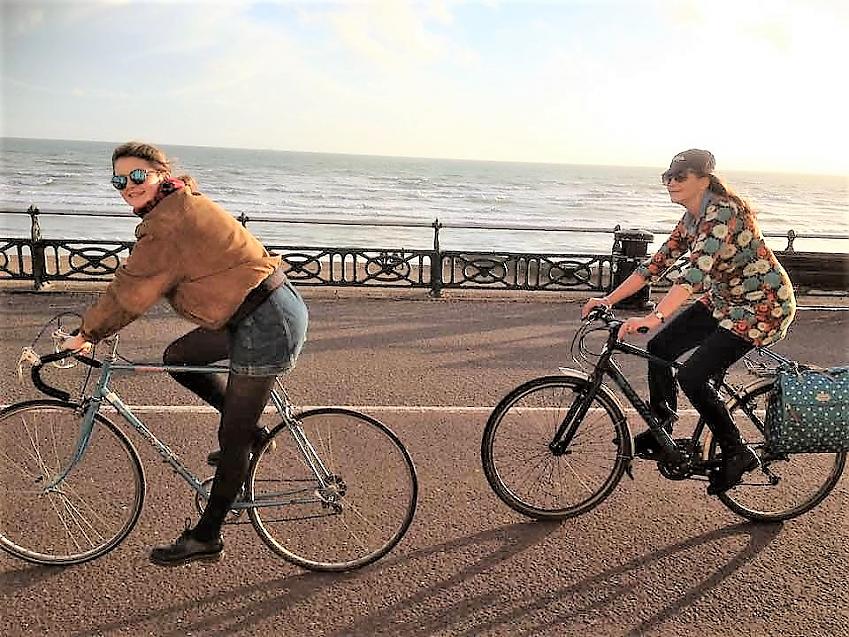 Regardless, cycling was the easiest, quickest and cheapest way to get to uni – as well as being good exercise and fun (apart from when it was wet, very windy or freezing cold). But the vast majority of students took the train or overcrowded buses to the campus in Falmer, although it was very normal among my friends to cycle.
I never wore conventional cycling gear and often rode in my long faux leather coat and flares.
Fast forward to 2021, and after long periods of construction, although somewhat controversially, spaces have finally opened up that will make it easier to cycle around Brighton. This has come too late for me as I've left the city, but I hope it will provide safer and more enjoyable cycle routes and encourage more people to travel by bike in future.
My best memories
When I think back to my extraordinary student years, some of my best memories are of gliding on my lovely green bicycle along the back streets of Kyoto, coming across beautiful, peaceful Buddhist temples and Shinto shrines, or going past colourful fruit and vegetable stands and small doorways to ramen shops.
I remember cycling through the Imperial Palace gardens, and cruising along the seafront in Brighton on my Norco with my friends exploring the city's many hidden attractions.
I know I was very lucky to have had the opportunity to live in Japan for a year pre-pandemic through the study abroad programme at Sussex University – an experience I highly recommend to anyone heading to uni, once the pandemic is over, of course.
I also recommend cycling to campus – it's cheaper, easier, healthier and more fun than taking the overcrowded bus!