Inspiring volunteers: Jack and Tony, bike mechanics at New Roots
New Roots
New Roots is a Birmingham-based charity that has been around for over 20 years. Their aim is to help people 'realise the skills necessary towards leading an independent and fulfilled life'.
A few years ago, New Roots' Steve Potter, with the help of Cycling UK's development officer Vanessa Morris, decided to become a Cycling UK Community Cycle Club, through funding provided through Cycling UK and the Department for Transport, Steve set up a bike fixing workshop, thus combining his job with his passion for cycling. His aim was "to give the lads something to do" and says he's enjoying seeing how far they have come.
Not only that, the bikes they fix for free have helped the community enormously, further elevating the satisfaction and self-esteem of the mechanics involved. New Roots have taken part in Cycling UK's Big Bike Revival (BBR) and hosted Dr Bike sessions for key workers last year, along with Cannon Hill Community Cycle Club, and have continued doing so throughout 2021.
Jack and Tony are bike mechanics at New Roots, and were recently awarded with a Certificate of Thanks. The mechanics, who appear on Cycling UK's Roll of Honour devote much of their spare time to sorting out bikes for the local community, a vital service, particularly during lockdown. The club have progressed to run weekly led rides for the community to get involved with, providing bikes to participants without access to their own bike and providing opportunity for social interaction and improved physical welbeing.
Life-changing
Jack, aged 23, had been living on the streets when he met Steve and became involved in the project. He was already a cyclist and knew a little bit about bike mechanics, so started volunteering in his spare time before eventually undertaking a Level 2 Advanced cycle mechanic qualification with Chris Alston of Cycling UK.
Jack struggles with anxiety and depression and sometimes used to find it difficult to leave the house, but now, with the help of Steve, he is back on his feet. He says that seeing people happy has boosted his confidence, helped with control his suicidal thoughts, and given him a reason to live. It's something he now wants to do for the rest of life. 
"We really love doing it and it's rewarding, fixing up and giving bikes out to people on low incomes.

Jack Brookes, New Roots 
He says: "We really love doing it and it's rewarding, fixing up and giving bikes out to people on low incomes. It's lovely to see the smile on the kids' faces, and hear them saying 'thank you' and it's also good to see we can help people out."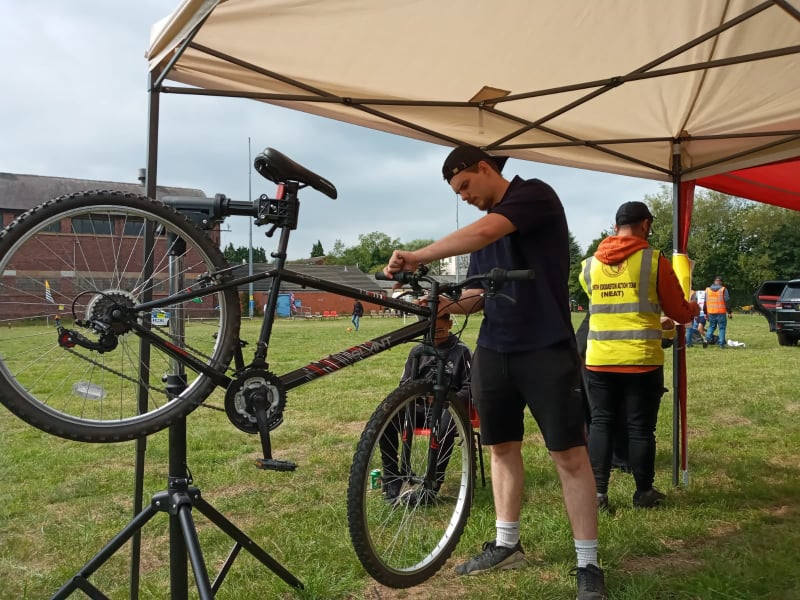 How it works
Jack explains that some bikes are donated by the police, but the project also works with Birmingham City Council and with the NHS. Local GPs can prescribe cycling, and the group also hosts a lot of Dr Bike sessions in the community, where anyone can bring a bike down and get it serviced.
The amount of time he can devote to volunteering varies: sometimes it's five days a week, sometimes just two but he does as much as he can manage. Sometimes more, though, because he loves the work so much, he will come down, even when he's not meant to be there!
He also enjoys the fact that he's always gaining new skills. Jack says: "We're always learning – we can't know everything." In late July, he and Tony are attending an Advanced cycle mechanic course, again with Cycling UK's Chris Alston. 
Coronavirus impact
As for the impact of covonavirus, Jack is sure that being a voluntary bike mechanic has made a huge contribution to the effort towards maintaining community morale and wellbeing during lockdown.
Giving people access to bikes has helped them cope with the situation, as well as improving their mental and physical health. Knowing that his skills are in demand has also helped Jack's own situation - his anxiety and depression have reduced accordingly.
He is also now able to speak to all kinds of people with confidence and no longer feels like life isn't worth living. In fact, he loves it so much that fixing bikes and helping others are now something he wants to do for the rest of his life. 
Further qualifications
Tony Price, 33, was also homeless and had no work. Before joining New Roots, he had been a car mechanic and was doing that a few days a week. A couple of years ago he was hosting Dr Bikes sessions and struggled to talk to anybody at first. He hadn't really been a cyclist since he was child, but not long after he rediscovered cycling, his bike was stolen so he didn't ride anymore.
However, he knew how to fix bikes even before getting a formal qualification. Like Jack, he's looking at doing further qualifications as bikes change to hydraulic brakes and electronic shifters and doing the Advanced mechanics course will help a lot. He says that bikes are quite expensive for what they are, and therefore cost more to have serviced.
Helping people out
When asked what he would say to someone considering volunteering, Tony says: "Just do it. It's not about just getting paid, it's about helping people out. I mainly do it for the satisfaction at the moment and, even though I eventually aim to get paid, currently I prefer doing Dr Bikes in the community, rather than being part of a commercial outfit. 
"Partly, that's because people are more understanding of things like delays if they're not paying for it - it can be ridiculous how much it costs to fix a bike and at the moment, parts are hard to get hold of - and the clients are really appreciative. It took three weeks to fix one kid's bike, but it made his day once it was ready."
He continues: "All bike shops are struggling to get parts, but at New Roots, we are really good at improvising with parts from donated bikes, as long as the bike is safe to ride, of course.
"Everybody's always happy with what we've done and put great comments on our social media. It doesn't matter if sometimes they think they know more about the bike than you do - everybody is an expert, except when it actually comes to fixing the bikes!"
What we're most proud of
Tony says he's very proud of how fast the project has grown. Starting from nothing, to growing into a small unit helping hundreds over the past two or three years, the charity is now fixing about a thousand bikes a year.
"Unfortunately, there's currently a problem with finding permanent premises as the ones they have can't be used for much longer. Steve has even moved everything to his house as we can't let that stop us and we're still carrying on."
Long-term goals
Steve says the long-term aim is to try and turn the project into a social enterprise. He praises Cycling UK's help and says: "The charity has been brilliant with contacts, funding and training. Vanessa is very diligent and a godsend. Without the support from Cycling UK, we wouldn't be where we are now. Chris Alston is also a brilliant teacher."
Get involved
Find volunteer cycling opportunities near you. 
Cycling UK's Big Bike Revival (BBR) is a behaviour change intervention with a vision to make cycling accessible to everyone. Our mission is to deliver free events that enable a community to start cycling through fixing bikes, teaching skills and leading rides.
New Roots will be holding its next Dr Bike on Thursday 5 August from 12-2pm at University train station in Birmingham as part of TfWM Love Your Bike and as part of Cycle to Work Day.
Do you know an outstanding volunteer in cycling? Nominate them for a Going the Extra Mile Award.