Our terrific Tri-Vets series is over for another three years
The Cycling UK Tri-Vets series takes place every three years, starting back in 1928 when they celebrated the organisation's 50th anniversary. They aim to encourage older riders to complete a 100-mile or 100km route in a specific time limit. In those early days, a rider was considered a veteran at age 40 for a woman and at 45 for a man. Nowadays, both genders are considered veterans when aged 50 and over. Some riders have been taking part in Tri-Vets events for decades. 86-year-old John Seabrook from Kent has now completed 11 rides, starting way back in 1992. This year, he enjoyed completing the South West London CTC 100-mile ride alongside two of his sons and a granddaughter.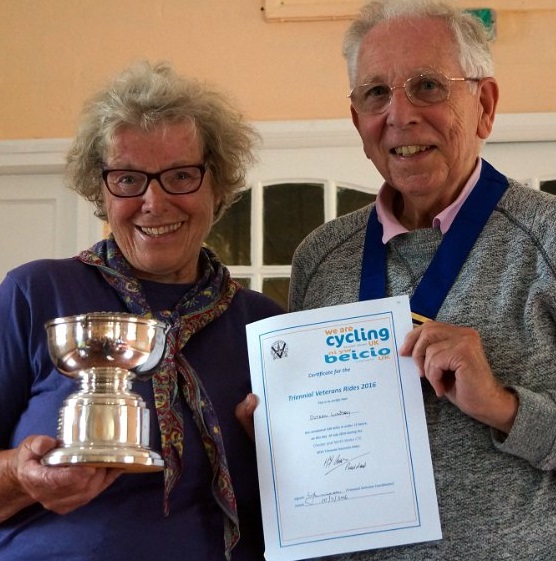 82-year-old Doreen Lindsey (pictured left above) from Gwynedd has ridden many events, starting at the age of 43. She leads the Eyri informal group and this year completed Chester and North Wales' 100-mile route. Frank Savage of Corinium Cycling Club has completed 12 Tri-Vets rides, the first in 1986 and the last in 2016, in which he was the oldest rider in the Chester and North Wales event. Sadly, now aged 86, he didn't feel able to take part this year. The oldest participant in the Essex Tri-Vet was John Rootkin of Saffron Walden at 87, followed by John Davis, who has been taking part since 1983 and has now also completed 12 rides. 
All finishers in either a 100km or 100-mile event can order a commemorative badge and date bar so they can proudly display their achievements. 
The rides are organised by Cycling UK Member Groups, each in a slightly different format, many organising riders into small led groups around a figure-of-eight circuit, with lashings of food served up for the lucky riders throughout the day. Here's how they went:
Alfreton
This was the third time that Alfreton CTC, based in Derbyshire, has organised a Tri-Vets. There were 28 entries, which were split into two groups, one group going south first and one group going north. Members of Alfreton CTC acted as group leaders and deputies. Each half had a coffee/tea stop and then lunch was served at the event HQ. The finish was at Wetherspoons, where all 28 proud finishers had dinner (and beer!) before leaving for home. The northern section of the route visited Hardwick Hall and Bolsover Castle whilst the southern half Repton, Swarkestone and the Derby cycle paths. This was the first year the weather stayed dry.
Bristol
Cycle Bristol had 44 riders, with 42 starters who were led in six groups around a new route around the Wiltshire and Gloucestershire Cotswolds, with highlights of Castle Combe, Maud Heath Causeway, Westonbirt and Badminton. They used Grittleton Village Hall as the base for the day, with refreshments of cake and buns for the morning, mild chilli with bread, and fruit with rice pudding or yoghurt for lunch and a cream tea in the afternoon with fresh strawberries. All day, there were also copious amounts of tea, coffee and soft drinks. 
There were 19 riders in their fifties, the youngest being 53, 20 in their sixties, eight in their seventies and two in their eighties, the oldest being an 84-year-old who led one of the groups. There were two riders with electric assisted cycles. At the end, all the riders were given a certificate and all seemed to enjoy the day, the route, the catering and, most importantly, the social aspect of the day. After the event, there were many emails thanking the organisation and the helpers for a great day and looking forward for a similar event in three years' time.
Coventry
49 riders took part, aged from 51 to 79, in the 100-mile route. The group's report of this ride appeared in Aug/Sept 'Cycle' magazine under Travellers' Tales. CTC Coventry will be 100 years old in 2021 and will be organising a 100-mile ride to celebrate. 
Eden Valley, Cumbria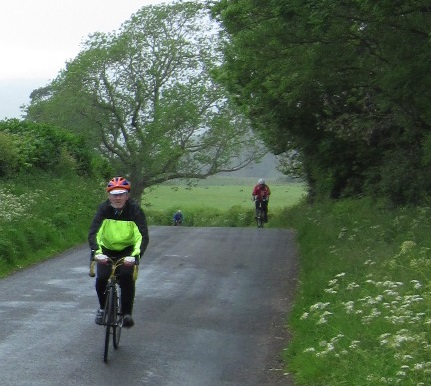 The forecast for the event was not very cycle-friendly, with a high percentage risk of rain and wind. Luckily, as is often the case, it was not nearly as bad in reality, with only a bit of light drizzle for the first hour, and by the time of the morning coffee stop, it was dry and remained so for the rest of the day. Unfortunately, the predicted bad weather put off several entrants. On the day, there were 36 riders, made up of 24 entrants plus 12 ride leaders. 20 people rode 100 miles and 16 the 100km. The oldest was 77 and the youngest, a mere 50, with 14 riders over 70 and 16 riders between 60 and 70.
The longer route visited Greystoke, Hutton Roof and Mungrisdale before the afternoon refreshment stop at Dalston Village where there was a selection of fruit crumbles and custard on offer – as you can imagine this was very well received by everyone. The riders then returned to Newton Rigg via the villages Wray, Southwaite, Ivegill and Unthank, the final group arriving back just before 7pm.
Essex CTC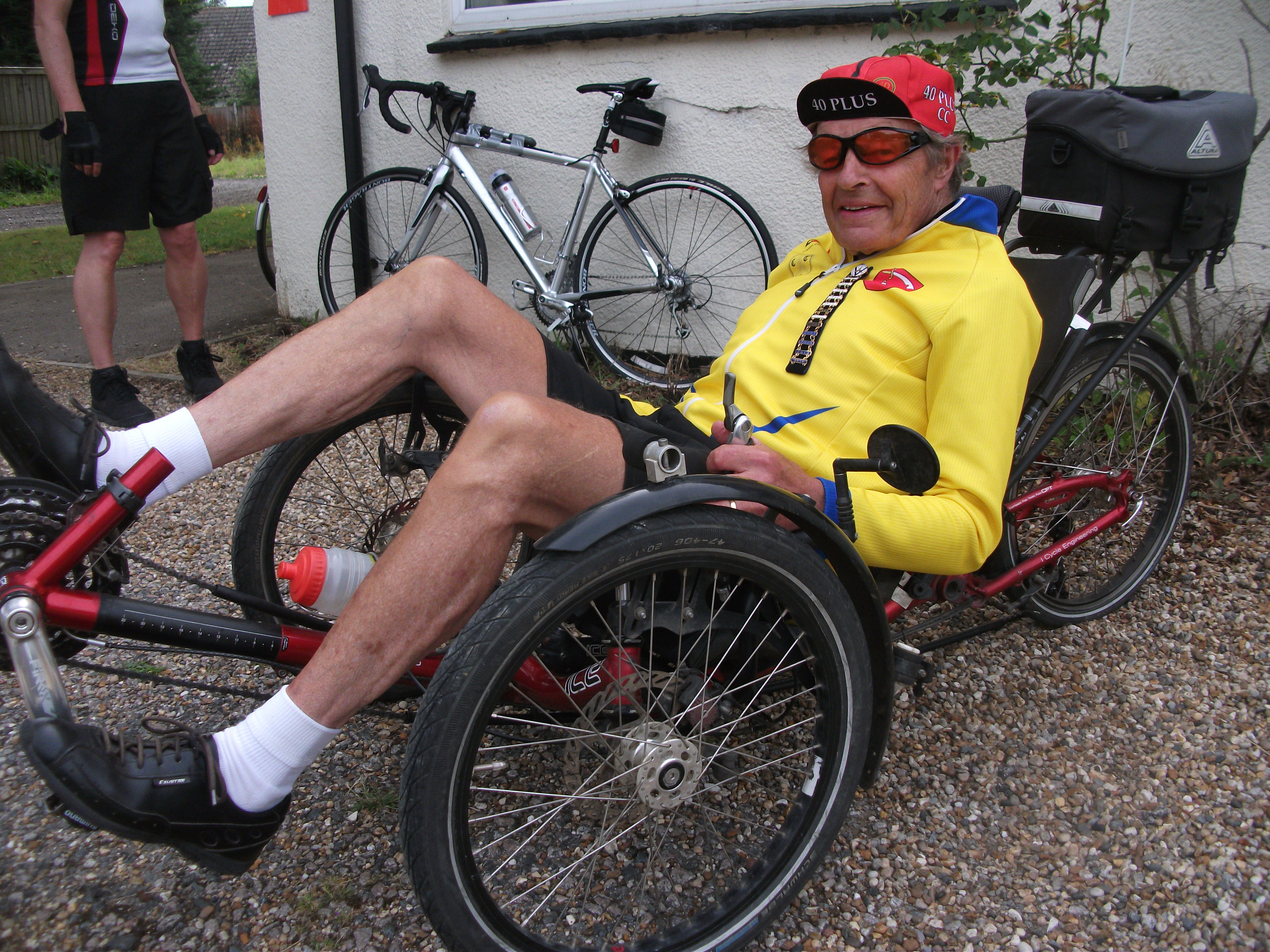 There were perfect conditions in Essex on 21 July, when 36 ladies and gentlemen rode 100 miles from the village of Mountnessing, east of Brentwood, then north to the village of Aythorpe Roding, followed by two loops of 25 miles in between numerous cups of tea at the village hall. Happily, all participants successfully completed the route, including John Davis above on his twelfth ride.
Oxfordshire
This last-minute Tri-Vets went spectacularly well. There were 30 veterans taking part in the event, which was combined with the group's Annual Century Ride. Steve Swanton from the group wrote a lengthy and descriptive report about the ride, which had strong representation from riders from Wantage Member Group, as well as regulars from Oxford City, Midweek and Wallingford, plus guest riders from as far away as Swindon and Suffolk. The three groups left at five-minute intervals, with the group of younger Vets first, and the slower group with four septuagenarians third. They all enjoyed glorious sunshine and a wonderful ride, which started in Islip and went through some of the spectacular countryside and picture-perfect villages around the area. Ride organiser Robin Tucker unfortunately couldn't take part but welcomed them all at the 75-mile stop in Faringdon with a Cycling UK banner and a 'great big cake!'. All riders just managed to make it back to Islip within the cut-off time of just over 12 hours and a there was a great sense of achievement and smiles all round as celebratory pics were taken and certificates awarded. 
Portsmouth CTC
Organiser John Rosbottom says: "The Portsmouth Tri-Vets event was on a very hot Saturday when 12 participants completed a 100 km ride, and a further four went on to ride 100 miles.The route was a figure of eight centred on Havant Spring Centre. The first stage was 100 km from Havant to Havant, starting at 9am and following a delightful route along the South Coast Cycleway, before riding into Bosham, including a short off-road section across the harbour, made possible by a low tide that enabled those tracking the ride to show they could cycle across water! It was a day of perfect riding weather, excellent food to keep us going, and no mechanical incidents to slow us down. Our route showed how riding a bike can open up a much bigger network of roads and tracks than is visible to drivers of motor vehicles, and while main roads on a hot summer Saturday were fraught with too much traffic, the cycling routes enabled us to enjoy a tranquil passage through some delightful countryside. We look forward to the next one in 2022!".
A fuller report of this ride can be found attached below. 
"All in all, a fantastic day out. The ride was a challenge, the catering was first class, the planning and organisation excellent.

Janice Dawes, South West London CTC rider
South West London CTC
This ride was mentioned in the Aug/Sept issue of Cycle magazine by Chief Executive Paul Tuohy, who took part in one of the shorter routes, and photos of the event were taken by our volunteer photographer Peter Cornish. There was a choice of distances, including a 100km and a 100-mile route and 74 riders took part on the day, despite a train strike and a severe weather warning. The food provided was outstanding, and included breakfast, a fantastic lunch of soup and rolls and an amazing spread of cakes at the end. Ten groups left Brockham led by different ride leaders at different paces, plus a tandem group and an independent couple. Janice Dawes, who rode the 100-mile route led by Hans Formella, says: "All in all, a fantastic day out. The ride was a challenge, the catering was first class, the planning and organisation excellent. A big thank you to all those who made it possible for the rest of us to just enjoy the ride." A fuller report with photos is on the Midweek Wayfarers' website.
Teesside
Cycle magazine editor Dan Joyce took part in the 100-mile route and wrote a full report in the Aug/Sept edition in the 'Great Rides' section under the heading 'Still Got It'. Sixty-eight cyclists took part, 46 of them riding the 100-mile route. The incredible spread of food at the midway point at Hutton Rudby was much appreciated, as were the incredible views of the North York Moors, which the ride skirted but thankfully didn't go up. 
West Kent
Organiser Rob Seall says: "Once again, we have had a highly successful elite event and enjoyed dry and warm weather, although it looked like threatening rain at times. There were 30 entries, 29 of which rode the event, divided neatly into three riding groups. Two thirds of our riders had ridden a Tri-Vets before, a few having collections of date bars, and for John Ennis this was his twelfth date bar. I am very grateful to Paul Mansfield, Linton Schwarz and Paul Welch whose great experience and leadership made everything run very smoothly and efficiently. This was the sixth Kent Tri-Vets I have organised, and since I have been doing them, I have run them with a single base HQ and four loops. This has been further refined to create an easy route with the minimum of hills, none of which involve 'out of the saddle' effort, whilst retaining the maximum of interesting country, quiet lanes and back roads. We now use the same route each year for our 100-mile 'medal' event, giving more riders the opportunity to reach that all important milestone, with the advantage of not being far from base if it all gets to be too much on the day. Special thanks go to my wife Ros, who not only baked all the cakes but made up all the lunches, poured all the tea and coffee throughout the day, washed up, and cleaned the kitchen and toilets afterwards. Thanks also to Bob Macdowall for being our 'official' photographer and for checking the route."
Other rides took place in Ayrshire, Chester and N. Wales, Huddersfield and Swansea.
Thanks  - and here's to the next Tri-Vets in 2022
Congratulations to all who took part and many thanks indeed to all the awesome volunteers who organised events, led rides, made and served refreshments, researched routes, signed riders in and out and many other tasks besides - without them, the Tri-Vets and all the other amazing events put on by Cycling UK's Member Groups which enable thousands of people, whatever their age, to enjoy cycling, simply wouldn't happen.
The next Tri-Vets rides won't be until 2022 but there are plenty of rides of all distances throughout the year to take part in, listed on our UK Cycling Events Guide. According to the tips sent in by our forum members, keeping riding is the main way to stay fit enough to ride a century when you're half a century yourself or older!