New figures suggest more killer drivers are going unpunished
According to figures just released by the Ministry of Justice, 315 drivers were convicted of 'causing death' driving offences last year - an 11% fall compared with the 355 convictions for these offences in 2013. Although we don't yet know the total number of road deaths in England and Wales for 2014, we do know that Great Britain as a whole saw a 1% increase in the year to September 2014 over the corresponding period a year earlier (1,730 fatalities compared with 1,711). In short, prosecutions and convictions for fatal driving offences are down, despite an increase in the number of fatalities.
CTC's Road Justice campaign has long been concerned that the justice system is failing to take road crime as seriously as it should - and particularly that roads policing is bearing the brunt of cuts to overall police numbers.  So any sign that drivers who kill are becoming more likely to escape prosecution and conviction is deeply worrying.
Of course, finding fewer drivers guilty of 'causing death' in 2014 than in 2013 does not necessarily point to greater leniency, but CTC is aware of a number of recent 'no action' cases in which, arguably, justice has not yet won through:
In February 2014, cyclist Michael Mason (70) was hit from behind by a car in Regent Street and died 19 days later. The police decided not to press charges against the driver, despite the fact that she could not explain why she did not see Michael when many other witnesses had. Their action went against the Crown Prosecution Service's (CPS) charging guidance. Despite calls to do so, the police have refused to reverse their decision. The Cyclists Defence Fund is now appealing for funds to help pay for a private prosecution.

In October 2010, Ali Farahani drove for 60m on the wrong side of the road in Liverpool and hit cyclist Daniel Ayers (42), who was drunk at the time. As a result of a decision that clearly suggests 'victim-blaming', Farahani was let off without charge. After Daniel's subsequent death, however, a review of the evidence led to a 10-month jail sentence. The Merseyside police officer who failed to charge Farahani originally has since been issued with a written warning.

In December 2009, Dan Black was cycling to work when he was knocked off his bike by a 73-year old driver. Dan was left tri-plegic as a result. The police investigation had many faults and, as a result the CPS dropped the case. (See Road Justice's report on The Role of the Police for more on this case).

CTC's Cyclists' Defence Fund is also investigating two further cases where the Police or CPS declined to prosecute on apparently spurious grounds, one being a very serious injury, the other a fatality.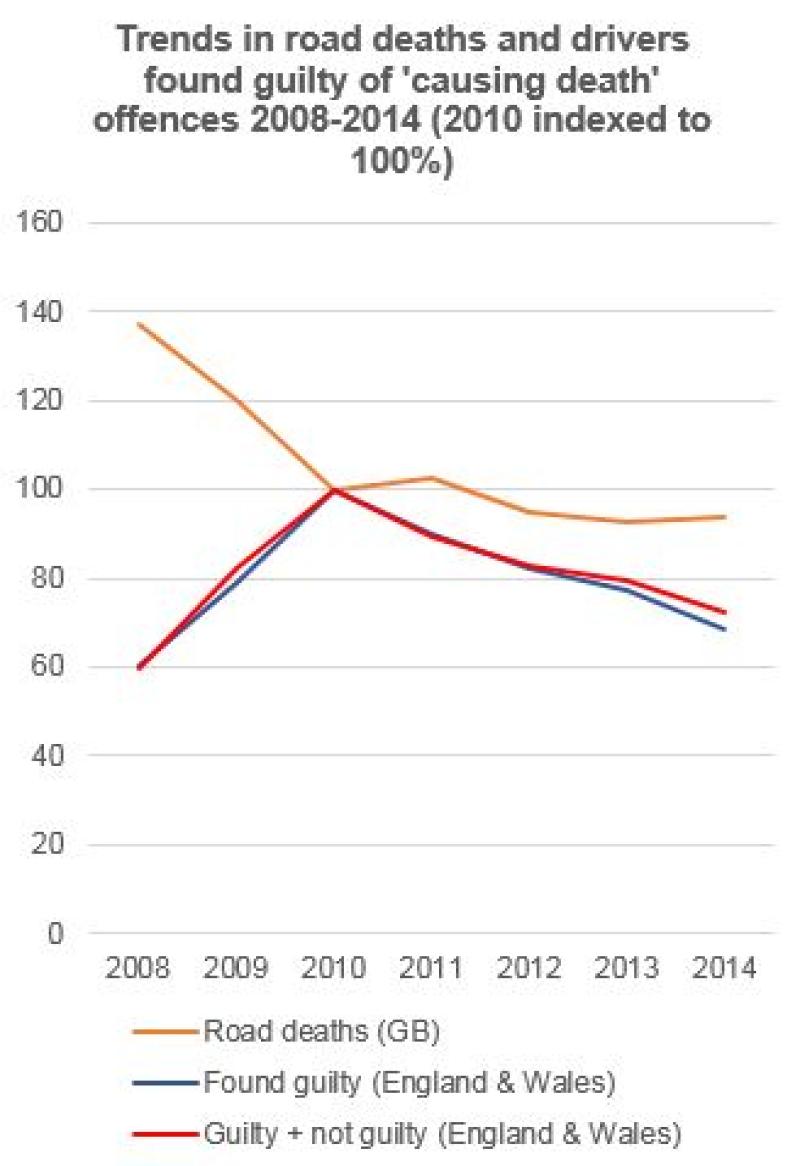 CTC believes that police failings are linked to the severe cuts that the service has suffered over recent years.
Traffic police levels in England and Wales fell by 37% from 2002/3-2013/14, from almost 7,000 uniformed officers down to just 4,356. During this time, total policing levels fluctuated a little from year to year, but not nearly to this degree: police officers in March 2014 numbered about 3.5% less than in 2003.
Adequate resources help make sure that police investigations are thorough enough to gather sufficient evidence to refer cases to the CPS, and for the CPS to pursue them.