A guide to cycling magazines
Websites, chat forums, YouTube… There are more windows into the cycling world than just magazines these days. The competition for eyeballs and advertising budgets means that the tide is slowly going out on print.
Yet most cycling magazines retain healthy (healthy enough) readerships, and some have circulations that are stable or growing. Since this article was last updated (in February 2022), no bike mags have folded and there's been one launch: Stelvio.
Here's an overview of the UK print magazines that are available, excluding one-off specials. It's arranged roughly in circulation order, with hunches used for magazines without ABC certification or a publisher statement. This review doesn't pretend to be objective: as editor of Cycle, I've got skin the game.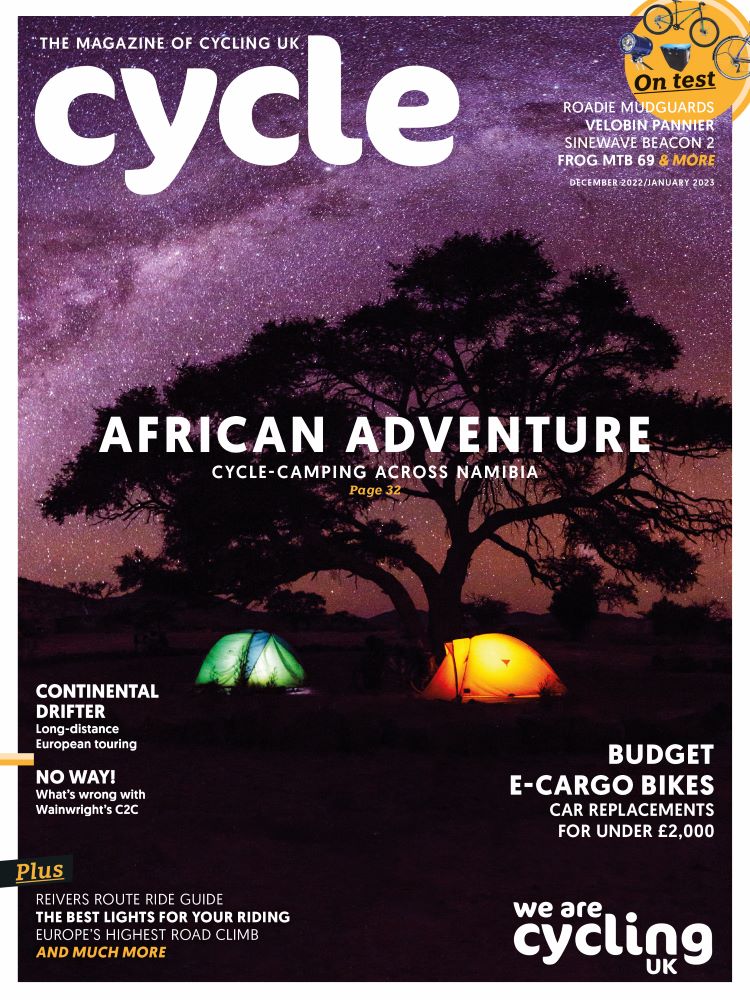 Cycle is the magazine of Cycling UK. Members receive it for free, often one copy per household, as a benefit of joining. Rather than being aimed at a single demographic like MAMILs or trail riders, Cycle covers all kinds of non-competitive on-road and off-road cycling – along with updates on the work Cycling UK is doing. It's a broad remit for 76 pages but (our survey says) 82% of members read 75% or more of every issue.
Cycle isn't driven by advertising or industry trends. It's funded by membership fees. That provides the editorial freedom to dive deeply into topics like touring, transport cycling and old-school mountain biking that other titles seldom cover.
Bike tests aren't identikit bling: in one issue it could be e-cargo bikes, another steel road bikes. Trip reports are written by cyclists who want to share their stories, not journalists on press junkets. Cycle is real cycling.
Circulation: 51,000 (membership mailing data)
Price: Free with Cycling UK membership as part of your member benefits
Frequency: six per year
Pagination: 76
Digital option: yes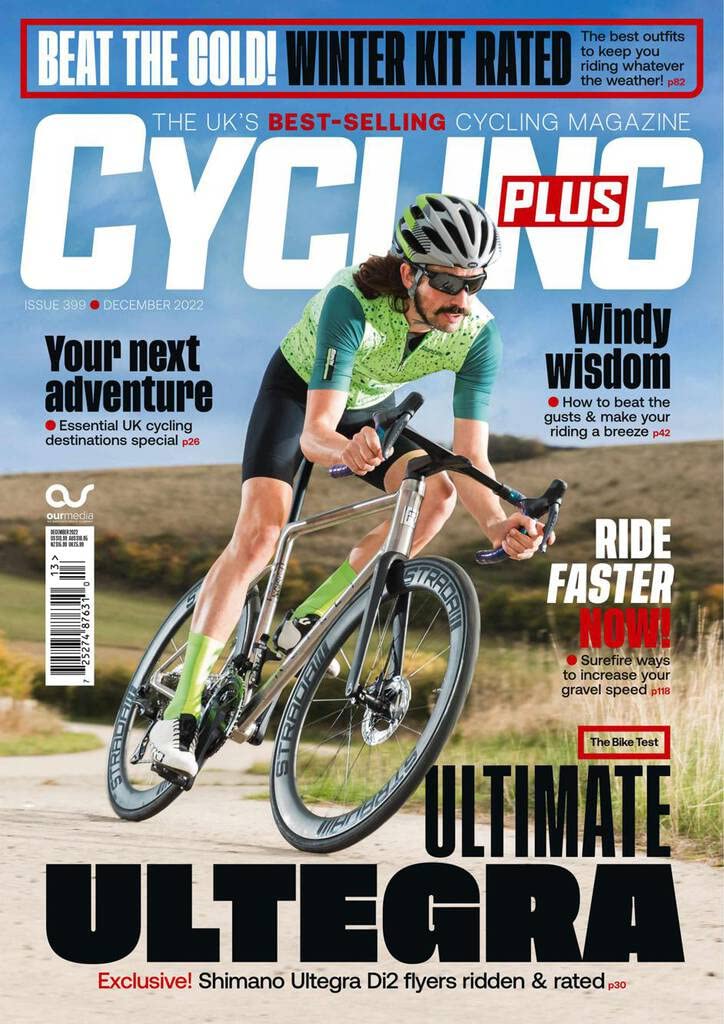 Cyclist is closing fast but right now Cycling Plus remains the UK's best-selling cycling magazine, as its cover claims. It's primarily a buyer's guide for beginner-to-intermediate MAMILs. Each issue is packed with reviews of sporty drop-bar bikes and related kit, many of them very expensive.
The winner of this issue's main bike test costs nine grand! There's a review of a £500 stem (four stars, "makes a big difference").
The photography is top notch, especially for fans of blokes in sunglasses riding out of the saddle on unaffordable bikes. Content can also feel formulaic. A sportive. Something on gravel riding. How to ride faster up hills/down hills/into the wind. Yet it's leavened with some interesting columns.
And while the reviews are littered with princess-and-the-pea assertions, they include broadly sensible buying advice. Many issues come with a bonus supplement; this one's is called Peak Performance and is exactly what you'd expect.
Circulation: 25,647 (ABC, Jan-Dec 2021)
Price: £5.99
Frequency: 13 per year
Pagination: 132
Digital option: yes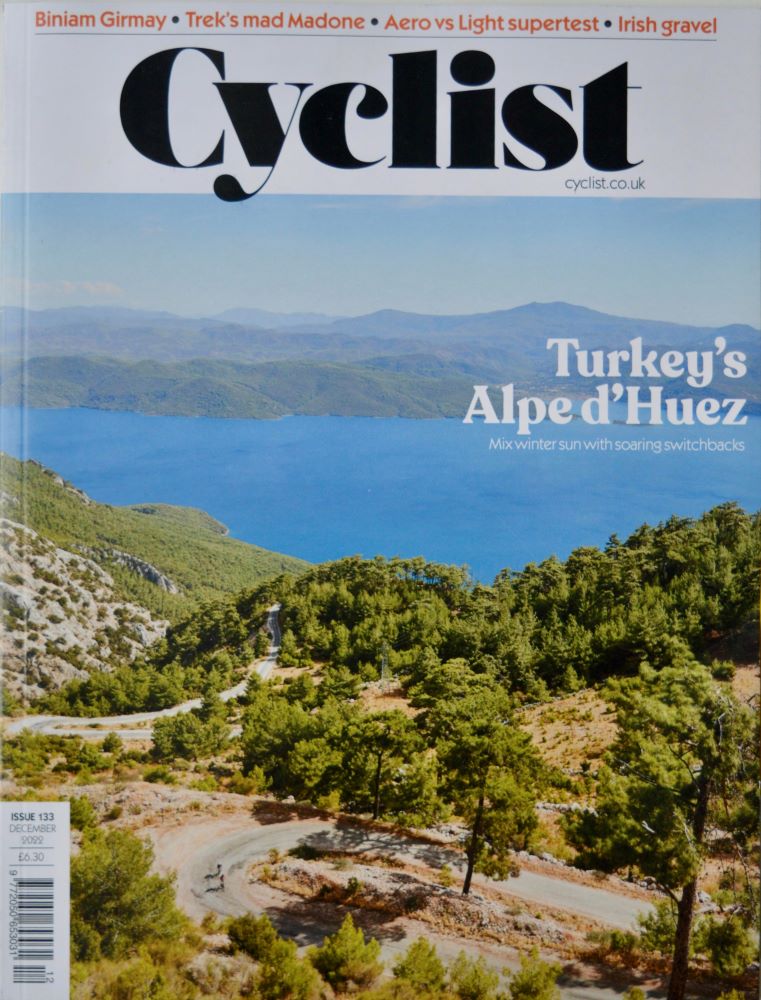 Cyclist's circulation is up by more than 3,000 since last count, perhaps because it does a good job of selling the dream of cycling rather than the rain-spattered reality. It features sun-kissed European climbs, nice photography (small cyclists, scenic settings), in-depth features and a smattering of shiny products.
It's well designed and very readable, not least because of its eyestrain-free typefaces. In a Cycling Plus/Rouleur Venn diagram, Cyclist is somewhere in the middle.
The bike reviews, which include some useful numbers like trail, are always of expensive road or gravel bikes. The other products are professionally photographed but not, it seems, tested. You don't buy Cyclist for reviews: you buy it for the views: of Alpine climbs, of bike tech, and of sport and industry figures.
Each issue feels substantial but ticks familiar boxes. It's a bit like that clubmate who goes on several road cycling holidays a year and wants to tell you about Sa Calobra. Again.
Circulation: 24,952 (ABC, Jan-Dec 2021)
Price: £6.30
Frequency: 13 per year
Pagination: 140
Digital option: yes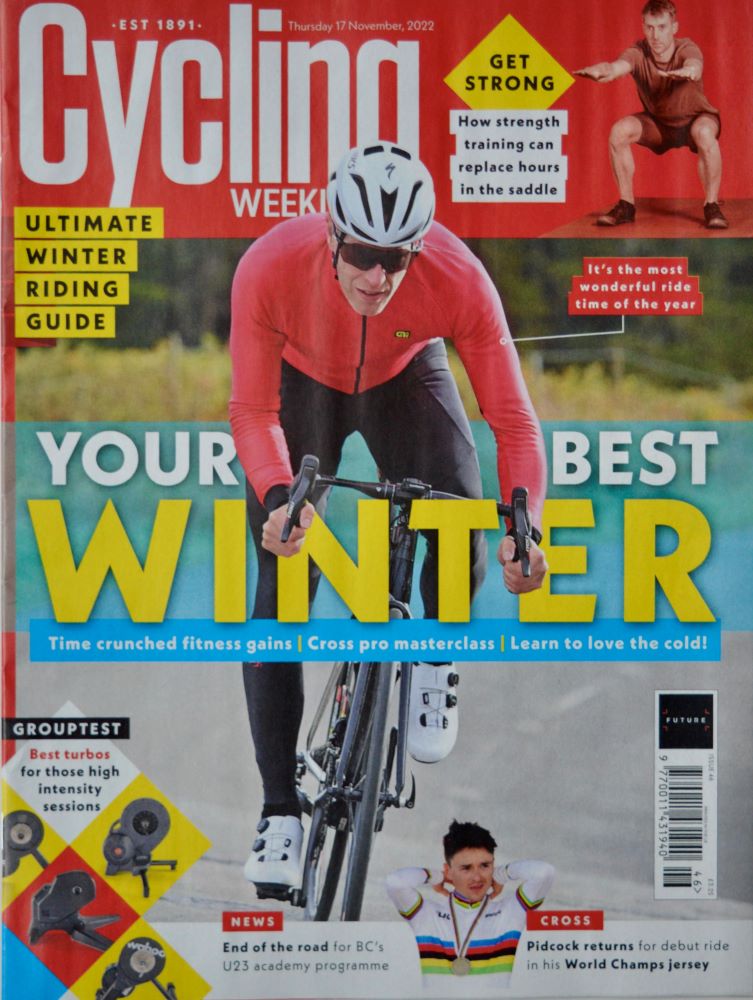 After Cycle, Cycling Weekly is the UK's oldest cycling magazine. It used to be an essential purchase for club cyclists, whom it kept up to date with the road racing, time trialling, track racing and cyclocross news that the newspapers largely ignored. You could even see your own name in print, as there were extensive results for local events.
Then all that was available online. After an initial identity crisis (sportives! more sportives!), Cycling Weekly has returned to its club cyclist roots.  
It still covers what's going on the drop-bar racing world, and in a timely fashion due to its frequency. The rest is columns, features and reviews geared towards the sort of club-run regular who's as likely to own a battered blue Ribble as a Zwift subscription.
This issue has a detailed test of entry-level smart trainers, a piece on winter riding (UK not Mallorca), and one on trying cyclocross. The lack of an ABC suggests its circulation is struggling but it could surely thrive as a website alone if it had to.
Circulation: not stated
Price: £3.25
Frequency: 51 per year
Pagination: 64
Digital option: yes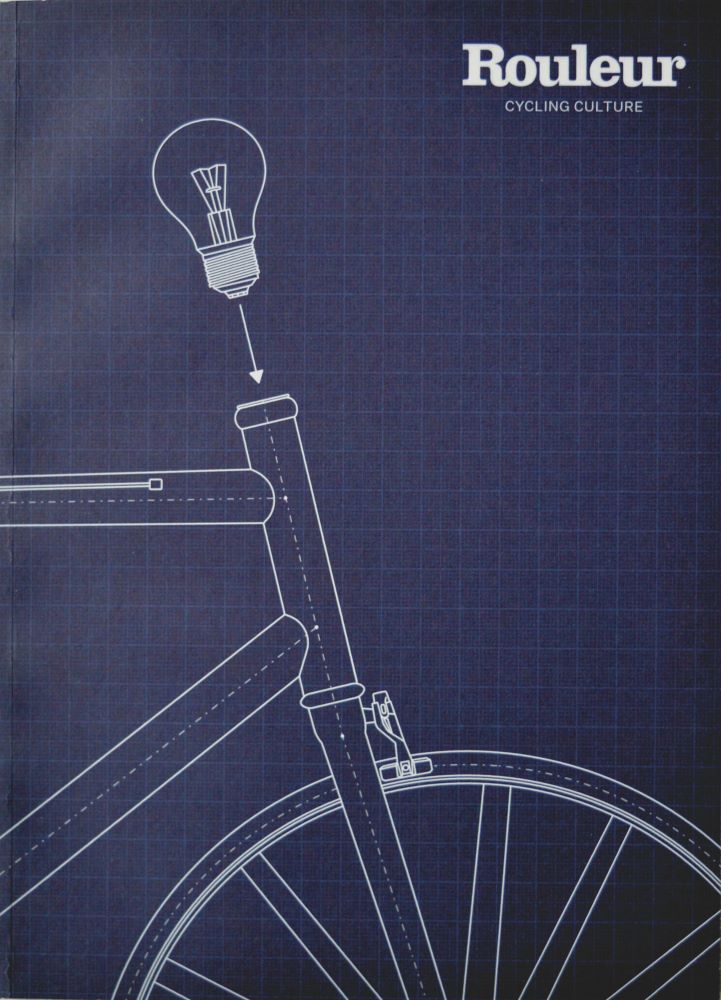 Launched in 2006 by Rapha, Rouleur was the first cycling magazine to jettison everything that the internet could do better – news, letters, top tips, how tos, arguably reviews. It focuses on print's strengths: long-form articles, thoughtful writing, arty photography, nice paper. It was expensive at launch (Rapha, innit?) and is even more expensive now. So is it worth it?
If you're reasonably well immersed in sports cycling culture and know its races, places and faces, then yes: it'll feel like an indulgent treat. It has some really well-written articles, like the ones on Tom Ritchey and France's 'empty diagonal' in this issue.
The technical stuff is mostly photo essays and manufacturer profiles, the latter "produced in collaboration" with said manufacturer – an admission that made me question the criteria for inclusion. There's also a short product showcase, which includes – and not as a spoof – a £58 Rouleur pen: "the ultimate cycling journalism pen".
Circulation: "over 25,000, including Spanish and Italian editions" (publisher statement)
Price: £13
Frequency: eight per year
Pagination: 180
Digital option: yes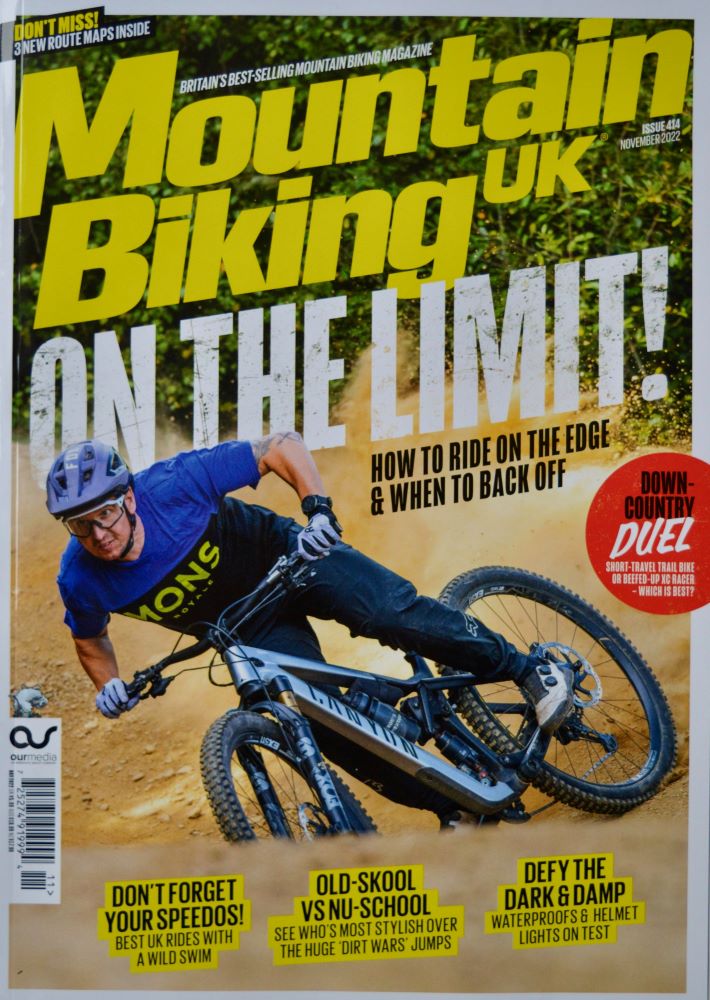 The UK's best-selling mountain biking magazine is not what it was in its heyday, despite a recent fillip in circulation. Maybe it's missing its founder, Tym Manley, who infused it with an irreverent tone, gonzo features and a cosy relationship with UK trials and downhill stars? Or maybe it's because teens and 20-somethings, whom MBUK was surely aimed at, don't buy magazines these days?
Either way, it's now just another MTB mag – albeit not a bad one. The bike reviews, although missing key geometry information and focusing only on the kinds of bikes the industry says we're allowed to like these days, are all right. Philosophical mountain biking sheep Mint Sauce is still here. The photography is still great.
The route guides are among the best in any bike mag, thanks in part to their accompanying OS maps. Where it falls down, I think, is that while it regularly tells readers how to ride (even though YouTube videos do that better), it doesn't really do enough to show us why.
Circulation: 23,322 (ABC, Jan-Dec 2021)
Price: £6.50
Frequency: 13 per year
Pagination: 132
Digital option: yes
Mountain Bike Rider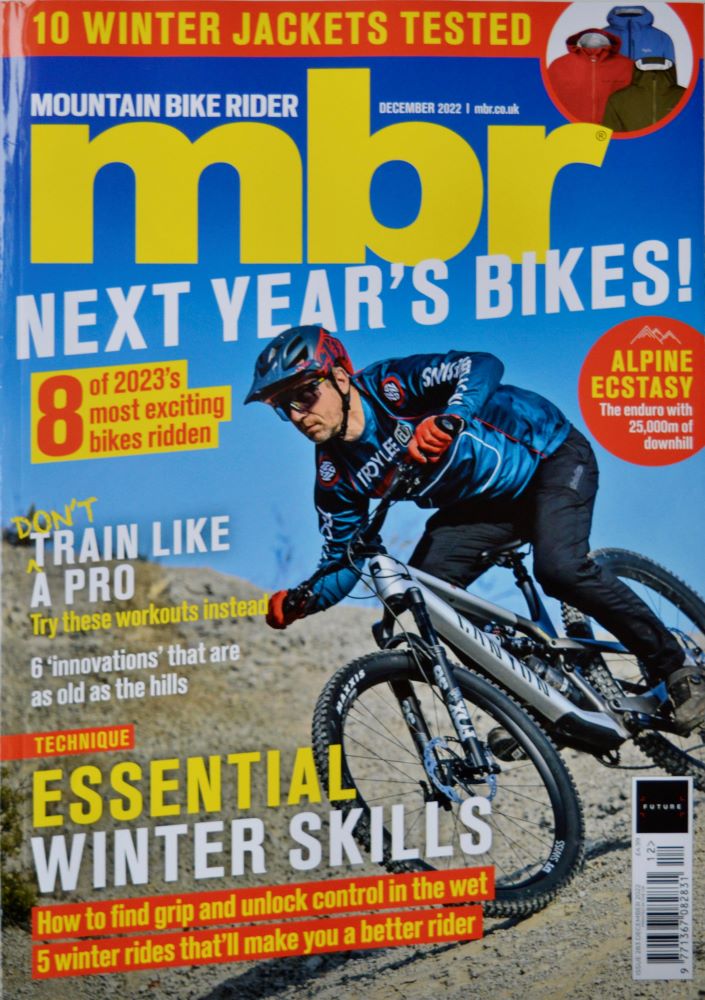 MBR is aimed at the same audience as MBUK: trail riders with full-suspension bikes who want buying and riding advice. That audience is shrinking as magazine purchasers age and others go online. At some point, maybe soon, MBR as it exists now won't be viable. Which is a shame as it does some things better than MBUK.
Negatives first: the design is dated and crammed with copy; the route guides – 100 words and a GPX link – are uninspiring; and the technique articles, like MBUK's, belong online as videos. Yet the bike tests are now better than MBUK's, with more detail and more geometry numbers. They're all expensive bikes in this issue but the editor explains why and promises reviews of cheaper ones soon.
The fact that product testing is MBR's strongest suit may not be enough to save it, however. Future Publishing had a reviews-based magazine before: What Mountain Bike. It's long gone.
Circulation: not stated
Price: £4.99
Frequency: 13 per year
Pagination: 108
Digital option: yes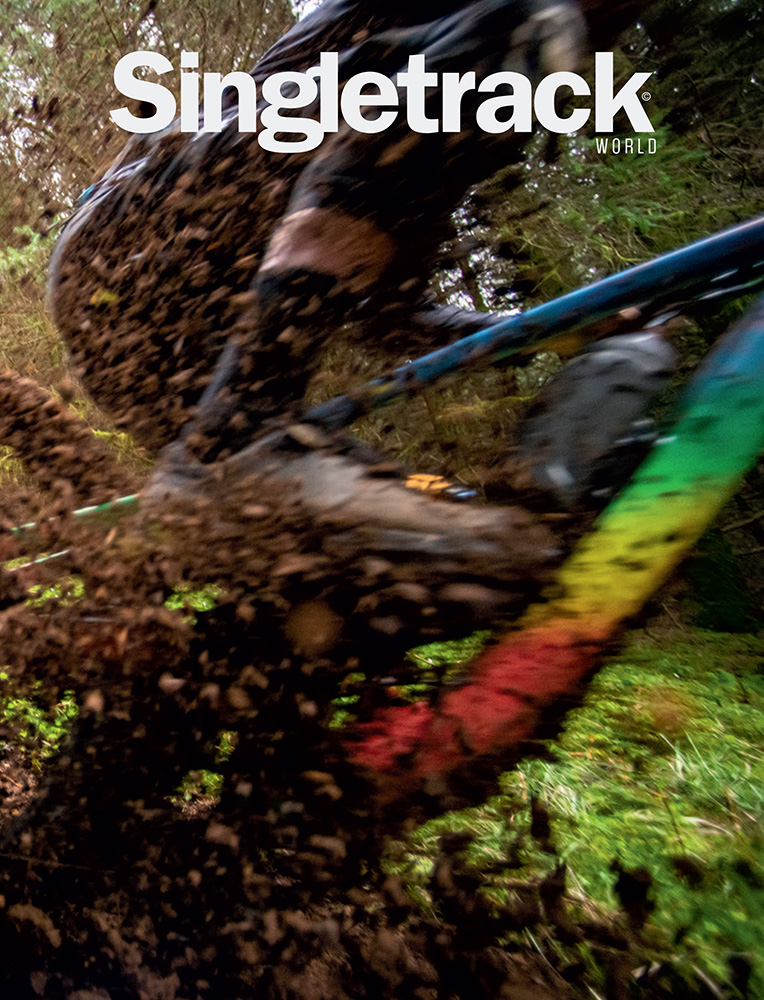 Singletrack World is a mountain bike magazine for Gen Xers that's turned its back on the newsstand – literally in that it's no longer in WHSmith and figuratively in terms of content. Instead of hobbyist how tos and news you get long articles and often stunning photography.
Singletrack World the magazine and singletrackworld.com the website have always reflected the different strengths of each medium, with short-form stuff mostly online and articles and big pictures mostly in print. This issue's redesign shifts the magazine even closer to the likes of Cranked. 
There are reviews, however: regular bike tests and, for this issue, the team's 'best of the year' products. Both are refreshingly varied. Few other MTB mags would include a rigid mountain bike or an e-cargo bike. Spec and geometry information has improved as of this redesign, although I still want more numbers.
In terms of the riding it covers, Singletrack World is more National Parks than jump parks. The tone is spot on these days – like the writers are your riding buddies rather than a Calderdale clique.
Price: £9.99, Cycling UK members can get a 50% discount on their first year's subscription
Frequency: six per year
Circulation: 7,000 (publisher statement)
Pagination: 116
Digital option: yes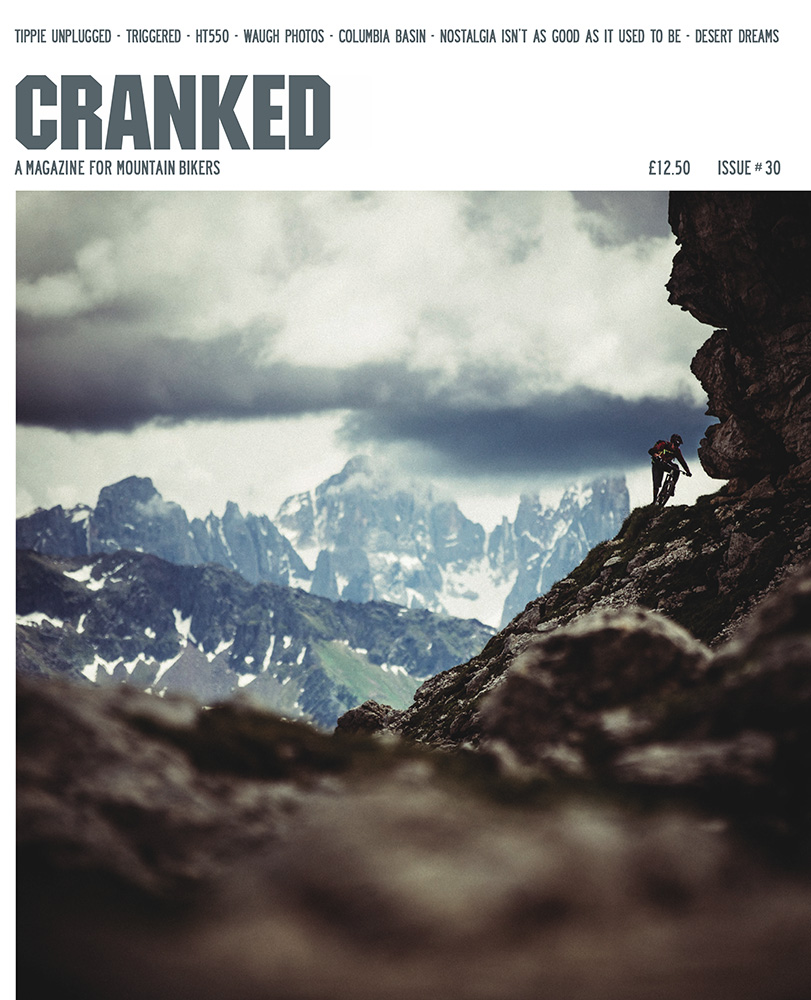 Cranked has the same magazine-as-artifact feel as Rouleur, with lovely paper stock, high-quality pictures, and a clean, uncluttered design. The articles are even longer. That often works: the pieces this issue on freeride pioneer Brett Tippie, trig points and photographer Geoff Waugh are good enough for your coffee to go cold.
It's a harder sell when it's a long article about a riding destination you'll never visit. I'll read five or six pages about biking in North America – but not 36, like in this issue, no matter how nice the pictures.
There are no reviews in Cranked. It's specifically aimed at more experienced mountain bikers who don't need to be told what to buy. It does carry articles on mountain biking technology; one with GeoMetron's Chris Porter from an early issue stands out. I'd like to see more of this. No other magazine is going to give us, say, 16 pages on tyre tech. Cranked might.
It's not written for casual mountain bikers – it's for those who have stopped reading other mountain biking magazines.
Circulation: not stated
Price: £12.50
Frequency: four per year
Pagination: 132
Digital option: no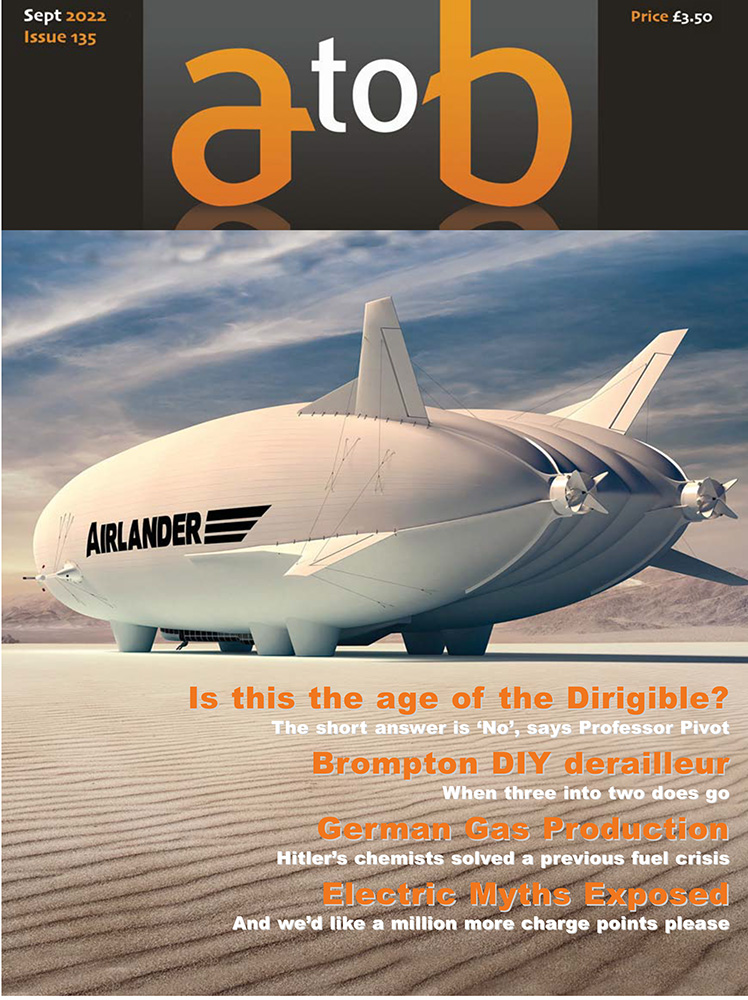 A to B began life as an alternative (to the car) transport magazine, mostly covering folding bikes and rail – a natural fit, given how folders are used. It was an early champion of e-bikes.
Gradually there were fewer bikes and more features on green issues. Alongside Brompton modifications (it's always a Brompton) there were articles on solar panels, heat pumps and electric cars, as well as the occasional oddity (phone boxes? pottery?).
What was once the UK's foremost folding bike magazine now reads more like a usenet newsgroup: alt.lifestyle.greencurious. This issue has 14.5 pages of letters and four more of technical queries. They're quite interesting exchanges but it's an unusual editorial balance.
There are articles on Brompton derailleur gearing (DIY, natch), German gas production (eh?), electric car myths… and some fiction. The editor notes that A to B has "gradually mellowed and broadened like an elderly river". It certainly meanders.
Circulation: 2,000 worldwide (publisher statement)
Price: £3.50
Frequency: four per year
Pagination: 52
Digital option: yes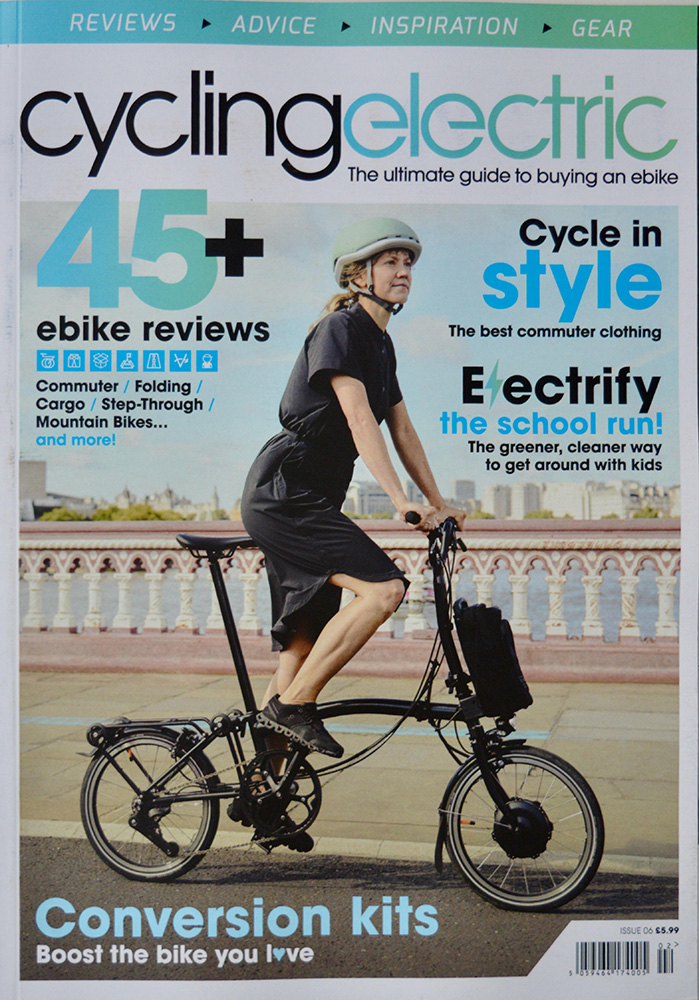 Cycling Electric is from the same publisher as Cyclist yet could scarcely be more different. It's a buyer's guide. There are one-page reviews of more than 40 e-bikes every issue, divided into categories like folding, commuter, cargo and road.
These reviews read like copywriting rather than assessments of bikes that have actually been ridden. While potential purchasers will get some useful pointers, the fact that no bike is really criticised makes it harder to decide why you'd choose X over Y.
Reviews of clothing and accessories (the same comments apply) account for many of the remaining pages. Tucked among all these reviews are the strongest parts of Cycling Electric by far: features on, for example, swapping a car for an e-bike, family e-biking, and comparing/contrasting a commute with and without electric assistance. They're inspiring and people focused.
I can't see anyone buying more than one or two copies of cycling electric but if that gets them riding, it's enough.
Circulation: not stated
Price: £5.99
Frequency: three per year
Pagination: 140
Digital option: no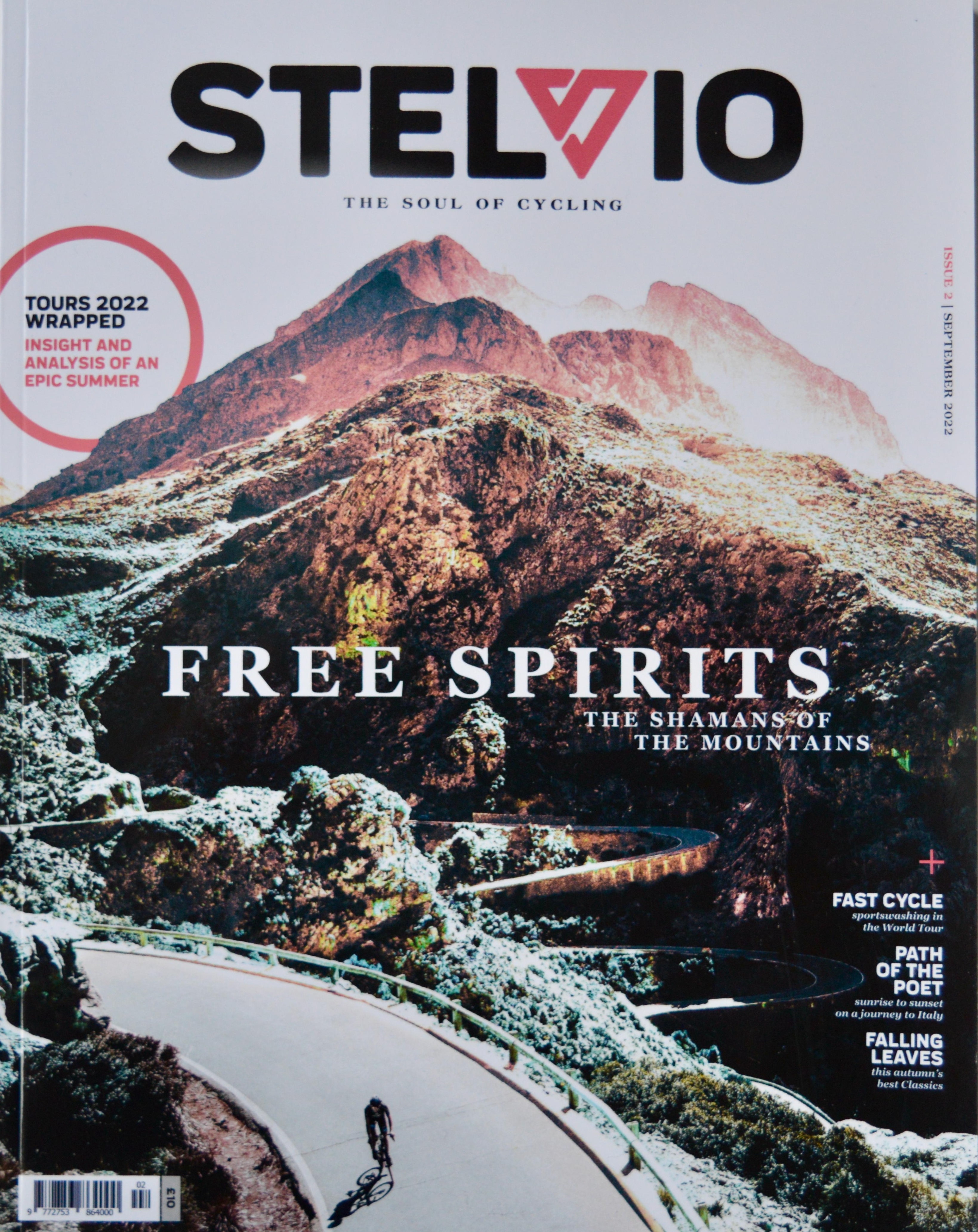 Stelvio, "the soul of cycling", was launched this year by a former editor of last year's surprise closure, Procycling. Like Procycling its focus is road racing, although it also covers road cycling more generally. This issue has an article on a 1,200km supported road ride through Italy, for example.
It's mostly about the racing, with articles on (in this issue) great climbs, sportswashing, the 2022 Tour de France, and the different ways to win Le Tour. It's more interesting than I remember Procycling being because it avoids predictable, verbatim interviews with sometimes-not-very-interesting pro cyclists. The Vingegaard piece in this issue is a well-rounded profile, not a bunch of platitudes from the man himself.
There are no product reviews, which is no loss for a publication like this. The only real downside is that it costs £10 a copy – without the tactile pleasure of 150gsm paper.
Circulation: not stated
Price: £10
Frequency: four issues per year
Pagination: 132
Digital option: yes