Test: On One Geoff handlebar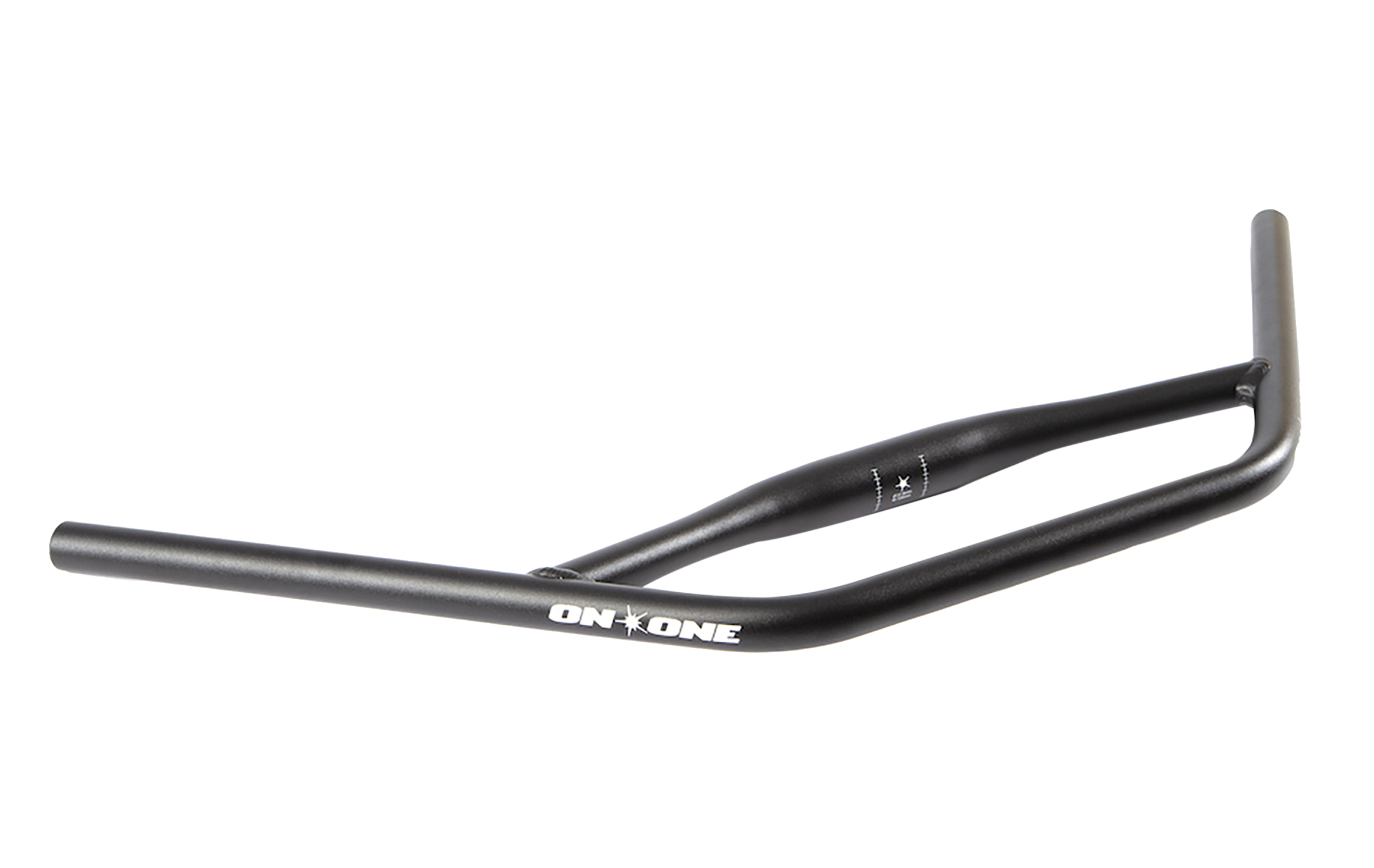 As the name cheekily implies, this handlebar is a budget copy of Jeff Jones's H-Bar Loop. Jones designed his handlebar for his unorthodox rigid mountain bikes, which have a slacker seat angle and shorter reach than most. Sitting up and back more takes the weight off your hands, as does the bar's 45º back-sweep, and the change in grip angle rotates your arms so your elbows come in closer to your hips. It's more comfortable, since your arms aren't propping you up, and it's a better orientation for absorbing bumps. The extra bar loop, meanwhile, provides more hand positions, plus extra places to fit luggage or accessories.
On-One's 720mm-wide Geoff bar gives you these features at a fraction of the price of a Jones bar. It's made from two pieces of plain gauge aluminium alloy tubing welded together. More tubing means more weight; at 591g, it's twice that of a comparable flat bar and still 150g more than mine with its Cane Creek Ergo bar ends included. The back-sweep is the same as the Jones bar: 45º.
I fitted the Geoff to my Carver Gnarvester, currently set up for winter as a rigid singlespeed. The hand positions on the front loop came in useful on tarmac. You can tuck your shoulders in a bit (hands on sides) or go full TT (hands in centre). Either really helps for riding at pace or into a headwind.
Off-road it's the rearward hand positions that are more useful. With long enough grips (or bar tape), there's 215mm to hold onto. Because the bar has a 45º sweep, moving your hands in and out changes your sitting angle as well as your steering leverage. Powering along easy trails or uphill, you can hold near the cross piece and lean forward. On technical descents, you can hold near the ends to shift your c-of-g back and take your weight off the fork. It's ideal for soaking bumps on a rigid bike, although the lighter loaded front wheel inevitably has less traction.
It takes a while to adjust to the handling off-road. The elbows-in position doesn't give as much steering leverage as a wide, elbows-out flat bar. You need to finesse your way through technical sections, steering with hands and hips rather than leading with your shoulders. There's less leverage when climbing out of the saddle too, so the Geoff bar better suits those who sit and spin than those who stand and stomp. That was a deal-breaker for me.
Verdict
Comfortable and versatile handlebar for bikepacking, rough-stuff touring, and rigid mountain biking. At this price, worth buying as an experiment.