Peter's story - Volunteering for a decade
Peter enjoys cycling and regularly rides with a group of friends in his local area. He also goes on cycling holidays - in fact he just loves everything cycling.
After retiring, Peter started to look for something new to do and saw an advert for a volunteer to help out at some inclusive cycling sessions at Alice Holt Forest in Hampshire, near where he lived. He enjoyed the role so much that he decided to keep coming – that was 10 years ago!
Since then, Peter attends the session every Thursday, come rain or shine. Indeed, two Hampshire council managers and a Cycle Hire shop have come and gone over that period, but Peter still greets everyone with a smile on his face and welcoming words of encouragement.
Setting up and packing away for sessions is a great way of keeping fit and active.

Peter, senior volunteer at Alice Holt inclusive cycling
He says, "I look forward to Thursdays just to see the joy that people get from cycling, whether it is 10 laps around our forest trail or along the small tarmac road."
Peter is always helpful and knows carers and clients by their first names. More importantly, he knows what cycles they like to ride. 
As the longest serving volunteer there, Peter is also the focal point for all emails, enquiries and monitoring and evaluation at Alice Holt. He liaises with the Forestry Commission, and keeps records and a maintenance log for all the cycles. All of this allows Peter to continue to make good use of his business skills and experience acquired when he was employed.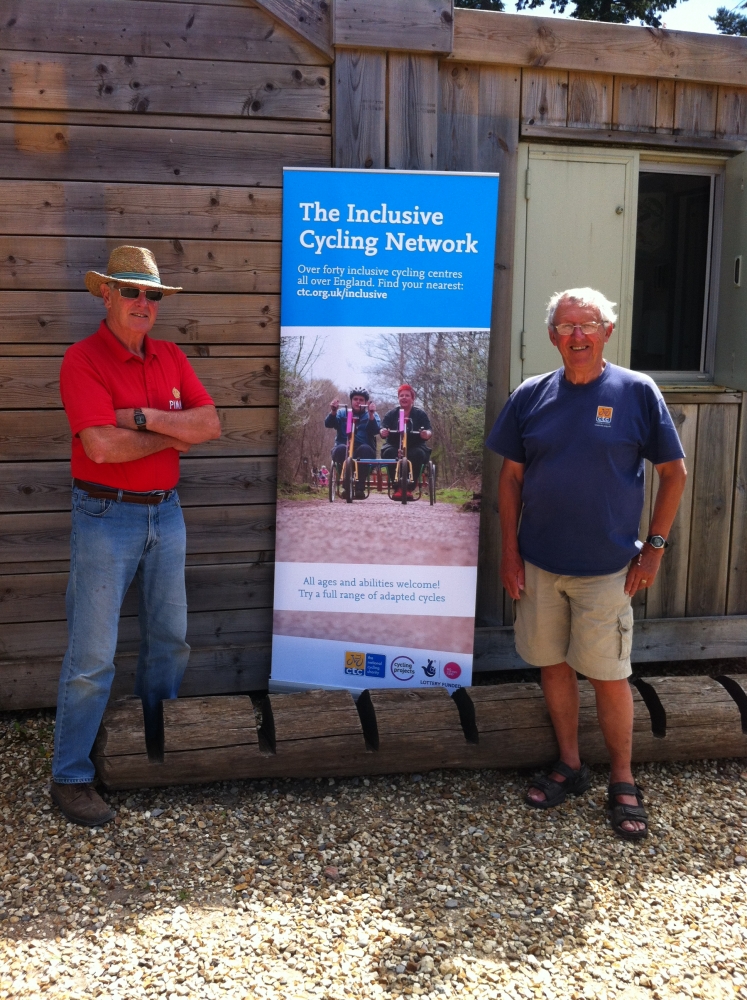 Above: Peter with fellow volunteer John
Peter says, "Setting up and packing away for sessions is a great way of keeping fit and active. All the cycles have to be unpacked from the storage container and ridden over to where we meet and greet the clients and carers."
Often, Peter has to ride around the forest trails with clients when there is not enough carers for a one-to-one session. If a client and carer are new, he hops on a bike and takes them on a guided tour of the forest trails. Being part of something that people depend on adds purpose to his busy life and he enjoys helping other visitors to Alice Holt Forest with any questions they have.
Peter says, "I always leave the session with a smile on my face."
Alice Holt Inclusive Cycling at the Alice Holt Forest, Surrey is one of over 40 Cycling UK-accredited clubs in the UK that are part of the National Inclusive Cycling Network - a partnership between Cycling UK and Cycling Projects. It is funded through the Big Lottery Fund.
Cycling UK is always looking for volunteers to help, if you would like to give a little bit of your time for cycling, please find out more about volunteering for cycling.
Case study by Tim Janes. For more information about inclusive cycling in the South East please contact Cycling UK's Tejesh Mistry.