ULEZ: Why the prime minister must reconsider his position on clean air zones and pro-cycling measures
Transport – a sector usually confined to debate on social media, interest forums and slow news days – is now dinnertime conversation across the nation.
This is by no doubt due to the aftermath of July's Uxbridge and South Ruislip by-election. In this outer borough constituency of London, Labour's failure to win the seat was quickly attributed to the expansion of London's Ultra Low Emission Zone (ULEZ).
Plans for a road pricing scheme for London based on vehicle emission standards were first mooted by then mayor Boris Johnson in 2015. They were subsequently introduced in September 2020. The ULEZ is set to be expanded to cover all of Greater London on 29 August, a policy pioneered by the Mayor of London Sadiq Khan.
As July turned to August, the situation escalated, as first Labour leader Keir Starmer was reported to have requested the London mayor to 'reflect' on the policy. Then, speaking in a piece featured in the Sunday Telegraph, Prime Minister Rishi Sunak weighed in on the ULEZ debate – claiming he was "on the side of the motorists".
Sunak called for a review into 'anti-car' schemes, specifically setting his sights on low traffic neighbourhoods (LtNs).
Cycling UK has urged the prime minister not to treat LTNs and other measures that encourage walking and cycling as a 'political football'. We want Rishi Sunak to reevaluate his position, as we know that these policies are popular – and should be celebrated for their significant health, road safety and environmental benefits.
What the public thinks
Redfield & Wilton Strategies recently asked Londoners for their views on transport issues in the capital. The study showed overall 58% supported the existence of the ULEZ in London, with 24% opposed. Similar support was seen for the London Congestion Charge, introduced in 2003: 53% in support and 28% opposed.
Also, Londoners were found to broadly support policies favouring pedestrians and public transport, in addition to the ULEZ expansion. Here, 60%, 57% and 45% of Londoners said that more priority should be given to pedestrians, buses and cyclists, respectively. Some 58% of respondents supported the introduction of LTNs in London, while only 17% were opposed.
We believe recent polling in London reflects public attitudes across the whole of the UK. Cycling UK, as well as allied organisations, have frequently commissioned surveys to capture public opinion. In 2020, we concluded that the public supports more cycling schemes, and that people overestimate the public's opposition to the schemes.
Attitudes towards policies are ever-changing. So, in 2022, ahead of our campaign for the May elections across the UK, we commissioned a YouGov survey asking people to what extent they supported or opposed several policies to encourage active travel. These measures were the introduction of more cycle lanes, reduction of traffic in residential areas and 20-mph speed limits in town centres.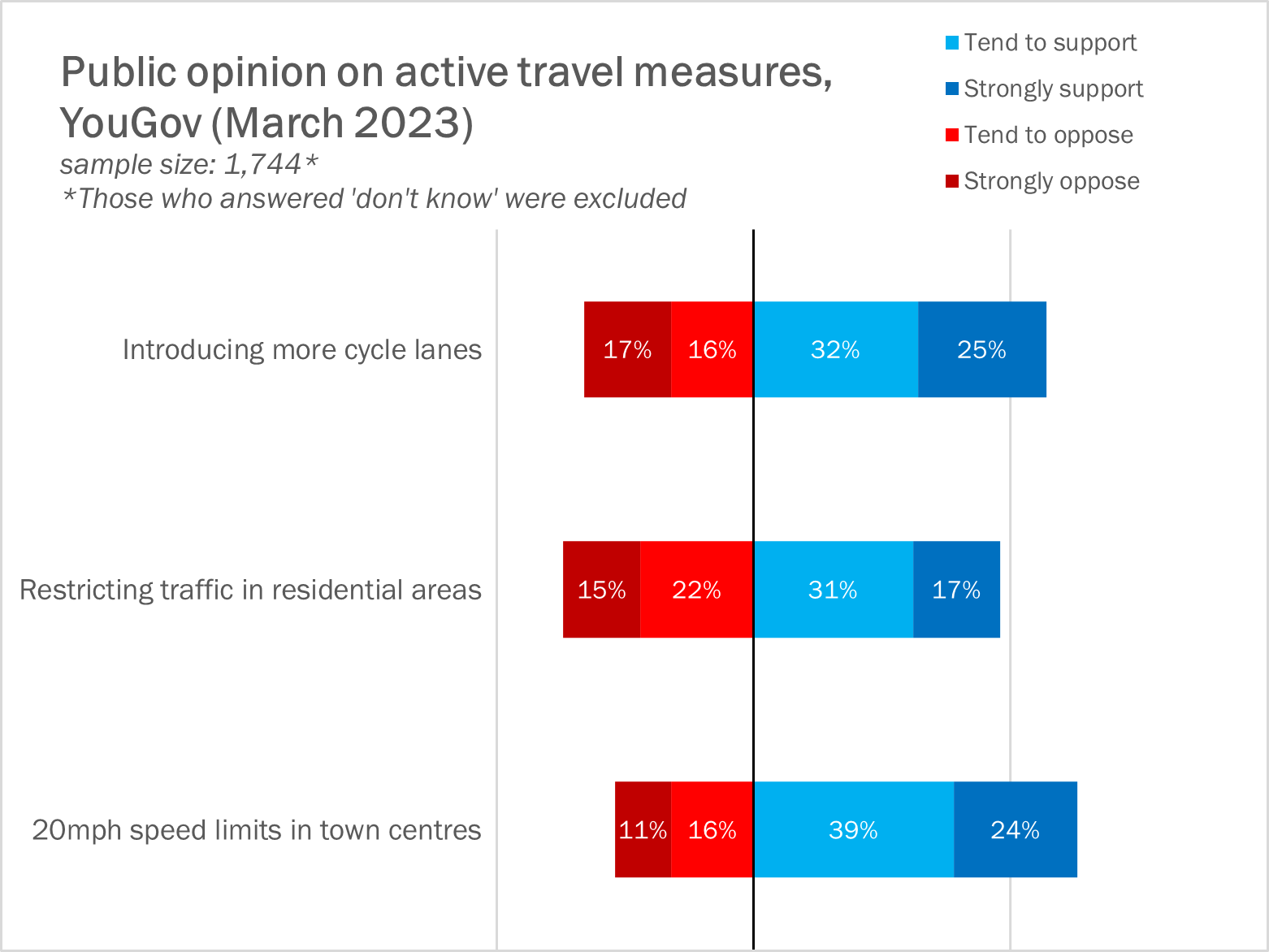 We found that more people support than oppose each measure: 57% of people support introduction of more cycle lanes, with 1 in 3 opposing this measure.
It appears clear that anti-green policies are likely to alienate the next generation of voters, with those aged 18-24 much more supportive of new cycle lanes and traffic restrictions in residential areas than older groups. Our survey recorded net support (% support - % opposed) of more than 50% for those aged 18-24 for introducing more cycle lanes.
Net support was recorded by all age groups when considering reduction of residential traffic and 20mph speed limits. Interestingly, support for 20mph zones increased as participants got older: 69% of over 65s supported this measure, with 1 in 4 opposed.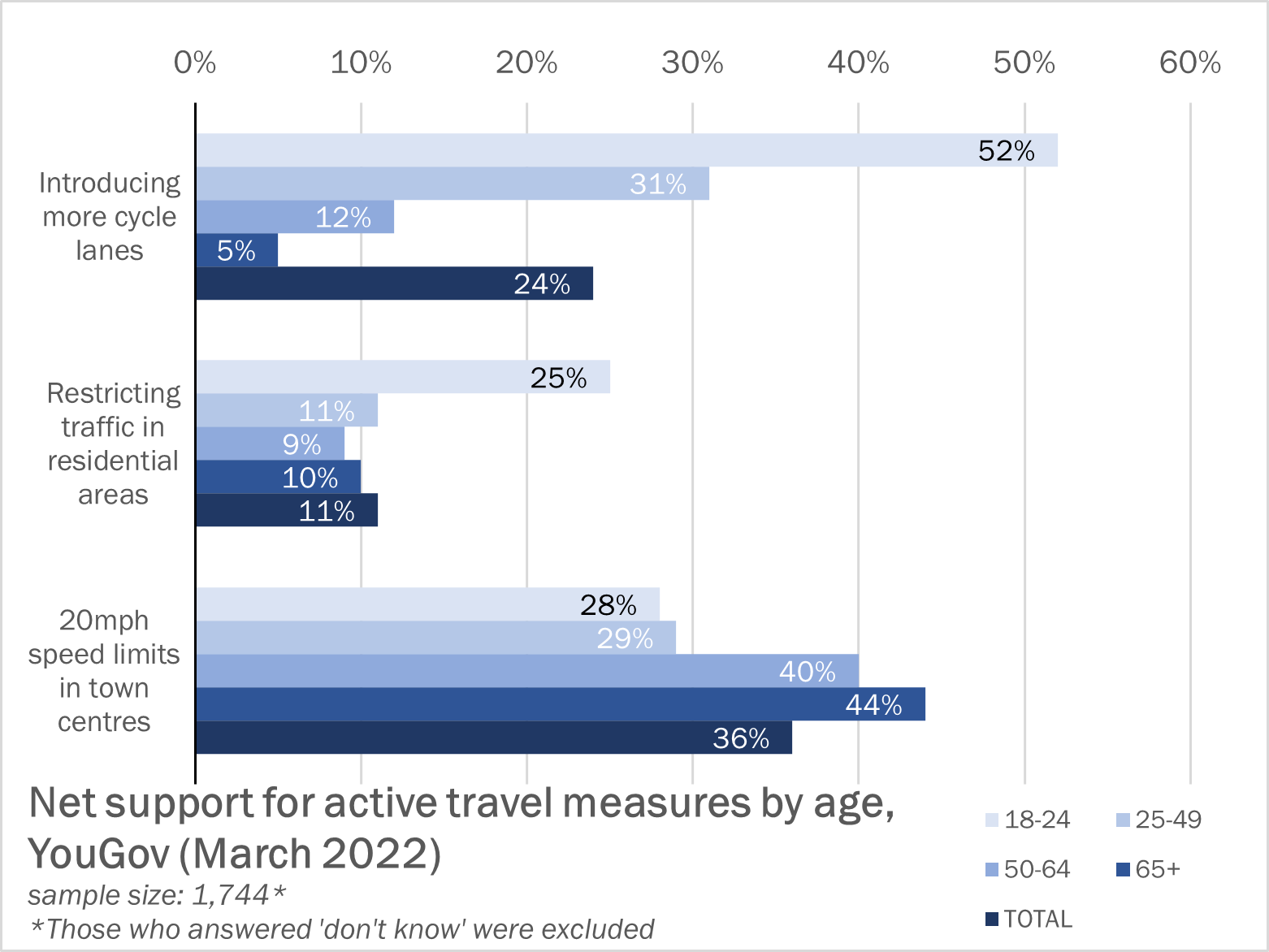 We also analysed public opinion on these policies by vote in the December 2019 general election. Albeit the political landscape is vastly different in 2023, historical data shows that measures that would help rebalance our transport system are significantly favoured by Labour and Liberal Democrat voters.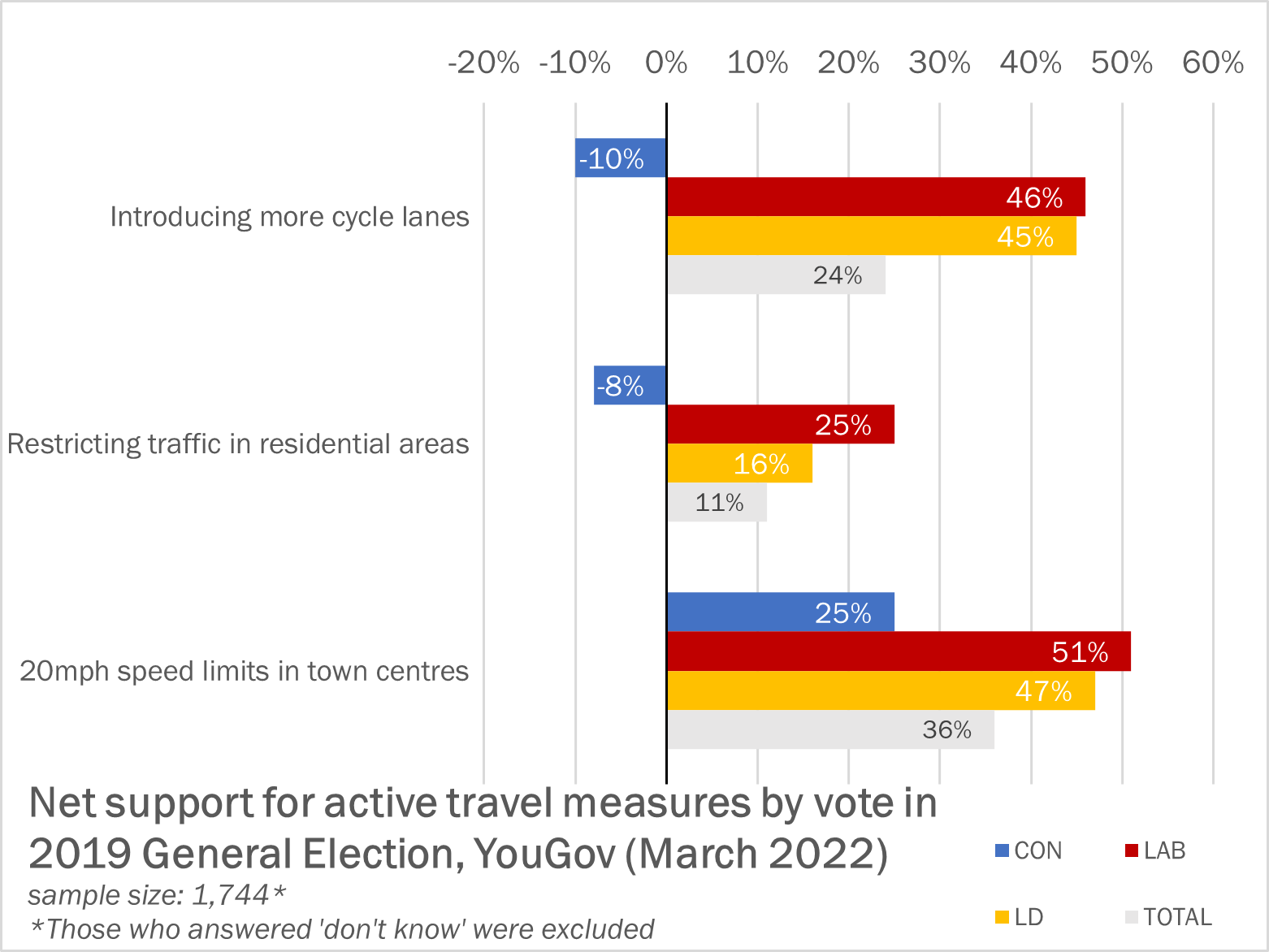 Cycling UK firmly believes that the prime minister is misjudging public sentiment about measures that enable active travel, such as LTNs and 20-mph speed limits. Opposing these policies will make our streets more dangerous and burden public health – a harrowing effect.
How 'anti-car' is the UK really?
Prior to the prime minster's comments in the Sunday Telegraph, many would argue that the UK's history in transport investment and street design was significantly biased towards motor transport. In 1960, Labour MP Patrick Gordon affirmed: "[w]ith much vigour, we must rebuild our whole environment of working and living in terms of the motor car".
In 2023, it's hard to think MP Gordon's proclamation didn't come to fruition. The number of cars in the UK is now estimated at 33 million vehicles, rising from 8 million in the late 1960s. This figure is expected to increase by up to 54% by 2060.
Investment in motor vehicle transport dwarfs current provision for active travel. Across Westminster's budget from 2020-25, for every £1 invested into the Active Travel Fund, £13.70 is allocated to motorways and major A-roads, which are almost exclusively available for motor vehicles.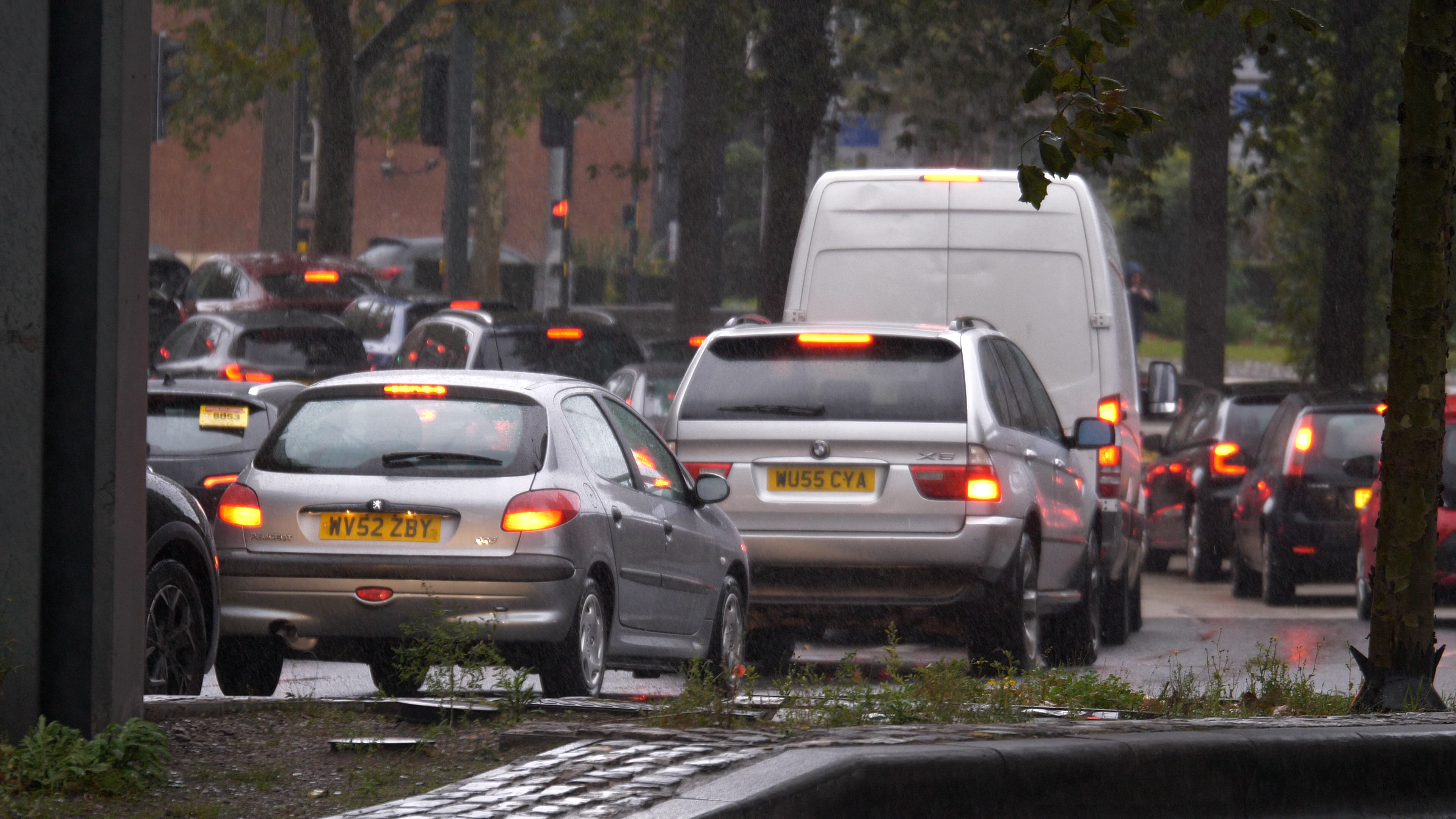 The prime minister was keen to emphasise the 'freedoms' that come with driving. However, the inconvenient truth is that car dependence makes us poorer not richer. Tragically, five people die on UK roads every day, the majority following collisions with motor vehicles.
Car dependency, celebrated by Sunak, has forced car owners into transport poverty. A Bike Is Best study found that people spend up to 19% of their income on costs associated with car ownership. Car dependence also exerts societal costs through congestion, pollution and physical inactivity.
Road pricing: a stick without the carrot?
The ULEZ is surely a logical choice: a policy that prioritises public health over motor convenience and helps to rebalance our transport system, creating environments more conducive for walking and cycling.
London has some of the most toxic air in Europe – a 2018 study suggested only Moscow and Paris are more polluted. Hence, clean air zones (CAZ) are a necessity for public health, with toxic air estimated to account for up to 36,000 deaths annually in the UK, including up to 9,400 in London alone.
Road pricing schemes such as ULEZ must be complemented by measures to improve the accessibility and attractiveness of healthier transport modes. At present it may be that ULEZ, alongside other road pricing schemes, represent a 'stick' to change transport behaviours, with the absence of a 'carrot' to encourage modal shift for short journeys.
Public transport alternatives are sparse, with 8,000 fewer bus routes registered with England's regulator than there were in 2010. Walking and cycling isn't faring much better, with investment in cycle lanes, junction safety improvements and other active travel projects decimated from £308m to just £100m over the next two years.
That remaining £100m amounts to a miniscule 0.25% of investment announced for all transport infrastructure. It's understandable that people might reject measures like ULEZ when it appears that there are no viable alternatives to driving.
Negativity may also arise from polluted air feeling intangible to many. After all, people struggle to comprehend phenomena they cannot see or feel. This was seen as recently as the coronavirus pandemic, with varied public conformance to measures such as lockdowns, face coverings, and even in some instances – vaccinations.
Clean air is something worth fighting. The area of Sheffield in which I live, the local catchment school is Lowfield Primary School. It is wedged in between the A61 and London Road, one of Sheffield's most congested areas.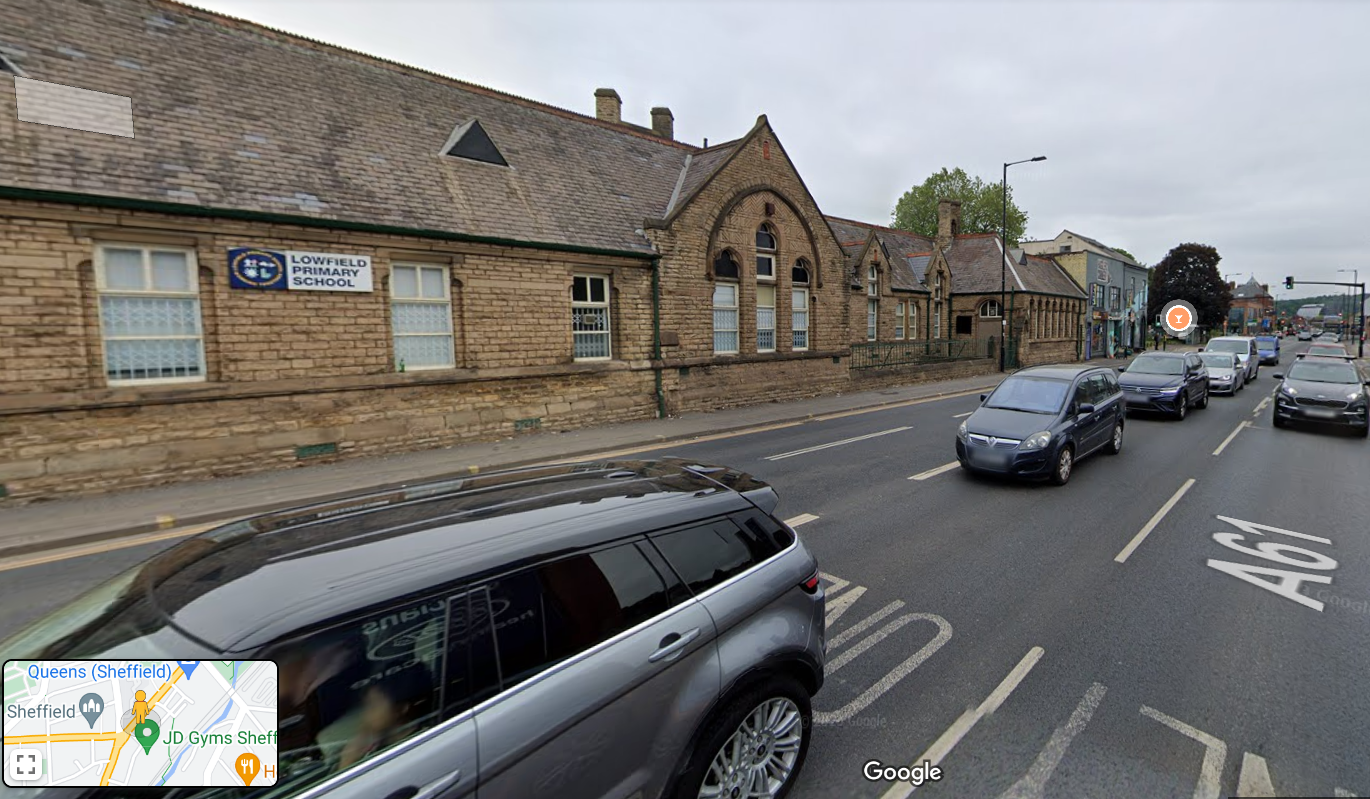 The pupils are educated, five days week, nine months of the year, in an environment of very high air pollution. As defined by the World Health Organisation, this is one which exceeds all three limits of ultra fine, fine particles and nitrogen dioxide (NO2).
The school is a place where car noise saturates the learning environment, with the choice of walking or cycling to school presenting real danger due to the state of the nearby roads. A local campaigner for clean air has suggested that options such as road closures, or moving the school location, should seriously be considered.
Sheffield City Council introduced a CAZ in February 2023, however Lowfield Primary School falls outside its boundary.
Policies such as CAZs are measures people can get behind. It is our responsibility to look out for the health and wellbeing of future generations, with our choices today defining their prospects tomorrow. That's why Cycling UK is asking our supporters to write to the prime minister, calling for no U-turns on LTNs and 20mph zones, preserving our hopes for a cycle-friendly future.
CAZs now exist in several UK cities. Cycling UK has created a document summarising where clean air zones are in operation (excluding London), alongside the charges for each vehicle type. The representative local authority website will have details where each zone applies, also outlining how fees are paid and where exemptions apply.