Opinion: Lee Craigie on support for cycling in Scotland
Wednesday, 26 October 2022
It's no secret that I love cycling. Riding bikes has given me so much over the years.
As an eight-year-old, cycling meant I could ride off into my own imagination and develop my sense of self through play and exploration. As a 14-year-old my bike allowed me free, autonomous transport and expanded my understanding of what I was capable of physically, which in turn increased my sense of self and self-worth.
As an adult I used cycles to connect with others, both in the creation of my own social circle and with the disengaged young people I worked with. Then, when I went on to race mountain bikes professionally, I was granted the privilege of travelling the world to represent my country doing the thing I loved most in the world.
Nowadays, I tend to cycle to connect with the natural world and with my own physicality by both adventuring long distances self-supported and, more simply, riding between work meetings or to the shops via the local woods.
Travelling to my destination by cycling or on foot exposes me to changes in the weather and forces me to notice the shifting of the seasons, observations I would otherwise be oblivious to if my lifestyle was more sedentary and indoor.
Get off the road!
But as a person who rides almost everywhere for transport as well as for pleasure, I find myself subjected to a daily barrage of anger and derision. 
"You cyclists are an anti-social bunch who jump red lights and don't wear bright enough clothing." 
"You should have licence plates and pay road tax."
"You're 1% of the population so you should stop banging on about your selfish need for segregated cycling infrastructure and bike parking."
"Get off the road! You're holding me up!"
Hearing this rhetoric makes my heart sink because this level of anger and hostility towards cycling represents a leaning away from the creation of more socially just communities, environmentally sustainable practises and a healthy, happy population.
But I have to be careful. As a committed cyclist it would be easy for the people who feel ambivalence or even hostility towards bikes and those who ride them to dismiss my experiences as irrelevant to them.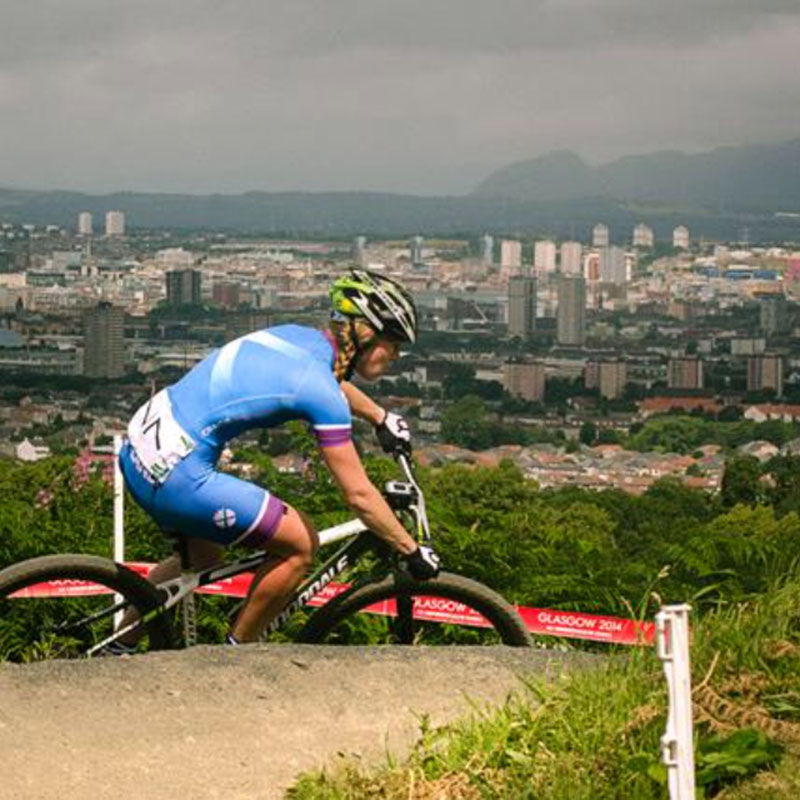 And yet it is these people I am most interested in reaching in my role as Ambassador for Active Travel. Comforting as it is, speaking into an echo chamber doesn't help in understanding different people's thoughts and feelings on a subject.
It's my job to broaden and deepen the public conversation around active travel, to encourage a critical look at the way Scottish society currently operates and ask a diverse, cross section of the population this question: "What it is that you value?"
Forget cycling, this is about something bigger!
The world's problems might not be miraculously fixed if everyone simply took to riding cycles. But perhaps by achieving true consensus in communities to create environments where everyone could cycle those short everyday journeys if they chose to, we might make it safer and more pleasant to play, socialise and walk places, too.
A focus on a population's wellbeing means a focus on place-making that results in better health, greater social equality and lower carbon emissions.
Better for all
I have people in my life who will never get on a bike, but they do want their children to breathe clean air and walk freely to school. These people tell me they would enjoy shopping or drinking a coffee on a traffic-free high street and that they would appreciate less congestion on the roads.
Many of them long for safe, pleasant public places where they might sit and meet and chat with others. It's a small minority who would argue against such things.
I accepted this role as Ambassador for Active Travel because the Scottish Government appears to understand that encouraging more people to travel actively for short everyday journeys will deliver universal benefits for us all.
A record £150 million investment in active travel 2022/23 is set to increase to £350 million, or 10% of the transport budget, by 2024/25. This financial commitment recognises the importance of local authorities implementing practical measures to make walking, cycling and wheeling more attractive, but the money is also being spent on behaviour change programmes and incentives.
A promise to provide free bikes to all children of school age who cannot afford them is already being delivered, and since 2020, 40,000 people have made use of Cycling UK's Scotland Cycle Repair Scheme, resulting in 92% of participants reporting an increase in happiness in rediscovering cycling.
Importantly, we now have our very own Minister for Active Travel, Green MSP Patrick Harvie, who believes passionately in the power of cycling to positively affect our health, social inequalities and the environment.
In these turbulent times, it's easy to lose sight of the simple, important things, and this is especially true for our political leaders. Getting caught up in travelling from A to B as quickly as possible in order to be as productive as possible misses the point and isn't sustainable.
We have to keep reminding our politicians and ourselves what it is that makes us human and insist that investing in everybody's health and wellbeing should always take priority.