New record for active travel spending in Scotland
The Scottish Budget for next year (2023/24) has been published by the Scottish Government, with headlines about tax increases for higher earners and an alleged leak of the figures to the BBC leading to a good deal of anger among MSPs.
In his speech to Parliament, Deputy First Minister John Swinney said that "decarbonising transport remains one of the key challenges we face in reaching net zero" and that the Government would "invest nearly £200 million in active and sustainable travel".
The current funding level for active travel in Scotland is £150m, so the figure presented in Parliament is significantly higher. However, last year's figure did not include sustainable travel, as it does this time around, so we have to dig deeper into the numbers.
Our analysis of the budget lines shows funding for 'active and sustainable travel' will be increased to £196.5m – hence the 'nearly £200m' line used by Mr Swinney.
This figure is reached by adding the following budget lines:
Support for active travel: £165.3m
Support for sustainable travel: £7.3m
Cycling Walking and Safer Routes: £23.9m – active travel funding which goes to directly to councils
At this point we don't know what the £7.3m support for sustainable travel pays for, but it could include some funding for active travel. What we can be sure of is that next year the Government is planning to invest at least £189.2m in cycling, walking and wheeling, the highest annual budget yet.
As a low-cost form of transport, cycling can help to ease the impact of the cost-of-living crisis on people's lives

Jim Densham, Cycling UK's campaigns and policy manager for Scotland
It's a welcome £39m uplift in investment by the Scottish Government at a time when there are huge financial pressures on government and household budgets. As a low-cost form of transport, cycling can help to ease the impact of the cost-of-living crisis on people's lives.
Crunching the numbers
We have seen the money allocated for active travel in Scotland more than double in the past five years, which shows that Government remains committed to enabling more people to cycle for local everyday journeys.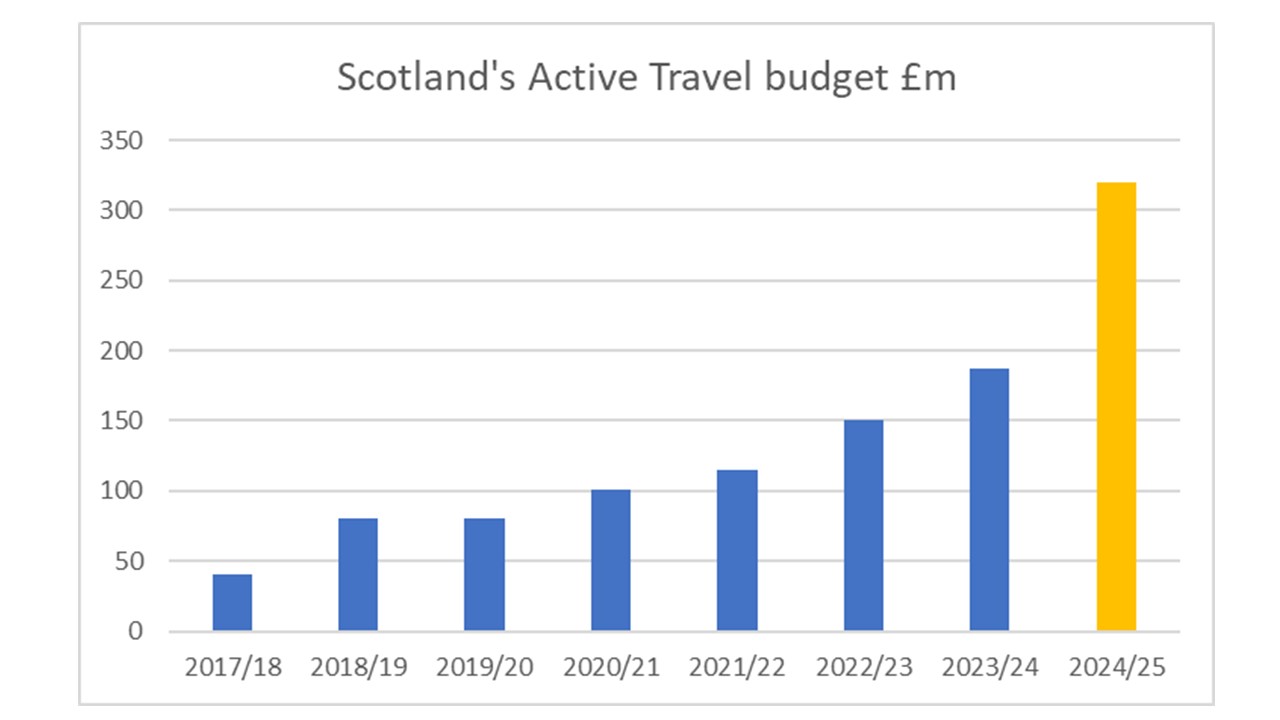 However, budget day can be both a source of joy, with increases in the budget, but also frustration as we scratch our heads working out which figures to quote.
In previous budgets, just like this year, the Government's headline figure for spending on active travel hasn't always matched what we see in the budget lines. This year it hasn't helped that Mr Swinney's change in language makes it difficult to draw a precise comparison to the previous budget.
We will be asking the Scottish Government to provide an exact figure for spending on active travel, and to detail the breakdown of the active travel budget.
Looking ahead to next year
The figure of at least £189.2m for the next financial year (2023/24) is a stepping stone on the way to a much bigger commitment the following year (2024/25).
The yellow bar in the graph above shows the big jump in funding that the Scottish Government has already committed to in the Bute House agreement with the Scottish Greens. In that deal it promised to spend 10% of the total transport budget, or at least £320m, on active travel by 2024/25.
So, this time next year I hope to be reporting to you that the Scottish Government has kept this promise and provided an unprecedented boost to active travel. For Cycling UK, and many other campaigners across Scotland, this commitment is non-negotiable.
The expectations of next year's big announcement provide another reason why we must have clarity on the budgetary figures for active travel. We want to be sure that what we hear from ministers matches up with what we read in black and white and there are no discrepancies.
Spending 10% of the transport budget on active travel will bring Scotland in line with our European neighbours who have invested significant sums for decades and seen huge growth in cycling levels.
These are early days, but it's exciting that we may be seeing the first glimmers of a new dawn for cycling in Scotland.
We know that investment in cycling infrastructure is excellent value for money and provides many worthwhile benefits to people, local economies and the environment.
We now need local councils and partners to spend the increased budget well to enable active travel throughout Scotland, and plan ahead for the £320m to come the following year.