Error message
No matching provider found.
Cycling home for Christmas
Wednesday, 20 December 2017
The RAC estimates there will be 11.5 million trips over this Christmas weekend as people drive home for Christmas. The railways will be busting at the seams, and to make matters worse according to the National Rail website, "Christmas and New Year bank holiday period (23 December 2017 to 2 January 2018) is traditionally the time when a considerable amount of improvement and engineering work is undertaken on Britain's rail network." Great timing.
Neither driving home nor taking the train is therefore especially attractive.
However, with the roads reportedly filled with people dashing back home from work, last minute deliveries and pick-ups, cycling home along icy country lanes contending with impatient traffic does not appeal massively either.
This is why for the past fortnight I've been pouring over Ordinance Survey maps, plotting a hundred something mile route from the Cycling UK office in Guildford to my family's home just outside of Shaftesbury in North Dorset (see bottom of the page for further info), and praying for the temperature to hover just around freezing so the ground is hard but not too icy!
For me, there's something romantic about making the journey home under your own steam. Travelling by train or car feels perfunctory, and arriving in such a manner is always tarnished by how humdrum these methods of getting from one place to another is.
There's something romantic about making the journey home under your own steam.

Sam Jones, Cycling UK's Senior Campaigns and Communications Officer
In contrast, there's something exciting but comforting about heading off on a journey into the unknown when it is bookended with familiar points either end. It's not just the act of pulling out the map for the first time and puzzling out where you are meant to be. It is also the anticipation of that moment you begin to roll onto well-known roads and for the first time in hours or days knowing exactly where you are and where you need to go. Homecoming becomes palpable at that point, the process of returning enjoyable.
Everywhere I've lived in the UK (mainly in the South East), I've tried to make the lengthy ride (or walk) at some point back to my family home in Dorset. While I've been successful only once, and that was during the summer months, that's not stopped me repeatedly trying - or dreaming about it! 
Usually the weather has had something to do with it. In recent years, it has been too icy to make a road ride back feasible or safe – particularly through the night which is when I would usually have had to make my ride. This year, however, I've a whole weekend to take my time and to counter the perils of icy tarmac, I've plotted my route home largely off-road instead.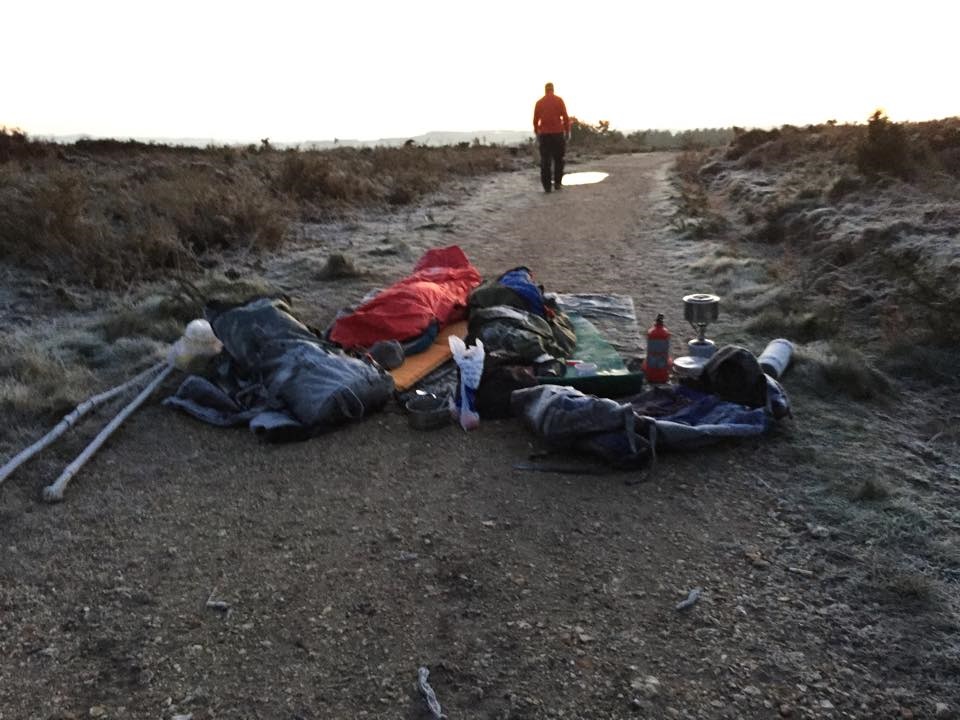 Assuming I navigate correctly, I'm hoping I should have two days of off-road cycling adventure that will see me travelling along the South Downs Way to Winchester and then largely along the Monarch's Way to Salisbury. From Salisbury I'll begin retracing my way back along memory's footsteps, as I attempt to follow a walk I did in the early 1990s but in reverse. Back on that summer lit day I walked along a byway on top of a long ridge with a good friend…undoubtedly the new memories will be much different as I plough through more puddles on my todd!
I've cheated a little by ferrying my Christmas presents home a weekend earlier. I feel that's acceptable behaviour considering I'm planning to bivy out somewhere along the way and no-one wants a soggy pressie. Also, I'm not entirely sure how I'd have been able to fit everything into my bike bags and didn't want to cause any disappointment among the family when they had to wait until the new year for their Christmas socks. 
I feel I'm pretty ready. I've tested my set up along a slippery South Downs Way in the autumnal rains and I've planned a route I've never travelled along: that's a Christmas treat if I've ever I've had one!
Now I just need to make sure I avoid my poorly colleagues with their seasonal sniffles for the rest of the week…
If you're cycling home for Christmas, Cycling UK would love to know how far you're travelling and see pictures of your journey – share them with us on Instagram using #cyclinghomeforChristmas. Sam will be trying to do so for as long as he has charge on his phone.
And just to get you into the mood...of course there's Chris Rea!