Cycle infrastructure trials could finally mean good cycle tracks are built
Wednesday, 28 August 2013
My comment in the Guardian article on the subject seemed to disparage the idea. 
Actually, CTC is extremely supportive of the idea of improving the design of infrastructure along Dutch principles.
Our minor concern is that the roundabout was being proposed for use in Lambeth Bridge - and we fear that without steps to reduce traffic on the road network around the roundabout, this approach will not be successful, and it may even undermine the use of the approach if it proves unworkable.
We believe it would be better off being tested in locations with lower overall traffic, such as at the Perne Road Roundabout in Cambridge, currently being redesigned to improve cycle safety. The Dutch wouldn't usually use such a roundabout design on a junction with more than 25,000 vehicles per day. Lambeth Bridge has more than 25,000 vehicles on each arm of the roundabout - suggesting a junction load approaching 40-50,000 vehicles per day.
Infrastructure on trial
Trials include new markings and designs of junctions to ensure that segregated cycle facilities can retain priority at side-roads. Junctions tested include signalled minor junctions as well as a roundabout equipped with fully segregated cycle tracks around the periphery.
The trials came about following the campaigns for better instructure in London conducted by the London Cycling Campaign and bloggers over the last few years. The Mayor of London committed to 'Go Dutch' and better quality cycle facilities in the run up to the election and now those promises are bearing fruit, albeit after a shaky start.
However, there are concerns that the promises of cash and high quality cycle tracks may not be quite as simple to develop as first thought: while the £913m cycling fund survived Osborne's Comprehensive Spending Revievw, Andrew Gilligan, the Cycling Commissioner for London, has explained that reallocating roadspace from bus lanes to segregated cycle lanes or tracks is unlikely.
There is much, however, that can be done to improve the workings of junctions and to give priority to cyclists to traffic signals, all of which remains virtually untested in Britain.
A light at the end of the pole
Under Britain's archaic traffic regulations any traffic light – even erected purely for cyclists - must still be placed over 2 metres up a large signal pole, with full size lamps. Furthermore, the red lamp cannot be given a cycle 'mask' to indicate it applies only to bikes. In other words, the lights must be visible from a quarter of a mile away to a rapidly approaching car or lorry driver, to give them time to brake and stop. This is, of course, utterly unnecessary if you are providing the light solely for cyclists who uniformly are positioned a metre or so off the ground and usually travelling at no more than 20 mph.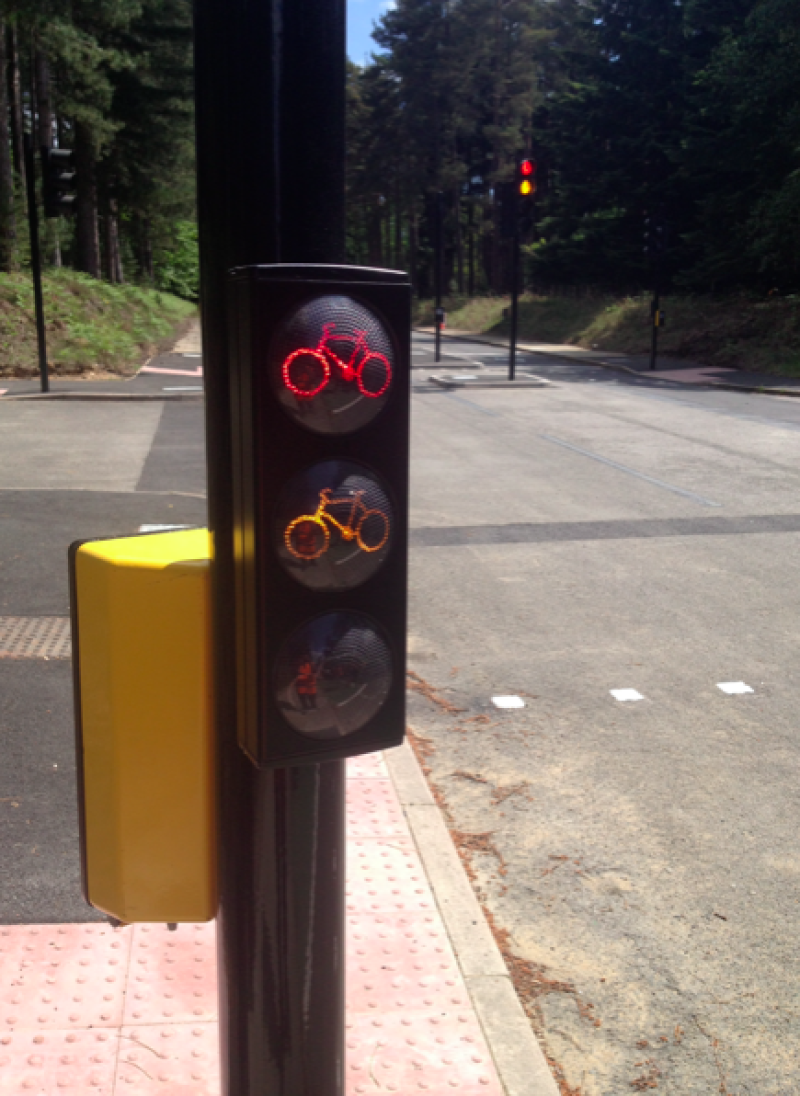 These daft regulations make it very complicated – and considerably more expensive - to provide signals in order to allow a cycle track to be signalled separately from the remainder of the carriageway.
One of the new approaches tested by TRL are low level signal heads with cycle specific lamps, using units imported directly from the Netherlands.
I questioned those in charge of the trials why we need to go through the nonsense of expensive off-street trials when low-level signal heads were so well used elsewhere in Europe. They replied that they had come across several problems, some of which stemmed from other nonsensical regulations.
For instance, where a pedestrian crossing is provided on the modern 'Puffin' design, the signals provided for pedestrians  are also at eye-level and are also mounted on the signal pole closest to those crossing pedestrians. Those running the trial feared that this could become confusing for some road users since two different small signals would appear next to each other (albeit facing different directions).
Shark teeth bite back
Many of the markings used are currently proscribed under UK regulations. For instance, the 'shark's teeth' markings commonly used to denote yield markings elsewhere in Europe are not permitted anywhere in Britain without specific authorisation from the Secretary of State (which has not been granted).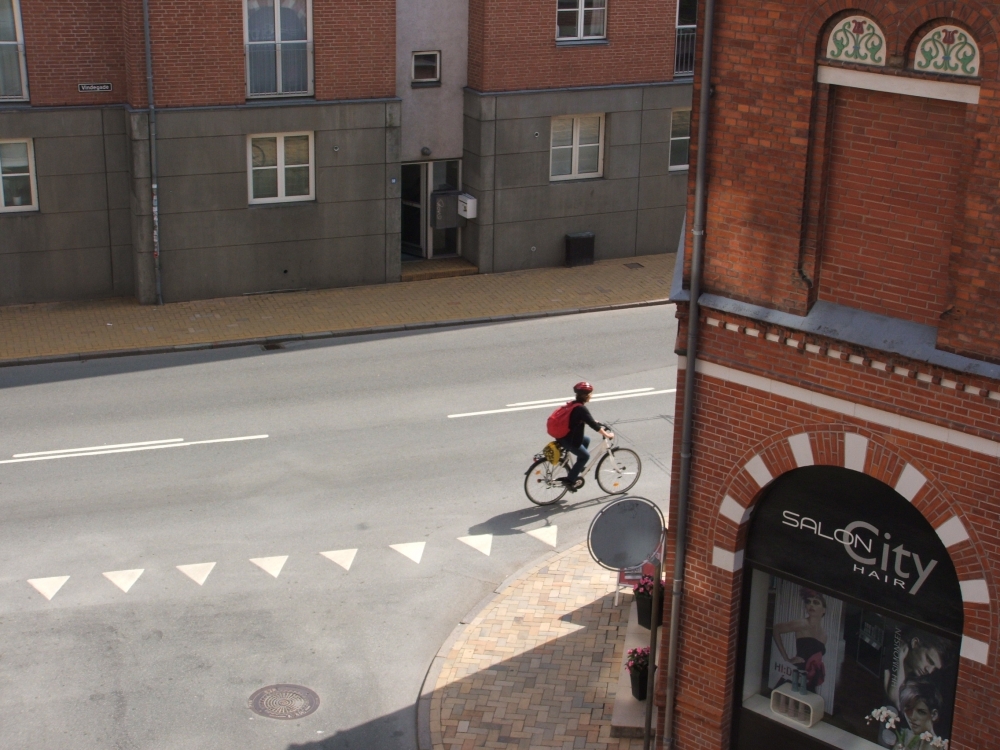 Part of the problem here is that we already have a multitude of means of marking 'give way', including different techniques for roundabouts, double dashed lines at normal junctions, solid lines associated with the rarely used 'stop' sign.
By contrast, many other European countries have the same system of marking 'give way': shark's teeth marking, which mimic the triangular shape of the 'warning' sign, and similar to the triangular road marking used to warn road users of the presence of road humps in Britain.
The introduction of yet another means of give way would, it is true, not help the legibility of the road network, but the fact that the shark's teeth have become so ubiquitous elsewhere suggests that there is something about their design that is understandable.
However, the main problem with our system of marking 'give way' on standard roads is the need to accompany the give way markings (the double-dash across the junction mouth) on two-way side roads with hazard warning lines on the approach. The Traffic Signs Manual suggests that these hazard lines should be up to 30 metres long. This makes it rather tricky to provide priority over side-road to cycle tracks that run parallel to major roads.
Of course, some local authorities do manage to work within the system as it stands, but they tend to bold (or, at any rate, brave!) to do so. Most will simply opt to give priority to the side-road, even if it is minor dead-end while the cycle path is a key, strategic route, potentially carrying thousands of users a day.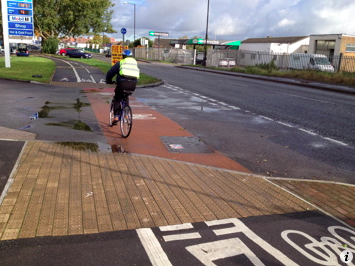 Here, for instance, in the 'Cycle City' of Bristol, even on what is a private entrance to a petrol station, absolute priority cannot be given to cyclists: a red asphalt surface implies it, but the flared shape of the junction means, perhaps, that they couldn't be completely confident of driver behaviour.
To follow current Department for Transport guidance and give priority to cyclists at this location would involve building a hump across the junction; this would present drainage problems (as the photo shows – the junction isn't adequately drained anyway), the hump would be unpopular and costly and the road safety auditors would probably disapprove. It's likely that the junction would need to be tightened up considerably.
The hump would need to be marked with triangular hazard markings and give-way double dashes on the approach to each side. The result would be a even uglier mass of paint and – probably – considerable confusion. Yet the Dutch would NEVER build a route that looked like this.
Since retrofitting a solution is always more expensive – and usually worse – than starting from the beginning, we must ensure that the guidance given to local authorities ensures that the best design is built first time round.
The crucial point here is that the quality of the route is determined by a range of factors – smooth, wide surfaces on the links, and safe, direct and coherent navigation through or across junctions. Neither of these things are done well in Britain, but whereas the link surface and width is merely a question of capital investment and political commitment, the ability to cross junctions successfully - while retaining priority – is a question of regulations.