Brighton chooses to close cycle lanes and lose government funding
If we don't like the guidance, we'll just ignore it, and we don't care if that means our residents lose out on government funding for transport schemes.
That was the message from Labour and Conservative councillors in Brighton last week, when they confirmed the provisional decision made on 21 July to remove the cycle lanes along Old Shoreham Road heading north west out of Brighton.
The council with overall control, but no majority
The Green Party has the most councillors in Brighton and Hove City Council (BHCC) but doesn't have an overall majority, so relies upon a level of cross-party support.
Voting on 10 August followed the same pattern as that of 21 July, with Greens voting to keep the cycle lane, and Labour and Conservatives voting to remove it, notwithstanding the council officer's report recommending the retention and improvement of the cycle lanes, which would also mean not running the risk of losing government funding.
Playing rock paper scissors
When I've reported previously on other English councils' decisions to prematurely rip out cycle lanes or active travel schemes without proper evaluation and without due regard to the relevant statutory guidance, I've often had to mention decisions individual councillors have taken, rather than collective council decisions.
It's the same in Brighton because, once again, a decision has been made which flies in the face of both the advice given to councillors by their own officers, and the government guidance those officers have told them they have to pay due regard to.
Old Shoreham Road is a partly dual carriageway east-west spine road connecting schools, workplaces and amenities. The light segregation cycle lanes were installed last summer with government funding from the Active Travel Fund (ATF).
Incredibly however, councillors considering the removal of the cycle lanes on 21 July made their decision without any officer's report setting out the impact of such a decision, or what they were supposed to take into account when making their decision. This was despite the fact that the Department for Transport (DfT) has repeatedly drawn councils' attention to the conditions for funding from the ATF and updates to the statutory guidance on the management of their highways.
If they're not going to look at evidence, data or evaluations, they may as well play rock, paper, scissors to decide.
Ignoring warnings and ripping out a cycle lane regardless
In light of that fatal error, an officer's report was commissioned for the 10 August sub-committee meeting. This recommended that the Committee agree to retain the cycle lanes due to the negative impact removal would have on road safety, the environment, equality, and wider funding opportunities.
The reference to funding opportunities was telling because, on 30 July, Transport Minister Chris Heaton-Harris wrote to every council with highways responsibility in England informing them that "premature removal of (active travel) schemes carries implications for the management of the public money used in these schemes and for the Government's future funding relationships with the authorities responsible", before warning that where this occurs councils should expect to receive a reduced level of funding.
Some people have suggested that local authorities who aren't that interested in enabling more people to walk and cycle might not be too concerned about a threat that future walking and cycling funding might be withdrawn, but that would be a foolish strategy because the DfT has made it clear that an authority's performance on active travel will help determine it's wider funding allocations, not just what it gets for active travel.
Deleting recommendations 
Just in case the message wasn't clear enough, the DfT informed a number of councils, including BHCC, that they had halted future government funding for active travel schemes. They simultaneously issued revised network management guidance making it clear there was an assumption that active travel schemes should be retained unless there is substantial evidence to the contrary, and that authorities should not proceed with removal unless satisfied they'd had regard to the guidance.
No surprise then, that the officer's report for the 10 August meeting advised the councillors to consider the revised statutory guidance in relation to the removal of cycle lanes, the government's decision to withhold £277,520 of funding, and that further monitoring of the cycle lanes was required in accordance with the statutory guidance.
But faced with uncomfortable advice, the Labour and Conservative councillors on the sub-committee decided to simply put their fingers in their ears, deleting the officer's recommendation to note the updated statutory guidance.
They didn't just neglect to have regard to it, they actually voted two to one to disregard it, despite having already received a letter from Cycling UK explaining that the case law made it clear they were required to adhere to the statutory guidance unless they gave clear and cogent reasons for not doing so.   
Time for the Secretary of State to be bold
As the officer's reports highlights, people switched from private car use to cycling along Old Shoreham Road whilst the lanes were in place, with more than a third of the people cycling along them previously driving there instead, with more than 6,000 school pupils now losing the option of cycling to school along a separated cycle lane.
Of course, legal action to challenge irrational decisions like this is always an option, which Cycling UK pursued against West Sussex County Council (WSCC) in respect of the removal of a cycle lane along Upper Shoreham Road along the coast from Brighton in Shoreham.
But legal action is costly and time consuming, and we're still waiting to hear whether the Court of Appeal will grant permission to allow a full hearing on the Shoreham case. Also, given that councils like BHCC are flagrantly ignoring the DfT's statutory guidance about management of their highway networks, and indeed their own officer's advice, there's a strong case for the DfT to consider doing something bold instead.
Intervene if you don't want to be ignored
So, sections 16 and 17 of the Traffic Management Act 1984 (TMA) impose duties on councils regarding the management of their highways network, and in performing those duties they're obliged to have regard to the guidance issued by the Secretary of State (SoS) for Transport under section 18 of the TMA.
That's the statutory guidance that BHCC didn't just ignore but voted to actively disregard. But where councils fail to properly perform their duties under sections 16 and 17 of the TMA, the SoS can issue an intervention notice under section 20, and if the council fails to address concerns, ultimately make an intervention order under section 21, effectively imposing a traffic director on the council.
That's exactly what campaign group Better Streets for Kensington (BetterStrees4KC) has asked the DfT to consider doing with the Royal Borough of Kensington and Chelsea (RKBC).
RKBC removed the protected cycle lane from Kensington High Street in December 2020, before it was fully installed and after just seven weeks. (The full details are set out on BetterStreets4KC's website).
Eventually, BetterStreets4KC were compelled to issue legal proceedings seeking a judicial review, which RKBC are defending. Separately, however, BetterStreets4KC has also written to the DfT urging the SoS to intervene using his TMA powers.
Cycling UK has similarly contacted the DfT about the SoS's TMA powers, specifically referencing the Brighton case, because it can't be left to individual campaign groups to consider legal action every time councillors blatantly ignore guidance and advice.
The Government needs to make it clear that reallocation of road space and compliance with statutory guidance isn't optional; it's a clear policy commitment which can't be ignored, and if it is ignored, that the SoS will consider using his intervention powers.
Cases already before the High Court
Whilst the threat or use of intervention powers by the SoS might make councils think twice before removing other schemes, and hopefully reduce the need for further litigation, a number of councils are already dealing with judicial review claims in the High Court following their removal of schemes.
Campaign groups needing support now
I've already mentioned Cycling UK's challenge in Shoreham and the Kensington case, but the campaign group which urgently needs support is the Keyhole Bridge Group in Poole. In a nutshell, Bournemouth Christchurch and Poole Council (BCP) closed a narrow bridge between two parks to motor traffic, using a modal filter – a big wooden planter.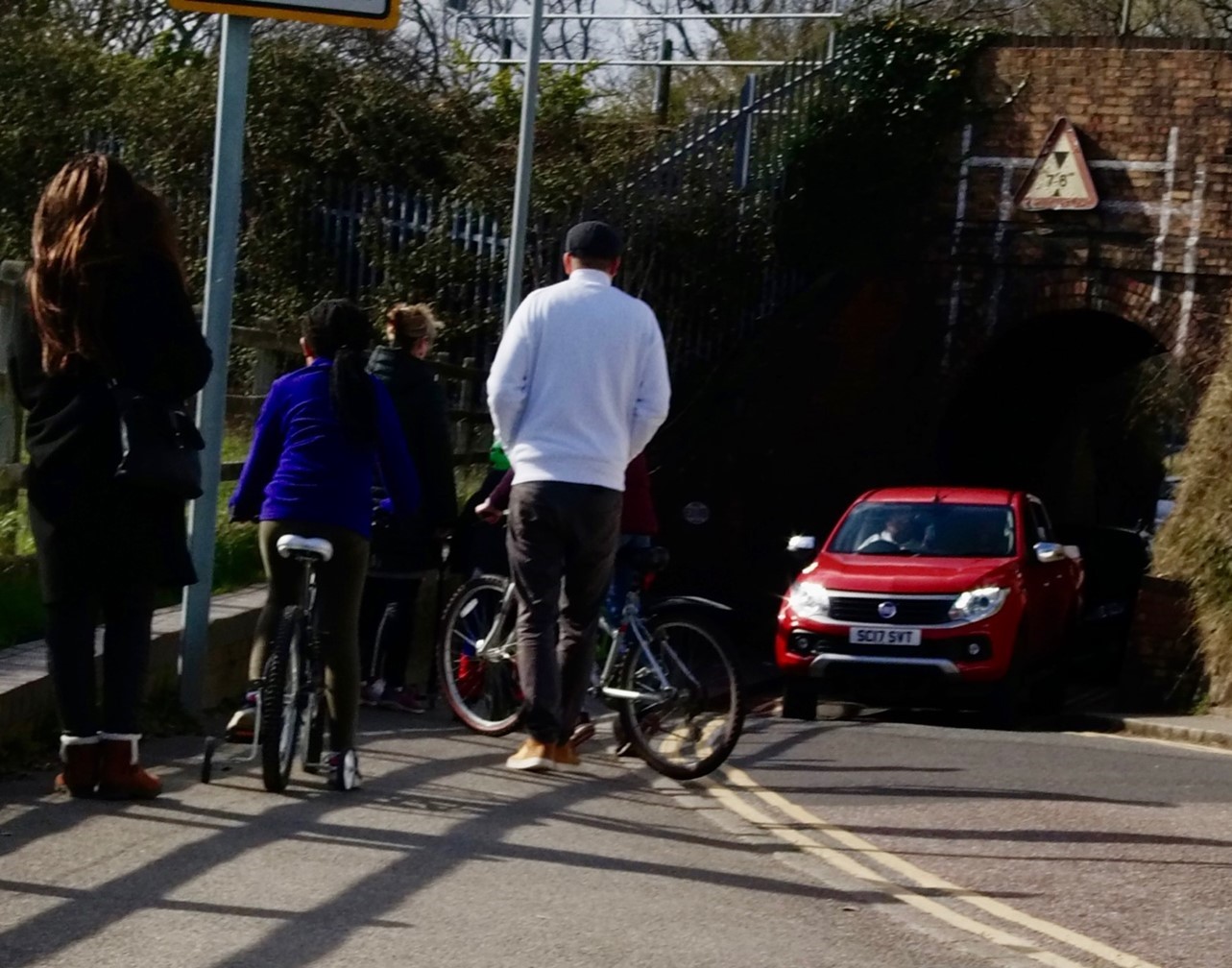 This was implemented to close a rat-run through the park, used by 500 drivers an hour in rush hour to knock 0.25 miles off their journey.
The council officer advice, the equalities impact assessment and public opinion all supported the filter remaining in place but, once again, a single councillor, in this case Transport Portfolio holder Mike Greene, was determined to scrap the scheme.
How you can help
It's hard enough pursuing a judicial review challenge when you're a national charity, with access to some funding and legal advice. It's a Herculean task for a group of local residents but, quietly and without much publicity, the Keyhole Bridge Group have organised themselves to collect the evidence, seek legal advice, issue judicial review proceedings, and secure permission from the court to take their case to a final hearing.
In this article I've written mainly about Brighton, and the need for the SoS to consider his intervention powers, hopefully to avoid the need for several more legal cases against councils ripping out active travel schemes, but it's also vital that those cases already in the system are also pursued, and the one that's closest to conclusion is the case of a planter in Poole.
To make sure the campaigners have their day in court, and get the chance to fully argue their case, they need to raise further funds.
Fortunately, they've secured what's known as a costs protection order, limiting their costs liability to BCP if they lose their case, but they still need to raise £15,000, and to date have raised just over £5,000.   
If you want to make sure your council takes account of officer advice, and reflects before removing active travel schemes, you can help the Keyhole Bridge Group establish a precedent by contributing to their crowd funding campaign.