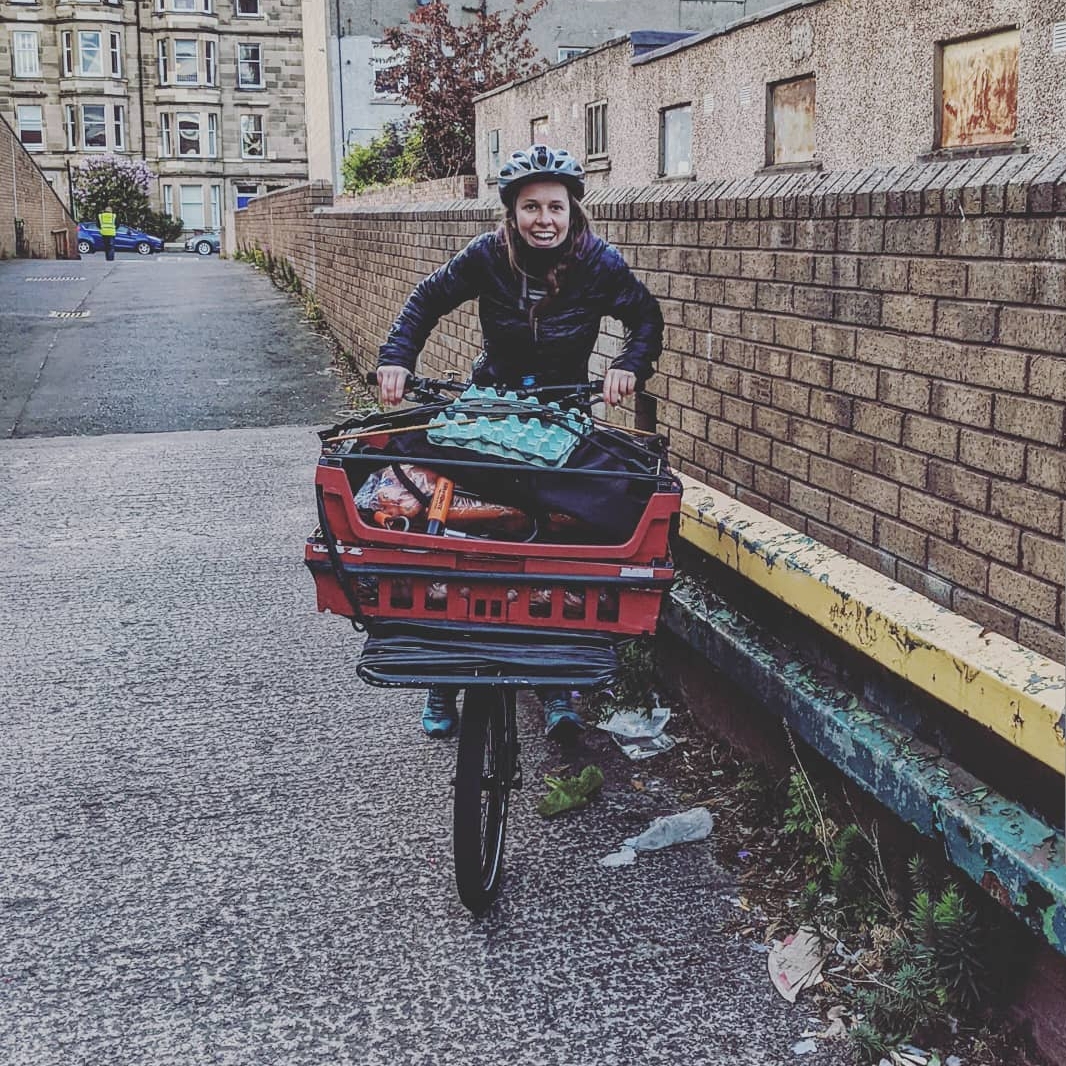 Naomi Arnold
Co-founded cargo bike group delivering food during lockdown
Starting to cycle following a hip injury and a move to Scotland, Naomi is a real cycling champion. She co-founded the Cargo Bike Movement in Edinburgh, using cargo bikes to transport surplus food from supermarkets to people experiencing food insecurity: the equivalent of 56,752 meals so far.
Naomi said...
"Our vision for this project is to build that outreach element for people to bring cargo bikes into their lives because we all firmly believe that our cities will be so much more pleasant and healthy if we find zero emission alternatives to most of those short trips that fossil-fuelled delivery vans are making in our built up areas."  
Nominated by...
Naomi Arnold was nominated for the 100 Women in Cycling by Kate Chambers, who said: "Naomi shows that cycling has so much power to make our communities happier, greener, safer, and more just. Every day, she really lives the better world that she wants to see, and she inspires me – and so many others. 
Naomi is one of the most positive and inspiring people I have ever met

Kate Chambers
"Naomi is one of the most positive and inspiring people I have ever met.  
"She is the co-founder of Edinburgh's Cargo Bike Movement, which was launched during the Covid-19 pandemic as a means of tackling food insecurity, reducing food waste, promoting cycling and fighting for a greener future for all. Since its inception only a year ago, the Cargo Bike Movement has done more than 1,100 collections of surplus food waste by cargo bike, leading to the equivalent of more than 56,752 meals delivered to those in need in Edinburgh, whilst saving an impact of an estimated 76,273 kg of carbon dioxide.