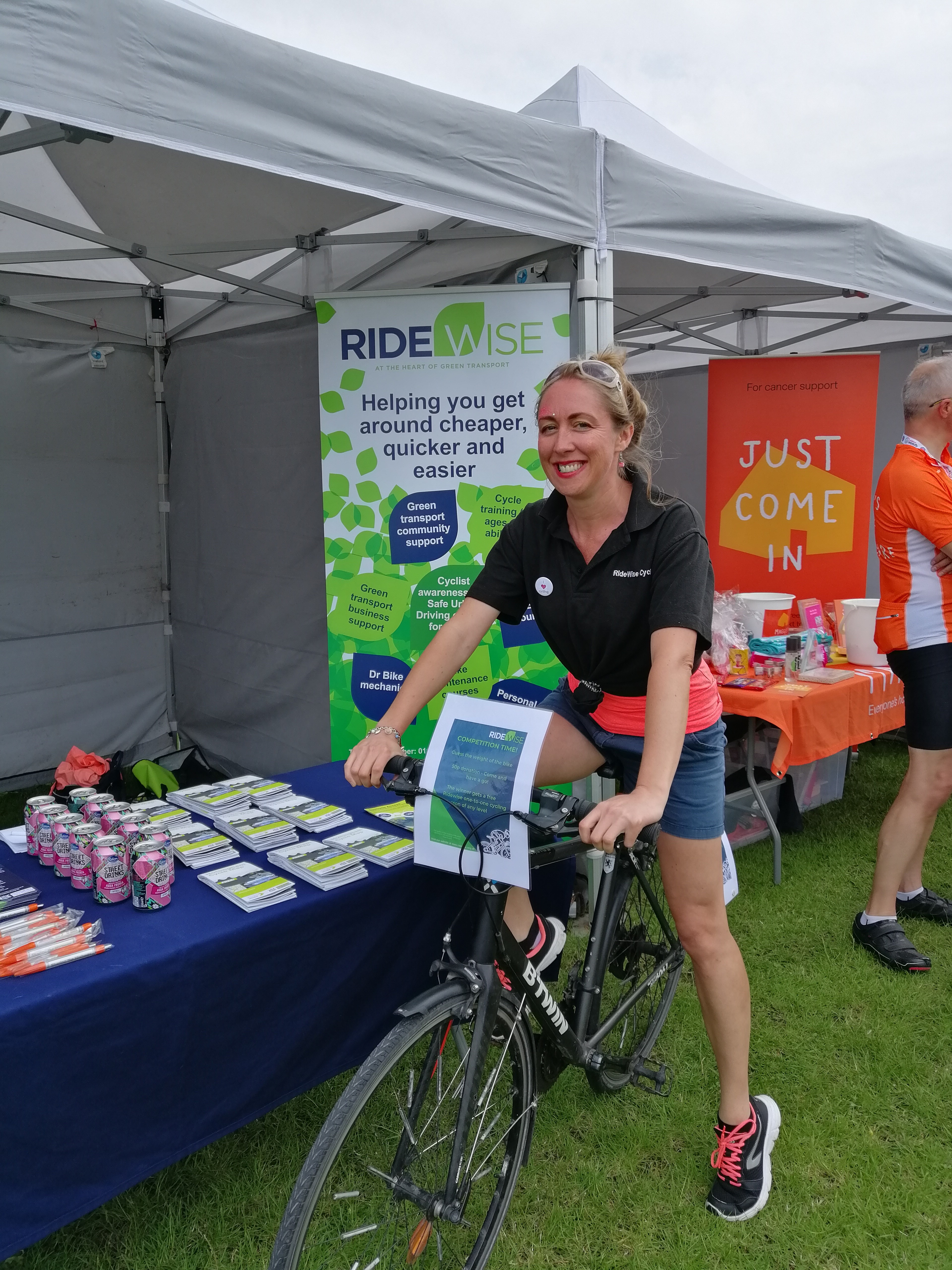 Gina Law
Cycling advocate and instructor with RideWise
After discovering a love of cycling in her mid-20s and getting help from a local organisation to boost her own cycling confidence, Gina Law started working for RideWise on community cycling projects. Now a cycle instructor, she has helped tens of thousands of residents get cycling through maintenance courses and rides. She also helps transform businesses encouraging cycling to create happier workforces. Her passion and commitment is helping to normalise cycling, helping people understand that cycling is a viable everyday choice.
Gina Law said…
"It was the summer of 2013. At 35, I was newly unemployed for the first time in my life due to a fixed-term contract ending. I had no transport and daily bus fares were using up a chunk of my budget. 
"I was chatting to a good friend who offered to lend me a bike to get around. It was a masculine, red mountain bike with thick tyres and heavy suspension. I jumped on it and cycled into town. 
I hadn't cycled since I was a teenager and immediately felt the rush of fun and freedom that it gave me back then

Gina Law
"I hadn't cycled since I was a teenager and immediately felt the rush of fun and freedom that it gave me back then. I was in town before I knew it and couldn't believe how fast it took me, even quicker than the bus! 
"Over the following months, that bike became my only method of transport and I loved it. I used it for leisure rides along the canal and river, to do my shopping, visit friends, socialise, everything! It gave me so much independence that I could never have imagined, and I got fitter and saved money too – bonus! 
"I was a bit nervous on busy main roads so I Googled cycle training and had a few free training sessions with the Nottingham charity RideWise, whom I'd never heard of before. Those few sessions were invaluable and meant that I was riding safer on the roads, had more confidence, knew what to do and how to interact with drivers. 
"A few months later I was applying for jobs when I saw one for RideWise working on community cycling projects! So although I didn't consider myself as a 'cyclist' as such (as I thought you had to wear Lycra to get that accolade) I immediately applied and cycled to the interview on my trusty wheels, in a smart casual suit, with helmet (this was also a new addition to my daily ensemble). 
"My enthusiasm for the benefits of cycling (and previous experience in other roles) landed me the job. I was overjoyed and really excited to get going. 
"Fast forward seven years and I still work for RideWise, have managed three community cycling projects, assisting tens of thousands of residents to cycle through community engagement, social media, regular events and activities. 
"I've set up cycle training centres, yoga for cyclists, women's bike maintenance courses, rides, build-a-bike projects, co-ordinated a cycling project across businesses and worked with lorry and van drivers, giving them a chance to swap their steering wheels for handlebars. 
"I've also become a cycling instructor and delivered Bikeability in schools.  I'm happy to say that my bike (I now have a hybrid!) is still my means of transport and regular cycle journeys keep my health and wellbeing in check.
"Cycling is the future!"
Nominated by…
Gina was nominated for the 100 Women in Cycling by Helen Hemstock, who said: 
"Gina works with businesses in Nottingham, supporting over 70 businesses to make greener travel choices. 
"She's the perfect advocate – she arrives by bike, gives advice about clothing, storage, route planning etc. She's practical, enthusiastic and normalises cycling, helping people to understand that cycling is a viable everyday choice. 
"Because of Gina there are thousands of commuters in Nottingham who now understand their options for cycling; in terms of route planning, infrastructure, training, ecargo bikes and so much more! 
"She's the perfect business advocate and she's a dedicated cyclist too."