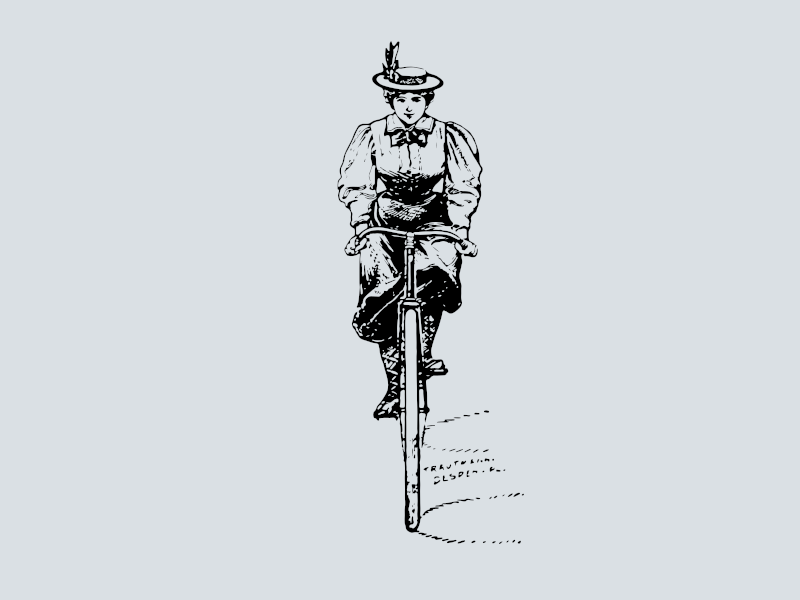 Emma Eades
One of the first women to cycle in London
With the introduction of the bicycle came a tool for female emancipation, but it wasn't easy for women to begin claiming their rights. As women began taking up the bicycle they were also the victims of harassment, social stigma and even violence. 
Emma Eades was reportedly one of the very first women in Britain to ride a bicycle in London but she was subjected to ridicule and insults, with some onlookers even throwing bricks at her.
This didn't stop her and, according to Hannah Ross's book 'Revolutions' about how women changed the world on two wheels, when Emma later 'took up performing cycling tricks before an audience at the Alhambra, a music hall on Leicester Square, her family were so scandalised they refused to speak of it.'
It wasn't just taunts and violence that tried to prevent women during the Victorian era from cycling. 'Bicycle face' and other scare tactics were also deployed. 
19th century doctors warned that cycling was dangerous for women's health. Cycling, they said, would give women a hunched back, a wearied face and masculine features, ruining their chances of finding a husband.
Luckily, women like Emma Eades knew that the benefits of fresh air and exercise that the bicycle brought would soon be recognised, and the myth of bicycle face would be exposed.
To honour the sacrifices and bravery of Victorian trail blazers like Emma Eades, Cycling UK is asking women today to share their real 'bicycle face' on social media using #BeYouByBike, and tag their friends, to demonstrate the fun and freedom cycling really brings.