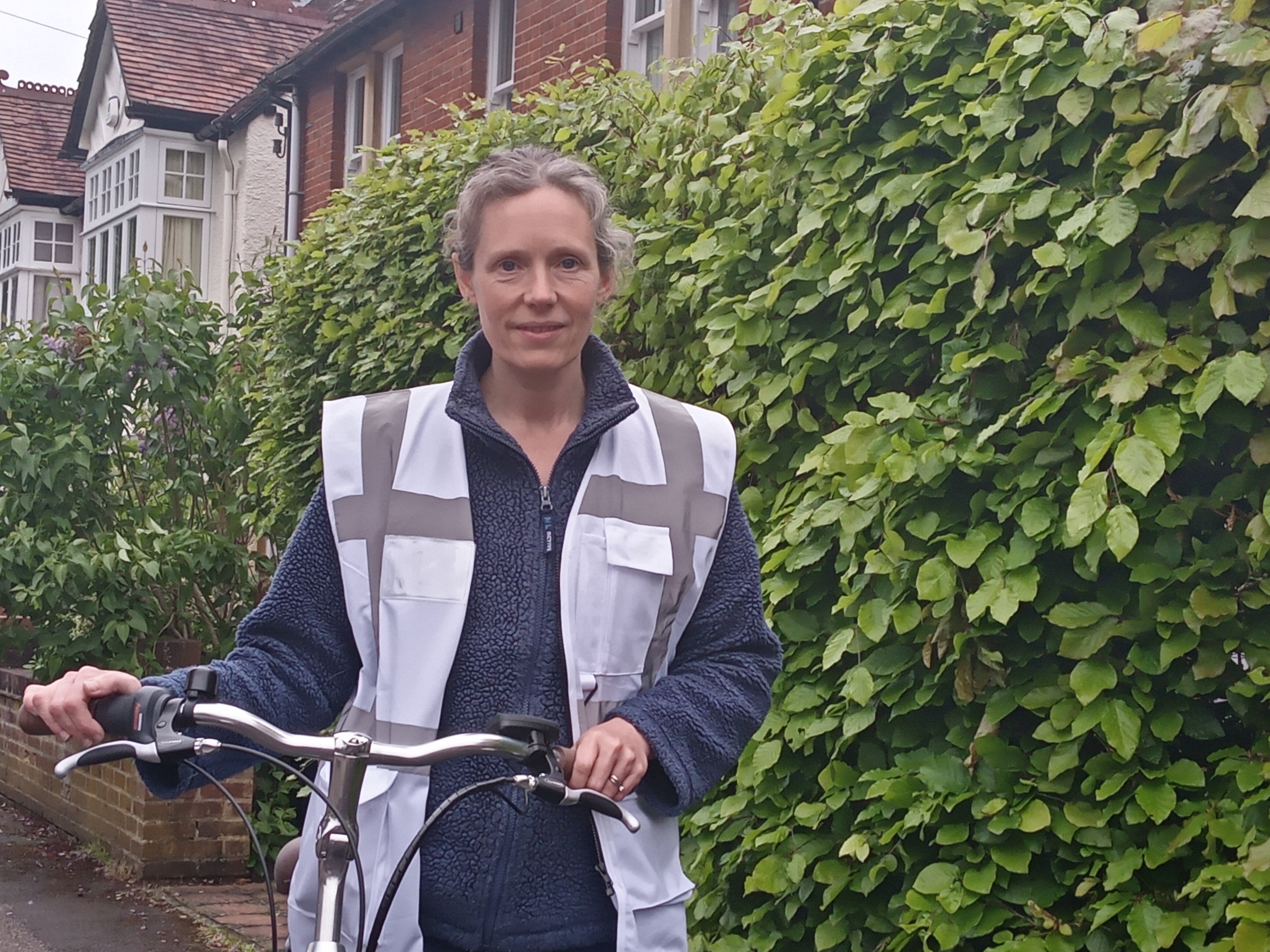 Annette Pattinson
Founder and leader of JoyRiders Oxford
Cycling became part of Annette's life after living in Munich where the cycling infrastructure encouraged cycling. After returning to the UK Annette was determined to make cycling a regular part of life, using cargo bikes for the school run, then later forming a cycling bus with other families. Annette recently instigated the creation of a JoyRiders group in Oxford. In just a few months the group had 20 volunteer ride leaders trained.
Annette Pattinson said…
"Although I had learned to ride a bike as a child, I didn't really cycle again until I moved to Munich in my thirties. Munich's amazing public transport was topped only by its network of bike paths, which delivered you safely from one side of the city to the other. Friends always turned up on bikes so, without thinking much about it, I bought my bike in a sale. A bike meant freedom to go wherever you wanted, whenever you wanted.
A bike meant freedom to go wherever you wanted, whenever you wanted

Annette Pattinson
"Cycling became my way of getting around and I assumed I'd carry on back home. But I suffered a reverse culture shock when returning to the UK. It isn't easy to cycle for your everyday needs here, especially with children. The UK doesn't have a culture of everyday cycling or much good infrastructure to support it. I missed the freedom of my bike.
"A cargo bike brought a temporary solution when transporting young children but, once they outgrew the box, cycling with them on their own bikes was a whole new challenge. For our daily school run, we joined with other families to form a cycling bus.
"A desire to ride further afield led us to discover the city's secret network of cyclable routes. But for many, many more people to hop on their bikes without needing to think about it, we need the same joined-up network that helped me to get on two wheels.
"I still pick my routes, but watching other women ride confidently through JoyRiders has taught me how to ride safely on the busier sections that link them. Only 30% of regular cyclists in the UK are women; through its tried and trusted approach of volunteer-led rides by women, for women, JoyRiders plans to work alongside others to increase this share to 50%."
Nominated by…
Annette was nominated for the 100 Women in Cycling by Vieve Ford, who said: 
"Annette has single-handedly been the instigator of getting a JoyRiders group started in Oxford.  In just a few months it has gone from nothing to having almost 20 volunteer Ride Leaders trained and ready to start leading rides from April 2021.
"Annette has been tireless in her efforts to make this happen - talking with anyone and everyone who can help. Amazing!"