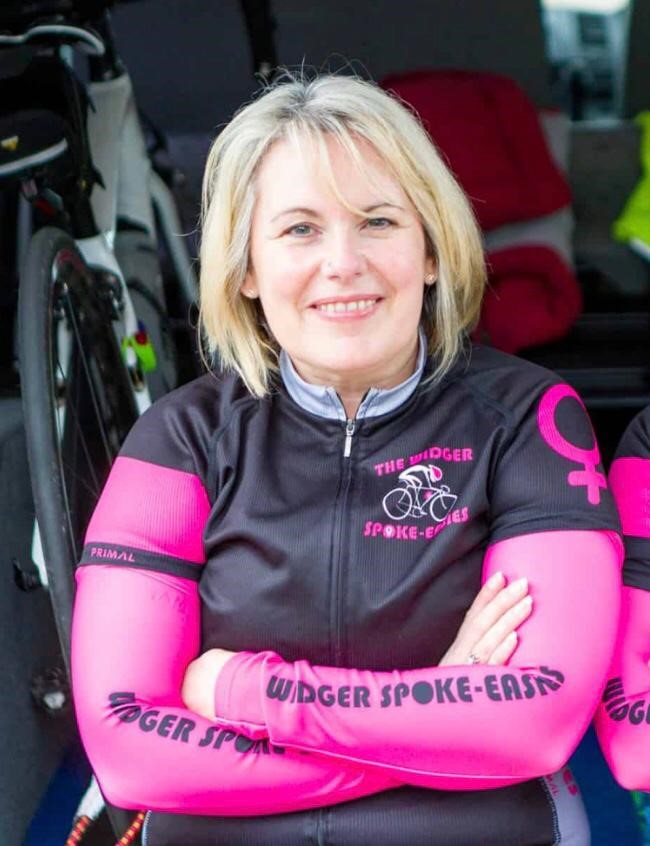 Ann Marie Sobey
Cycling group member and champion for women cyclists
Originally a mountain biker, Ann Marie (Brie) thought road cycling on skinny tyres was only for elite athletes. However, after joining a local women's cycling club she fell in love with the adventure. Now Brie is in integral part of her local groups, organising rides and acting as the group's welcome officer for new women. 
Brie Sobey said…
"Wow! Thanks so much to my local cycling clubs for nominating me: The Widger Spoke Easies (an amazing, fun-packed all-women club) and Launceston Velo. I live down in Cornwall and this was such a humbling and unexpected surprise. Especially since my love and passion for cycling is entirely because of all these fabulous people! 
"Alongside Rodney (that's my bike), my cycling community threw me a healthy, social lifeline as a newly single 40-something. And what a thrilling adventure I am on. 
"My cycling journey started as a nipper on a blue and yellow, rubber-wheeled boneshaker of a bike on rutted West Country lanes and farm tracks (definitely no Future Shock Technology like Rodders has). 
"It was tough to keep at it and I'm not sure back then that I was entirely convinced cycling could be my everything. But something kept me going: maybe it was a crop-top-clad cycling adventure in Andalucia using a map without contours, or the twinning association's Bodmin-to-Brittany tour. I kept at it; these bikey things were fun but it was really hard work on a mountain bike.
"I have never been massively into team sports and I was definitely of the opinion that Lycra and skinny tyres were the preserve of an elitist few. How wrong I was: in 2016, the women's cycling club reeled me in (they make a habit of this), and in no time at all I found myself on the committee, leading rides, recruiting new members and deeply entrenched in club mischief and joy.
"These days I see myself as a sort of concierge for women new to road cycling: signing them in, making sure they can find their way about safely, visiting the right shops for the right kit, encouraging them to have fun but be safe and chaperoning them up to the point where they are ready to adventure on their own.  
Now I know for sure that cycling can be for everyone: no matter what your background or body shape or sporting ability

Brie Sobey
"Now I know for sure that cycling can be for everyone: no matter what your background or body shape or sporting ability
"In 2021 I will be joining close friends on a three-day long trip to raise money for Children's Hospice South West to celebrate my 50th. 
"Cycling on your own is fun, but the transition from heavy old mountain bike to a stealth carbon road bike in the company of super friends is a revelation.  Find yourself a Rodney and a women-friendly cycling club and you won't look back. Be the change – you will have friends for life. 
"And the best cycling advice I can give you? Go to Mallorca, take your friends and hire a bike: there is something there for everyone – from flats to mountains, sunshine, cafes and sea views. It's my absolute favourite."
Nominated by…
Brie was nominated for the 100 Women in Cycling by many of her cycling friends. Here are some of their comments: 
Karen Hockin said: "Brie is a fun, bubbly supportive member of our all-women cycling club. She often sacrifices her own ride to help and encourage others and does so much more to make the club such a success!"
---------------------------------------------
Helen Mason said: "Brie is always so bubbly and positive with everything our club organises. She is also thoughtful of people and their abilities and adjusts the route accordingly. She stays with our beginners, taking time to encourage them along our routes. She is also quick to help you reach your own milestones on bigger/faster routes. Even when you are injured, Brie is around to help you with your everyday needs. She really is a star."    
---------------------------------------------
Julie Lampshire said: "Brie is passionate about cycling and helps all new members of our cycling club as well as the more established riders. She encourages us to get involved in community events and has been instrumental in raising funds for Children's Hospice South West – cake bakes, big breakfasts etc. She is such a caring all-round good egg."
---------------------------------------------
"Ann Marie is just amazing, she supports all of our members at whatever level they are at within our club. Giving advice and always cycling with them so they don't feel that they are holding anyone up. She has a wicked sense of humour always putting everyone at ease.
"Ann Marie has also given me amazing support throughout my husband's cancer diagnosis and subsequent operations, chemo and radiotherapy. She has been an absolute rock to me."    
---------------------------------------------
Tamasine Corney said: "She is the linchpin that holds our cycling club together making sure that every member is included, welcomed, and made to feel a part of the progress that is women's cycling. She has made road cyclists out of tens of groups of women, she has taught me that fun is the bedrock of inclusivity and she deserves recognition for the unending energy she puts into supporting others."