Which commuter bike should I buy?
Riding to work can bring a new sense of freedom, and there are a plethora of bikes to choose from when you're getting started, ranging from a couple of hundred pounds to the eye-watering region of tens of thousands. But don't let the vast choice put you off, nor allow yourself to be swayed by what other people choose to ride if it doesn't work for you – I'm a firm believer in this.
Choosing the right commuter bike is entirely down to personal preference and needs to be fit for purpose, and also needs to fit you

Rebecca Charlton
Comfort is paramount when it comes to gaining confidence on the road, so you need to take the time to find the bike that makes you want to ride it, rather than being ridden once and left to gather dust in the shed.
If you're shifting around on a bike that's too big, your comfort will be compromised, and you could pick up an injury. When it comes to women's bikes, there is no 'one size fits all' and not everyone will want or need to opt for a 'women's specific' bike.
Contact your local bike shop for buying advice, or if purchasing online take your time measuring up with the size guide and consider every aspect of the geometry. For example, a 'medium' could describe two quite different sizes depending on specific tube lengths and angles, so keep that in mind when you're looking at the measurements and diagrams on the brand's website. All the bikes suggested here have comprehensive fit guides and advice on their respective websites, making the process more reassuring.
It's a good idea to decide on a budget and think about how much you're prepared to spend – even if you're just getting started it could be worth stretching it a little higher, if you can. I'd like to see everyone catch the cycling bug and keep riding for the long haul so it's worth thinking of longevity when choosing your commuter.
For example, are you going to want to use it for commuting only? Or might you want to do a sportive at the weekend? Perhaps you'd really like to start riding off-road more, or maybe your route to work will already feature some gravel sections. Investing a little more cash in a bike that could eventually span all of your cycling pursuits could be better than out-growing your budget-bike quickly.
Luckily, UK cycling brands have got it all covered from incredible value-for-money-savers right up to the dream bike that still offers bang for your buck. I've selected a few examples of the wide range of styles available.
The quality of components – group-set and wheels – as well as the frame material, will make a huge difference to price, so that's what you're looking at by way of 'spec' vs. cost. If a bike looks similar in the picture but is twice the price, that's where your money is going.
The only downside to this incredible rise in cycling popularity is that many bikes are selling out fast, but don't be disheartened – brands are regularly restocking to keep up with demand so keep trying and also try to look for trust-worthy second-hand sources and independent, smaller bike shops. You can get a second-hand bike for a complete steal so, again, don't be put off by price tags, just make sure it's serviced and checked over.
The road bike
Road bikes are increasingly popular machines, not only for commuting or solo riding, but also for taking part in events and social miles with friends. If you find that you want to go further afield for some longer miles and bigger climbs on your days off work, a drop handlebar road bike will tend to offer a lighter option that can span both uses very effectively.
The riding position of a road bike can feel quite extreme and aerodynamic at first, as you'll typically be much lower than on a hybrid or town bike but once you get used to it, you'll feel like you're travelling much faster and lighter on the pedals. When you first take to a road bike, make sure you have time to practice on quieter roads or segregated paths where possible, as it's perfectly normal to feel a little wobbly at first – but don't worry, this will soon go.
You'll have more lightweight, skinnier tyres on a road bike than any other form of commuter bike so it's important to practice changing an inner tube and equipping yourself with some spare tubes, tyre levers and a mini-pump. Practice makes perfect!
Pink isn't for everyone, but I love this paint job. If you don't, it comes in a range of colourways. The Specialized Allez is a great entry-level full road bike to get started on, costs £649 and the makers say: "Focusing on weight, refinement and reliability … the Allez is the first to make these technologies accessible to everyone." It's an impressive price point, coming complete with Shimano Claris and Axis Sport wheels, and is available in a wide range of sizes from, 44 up to 61. As with all our chosen brands, there's a comprehensive guide on the website.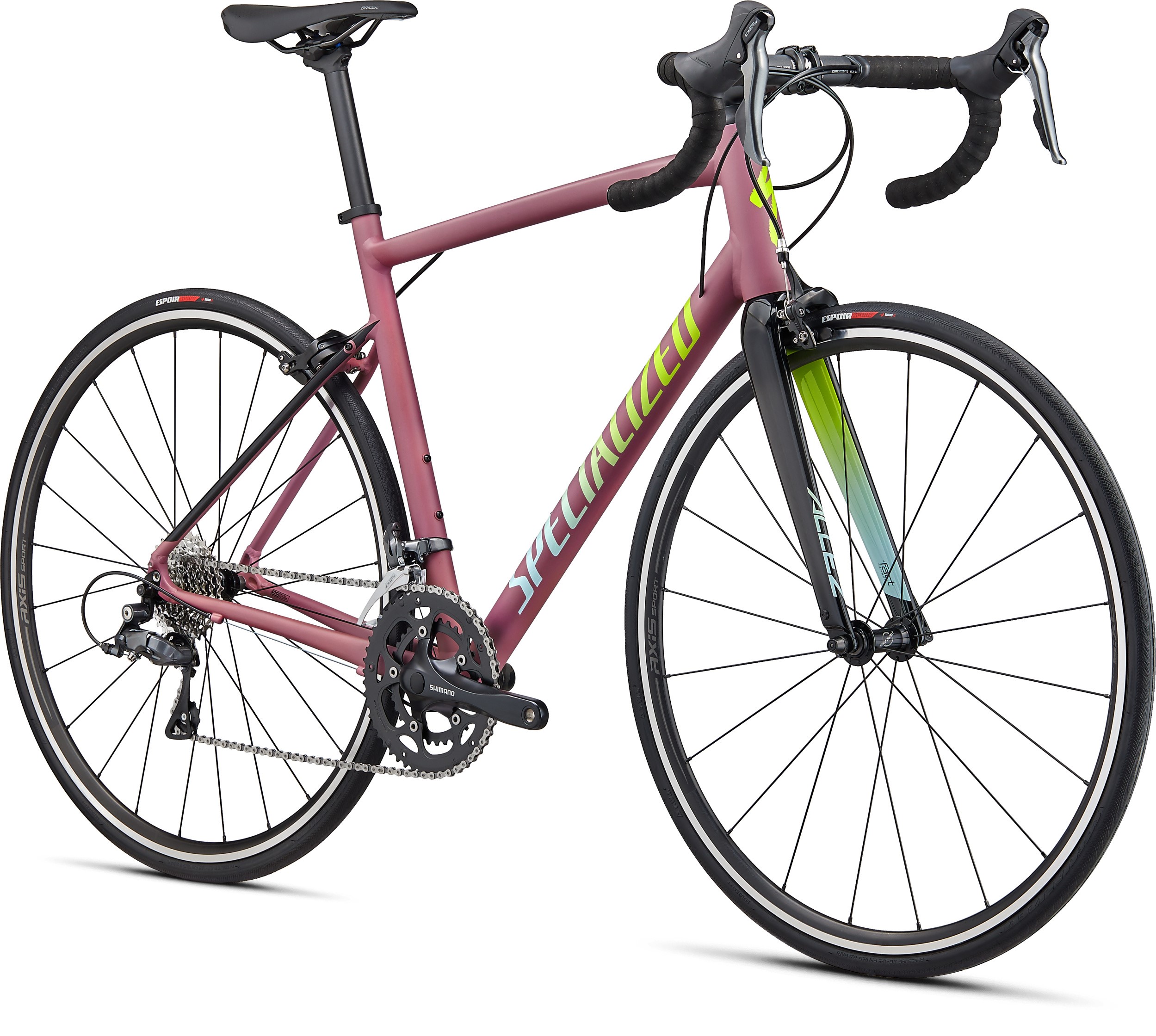 The city bike
I've used the term city bike here but in my mind this category encapsulates all the quirky, unique, practical and often loveliest looking bikes to get around on. There are options with baskets for your shopping or work gear, high handlebars, drop handlebars, anything-you-can-think-of handlebars, but I've selected the Instagram-worthy and beautifully practical Somerby, designed by Olympic track star Victoria Pendleton.
A friend of mine who purchased this as her first adult bike describes it as her "lockdown saviour with enough gears for riding around town but tackling the odd surprising hill too. All complete with a soft and luxurious saddle, keeping things comfortable for well over an hour of riding".
The Somerby has style, looks, class and costs £320 from Halfords. It comes in two sizes: 17 and 19 inches. It weighs in at approximately 14.6kg, and features Shimano Tourney 7 Speed and Kenda K197 Smooth Roll Tyres.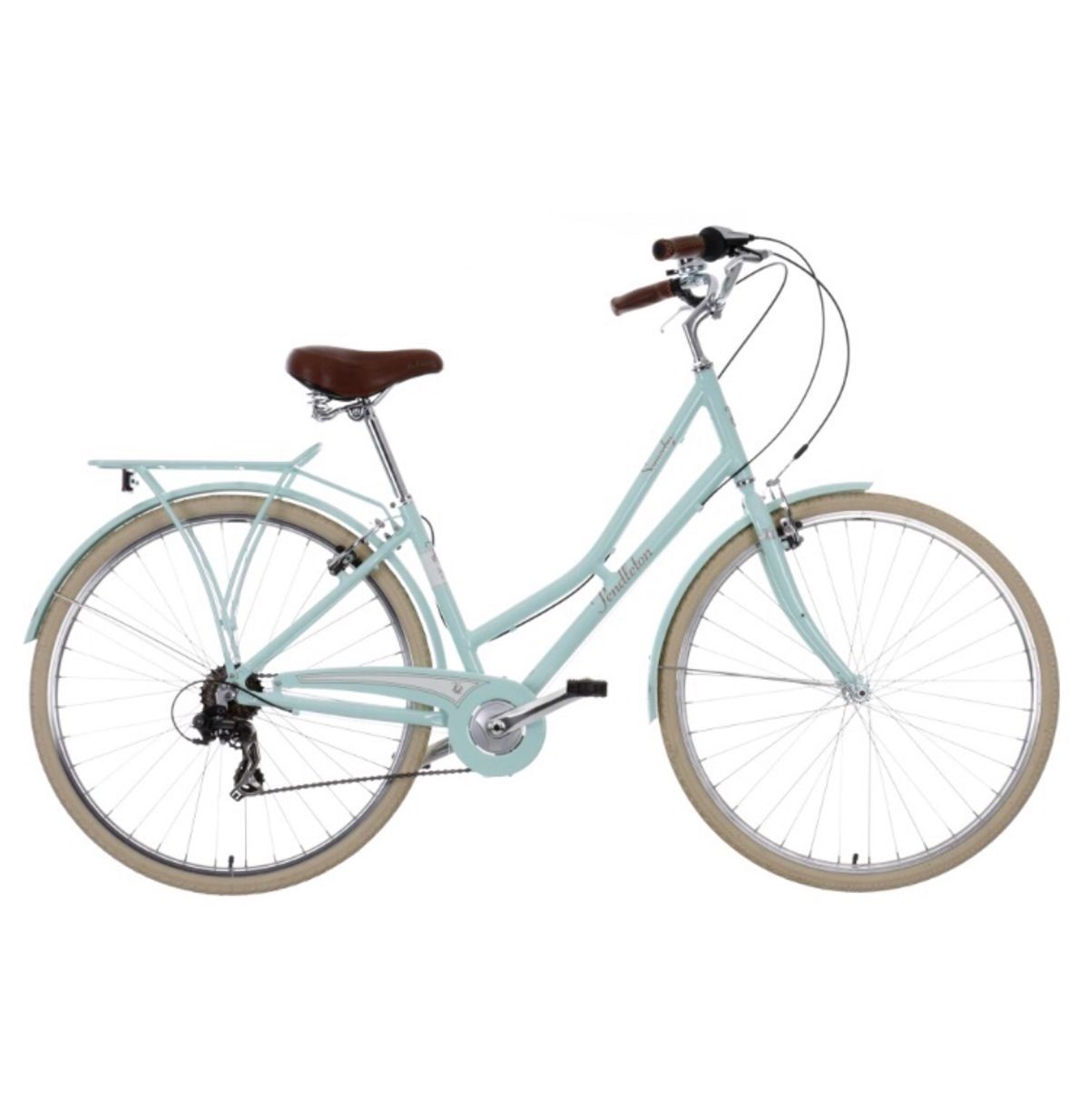 The folding bike
There are several forms of folding bikes that you'll see about town, utilising different mechanisms to collapse down to a size you can conveniently carry on the tube or take into the pub! It means security isn't on your mind, as you can keep your pride and joy with you. With so many rush hour restrictions when it comes to taking your bike on the train, it's been a brilliant solution for many commuters to break up their journey and British brand Brompton has a huge pedigree here.
Mix class, design aesthetics and practicality, and you have the Brompton M2L in Flame Lacquer, allowing you to nip away from the traffic lights quickly, as well as whizzing to that lunchtime meeting.
Costing £1,180 it's a worthy investment for life. This model comes with 'M', Brompton's traditional, most common handle bar, and two gears to keep weight down and still give plenty of range to get around the city.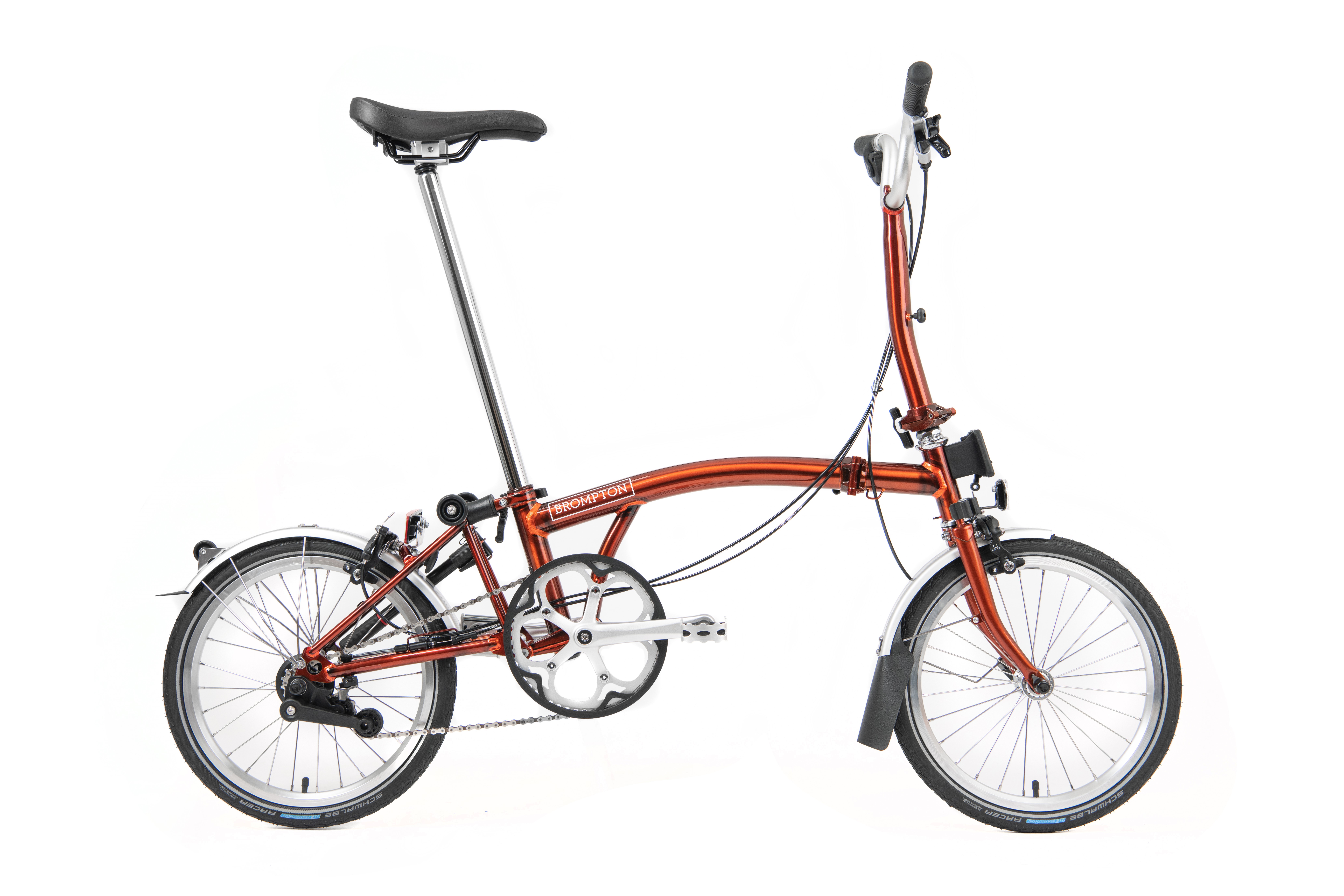 Not sure if you want to splash the cash yet, or can't get hold of your desired model? You can try a Brompton for hire.
The hybrid
If you're looking for something purely for the commute and you're new to cycling, then a hybrid is a really popular choice. It gives a balance between mountain bike geometry, providing a far more upright position, and the zippiness of road wheels and skinnier tyres. A lot of people find the position of a hybrid offers greater control in traffic. They also typically come prepared with mounting bolts on the frame to attach panniers. You won't have to worry about different hand positions on the bars, or being tucked down low.
Alternatively, the gravel bike is becoming increasingly popular. Fairly new to the market, this type of bike will offer that slightly more aggressive aerodynamic position, while retaining the flexibility of being able to change tyres from skinny 25mm options all the way up to in excess of 50mm on some models. You'll also have mounting points galore for panniers and – if adventure riding is your thing – tents, pots and pans and a mountain of freeze-dried food!
Genesis says the Croix de Fer 10 can be loaded up and taken anywhere, but now comes in a new flat bar set-up to help you cut through the traffic Monday to Friday and hit the gravel roads on the weekend. Weighing in at 12.1kg and costing £1,249.99 this is a really solid investment for versatility and longevity, finished off with the Shimano Sora groupset.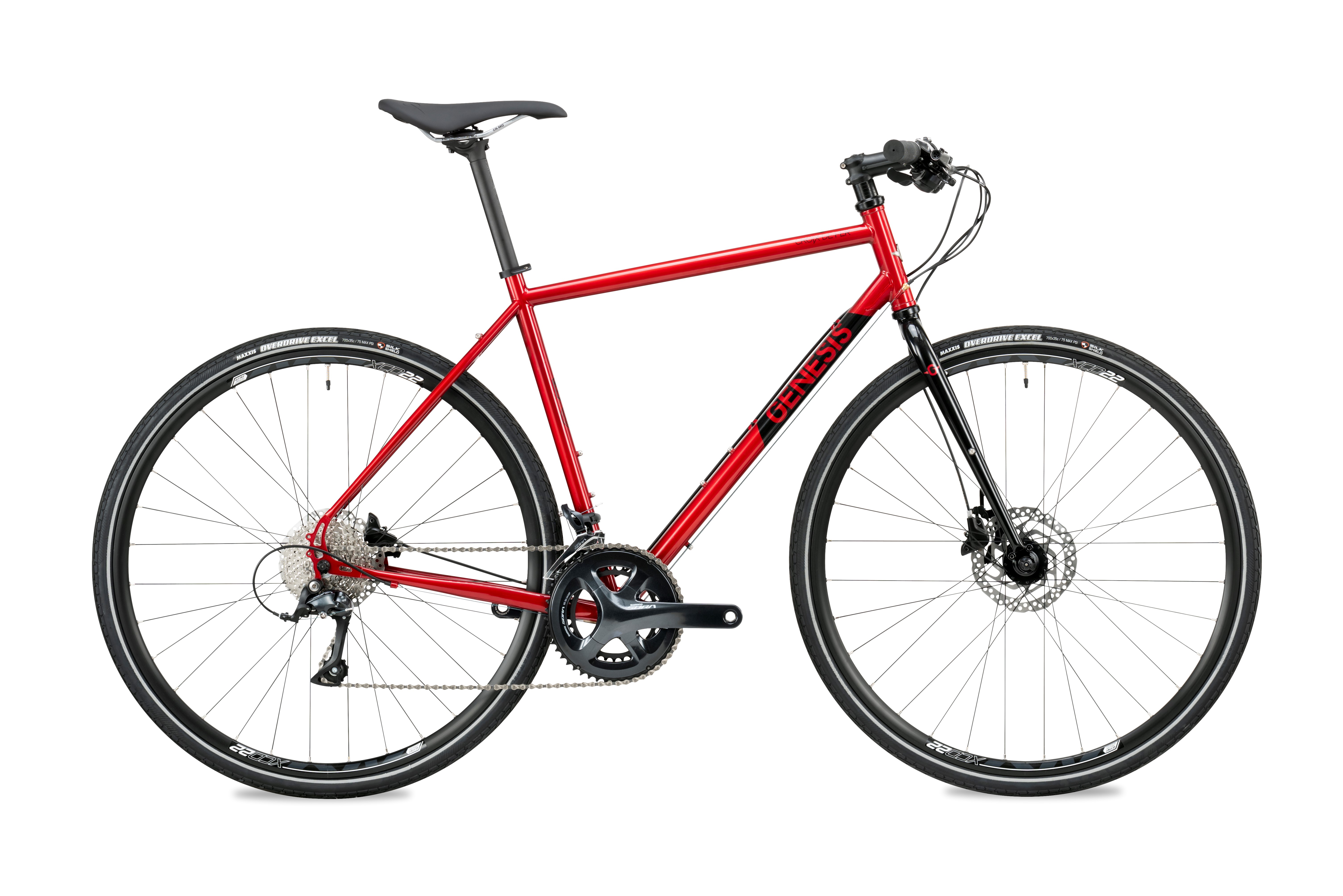 This is a broad overview of the vast number of options out there; there are many more brilliant buys on the market. I've also been very impressed with Decathlon's B'Twin range of Riverside hybrids. These start at just £249.99 for the Riverside 120 – so keep your eyes peeled for a bargain.