Transforming the way we travel in Wales
In recent months, with quieter roads, more free time, and an urge to make the most of the limited opportunities to get outside, we have seen many more people walking and cycling.  We have been enjoying space ordinarily given over to cars. 
These quieter roads have however, led to an increase in speeding, and as cyclists we know that speeding makes the roads feel much less safe. Evidence clearly shows that reducing speed limits is one of the simplest ways to reduce road casualties.
The introduction of 20mph streets and zones has been increasing over the years, but it is a slow and bureaucratic process and so the impact has been limited. Two years ago campaigners claimed that Wales was lagging behind, with very few local authorities reducing speed limits, despite being able to do so.
Rising to this challenge, deputy minister for Economy and Transport Lee Waters, set about taking action and established a Taskforce, chaired by Phil Jones, to look at what could be done.
On Wednesday, the Taskforce report was launched and the Senedd voted in support of a default 20mph speed limit in residential areas, and plans for this to be introduced by 2023.  
This means that all our residential streets will have 20mph speed limits (unless there is a good reason for them not to). The evidence shows that lower speeds result in fewer collisions and when collisions do occur the severity of injuries is much reduced.   
Duncan Dollimore, head of campaigns at Cycling UK said:
"Lots of people and organisations have been campaigning for 20mph speed limits for years, but the commitment of deputy minister Lee Waters to make this happen in Wales can't be overstated. The vote for a 20mph default limit shows what's possible where there's political will, which on this issue has so far been sadly lacking at a national level outside of Wales."
Changes in the law will only benefit us if they are enforced, and so we welcome that the report states there needs to be a real commitment from the police and Go Safe partnership to make it work.
Speed limits are only part if the solution; survey after survey tells us that many more people would ride bikes if there was high quality segregated infrastructure. Whilst building permanent infrastructure takes time, we have welcomed the resources Welsh Government has made available for temporary infrastructure to help local authorities create environments where people can continue to walk and cycle safely as we come out of lockdown. 
It's good to see the variety of ways in which local authorities are using these funds - Ceredigion Council are closing roads and creating safe zones in many of its town centres. Bridgend will see 2.5km of segregated cycle way to the city centre and Denbighshire Council are asking residents what interventions they want to see in their local town centres.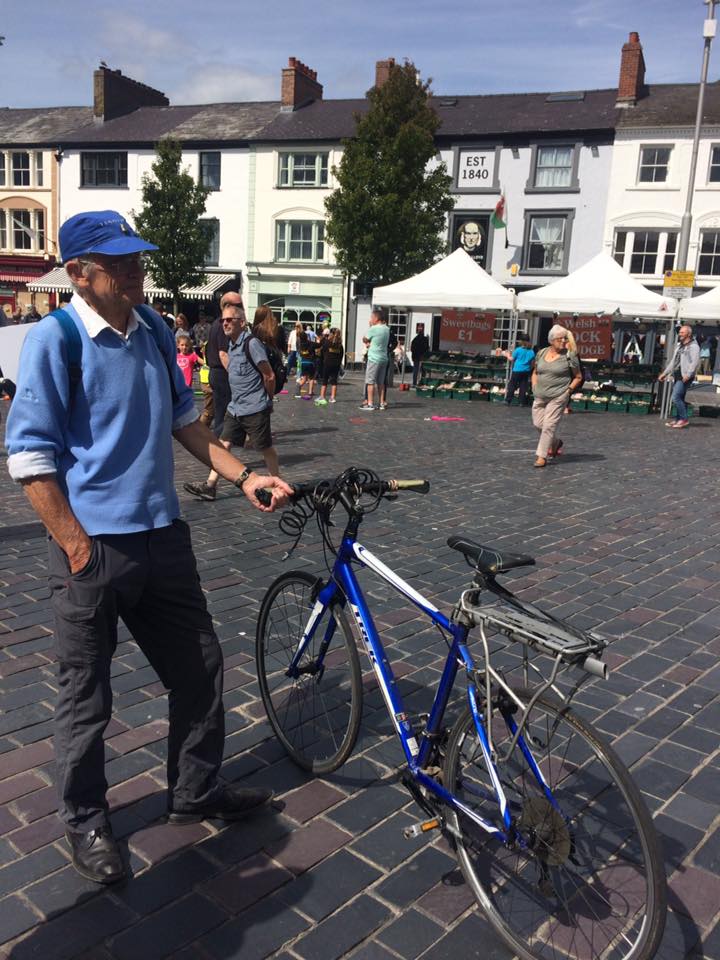 In Cardiff, it seems that people like the changes that have been made as it's been voted the best city for cyclists!  As this is the ambition of campaign group Cardiff Cycle City - we hope they don't retire now as there's still work to be done, despite the new title.
There was an announcement of further funding to support our town centres recovery this week, so it's worth checking out what your Council has planned, and if they're still looking for ideas.
How can you help?
Politicians and council staff want to hear from local communities, so let them know what you think. 
If you like the pop up lanes that have been introduced - let them know! If you see some gaps in their plans, see if you can help fill them.
You can plot your ideas on Widen My Path, and let your councillor know that you have done so using our easy tool. Encourage your friends, neighbours, community groups and colleagues to do so as well - the more people that submit ideas, the better solutions we'll see..
If these temporary interventions work and help create vibrant spaces where people are prioritised and active travel is the easiest option, the case for making them permanent will be hard to challenge. 
It's been a good week to be a cycle campaigner in Wales!