Top 10 off-road routes in the Surrey Hills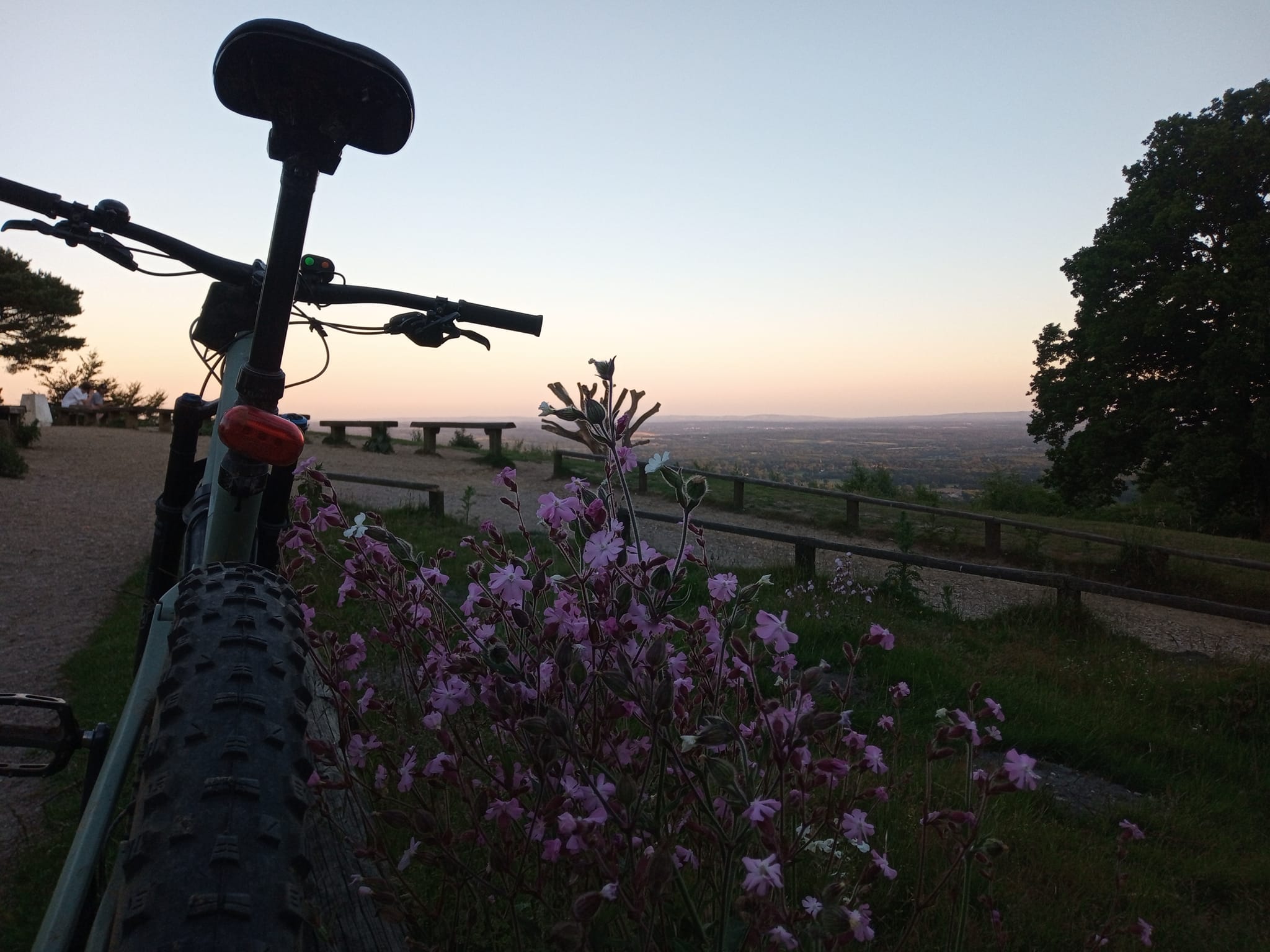 1. Summer Lightning
This is one for hardcore mountain bikers - although there's nothing super scary about it. It has one of the best and longest descents in the whole of the south east. Co-developed by Cycling UK in partnership with the Surrey Hills AONB some years ago, it has been extremely popular ever since.
It's one of the few signed routes in the area and is more like something you might find at a trail centre. Starting at Leith Hill Tower, which is owned by the National Trust and is the highest point in South East England, you can get a cup of coffee and a slab of cake from the serving hatch during opening hours before you start your descent. Enjoy the incredible views towards the English Channel and the South Downs one side and London and the Wembley Arch in the other direction.
The route starts with a tight, bermy switchback before you take a sharp right turn and climb back up the track (don't go through the gate) to a long, flowy swoop through the trees that includes a few heart-stopping rollers and bombholes.
Eventually you are thrown out onto a fireroad. Turn right passing the cricket pitch on your left and an immediate but easy-to-miss turning takes you into the next section of sublime singletrack with lots of dips and steep, rooty, rocky sections.
The trail comes out onto a byway known as Wolvens Lane but almost immediately turns left again along a track that takes you to section four. It's easy to miss the sign but take the second turning on the right and you'll soon be flying downwards again along the hillside dipping in and out of the trees and negotiating small rocky drops before rejoining Wolvens Lane again.
Keep left and another section in and out of trees drops down to the official end of the route - you can either ride back up to Leith Hill on the byway or follow the official signage but if you want the thrills to continue, follow the byway and bridleway down to Wotton.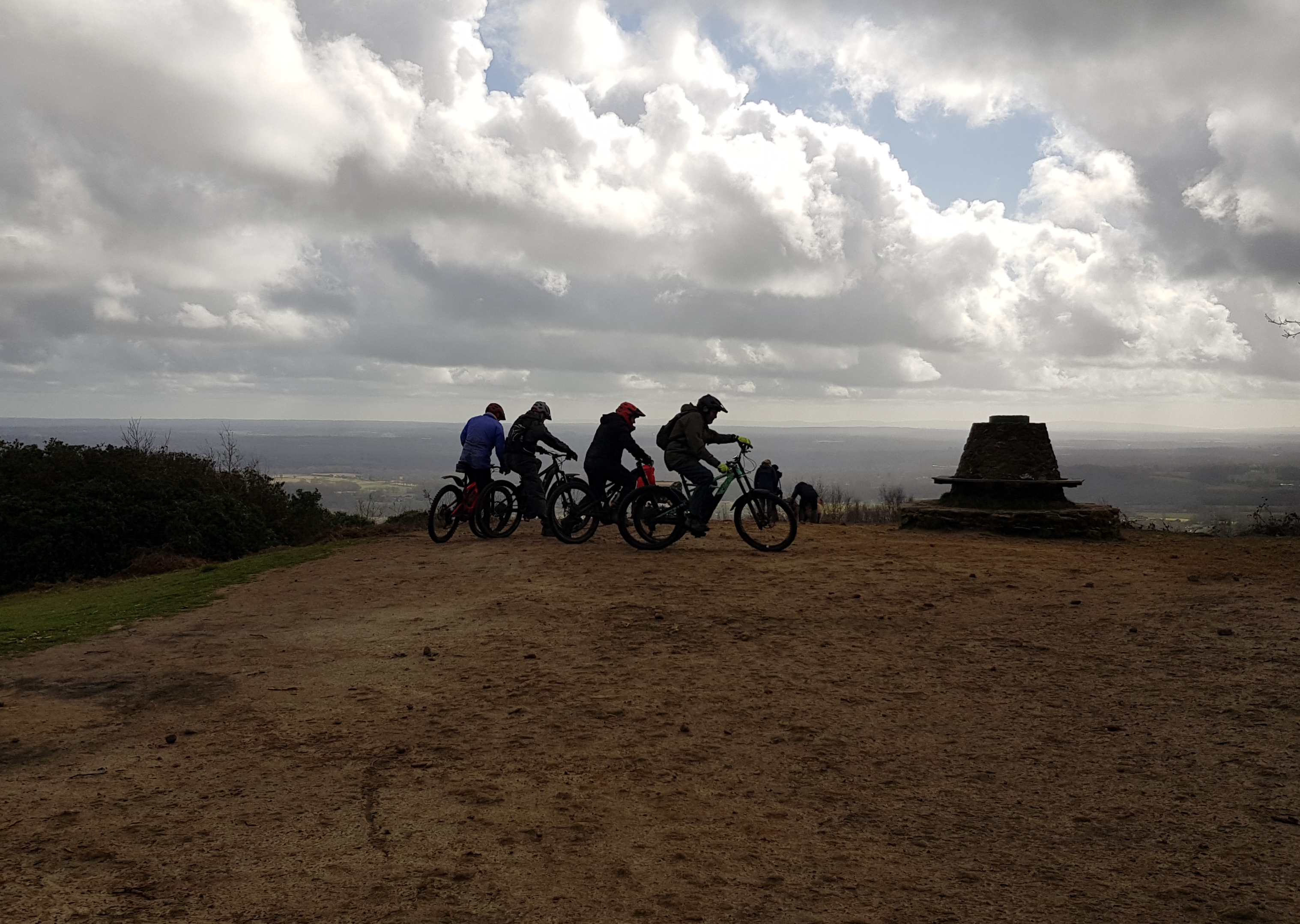 2. Barry Knows Best
Barry is a real person that someone I know once met on a ride, but I've forgotten quite why he knows best and the origins of the name, unfortunately. This trail is probably the most well-known in the area and, again, was co-developed by Cycling UK several years ago.
It starts a little way down from the summit of Holmbury Hill just off Radnor Road opposite the reservoir and between two large logs. It snakes down the hillside in a series of rooty little drops and sweeping berms.
lt's not as long as Summer Lightning but is equally fun without being too technical, though may not be suitable for total beginners. It will spit you out onto the Ewhurst Road so turn right into Peaslake village and the excellent shop for coffee and a cheese straw or the pub for something stronger.
If you fancy doing Barry Knows Best (or BKB as it's known locally) again, turn sharp right at the bottom for a stiff off-road climb or you can rejoin Radnor Road in the village again.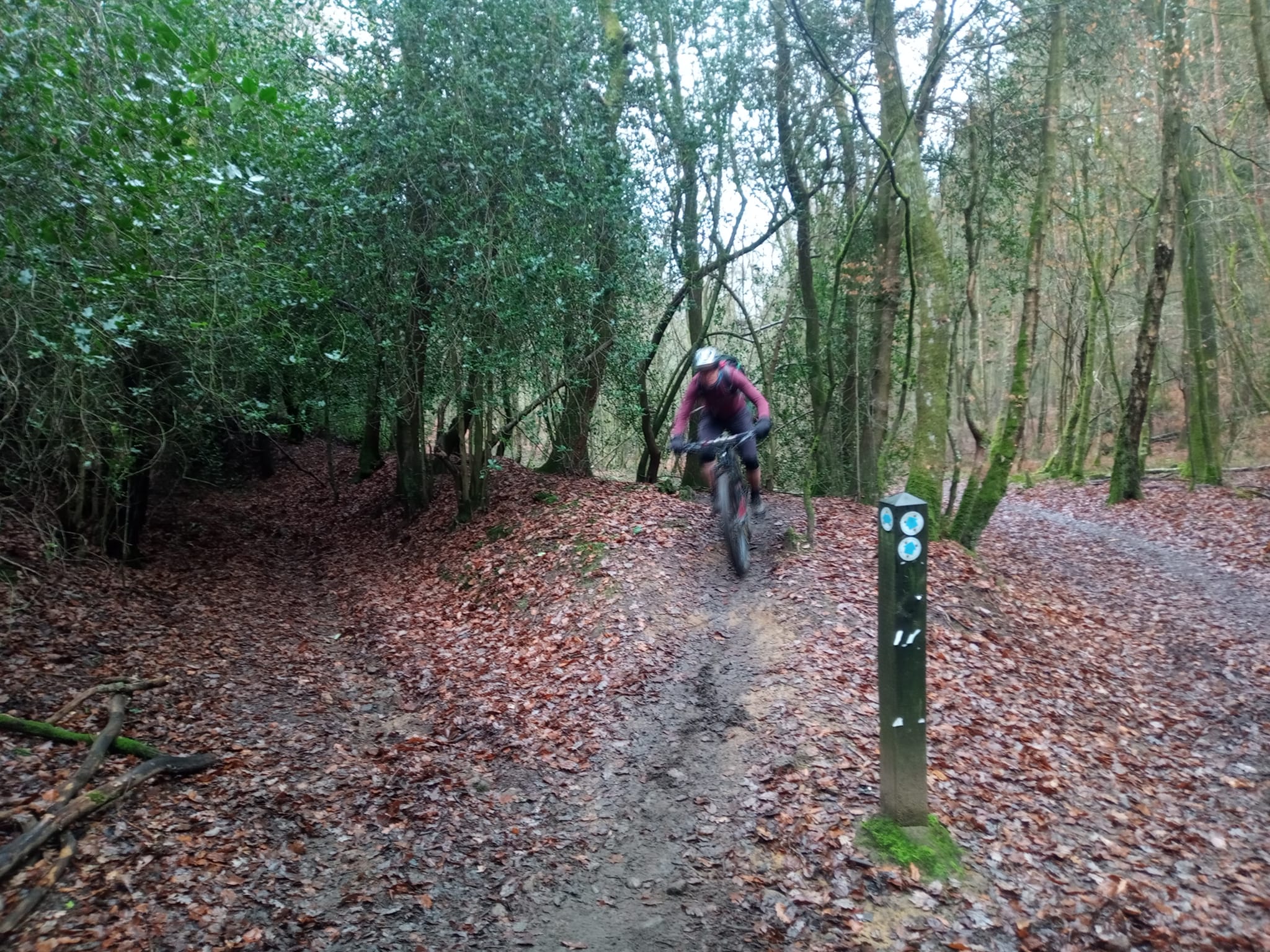 3. Pitching In
For the more technical rider, the tracks down off the summit of Pitch Hill are a little more challenging - they are a bit steeper, with more roots, and include some with big jumps - especially the ones off the south slope.
However, most are easily do-able by an intermediate level rider. They have quaint names like I Should Coco, John the Baptist, Supernova and Thick and Creamy. No idea why! But all are fantastic, challenging fun to rival any trail centre - without the uplift of course! Although, barely any of the trails are marked on the ground, so apps such as Strava, Trailforks or Komoot are handy to find them. 
Many of the Pitch Hill trails are easy to find as they run from the top of Pitch Hill, simple! Most of the trails on the northern side drop you into Peaslake, including John the Baptist, a fabulous berm-fest that ends in the Walking Bottom car park. 
Most are 'unofficial' and access is managed by the Friends of the Hurtwood, who try to keep the area open, as it historically has been, for the enjoyment of all. However, be aware that some of this land is now in private ownership and therefore out of bounds to mountain bikers.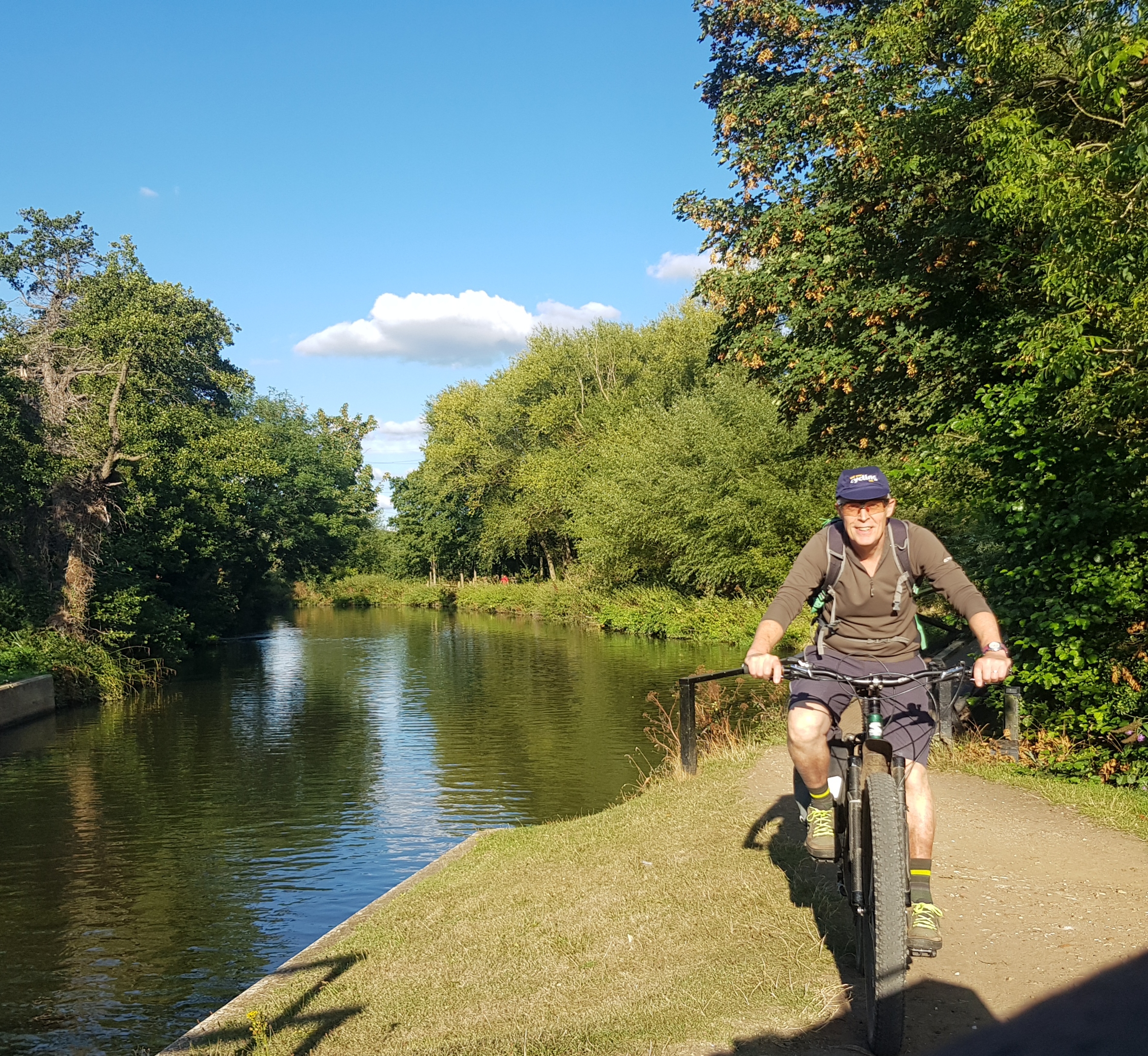 4. Tow to Tow
In direct contrast to Pitching In, the towpath along the River Wey provides a more sedate and certainly a flatter route. This is just as well, as your attention will be grabbed by the stunning scenery and wildlife you can spot, not to mention historic features such as pill boxes and ruined chapels like St.Catherine's Hill just south of Guildford.
This route suits a wide range of riders from experienced off-roaders to family groups and could be done on a hybrid, gravel, or mountain bike. Navigation is a piece of cake - which is available at outlets such as Hector's Bistro at Farncombe Boat House by the Wey and the Manor Inn just outside Godalming.
The path links Godalming in the south with Guildford, Woking and beyond in the north as it meanders through the Surrey Hills Area of Outstanding Natural Beauty (AONB). The path isn't surfaced - apart from one section through Guildford town centre - so it is just like many of the bridleways ie a dirt track with roots here and there, some sandy sections and some fairly muddy sections when the weather is wet.
Avoid the gates in Broadford Bridge Road by diverting along the cycleway next to the road, which is part of NCN22, and then onto the Downs Link - which takes you all the way to Shoreham - for a short way but beware there is a fairly steep slope to get back down to the riverside.
The canal navigation is owned and maintained by the National Trust who like to keep it "rustic" but they do repair it and it is rideable more or less all year round. The eagle-eyed among you will spot that the River Wey doesn't actually fall within the boundary of the AONB but it is protected by being an Area of Outstanding Landscape Value (AGLV) and most of the surrounding hills are in the AONB - this may change in the near future as the AONB may be widened.
The towpath route also links to other cycle routes such as NCN4 along the River Thames out of London to Weybridge and the glorious Basingstoke Canal in Woking.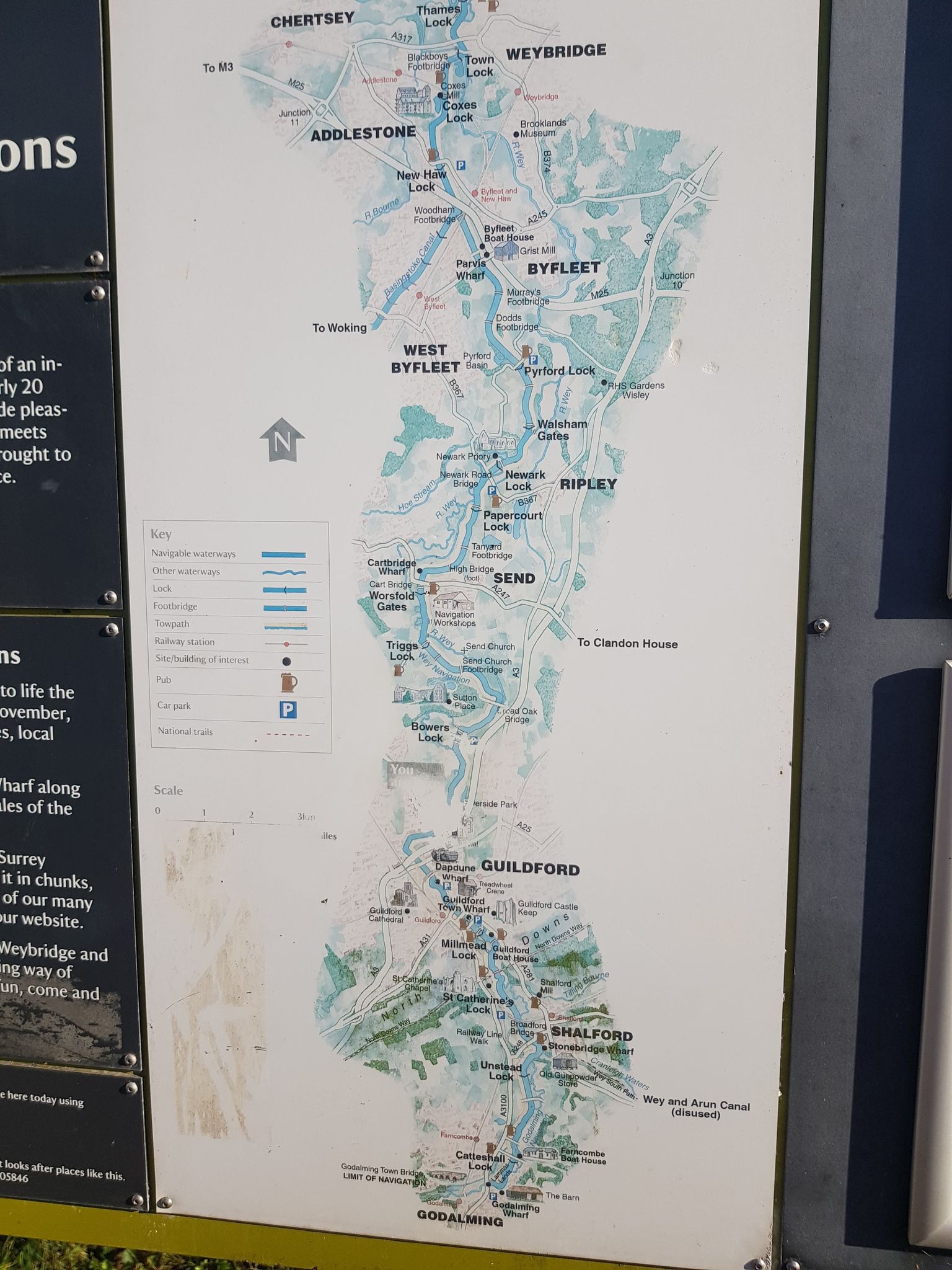 5. Hanging around
Many people will have heard of the National Trust-owned Hindhead Commons and the Devil's Punchbowl, found in the southern part of the Surrey Hills towards the border with Sussex.
Much of Hindhead Common is heathland, a type of landscape that Surrey has a lot of - in fact more than most counties in the UK. Heathlands are home to many forms of wildlife including grass snakes, adders, newts, various beetles, dragonflies and several rare species of bird, such as Nightjars and Dartford Warblers.
There are also, of course, lots of great bridleways and other rights of way-forming cycle routes taking you up to the top of hills such as Gibbet Hill, named for obvious reasons, or just skirting round the Punchbowl area and staying fairly flat.
Trails do cater for a mix of abilities: byway 500 provides a well-surfaced, smooth, wide and fairly flat track starting just south of the village of Thursley and leading up around the Punchbowl to the Nation Trust café, viewpoint and very generous car park (NT so not free).
Other more demanding routes drop off the top of Gibbet Hill, which is just a short hop from byway 500, and run towards Haslemere and Chiddingfold.
There is also a fast but stony and bumpy route from the café down towards Thursley village, which is best done on a mountain bike and is not so good for inexperienced riders. Take refreshment at the community-owned Three Horseshoes pub in the village.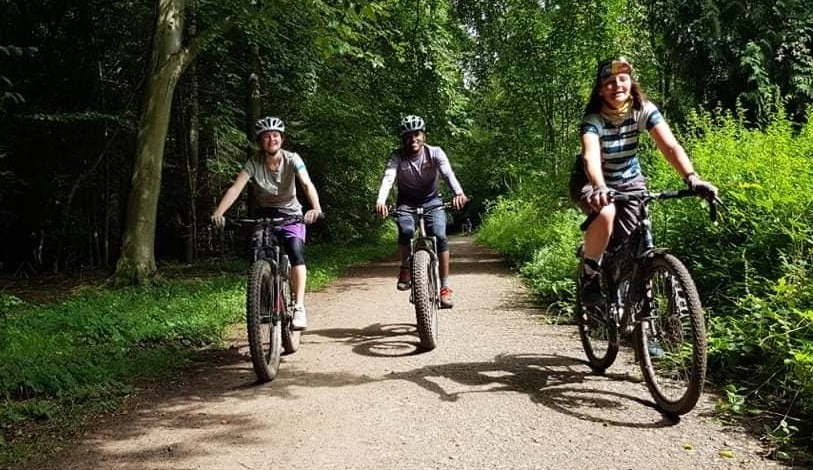 6. Stuck in the mud!
The Hascombe/Hambledon area south of Godalming is fascinating and has an undiscovered feel about it. I've done many rides around here and there are some excellent bridleway and byway routes linked by quiet lanes - you hardly seem to see any other riders, or many walkers for that matter.
There may not be the density of super fun trails like at the Pitch Hill and Holmbury area, but the mix of rideable tracks and very pretty rolling hills, villages, farms, pubs and village shops is hard to beat. Ride it at night and you have a very high chance of seeing owls, badgers and spectacular skies on a clear night.
Head south-east from Godalming and west from Dunsfold along what we call the 'wild garlic' route, due to its heavy presence in the spring, or head east from Haslemere or Chiddingfold to discover this area.
It's very wooded, with lots of deciduous trees, as well as some little pine trees, but there are also fields full of sheep and sometimes horses or cattle - you might even catch a glimpse of white deer! 
Be warned though - Hambledon Woods is the site of traditional clay and pottery works and it can get very boggy in wet weather as it takes a while to dry out due to it being densely wooded. It does however have a few lovely twisty bridleways running through it and it is fairly flat.
Fun bridleways lead off the top of Hascombe Hill down into Hascombe village, where the White Horse pub tempts thirsty mountain bikers. Hambledon boasts the Merry Harriers PH, very popular with many local riders and a wonderful community run shop and café overlooking the cricket green and next to a duck pond. Quintessential Englishness at its best.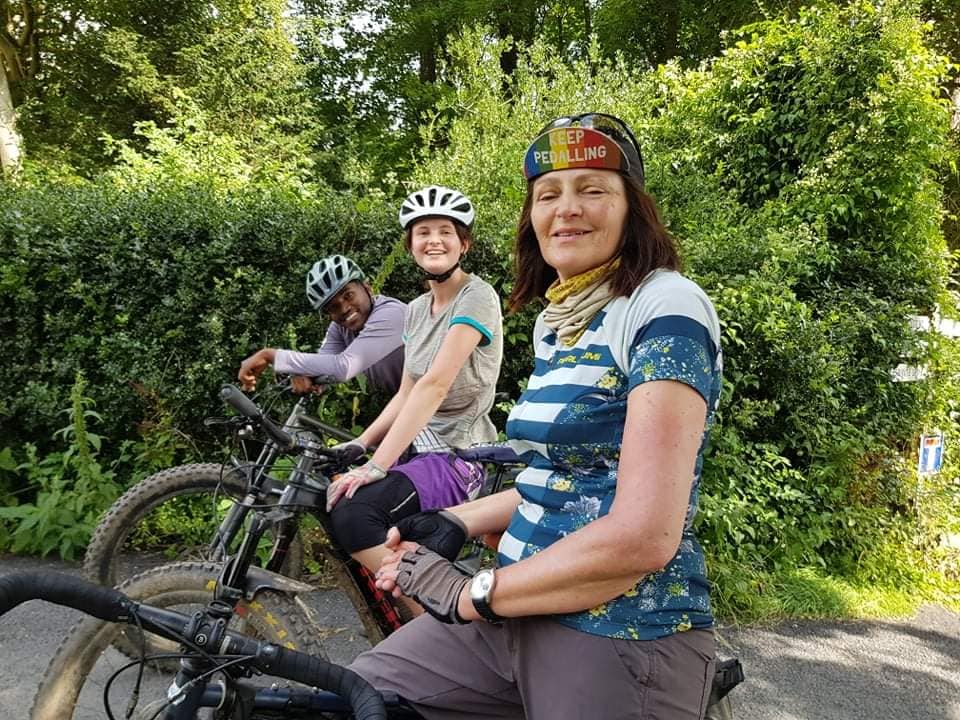 7. North Downs Way
Running the entire width, from west to east of the Surrey Hills AONB, is the ridge formed by the North Downs. The North Downs run from Farnham in the west across to Canterbury in the east. There are great views across the Thames valley to London one way - see which famous buildings you can spot! - and down to the South Downs in the other direction.
You can ride much of the ridge along flattish and well-surfaced tracks and there are lots of others - some bridleways, some 'unofficial' each side to the north and south, meaning you can make up a circular ride, if you like a lot of ups and downs.
The North Downs Way long distance route is cycleable for some of the way but not all - Cycling UK however, has a rider's route that avoids the footpath sections. The roughly parallel South Downs Way, which you can usually spy in the far distance, is a bridleway the whole way.
Descents off the south side tend to be steeper and can be chalky and stony, meaning a mountain bike is best. These trails are not so suitable for beginners. The north side is less steep and a bit more grassy, so less hair-raising generally. The bridleway sections along the ridge are a mixture.
However, the trail going east from Newlands Corner, which has a generous car park, is well-surfaced and fairly flat, partly down to being used in the Second World War to transport Canadian troops along the line of pill boxes which served as a defence against the Nazis during World War II.
Other sections are dirt tracks, some of which have been damaged in the past by 4x4 vehicles but have largely been repaired now and vehicle bans are in place part of the year. This ride is suitable for families and you can ride off-road nearly all the way to Ranmore Common, where there is spectacular views across the Weald and sometimes a refreshment van. 
8. In the line of fire
The Ministry of Defence (MOD) owns a lot of the land around Hankley Common over in the west part of the Surrey Hills, but that doesn't mean it's not a great place to ride, or that there aren't plenty of available, legal, tracks.
Again, it's heathland and merges into Thursley Common, much of which is a National Nature Reserve. Not much tree cover means open spaces and big skies await the rider, along with a lot of sand, which can be tricky if your tyres are skinny -  fat bikes are a fairly regular sight in these parts.
Surrey is a popular county with production companies - Hankley Common has been used recently to film parts of the award-winning film 1917 as well as Skyfall amongst others. 
Hankley Common is in-between Farnham and Godalming, and you can get there in roughly an hour by bike from either town. Once again, a healthy mix of trails exist, including a flattish but fairly short route suitable for families and beginners that runs round the top of an area called the 'Drop Zone' - used by the military for training so keep any eye out for car park closures and keep to the many official rights of way where possible.
Here there are also some steep and rutted descents more suited to mountain bikes and more experienced riders. There are some excellent singletracks across the common suitable to most riders and the climbs are not too steep or long.
Wildlife similar to Hindhead Common can be spotted by the eagle-eyed rider - though it's more likely you'll see red kites than eagles. This area is a good place to ride in the winter when dirt trails in other areas may be muddy. Wet conditions mean you don't sink into the sand so much and there is less mud about anyway.
Cycle Surrey Hills is a Cycling UK-backed project that created waymarked loops all over this area so you will find it's difficult to get lost. The routes will also take you near to all the excellent refreshment stops in the area. 
9. Pitch and Puttenham
If you ride out of Guildford on the North Downs Way, after a stiff climb up The Mount on NCN22 heading west, you will, after a few miles, ride through Puttenham golf course, past the Puttenham camping barn (open Easter to October, sleeps 11) and the Good Intent PH - an unspoilt village pub with ales and food - through Puttenham village and up towards the common.
You can easily lose an hour or two whizzing about on a mountain bike, gravel bike or just about any bike over this common as its riddled with rideable and fun trails. It's mostly dry all-year round, although can get a bit boggy towards the lower areas near Cutmill.
The higher sections give amazing views south towards Hindhead Common, Blackdown and even the South Downs. At night, it's a great place to spot satellites, the International Space Station or shooting stars (when it's clear) and you often hear owls and other nocturnal nightlife, even if you don't see it. The climb from the bottom of the common to the top is fairly long but the rewards are plentiful.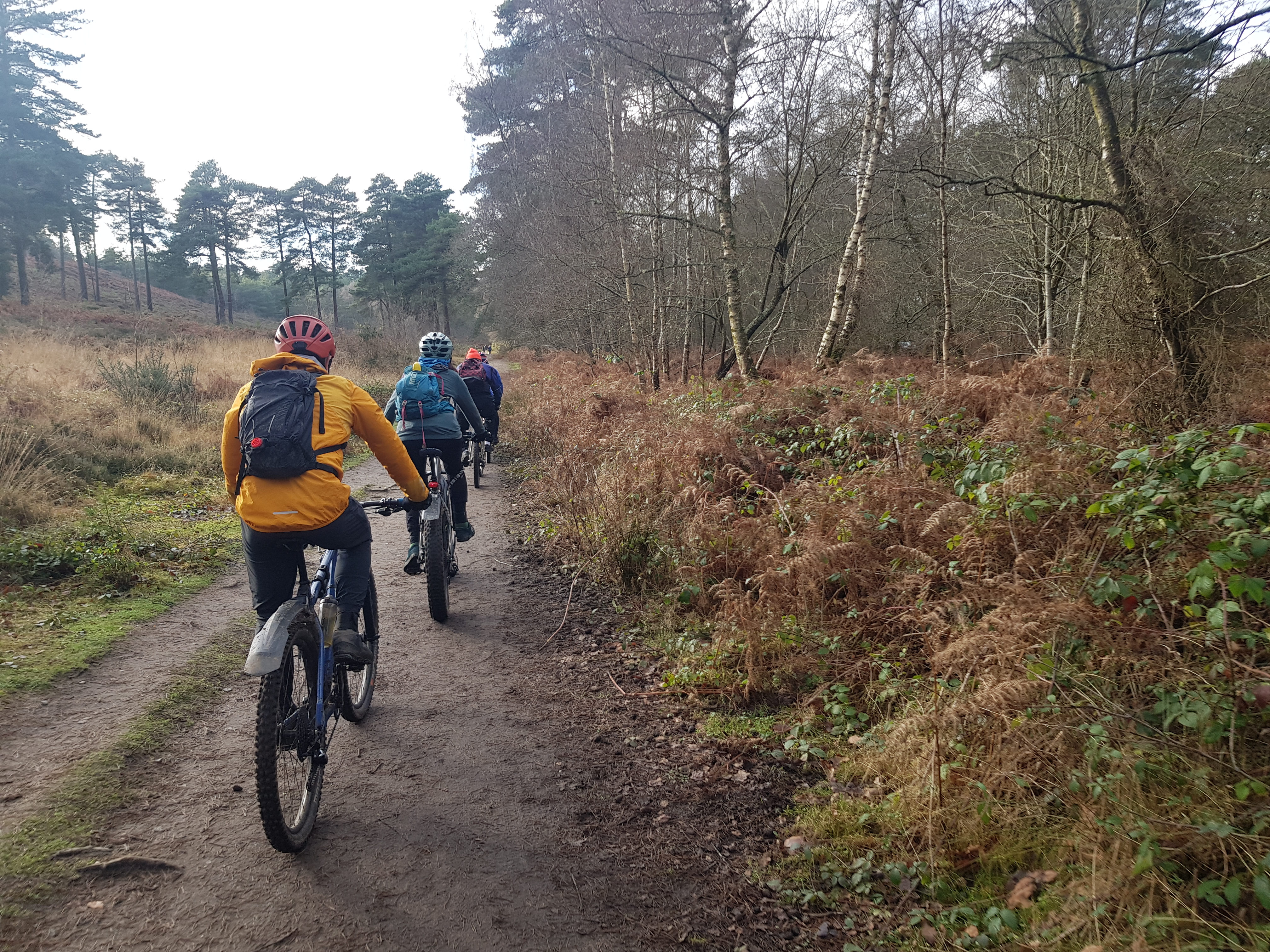 10. By Hook or by Crooksbury
Heading further west from Puttenham, you reach Crooksbury Common, which is another little-known gem. It hides some superb, hard-packed dirt trails. Like Hankley, it's quite sandy but many trails are a mix of dirt and sand, so hold up well in wet conditions.
The riding suits most abilities and there is nothing too steep or technical if you stick to the bridleways. It's mostly heathland and pine woodland again so similar to Hindhead and Hankley but a bit more wooded abd therefore has a good mix of landscapes with some lovely views from higher ground. Head off the common towards the villages of Sands, Tilford and the town of Farnham for refreshments.
For a longer ride out from Guildford or Godalming you could combine Puttenham with Crooksbury Common and loop back via Tilford and Elstead.
Get involved
Have you got some favourite local routes on or off-road to share? Get in touch and let us know.