Review: Evoc Ride 16 cycling backpack
Big enough for all your essentials but not too big that you'll overload and end up with backache, enough pockets for all your snacks on the go, comfortable and sweat free for hot days and robust and water resistant for rougher days. We ask a lot of our cycling backpacks, especially when bikepacking over multiple days in the saddle are concerned.
Looking for the perfect setup for a multi-day mountain biking trip can often mean eliminating a seatpost bag to allow the dropper post to carry out its duties. All that kit's got to go somewhere, though, so I tested the Evoc Ride 16 backpack to see just how comfortable and practical it can be to carry kit on your back.
Specifications and features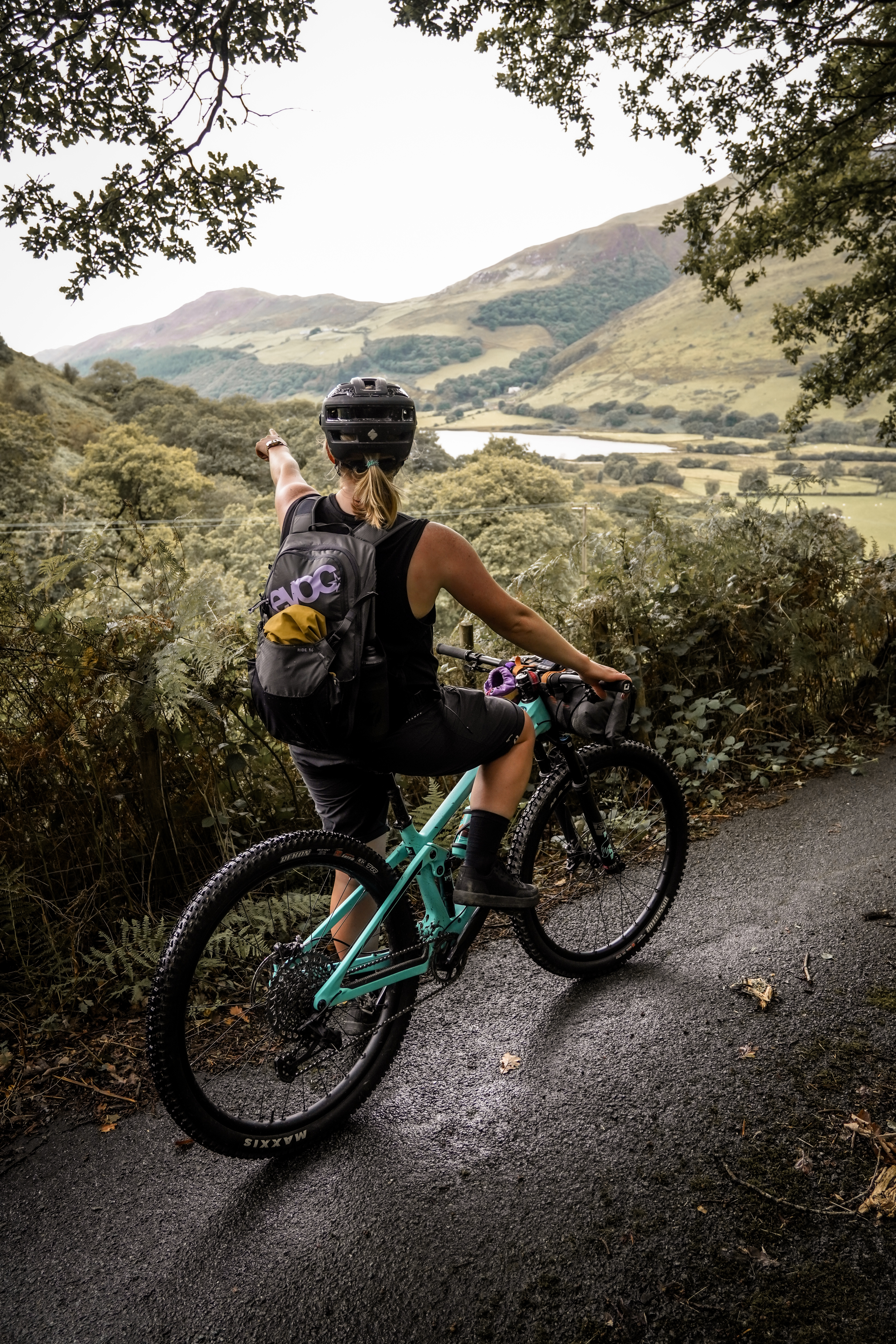 With a 16-litre capacity, the Evoc Ride 16 sits somewhere in the middle of the range of cycling rucksack sizes, with the most lightweight MTB-style rucksacks offering as little as 1.5-litre capacities while larger styles can range up to 30 litres.
While some backpacks are engineered specifically for on the bike use, Evoc's Ride series is designed with multi-sport functionality in mind, so don't expect to find extra features like goggle holders, back protectors or tool ports.
There are still plenty of handy features, though, such as the loop at the front of the backpack for attaching a rear-facing light; a range of internal mesh pockets, including a key holder, which are handy for sorting your tools and spares; a divider and routing for adding a hydration bladder; and an external flap which can be used to house a helmet.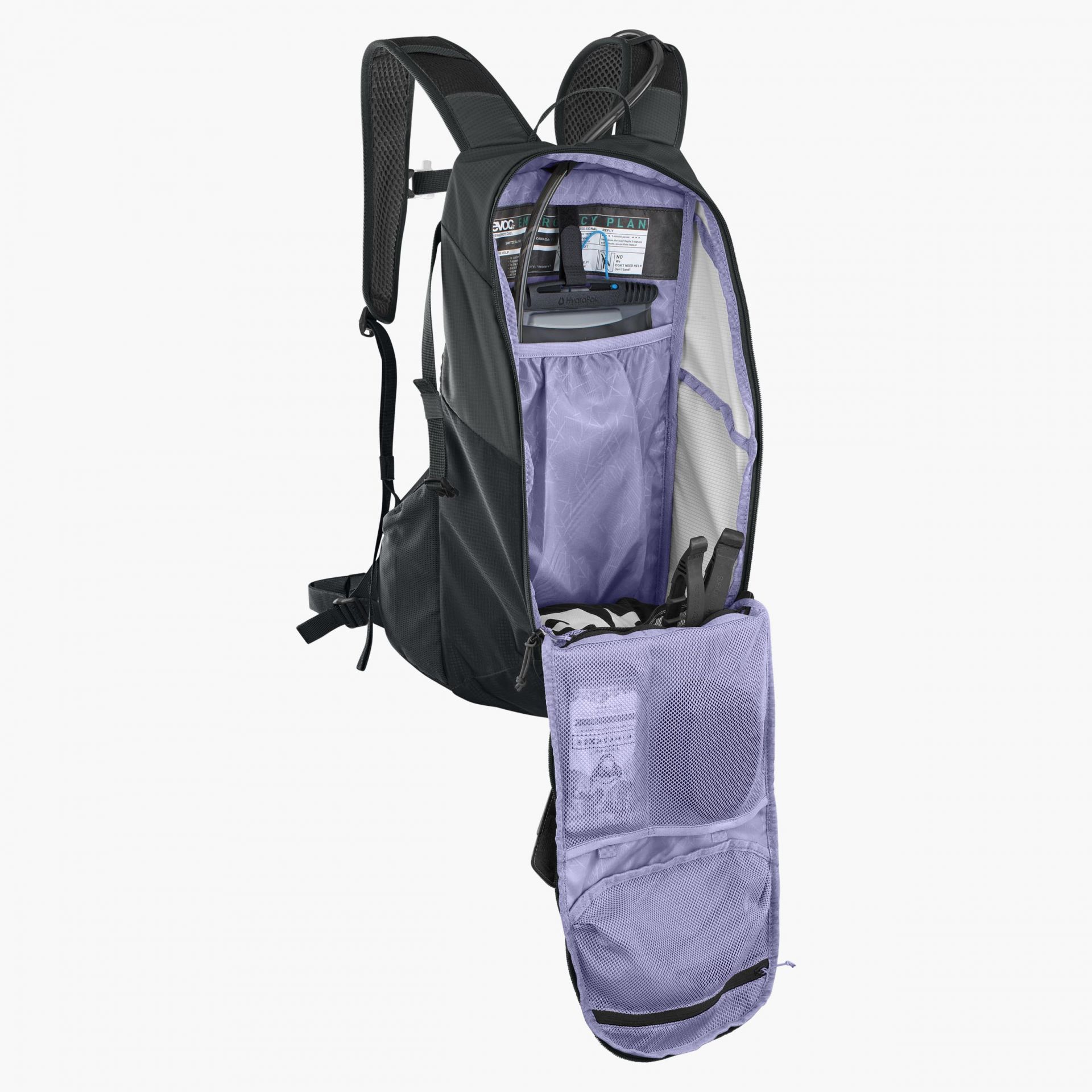 The main compartment can be opened out fully thanks to its long zip front. In addition to this, there's also a smaller zipped front pocket, one mesh side pocket for an extra water bottle or snacks, and a smaller mesh pocket on each of the hip flaps.
There's both a hip strap and chest strap for securing the fit, the latter being highly adjustable as it slides on rails of the shoulder straps.
Where the bag meets your back, Evoc's Air Pad System is designed to provide both cushioning and ventilation for a comfortable fit, with four large pads separated by mesh-backed channels.
Performance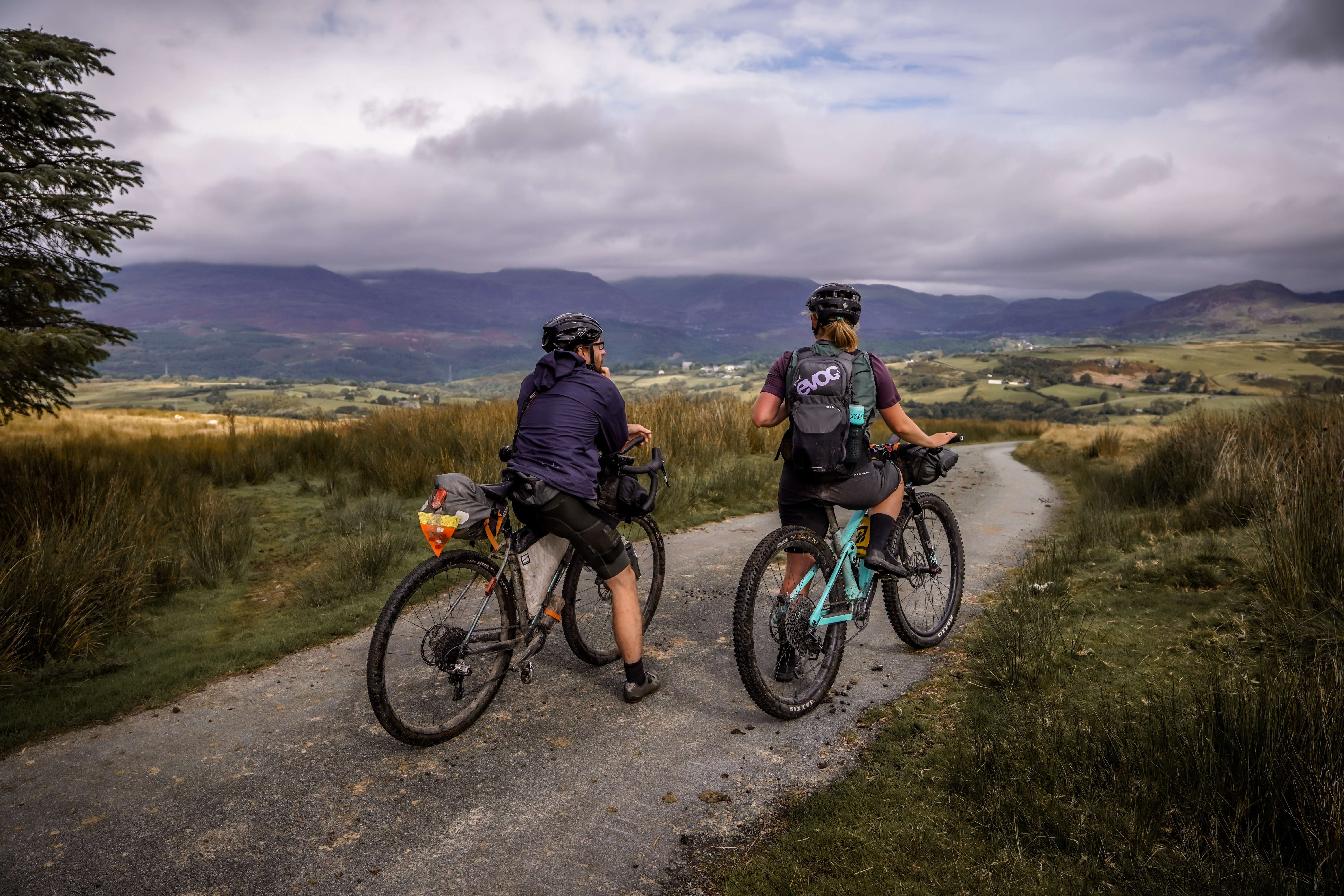 Tested over four days on the Traws Eryri bikepacking route as well as for several commute rides, the Evoc Ride 16 backpack has been used in all weathers. Packed with clothing and electrical items (in dry bags) as well as toiletries, tools, spares, food and snacks, it did the heavy lifting when it came to carrying all but my sleeping kit for the trip.
I also stashed a 500ml bottle in the side pocket, as I was limited to only a single bottle cage on my full suspension mountain bike.
The design of the Ride 16 is clearly well thought through, with handy features that you really need without the excess faff and weight of the ones you don't. Sure, if you're riding more technical singletrack or uplift then a back protector might be handy, but for this kind of riding it was perfect. I also liked that I could easily use it on a road bike for commutes into my local city, without it being overkill.
Comfort really is key on multiple-day trips and Evoc has really done well to prioritise that here. While the Ride 16 is only offered in a single fit, unlike some other brands such as Osprey and Deuter that offer women's-specific fits, the bag fitted well and remained stable on my body even over lumpier terrain and steeper descents.
I did experience a little back pain on the third day of our trip, which was likely due to over packing the weight on my back and the cumulative effect of many steep climbs. I shifted some of the heavier items to my handlebar roll and this quickly alleviated the discomfort. Evoc also offers the bag in 12- and 8-litre capacities if you're looking for something a little smaller, which may be less tempting to overfill.
The backpack boasts just the right balance of capacity for bulkier items – in my case a dry bag full of spare clothing, insulated jacket and waterproof – as well as smaller pockets to help you keep little items organised, such as tools, toiletries, keys, and spares. Everything had its place which makes life easier.
The external pocket on the front is really handy too. It can be used to stuff a waterproof in or store any trail litter that you come across before you get to a bin.
I love the pared-back minimalism of the Evoc Ride 16, though the one thing I felt that it lacked was a detachable rain cover. Though the bag did stand up to some pretty harsh conditions, I did pack a cover from another bag to use on our trip in the worst weather and for overnighting next to my bivvy bag. It's worth noting that Evoc does sell a separate rain cover, available for £20, with reflective details and a light clip.
Finally, I have to comment about the materials used for the bag, and how tough they are. Aside from a little mud splatter, which can be easily wiped away, the rucksack still looks as good as new, and having used similar bags from Evoc in the past I'm confident that the robust fabric will last for many years to come.
Verdict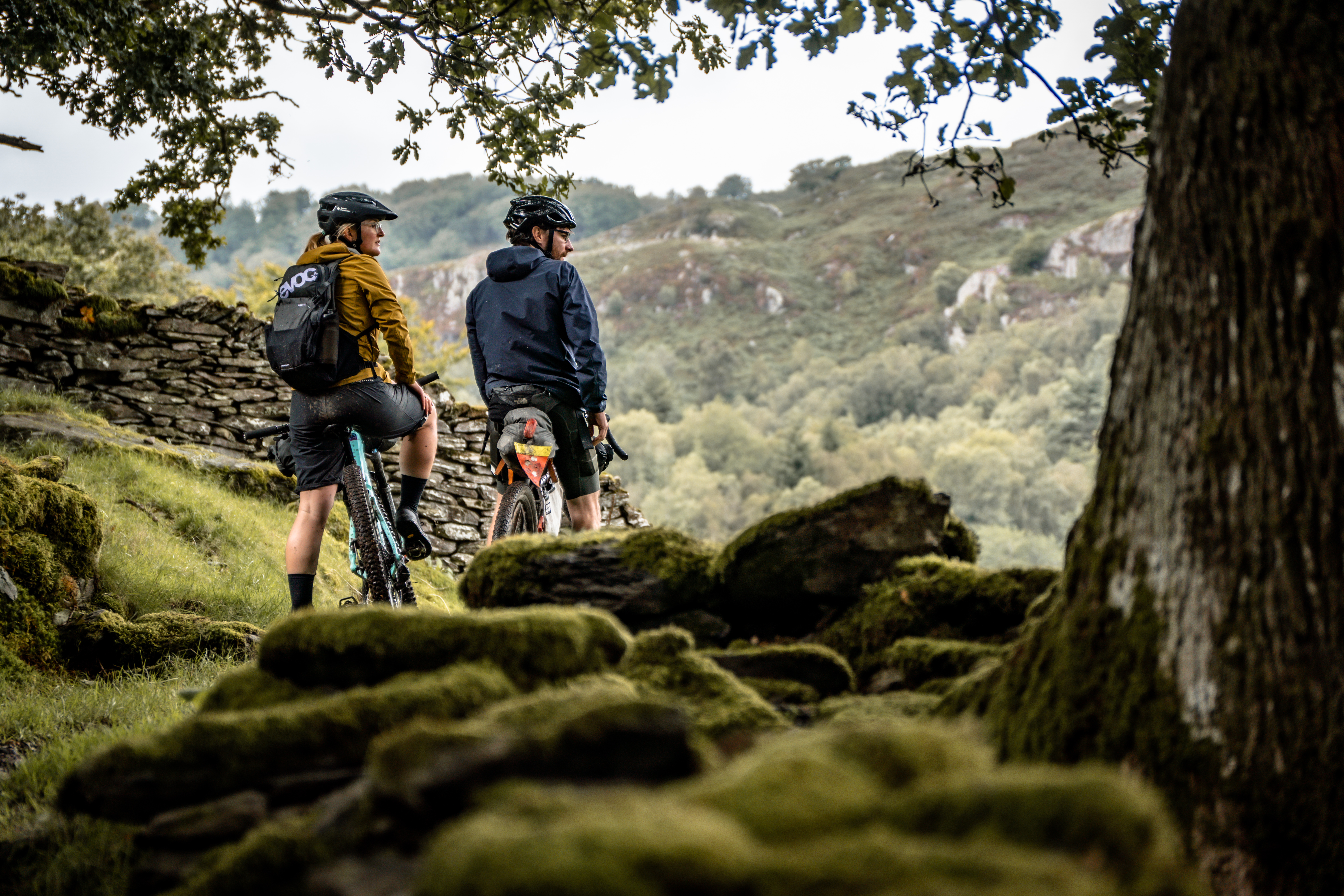 Overall, I'm a big fan of the Evoc Ride 16, which combines some neat features in a concise and comfortable yet tough package.
Sure, I'd love to see a rain cover included as standard for our Great British weather, though it's good to see that's something that Evoc has already thought of and can supply separately.
At an RRP of £94.99, the Ride 16 is no small investment, though it certainly seems well-made and durable, so would hopefully last for many, many rides.
Other option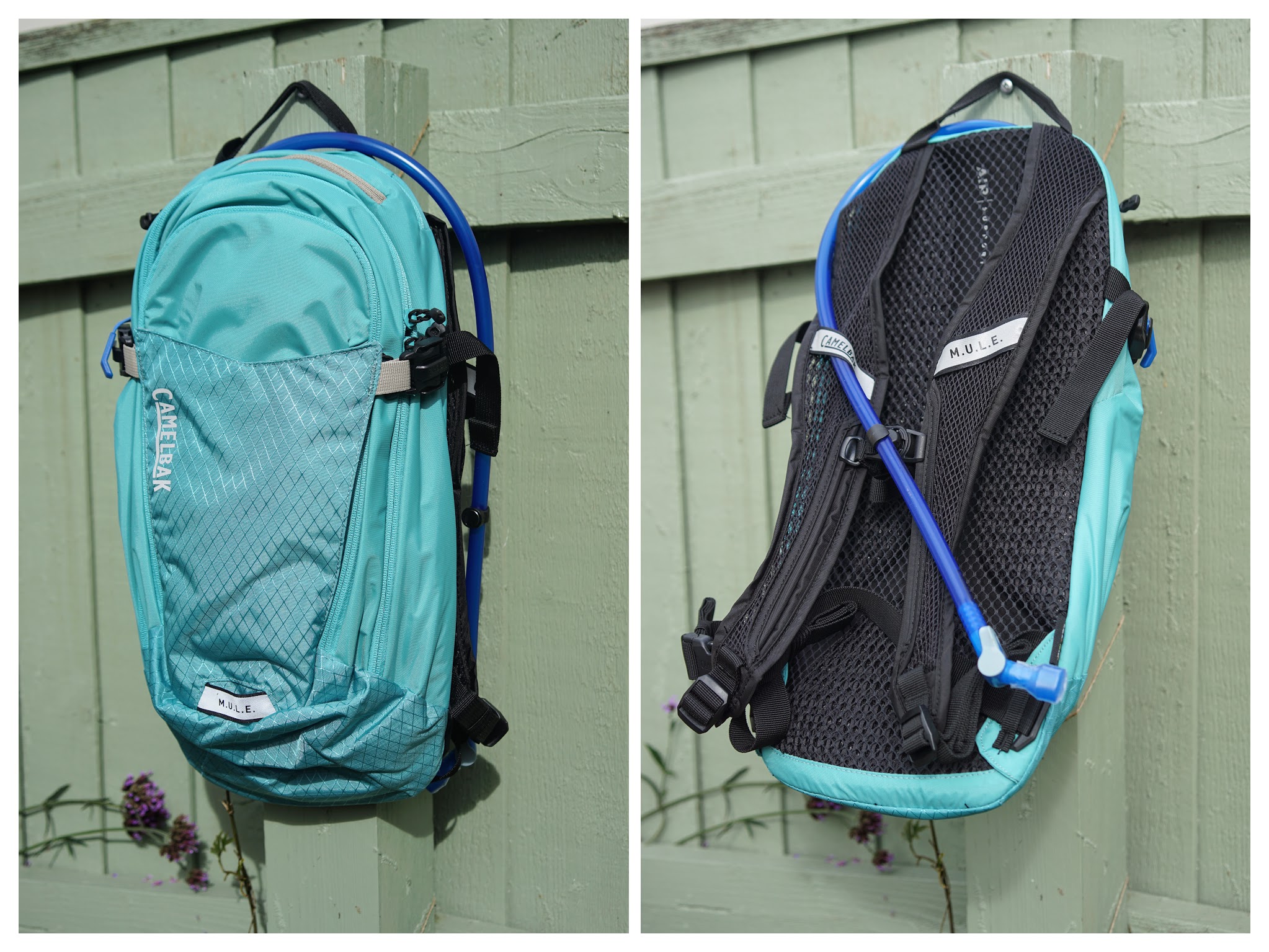 If you're looking for a slightly smaller bag that also integrates a hydration pack, then consider the Camelback M.U.L.E. (£120), available in unisex and women's fits.
The M.U.L.E. 12 also features an external front pocket and light mount, as well as two full-sized compartments; one for bulkier kit and one featuring a three-pouch organiser and key clip.
There's also a smaller zipped pocket which is accessed from the top, just in front of the final, full-sized compartment which holds the 3-litre Camelbak bladder. A magnetic clip keeps the tube of the hydration bladder sited at the chest strap.
Compared to the Evoc, the fit system is more minimal, with no hip pads on the straps and mesh shoulder straps, though there is still adjustability through the chest and shoulder straps. The front pocket can also be used to clip on a bike helmet.