One wheeled ride from Lands End to John o' Groats
The 69-year-old decided to discover the UK by unicycle. It's a tough ride on two wheels, but on one wheel, unsupported at almost 70 years old, in a country he didn't know very well - it was quite a journey.  
Hans is a larger-than-life character from Switzerland and no stranger to a challenge or two having been a climber in his youth. He scaled the North Face of the Eiger as a youngster and was even invited by the British Mountaineering Council to take on climbs in the Lake District and other regions of the UK.
Although familiar with some of the peaks of England, he had a yearning to see more. Sadly, his adventures were curtailed for some years as he focused on his career as an IT Manager.
His love for unicycling only really began later in life after his wife surprised him with a 20-inch unicycle for his 60th birthday. "It's funny," he said, "I never asked for it. I mentioned once I wanted to try it and there it was – right in front of me as a present for my birthday."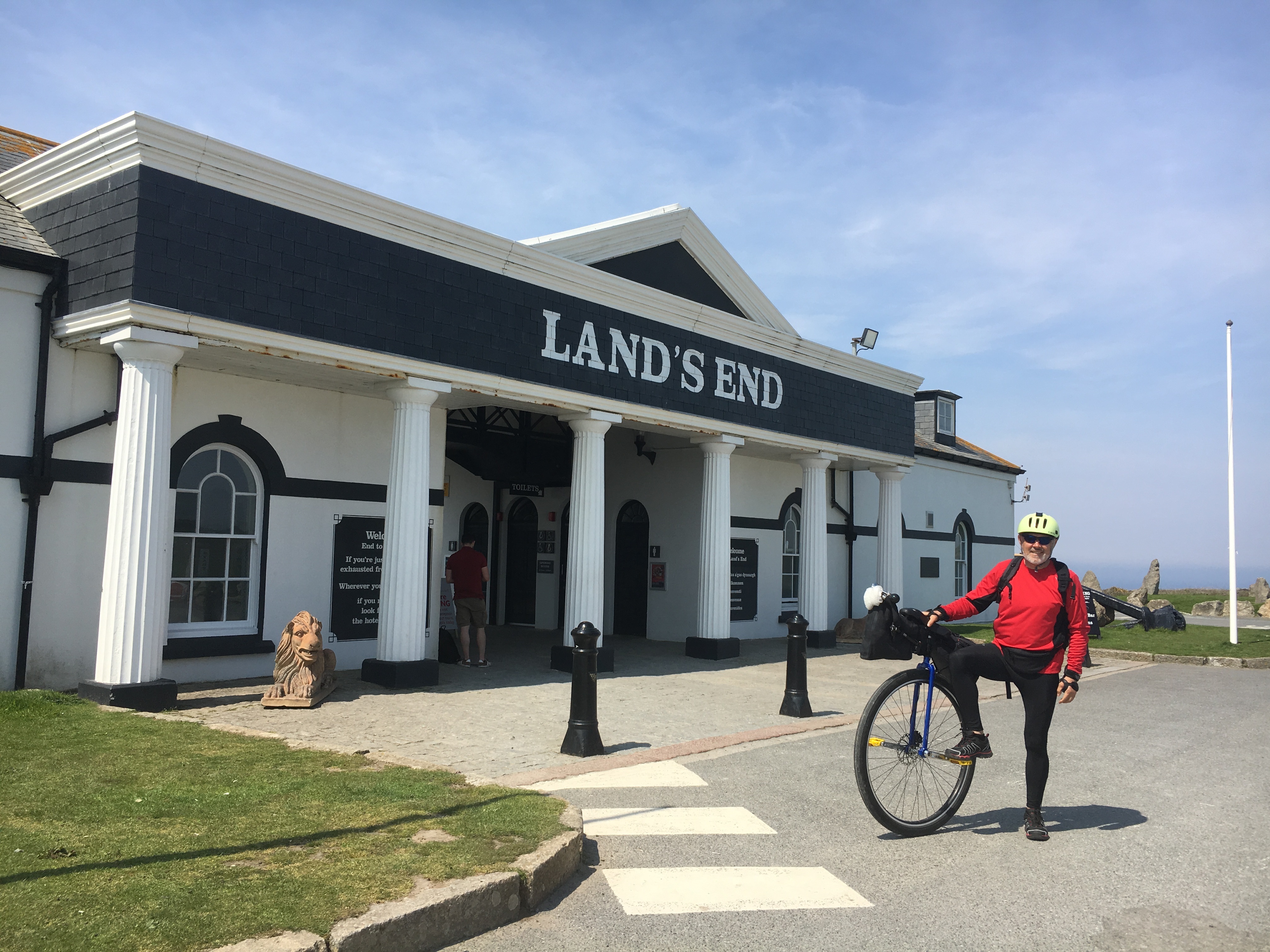 A year after learning to master his new toy he spent his weekends unicycling around all 35 lakes of Switzerland. With bags of experience and passion under his belt, he purchased a slightly bigger unicycle, which he calls 'Bertha' and headed off for his first long-distance trip from the Atlantic to the Black Sea.
Enthralled by this experience, he took on more and more long-distance routes, when his attention turned to completing Land's End to John o' Groats. 
Part of the beauty is you don't bring the comforts from home. 

Hans Howald
"Before I left I had to figure out my little bags. I restricted everything I needed to take with me, part of the beauty is you don't bring the comforts from home. A small pannier was attached on the front and back of my unicycle and I used everything to the absolute minimum. 
"I made a decision never to take a tent with me on my long rides and I slept mostly in bed and breakfasts and hotels. I never really cared where I found a bed."
Along the route, he enjoyed so many new experiences. 
He said "Coming from Switzerland you're not familiar with the roads and on the first day I cycled on the wrong side of the road. I'm so used to the other side of the road that when a car was headed directly towards me I suddenly realised I had made an error." 
"Looking back it's so hard to decide my favourite part of the journey, there were just so many beautiful stretches of landscape. Scotland and the Forest of Bowland are certainly up there as exceptional views that I'd love to see again.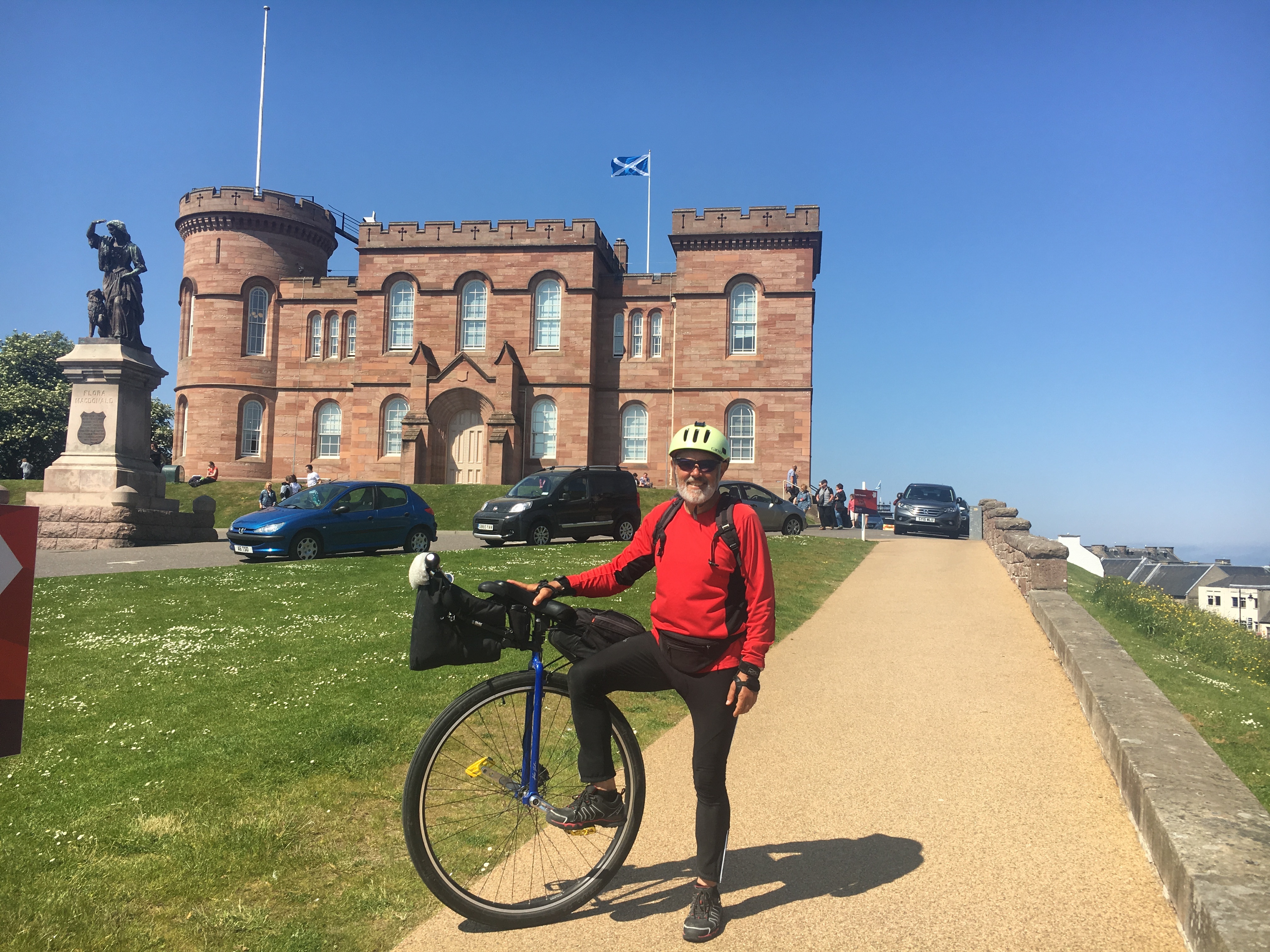 "I did ask a Scotsman how he knew it was summer and he replied that the rain was just warmer. I thought that was a brilliant response and summed up Scotland well."
"Every day I had a nice chat with someone and people were always interested in my unicycle – especially the children.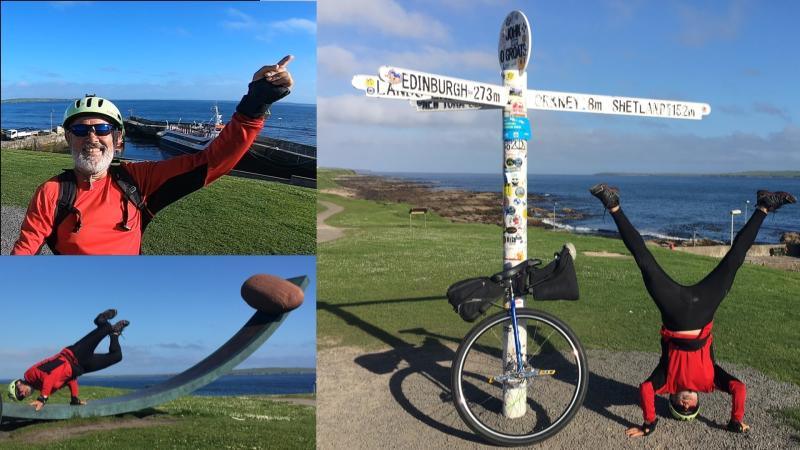 Bertha did suffer a broken spoke, Hans heard a startling bang as he was riding. The nearest bike shop didn't have spokes for such big wheels so instead innovatively knitted two spokes together and that kept her going for the rest of the route.
In total it took him 28 days to complete and Hans said, "For anyone wanting to take on this ride themselves, the only thing I would recommend is don't pass the distilleries of Dalwhinnie and Tomatin without a stop – I didn't stop as I was too afraid of losing the balance but have regretted it ever since! But I would do it again in a heartbeat."