Meet our groups: Glasgow Tandem Club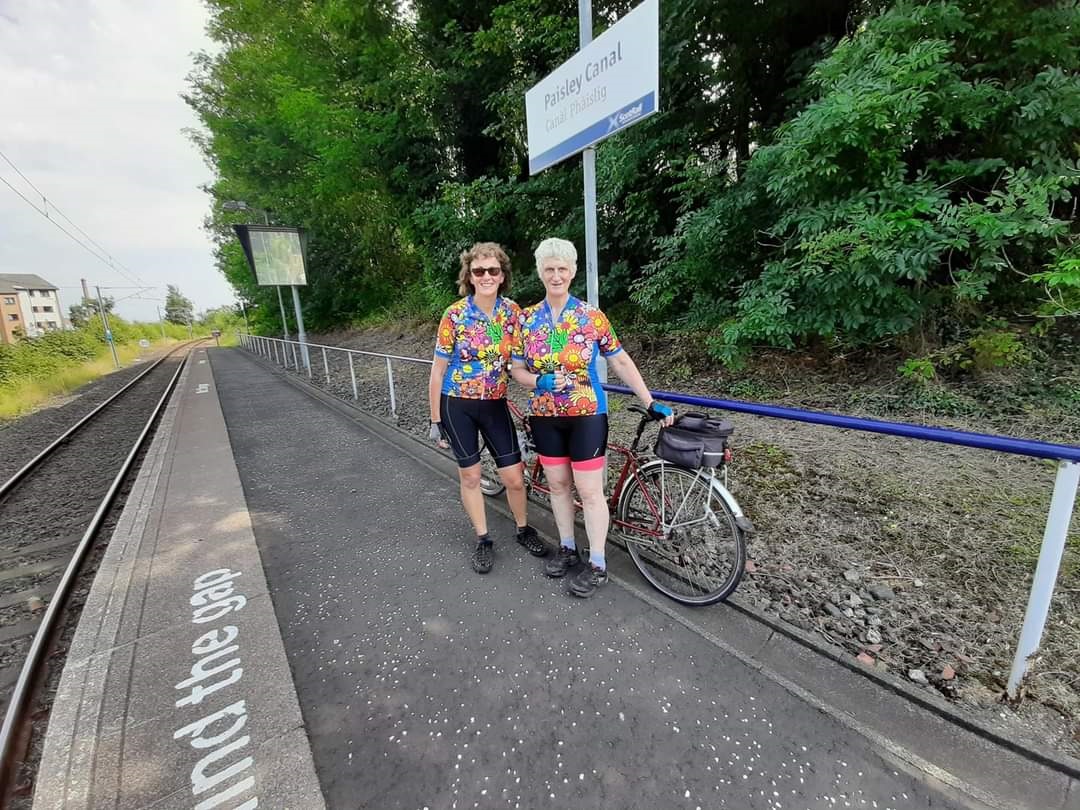 With support from Cycling UK's Big Bike Revival, Glasgow Cycling UK and Freewheel North, stokers and pilots were identified and supported to develop their riding skills.
A small group started going on regular monthly rides, taking in many local routes such as the cycle path networks and some road routes, including around the Isle of Bute. However, the bikes the club were using were old and not very suitable for road riding.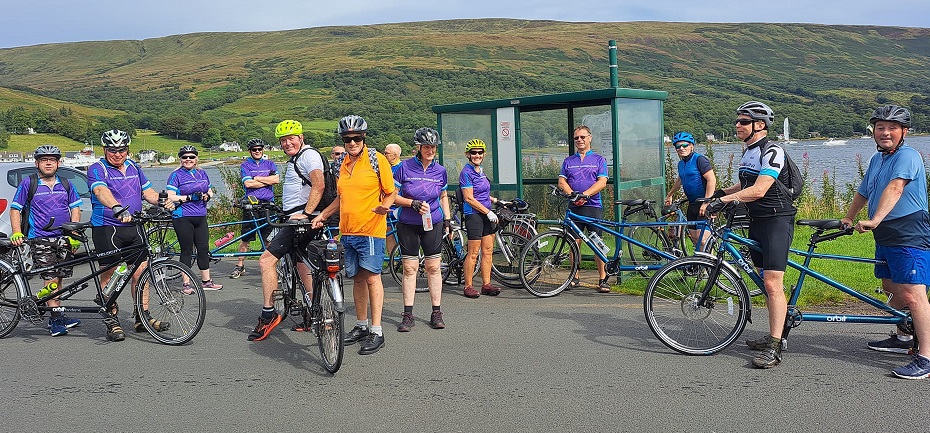 Finding funding
So in September 2019, Cycling UK assisted the club to obtain four new tandems, using funding from the RS McDonald charity, but there was nowhere to keep them. After a long search for suitable storage, the club were given permission to site a shipping container at Bellahouston Park, close to the outdoor velodrome.
Glasgow Cycling UK Member Group donated the funding for the container from their Eddie Marshall bequest. Eddie was a lifelong cyclist and member of the group. He especially enjoyed cycle touring and had a keen interest in photography.
When he passed away in 2016, the group was surprised and delighted to receive a large bequest from his estate in recognition of the huge part that the club played in Eddie's life.
Now the club had a base with its own bikes next to an excellent training facility and was able to provide more taster and training sessions. Monthly rides continued, expanding the range of routes. The club also received very generous support at this time from Bike for Good, another local cycling charity.
Our links to Glasgow Cycling UK
From the start, Glasgow Tandem Club has had strong links with Glasgow Cycling UK. Prior to the formation of the club, Anne and her pilot Diane were regulars on the local Member Group rides.
Many of the first wave of pilots and supporters were recruited from Glasgow Cycling UK and a large number of these remain very active within the club.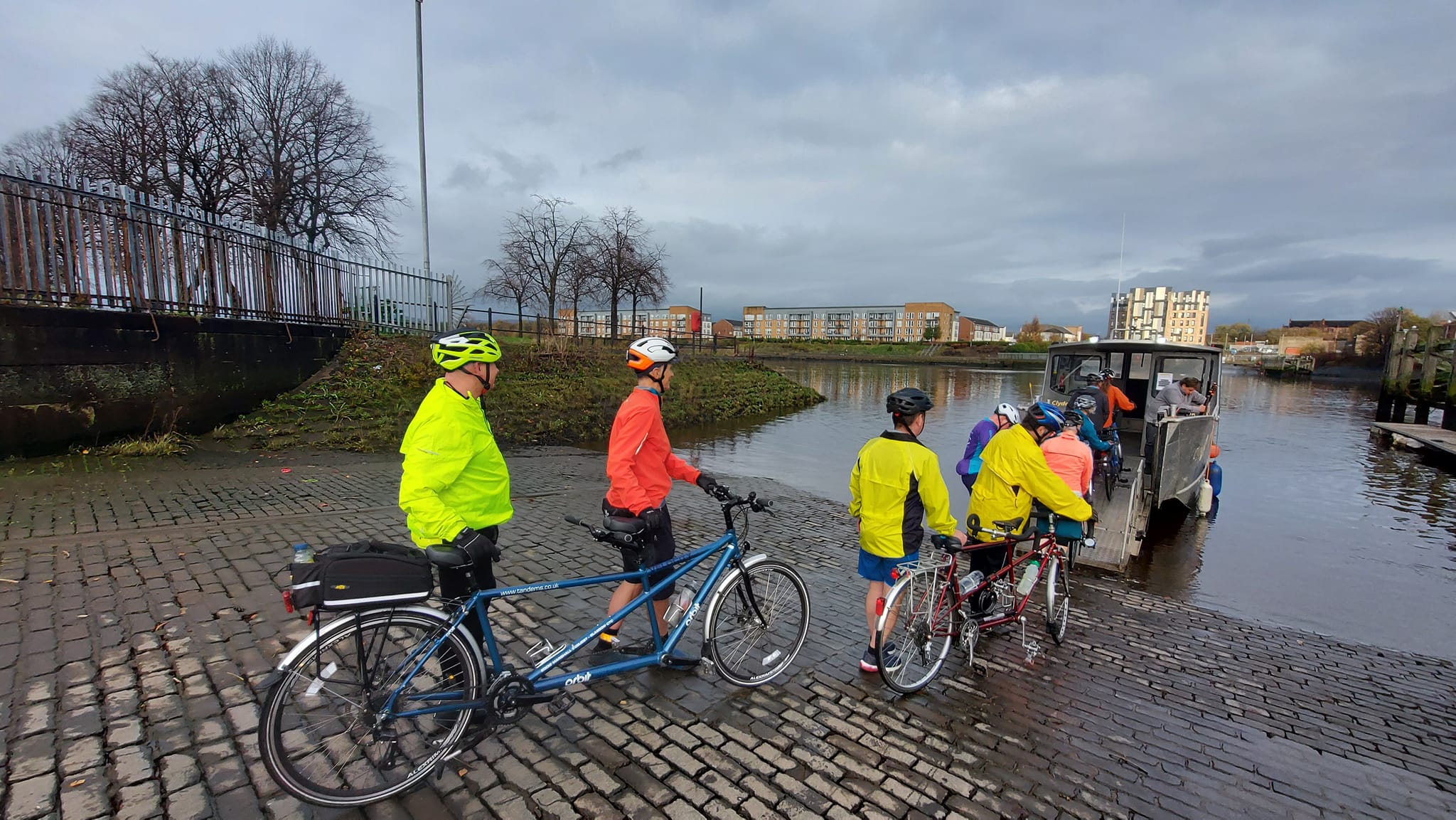 Social inclusion
Social inclusion is important to Glasgow Tandem Club and, with this in mind, this year we joined one of Glasgow Cycling UK's regular group rides. We hope individual tandem pairs will join these rides in future.
Post-Covid, we've returned to normal routines, recruiting more pilots and stokers.
The club has developed largely due to the goodwill of all the club members, pilots and stokers, in giving of their enthusiasm, time and energy

Anne Fraser, founder of Glasgow Tandem Club
Two rides per month are currently on offer. Regular rides often include up to eight tandems and several solo bikes as support riders. The club has developed largely due to the goodwill of all its members, pilots and stokers, in giving their enthusiasm, time and energy.
Our best year yet
2022 has seen our best year yet, with achievements including:
Our inaugural General Meeting, adopting our constitution, electing our committee and setting our annual subscription
Further financial support from Glasgow Cycling UK in the form of five new tandems, again from its Eddie Marshall bequest
Designing our club jerseys
Velotech and ride leader training from Glasgow Life Community Fund
An award from Glasgow Go Cycle for more tandems and cycle mechanic support
Increasing our membership of sighted pilots and vision impaired stokers
Continuing our wide variety of regular club runs
Our club can be best summed up by the three words that make up our logo: 'BETTER LIFE CYCLES'.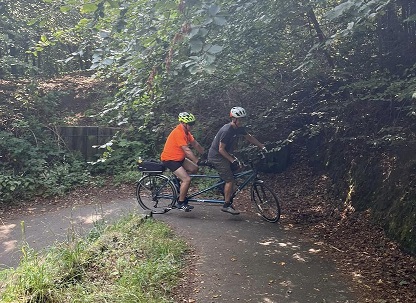 Enthusiastic, confident and experienced cyclists needed
We are always looking for more enthusiastic, confident and experienced cyclists to become tandem pilots (front riders) for vision-impaired stokers.
We are also keen to reach out to vision-impaired people who want to cycle but believe it isn't possible.
So, if you are, or someone you know is, vision impaired with a reasonable level of fitness and keen to give cycling a go, we want to hear from you!
Get involved
If you are not in the Glasgow area, you might be able to find other Cycling UK groups offering rides for vision-impaired people and those with other disabilities by going to Advanced options and searching under Group activities then filtering by Rides specifically designed for disabled people.
Are you a Cycling UK volunteer or a group or club with a story to tell? Get in touch and let us know what you're up to – we'd love to share your story.