How to welcome new people to your cycling group
Four volunteers from different Cycling UK groups and clubs that have increased the number of people on their rides talked to presenter Anna Glowinski at our recent Volunteer Celebration about how they have welcomed new riders to their groups by overcoming some of the barriers people face in taking up cycling. They also discussed the help they've received from Cycling UK. The panellists were:
Sue Cartwright, a personal assistant in the West Midlands, is a ride leader for the Cobble Cycle Café Easyriders in Erdington, which is supported by Cycling UK and Sport England. The group features in a short video screened ahead of the discussion, showing how people new or returning to cycling gain the confidence to take part in group activities with a friendly welcome and a ride briefing at the start. She explains how riders can even borrow e-cycles if fitness conditions or health issues are barriers.
Marina Friend is a member of CTC Coventry, a Cycling UK member group that is celebrating its centenary this year. The group has been very successful in attracting more women to ride with them over the past few years, and a recent 100km sportive attracted a 50% gender split. Marina explains how the group persuaded new members to overcome their impression of cycling being only for 'men in Lycra', and how some women who are Deaf prefer riding in a women-only group.
Richard Warburton, a retired fire fighter, is a tandem pilot for Bury Tandem Club for Blind and Partially Sighted People, a vibrant club that started around 11 years ago. The group has successfully recruited both pilots, who ride on the front of the tandem, and stokers with visual impairments who are now able to go out on day rides of between 40 and 60 miles in the countryside.
Rukaiya Moola is a founder member of Cycle Sisters in London, a group aimed at Muslim women, and is also a ride leader and a ride leader mentor. The group is now growing and expanding into many boroughs. She discussed the ways it enables women to enjoy cycling, whatever clothing they choose to wear.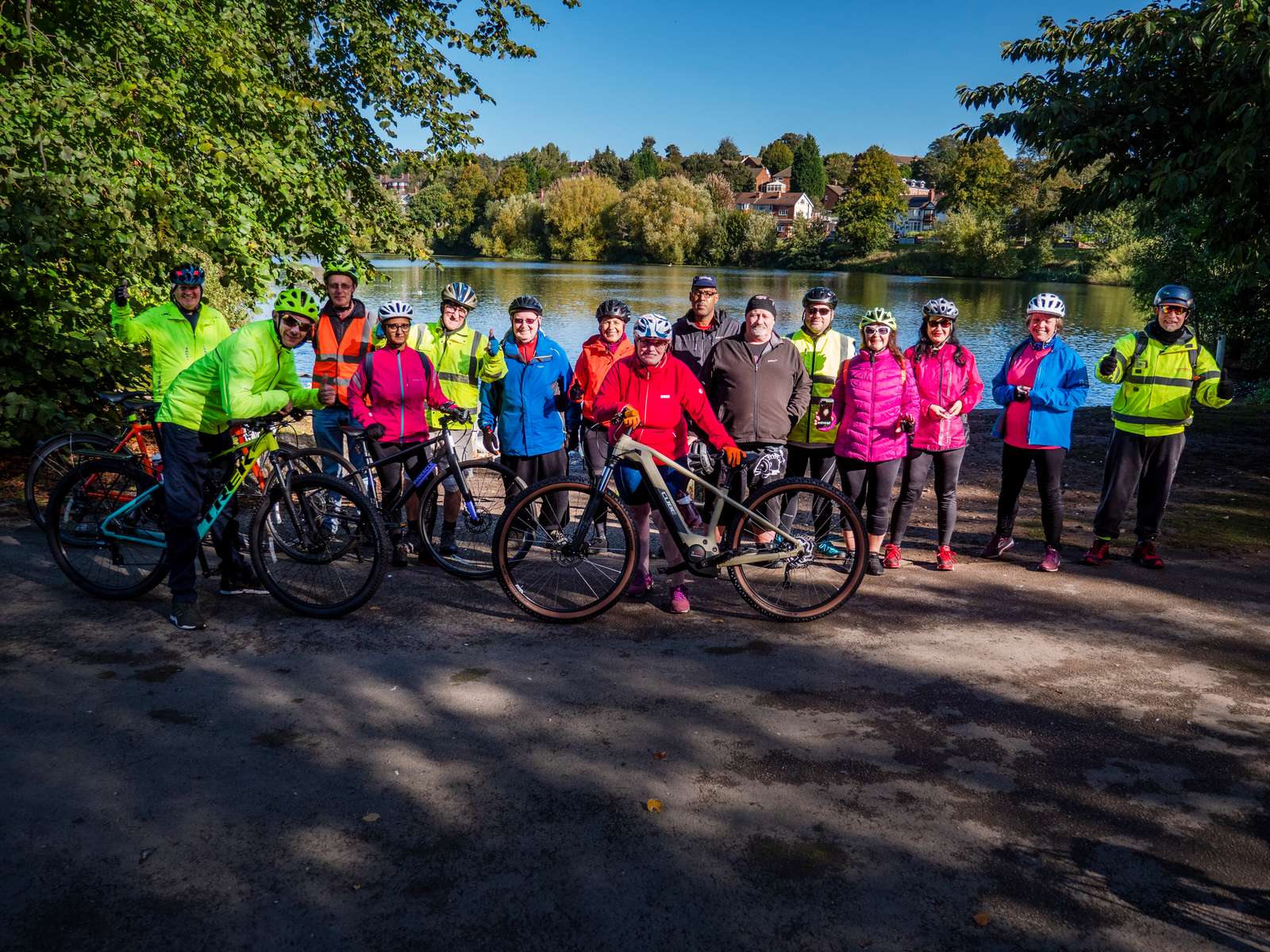 Our top tips for making people feel welcome on a ride:
Find out the names of everyone on your ride, particularly new riders
Explain that you will not leave anyone behind (unless the ride is advertised at a particular pace in advance)
Enlist the help of any experienced riders to keep an eye on newer ones, act as backmarkers, lead a second group, or even act as 'human signposts' at junctions or gates
Explain how you will lead the ride: any jargon and hand signals you might use; when and where you will wait for slower riders; how you will deal with traffic and so on, while reminding each rider they are responsible for their own safety
Give a rough idea of the route and point out any likely hazards in advance
Keep the ride flowing smoothly but do stop occasionally and give slower riders a rest before restarting
Ensure anyone who wishes to leave the ride is happy to make their own way home
At the end of the ride, thank people for coming and let them know details of the next one
Consider appointing a diversity and inclusion champion to encourage people from different backgrounds to join your rides
Our top tips for joining a new group:
Find a group near to you and ask them about the kind of rides they do; most groups will let you cycle with them a few times before being asked to join as a member, so you can make sure it's a good fit for you
If possible, let the ride leader know in advance that you are coming along and ask about the likely distance, terrain and anything you need to bring
Make sure you arrive at the appointed starting location in plenty of time
If you are new to group riding, let the ride leader know – they will keep an eye on you, or assign someone else to do so
Make sure the ride leader has your emergency contact details
Keep in mind they are a volunteer and listen carefully to any instructions
Try not to overtake the ride leader, unless instructed to do so, as you may miss an important turn – let them lead
If you fall behind, don't worry – your group should wait for you at the next junction or at the top of a climb
Abide by the Highway and Countryside Codes – never ride more than two abreast except when passing. Shout 'Passing!' if you do so
Drop into single file on narrow or busy roads, unless it would be unsafe to do so
Show courtesy to other road and trail users and be a good ambassador for cycling
Be alert to what other riders around you are doing and don't get too close to them
Shout 'Slowing!' or 'Stopping!' if necessary – smooth, gentle manoeuvres work best
If you can, point out any road defects or other hazards to others
If you wish to leave the ride before the final destination, let the ride leader know first
What should I bring on a group ride?
Any appropriate bike in good working order. If in doubt, have it checked over by a local bike shop or qualified mechanic
Carry at least a spare inner tube, pump and tyre levers
Dress for the weather and bring a spare layer
Bring a drink and energy bar, plus a picnic or cash for lunch if out all day
During the pandemic, a face mask and hand sanitiser are a good idea for café, loo or pub stops
Good lights are essential if there is any chance of riding in the dark or poor visibility
Get involved
Find out about all our current volunteer opportunities and discover the resources we provide for group and club volunteers.