Group test: Brompton bags for commuting
As guidance to "work from home if you can" is lifted, you might be thinking about cycling to work more. If you are using a Brompton folding bicycle you can carry your laptop, some food and bits and bobs in a backpack, but that's heavy, not great for your back and can leave the back of your top sweaty after a quick ride. Not the best option for looking smart.
Folding bike wheels are generally too small to hold panniers safely on a rack – they will drag on the floor when you ride around tight corners and a basket would get in the way of the bike folding. There is another option which is far easier; you can fit a front carrier block to the front of the bike which allows you to easily attach specially designed Brompton bags to the front of your bike.
The Brompton front carrier block costs £19 and is fairly simple to fit yourself with some Allen keys and a screwdriver. This means you can carry bags that weigh less than 10kg on the front of the Brompton and the design minimises any effect on bike handling. Once you know how to find the little lever, you can clip the bags on and off quickly.
Which bag is best for commuting and for you will depend on what you need to take. For this test, I packed a medium-sized laptop, charger, packed lunch, water bottle, glasses and wallet.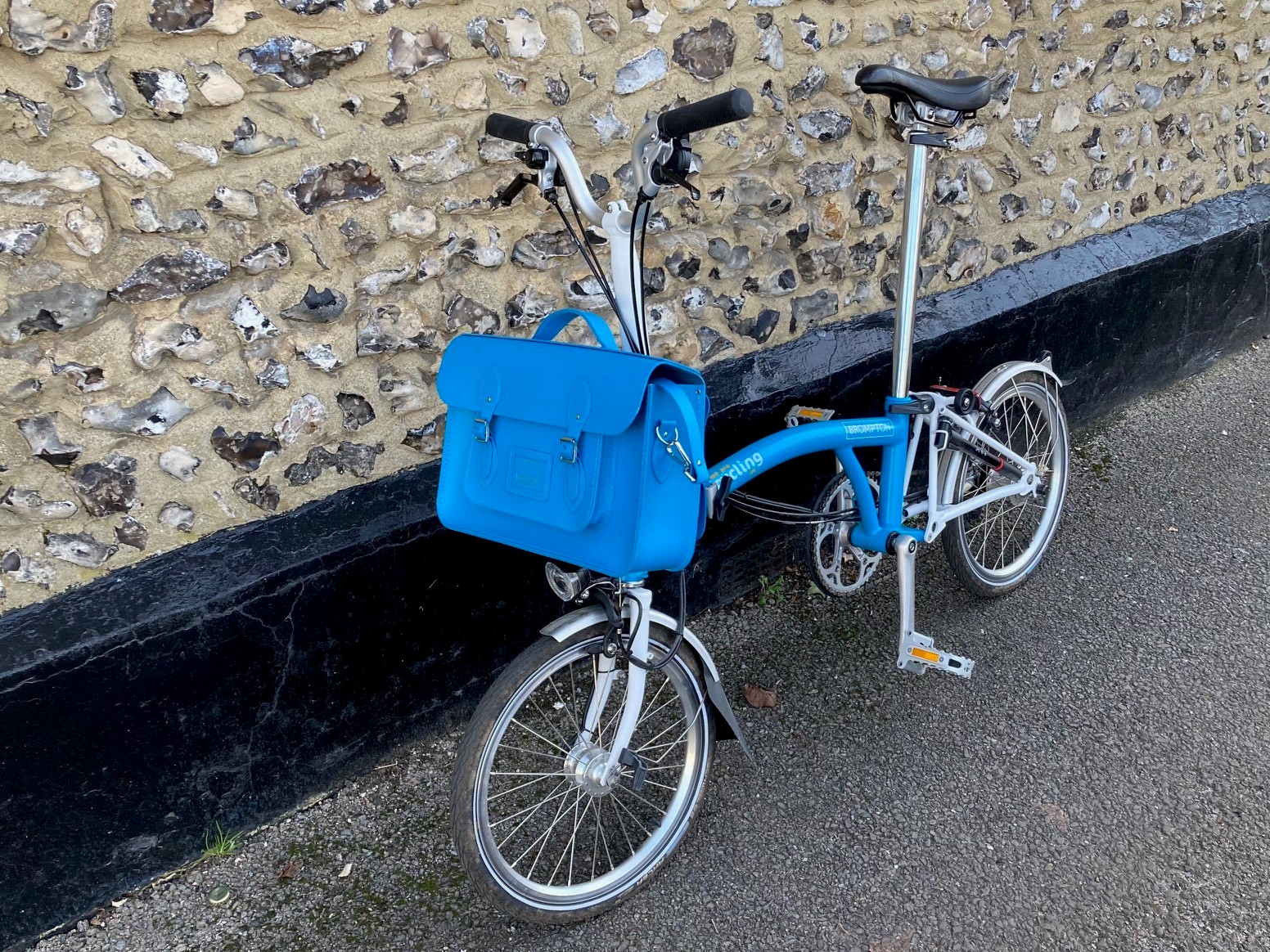 It's made from 100% leather, apart from the buckles which aren't that easy to quickly open at first. It is the bag that got the most compliments as the bright 'lagoon' blue colour really stands out and looks very smart. It does come in a range of other colours if bright blue just isn't you. The design is based on the Cambridge Satchel Company's 15-inch Batchel which retails for £200 without the Brompton attachments.
It is constructed of high-quality materials, but if you are cycling in heavy rain it won't be waterproof with water able to get in through the sides if it's full. The leather will wear over time to become softer, and it will age well and last a long time, even with daily use.
It's not as roomy as it looks. I could get the 13" laptop in here and charger at a squeeze and not much else. A large part of the bag houses the metal frame to keep it rigid on the bike and the block attachment – this also helps it to stand up on the ground. You can only tell this is a Brompton bag if you look at it closely from the back, so perfect for blending in and not looking like a cyclist.
Verdict: Top marks for style and quality, not the bag for taking lots of things to work with.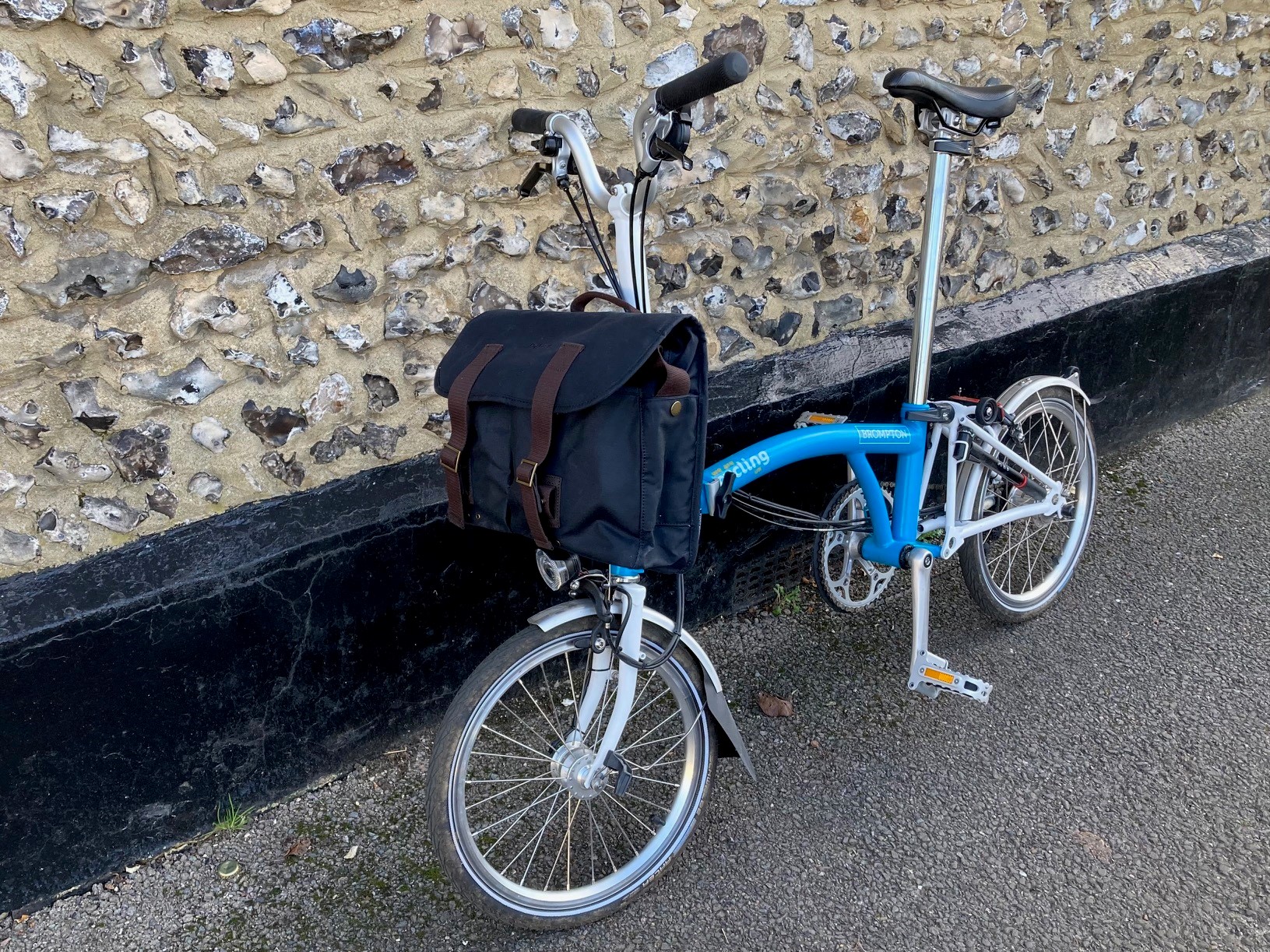 Another quintessentially British brand, Barbour has designed this shoulder bag. It is small but I could get lots more in it.
It is waterproof as it's made of a 100% waxed cotton outer with a waxed leather trim. The inside is polyester and cotton. The two front pockets are perfect for keeping your water bottle and lunch separate from your other things. There is a special padded compartment for a laptop so you save a bit of space not needing a laptop case.
This bag is a popular choice and I can see why. The durable material with easy-access pockets and openings are great for on the bike but maybe also for thieves. It does take a while to dry when it's wet but the rain doesn't get inside the bag very easily. The bad is available in black, navy and olive.
Verdict: Small and stylishly designed for practicality.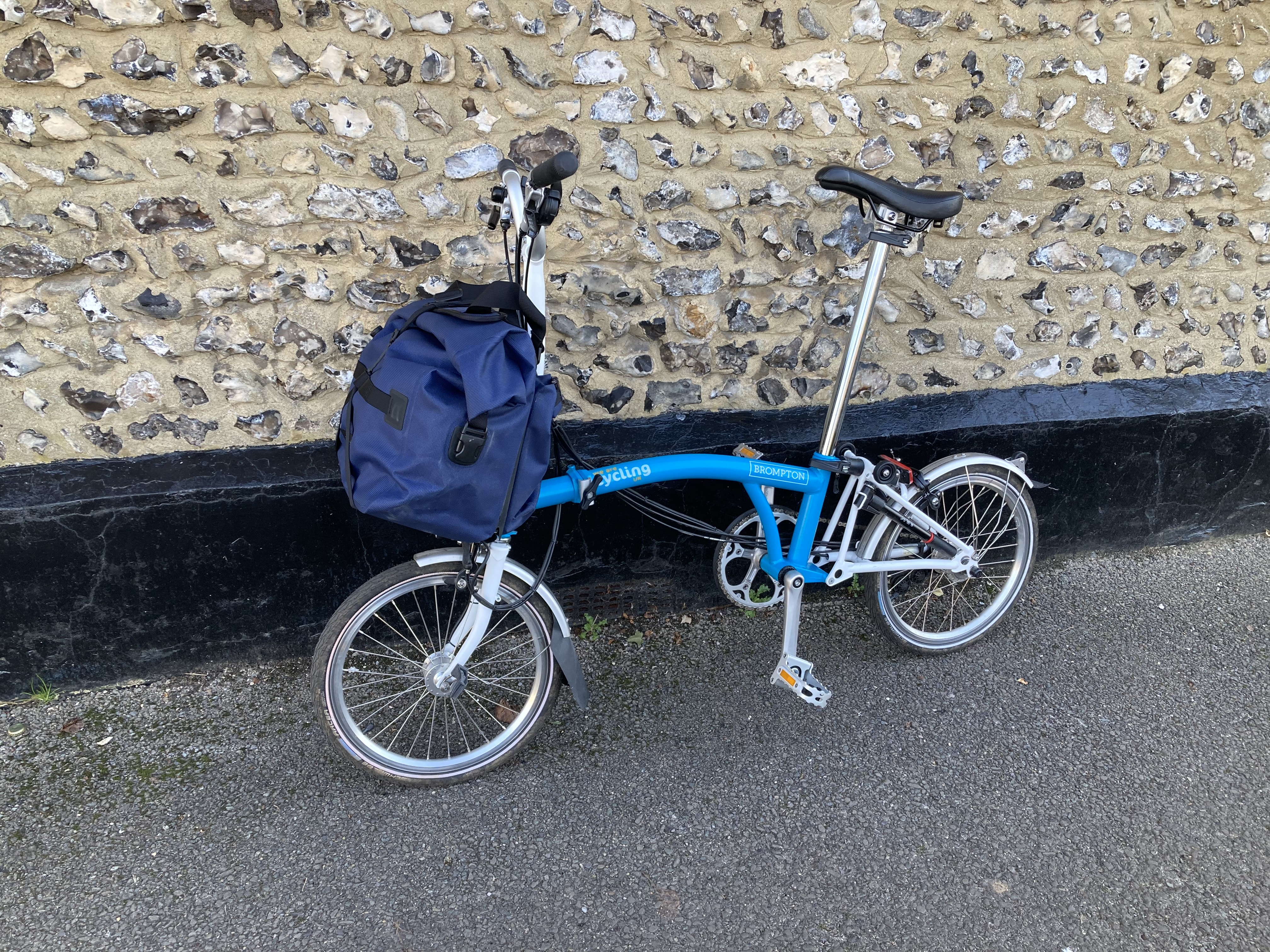 This is the bag for you if you don't travel light to work. It's big enough to take all the test items AND a change of clothes, a pillow and blanket for the train journey. The capacity is 25 litres so more than double the other bags on the test and it is much larger than I expected.
You can condense the bag's size by rolling it when it isn't as full. This takes a bit of practice to get it looking neat. Also as I need no encouragement to cycle with more than I need it was hard when I was using this bag not to chuck in extra things like a massive hardback novel to read.
There is a little air release valve if you want to pack it down tighter, which is great if you carry lots of clothing (this also increases creases so not ideal for fabrics that crumple easily like linen).
It's a rolltop so completely waterproof. I tested this through the winter and nothing inside was ever remotely soggy or damp.
There are two large pockets on the rear of the bag – so they face you when you ride – these are great for easy access to water and food on the go.
The only downside: this is not the bag to blend in with or make a fashion statement with even if it's big enough to fill with many changes of clothes.
Verdict: Big and spacious, waterproof with great rear pockets.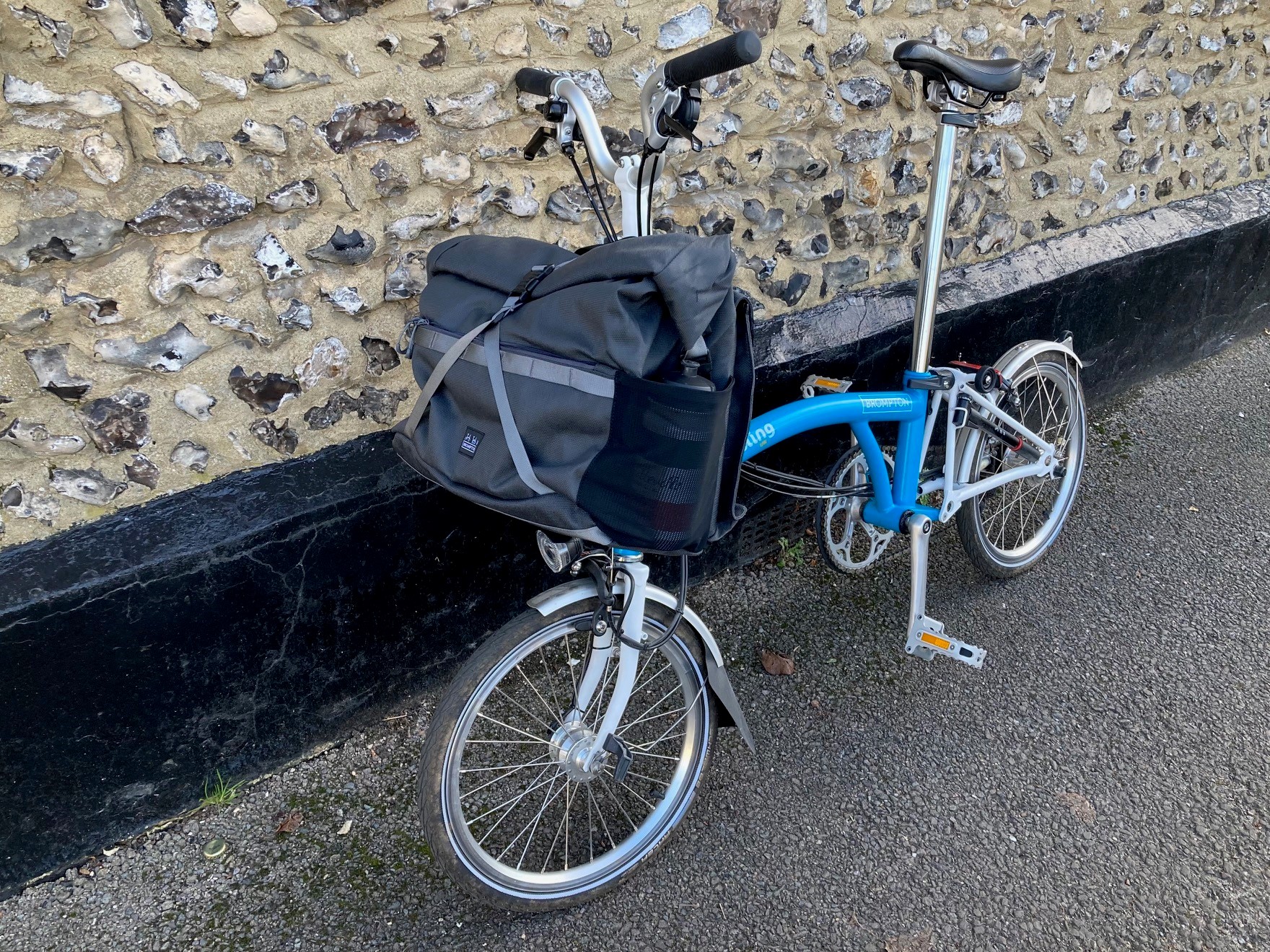 If you need a bag with pockets then this is the one for you. One front pocket with a zip you can pull with your gloves on, two rear pockets with poppers, two side pockets and a special place for easy access to put your water bottle too.
It's pretty easy to organise your work things and keep food and drinks away from your devices with this bag. At 28 litres capacity it is much bigger than the Barbour and Cambridge Satchel and marginally bigger than the waterproof Borough version.
The laptop compartment will fit even the largest laptop. The Cordura material is water resistant which means it's not 100% waterproof but will keep things dry unless it's raining hard for a long time.
Verdict: Flexible and practical bag for a commuter or small overnight bag
All information correct at time of publishing.