Great Rides: Slow cycling in southern Burgundy
"I am not getting on that," screams a recalcitrant Maddie. I do just wonder if it was a good idea to invite friends with an eight year old on a cycling holiday. With a lot of cajoling and bribery, Maddie gets on the tag-along and we are away – briefly. "The saddle is not right," yells Maddie. We stop. We fix the saddle. We start again. Soon dodgy saddles are forgotten, and with the regular consumption of chocolate, for energy obviously, any doubts I have about taking eight year olds cycling evaporate. Maddie is on the way to cycling addiction.
Anyone who can ride a bike can ride the Voie Verte and Voie Bleue – well most of it at least. That is the joy of these cycleways. Experienced riders use the routes to get to more demanding rides. Families and young inexperienced bikers have more than 100km of safe cycle paths – and it's ideal for tag-alongs too. 
I am a leisure cyclist at heart and chose these routes because they pass through some 140km of southern Burgundy countryside at its best. If it's hills that take your fancy, Burgundy most definitely has hills, so there are dozens of numerous cycle-friendly loops off.
In total there are more than 700km of marked cycleways in this area of Burgundy.
The Voie Verte or Bleue
The Voie Verte follows the route of a disused railway line from the town of Mâcon, past the sheer limestone ridges of the Val Lamartinien and into the longest tunnel in Europe that's open to cyclists and closed to motor vehicles.
It passes by some of Burgundy's most famous vineyards and wine villages, runs close to the famous medieval town of Cluny and the impressive Renaissance château at Cormatin and journeys on to the river-side town of Chalon-sur Saône.
The Voie Bleue embraces the banks of the mighty River Saône, from just south of Chalon to Mâcon.
If you choose to follow the circuit as one circular route, with no detours, and with time to stop and enjoy the sights and scenes along the way, it is best to allow three or four days.
The section between Chalon-sur Saône and Tournus currently includes some rough tracks not suited to road bikes or inexperienced riders. Completion of the Voie Bleue along this 'missing' section is due 'shortly'. We chose to dip in and out, varying our schedule according to the weather; we had, unluckily, chosen an unseasonally stormy period.
Cluny
The morning of day one started in the town of Cluny – location of the tag-along bike hire shop. Cluny is most definitely worth a day's visit alone – with its medieval streets, remains of its famous abbey and a lively market on Saturdays.
From there we cycled  north along the Voie Verte as it follows the valley of the Grosne to the town of Cormatin.
We arrive at the impressive Château de Cormatin and it is well-worth a visit. The one hour guided tour is engaging, while the château's maze keeps younger party members occupied. Cormatin is also an ideal location for a snack and we enjoy some coffee and cake at La Terrasse.
"Over there! A stork," my husband calls. We stop to admire the distinguished black and white bird standing tall in the flood meadow across the river. They have become more numerous in this area of France and in recent years a pair have nested each summer on a chimney stack on the nearby château at Cormatin.
At this point our friends leave us to cycle back to Cluny before Maddie's positivity wanes and the tag-along's slow puncture gets worse.
We continue along the Voie Verte through a vista of rolling pastures, woodland and vineyards towards Chalon-sur Saône, stopping at the famous wine village of Givry where we feel obliged to try a glass in the bistro La Cadole.
From Givry into Chalon, the route starts to feel a little suburban and we decide to call it a day. There are excellent B&Bs and campsites all along the route, but we receive an offer of a lift back to Cluny – and we take it. Spring is the best time to cycle these routes if you are not a hot weather cyclist, but today it is hot and I am feeling the heat.
The forecast for day two suggests a risk of thunderstorms and hail and we decide to reschedule our plans. A cycle ride between Cluny and Mâcon will give places to shelter if the storms arrive. There is also much to see along this section.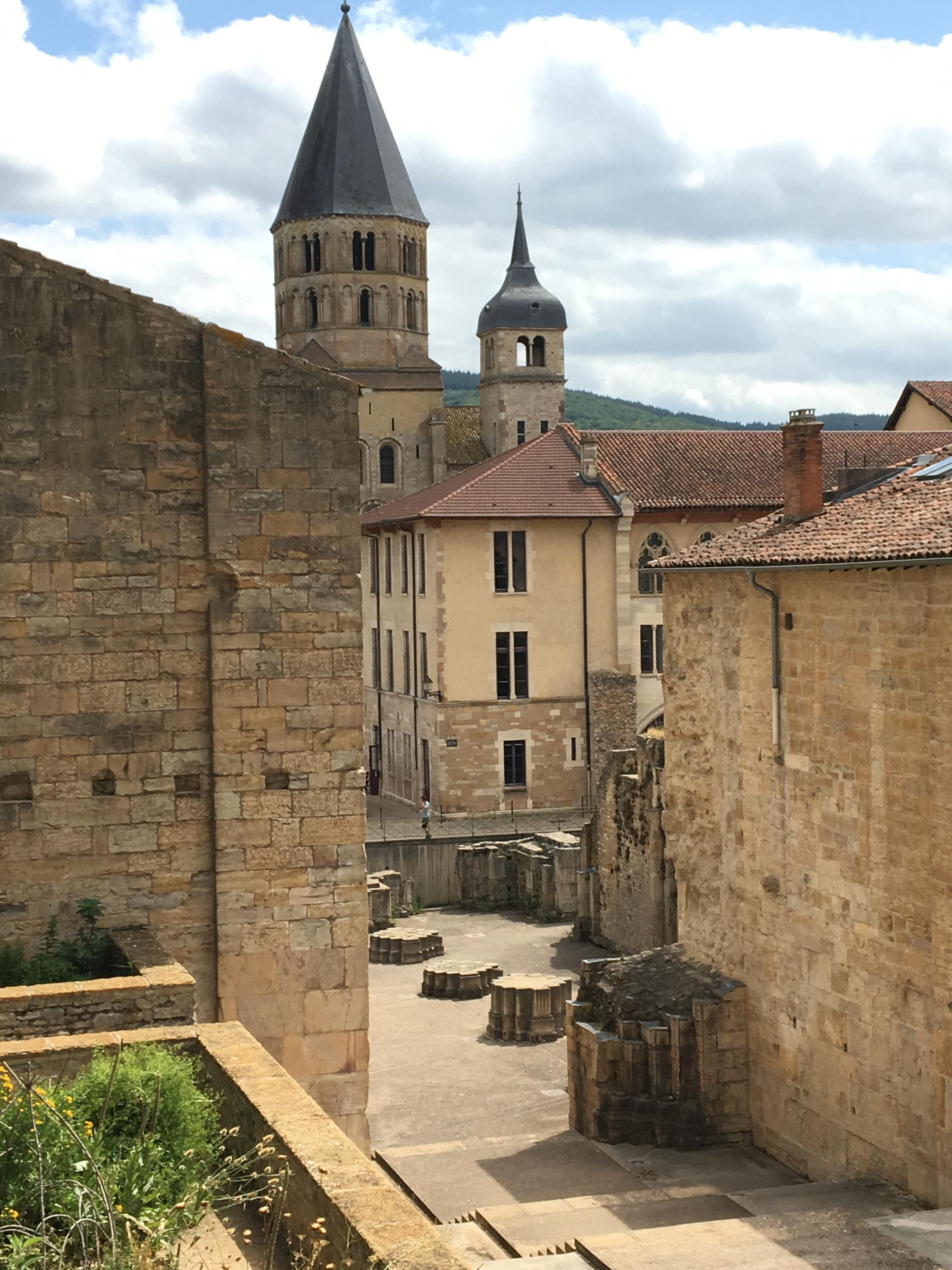 Great views, good food
The Voie Verte heading south from Cluny, climbs gently towards the tunnel of the Col du Bois Clair. This 1.6km tunnel (closed October to mid-April for the protection of hibernating bats) is lit, but a headtorch is useful and it is worth lingering in the cool air.
Leaving the tunnel, the route passes the imposing medieval castle of Berzé-le-Châtel. We stop for a visit.
Our route continues past vineyards towards the broad valley of the River Saône. At Mâcon you can link to the Voie Bleue, but it does mean cycling through the town of Mâcon, albeit on some of the quieter roads. Alternatively, you can leave the Voie Verte and loop back to Cluny via the scenic D17 – on a clear day you can see the Mont Blanc range from the Col du Bois Claire. Alas, for us it was too hazy.
Three thrilling days. Great leisure cycling. Wonderful views and good food.

Hillary Macmillan
Our third day takes us to the riverside town of Tournus to pick up the Voie Bleue to Mâcon. We enjoy a coffee in a riverside bar and then pick up the cycle path at the edge of town on the banks of the Saône – the river must be 150metres wide here.
A detour to the superb wetland nature reserve at La Truchère south of Tournus is a must. We see marsh harriers gliding silently over the water, purple herons, statue still, and many many ducks.
Back on the Voie Bleue and the bird list grows, with sightings of curlew, egrets and storks. As storm clouds build Mâcon is a welcome sight.
Three thrilling days. Great leisure cycling. Wonderful views and good food.