Cycling UK's best of Bespoked 2019
1. LaFraise Cycles Randonneuse Tout Terrain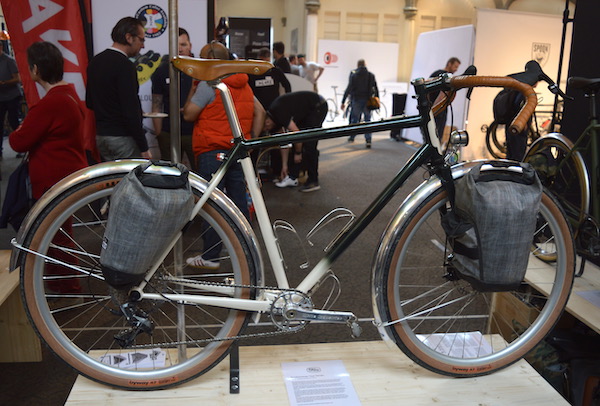 Built for the Concours de Machines 2018, the theme of which was 'backroads and bivvying', this road-plus bike won the public vote and overall competition.
It's neatly made – frame from Columbus Max and Zona, fork from Reynolds 631– but what's more interesting is the detail. The minimalist U-shaped luggage racks fit to eyelets bottle-boss distance apart (65mm) on the fork and seatstays, holding lightweight bespoke panniers lower down than sometimes top-heavy bikepacking bags.
The bags remind me of Freedom Bikepacking Limpets, in that they attach via fabric channels rather than hooks and rails. There's a USB port in the bike's stem top cap but power doesn't come directly from the dynohub, rather via a powerbank hidden in the steerer. And the bike comes with pre-shaped tarp that you can peg down over it for shelter.
Cycling UK rosette winner.
Stand 47, lafraisecycles.com
2. Sven Cycles Stingray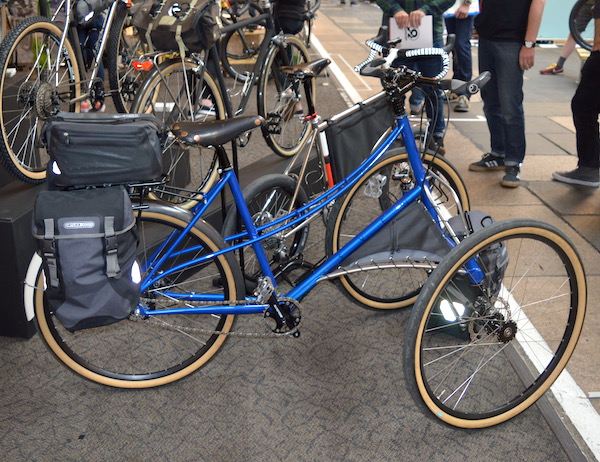 A tadpole-format trike with a suitably watery name, this was built for someone who used to work on submarines. The customer has only one fully functional arm – his left – so the controls are all on that side. (The righthand lever is a lockable parking brake.)
He also has hip and balance problems, hence a trike with a low step-over. The customer's criteria were: "two wheels at the front, Hope hydraulic brakes, a Rohloff hub, and able to fit through my gate". Job done!
Since the twin front brakes use the same hydraulic reservoir, they operate evenly and don't create brake steer. The sailcloth fabric at the front between the wheels inspired the Stingray name.
Cycling UK rosette winner.
Stand 22, svencycles.com
3. Rodford Built Big Billy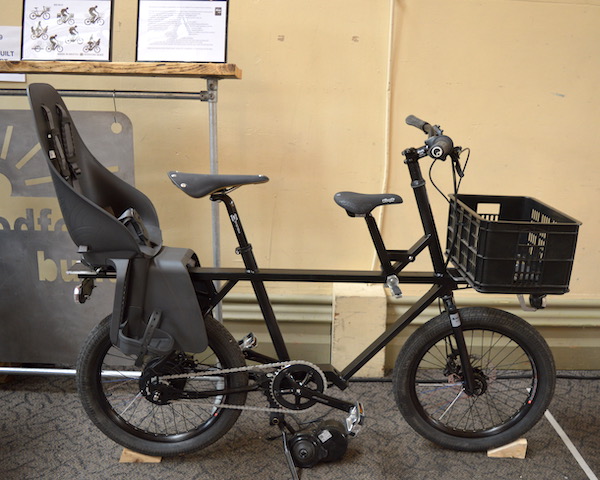 It's a transport bike designed for carrying one or two children and/or cargo, priced at less than £1,000 for the basic model.
It's modular: you can add your preferred combination of seats and racks, and even a Bafang mid-motor, which retrofits neatly into the bottom bracket area to make Big Billy electrically assisted.
Because it's a short-wheelbase bike – the same wheelbase as a Raleigh Twenty, apparently – it should be easy to store and manhandle. Being built around small wheels and a sturdy "spine tube", it looks similar to the defunct Donky Bike. No bad thing… but this is better.
Cycling UK rosette winner.
Stand 89, rodfordbuilt.co.uk
4. Islabikes Imagine Project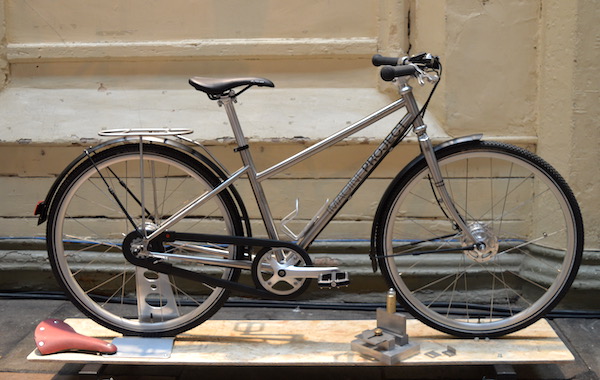 You've read the article now inspect the bikes. These lovely utilitarian machines are designed for a lifespan measured in decades.
Rather than buying them, families rent them – typically for around 18 months. At that point, the growing child should be ready for the next size up.
There are 12 protoypes in use by families right now. Feedback on these will influence the next rollout.
Stand 77, islabikes.co.uk/imagine-project/
5. Enigma Bicycle Works Escape Pinion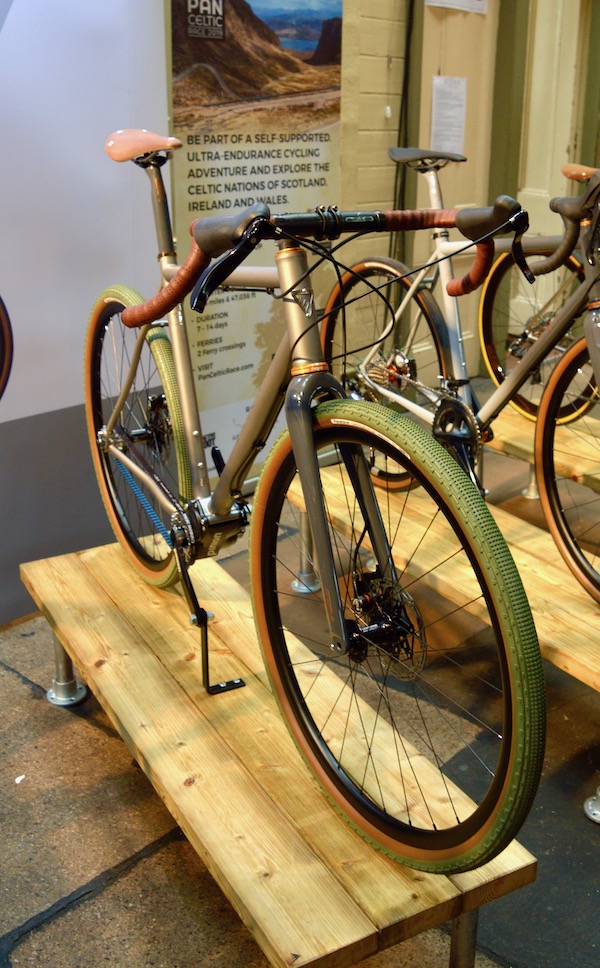 Along with 650B wheels and porteur racks, gravel bikes are one of the more common sights at Bespoked 2019. Few of them, however, are made from titanium or sport a 12-speed Pinion bottom bracket gear operated by a Cinq Shift:R .
There's surely mileage in enclosing the drivetrain of bikes that will get mucky, and this reinvention of Enigma's Escape gravel bike integrates the Pinion gearing well. Tyre clearances are reasonable and there are mudguard and rack mounts too.
Stand 80, enigmabikes.com
6. Moss Bikes Silver Eagle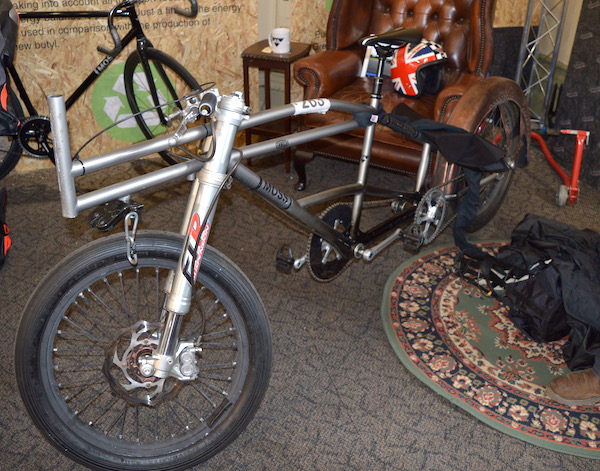 This monster holds the European speed record for drafted cycling: 149mph! That's achieved with a 520in gear.
The length, solid build, and fat tyres eliminate speed wobble, while the "bowsprit" at the front is there so the rider can hit the draft car without incident!
Rear mudguard? It's there to stop the deployed parachute, used for slowing down, from tangling in the rear wheel. The next goal is the world speed record of 183mph – if they can find a long enough runway…
Stand 69, mossbikes.co.uk
7. Varonha Frameworks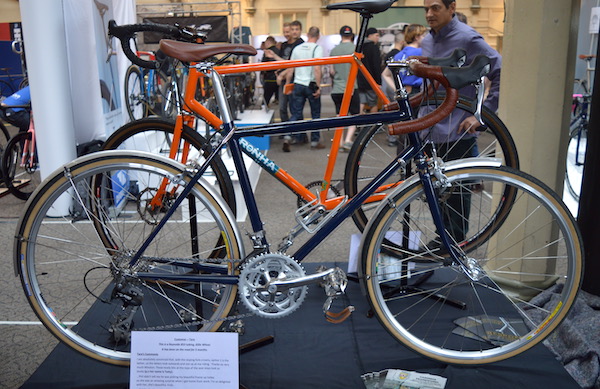 Winston Vaz recently appeared in Cycle magazine. As with Islabikes, Bespoked gives you an opportunity to the handiwork up close. There are three bikes on the Varonha stand: a lovely 953 stainless steel road bike with handcut lugs and uncommonly narrow gauge tubing (the 1in head tube was made specially for Winston by Reynolds); a 650C light tourer owned by a short lady; and a vibrant orange disc-braked all-rounder whose colouring tips its hat to Winston's history with Holdsworth.
Take a close look at the concave detailing at the top of those orange seatstays… then ask Winston how the effect is produced.
Stand 57, varonha.co.uk
8. Velo-re belts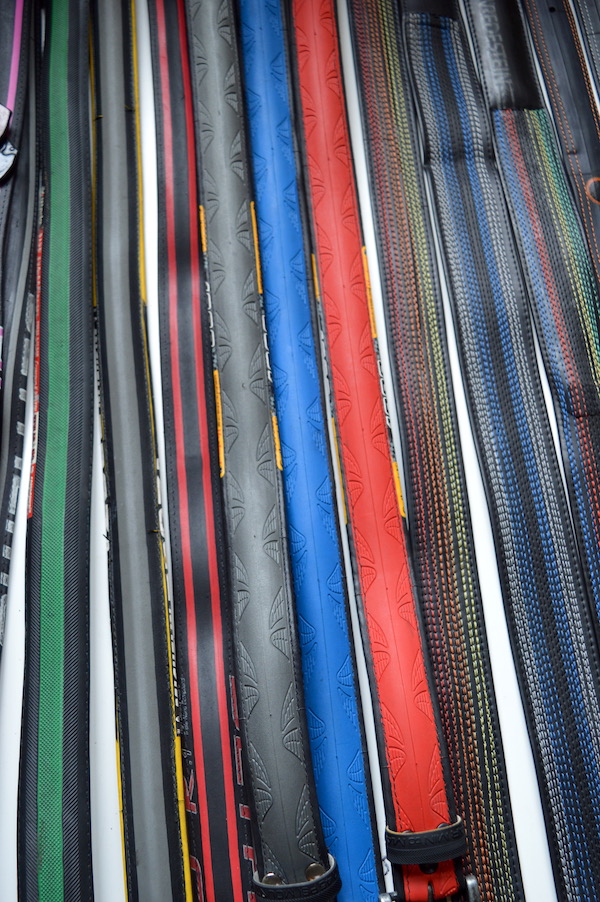 Tyres recycled into belts have been around for a while. What's striking about Velo-re's is the diversity. You can even send owner Betty your own worn out tyres to turn into trouser accoutrements.
Velo-re also make other stuff from recycled bike parts, such as wallets. While you're at the Swrve stand, their cycling jeans and other casual clothing are well worth a look.
Stand 73, velo-re.com and swrve.co.uk
9. Frost and Sekers cycling luggage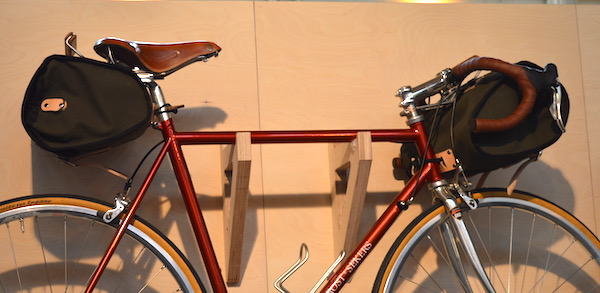 Cotton duck saddlebags with leather trim: so far, so Carradice. What's different about Frost and Sekers' 12- and 16-litre bags is the way they attach to the bike. Called Quicklock, a T-shaped frame on the bag clips into a sprung support fitted at the saddle rails and/or the stem; versions for threadless and quill stems are available.
It seemed easy enough to get the bags on and off, without the strap faffage of bikepacking seatpacks. Load capacity is quoted at 7kg.
Stand 37, frostandsekers.com
10. Saffron Frameworks, "Dan's bike"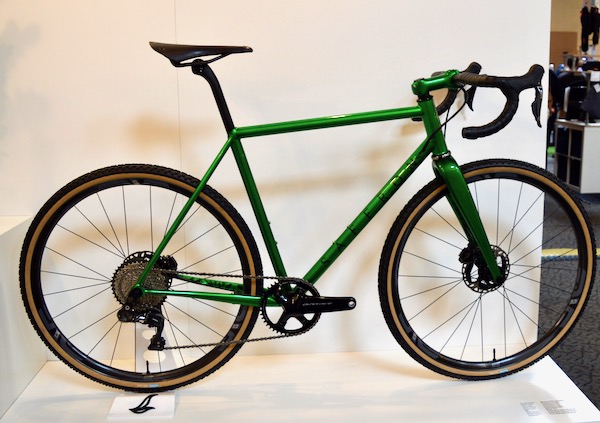 Not mine, sadly. The stunning iridescent finish is House of Kolor's  "candy green". Look deeper than the paint and it's an interesting bike. Built for a customer called Dan – you guessed? – who wanted a gravel bike he could also use for racing cyclocross, it mixes a Shimano Dura-Ace Di2 electronic brifter with an electronic XTR rear derailleur.
This works fine, apparently, although Shimano's diagnostic software doesn't always like the combination.
The rear brake hose runs through the frame so the bike won't collect as much "wattle and daub" from a muddy cyclocross field. In theory, the ovalised braces at the seatstays and chainstays will shed mud better too.
The seatpost clamp recalls a Cinelli design, while a magnet for a crank sensor is cunningly hidden in the driveside chainstay. Tidy.
Stand 1, saffronframeworks.com
11. Shand, Jenny Tough's bike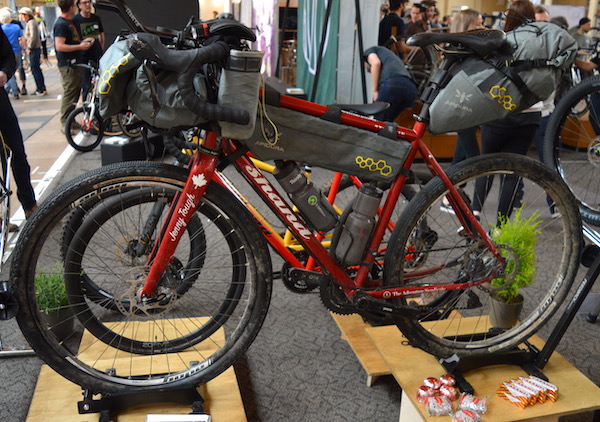 Some bikes are show ponies; this Shand Stooshie looks like it's been across mountain ranges because it has –  in the company of Adventure Syndicate member Jenny Tough.
There are scratches, stickers ("Be more Mike", in memory of the late Mike Hall), and personal touches such as saddle choice.
Also on the Shand stand are a new road bike, the Rizello, which is available with either sidepulls or disc brakes, and a new "long, low, and slack" 27.5+ hardtail mountain bike, the Shug.
Stand 24, shandcycles.com
 12. Flying Gate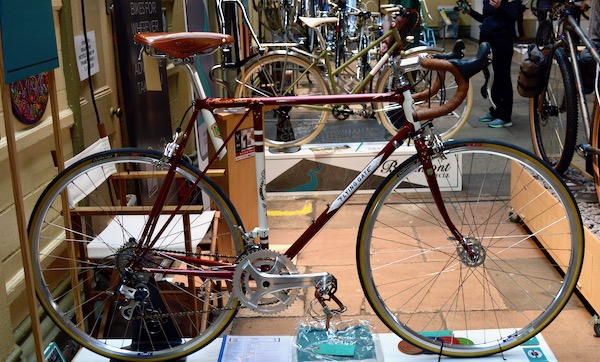 Mountain bikers enamoured by the "responsiveness" of short chainstays might be mortified to learn than Bradford's Baines Brothers were doing this to time trial bikes in 1934. They couldn't cunningly shape tubes like modern manufacturers with hydroforming so they took a simpler approach, cutting short the seat tube and triangulating what was left with a vertical tube between top tube and bottom bracket. ​Chainstays could be as short as 375mm; those on the audax model shown are longer at 390mm.
It was built by Cycle contributor Liz Colebrook, of Beaumont Bicycle, who has the patent to make Flying Gates to the original template, fancy lugs and all, but with modern components. It remains an aesthetically interesting design today – and that, after all, is part of the appeal of Bespoked.
Stand 79, tjcycles.co.uk
Cycling UK Members can take advantage of two-for-one tickets (on full price tickets of £20) to attend Bespoked. Just display a valid membership card at the door. Show times: Saturday 4 May 9.30am-6pm; Sunday 5 May 10am-4pm. More information at bespoked.cc.