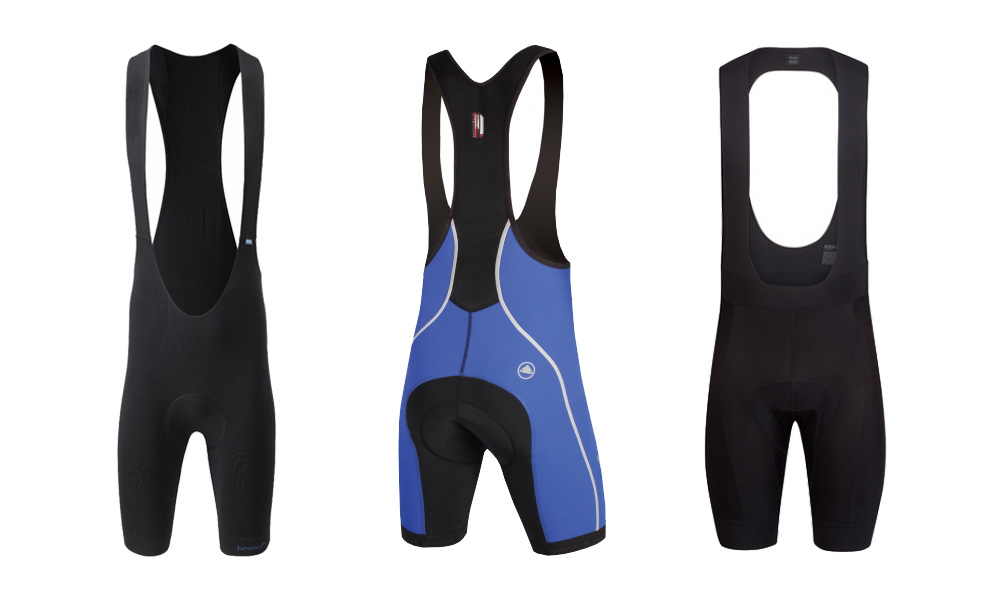 howies: Men's Bib Shorts were the first bib short I have tried, and after my first ride in them I had to ask myself why I had taken so long to come round to them. I'm 5ft 8in and not too portly, and the medium fit was snug without being confining.
I didn't get the feeling I was wearing a nappy like I have with other shorts, and once fitted the legs didn't ride up. The straps are pleasantly wide and spread the pressure evenly, and most liberating of all my belly was free from elastic compression. Unlike a similarly priced pair of Gore shorts I bought long ago, these shorts are also seam free, so no cause for irritation there!
The padding was equally unobtrusive on the saddle, but not at the expense of comfort which was maintained for many a long mile. It worked admirably on both hot and cold (but not freezing) spring days, with the back and legs wicking well.
After several washes, a week-long cycle tour and innumerable rides, they're still going strong and look pretty much like new. Apart from the obvious difficulties of using facilities with bib shorts (especially when on tour), I've absolutely no complaints and would recommend them to anyone looking for a smart, functioning set of cycle shorts suitable for day rides.
At time of publication these shorts are out of stock, but howies has said they will be back on sale from August.
Reviewer
Sam Jones, campaigns and communications coordinator
Type of riding: commuting and leisure touring
Endura's Enduro FS260-Pro Bibshort II is part of the clothing brand's Sportive range so should be good for any long day rides.
First impressions were that the shorts were well made with good shaping and a sculptured pad that was a revelation. I am 6ft tall and about 13.5 stone with cyclist's chunky legs and the XL size fitted well.
The first time I used them I just didn't notice the saddle, which I didn't realise until after the ride. That's probably a first – and some going as I am riding a Brooks Pro Leather saddle that still has some breaking in to go!
The padding is just very comfortable with no chafing. The bib short system took a little getting used to, I have had cheaper bib shorts in the past and hated them, but with these the straps were quite comfortable and the fitting around the middle was excellent.
I am not won over to bib shorts for multi-day touring (just the bulk and the problems going to the toilet!) but for long day rides, as they have been designed for, they are great. Like their companion garment in the Sportive range, the FS260-Pro III S/S Jersey, these shorts are well made and perform excellently. They really were a matter of 'wear and forget' – which is just what you want.
Reviewer
Ian Taylor, senior IT officer
Type of riding: commuting and leisure touring
With an RRP of £100, these are the 'budget' bib short from the same stable as the £200+ shorts worn by Team Sky and Tour de France winner Chris Froome. Some of the stardust rubs off as one feels very well-tailored when wearing these as many of the technologies from the more expensive shorts trickle down. The padding is the same, with a well-sculpted pad rather than one block of foam – very comfortable.
I much prefer a bib short as they have a higher waist and back so you don't get draughty when stretched out on the bike, the bibs ensure that they don't slip down and they dispense with elastic waistbanding which can crimp.
What strikes me most is that the shorts, once on, really feel like a second skin. Whether it's the placement of the seams, the soft fabric used or the tailored cut, the result is they hug the legs without the seams digging in anywhere or the legs riding up. The shorts have quite a long leg and the leg-gripper, which on some shorts can be vice-like, uses a silicon gel which is hardly noticeable and really holds the legs in place.
The all-important Rapha logo is used subtly yet classily on the leg and back.
Overall, I love them but would have preferred a slightly higher waist at the front.
Reviewer
Matt Mallinder, membership director
Type of riding: fast leisure
If you're looking for cycling tops to go with your shorts, then check out our accompanying article which looks at a range of the season's short sleeve tops too.
All information correct at time of publishing.