Hundreds Cycle on the Senedd calling for £20 per head on cycling
Thursday, 03 October 2019
Assembly Members, local campaigners from across South Wales, Pedal Power members on their adapted bikes and just regular folk who wanted cycling conditions to improve, all gathered with one purpose outside Pedal Power's cafe: to call on the Welsh Government to increase funding for cycling and walking to at least £20 per head each year.
Chair of the Cross Party Group on the Active Travel Act, Huw Irranca-Davies AM said: "Active Travel has a huge amount to offer Wales, but it will only happen if we have the resources in place and an effective plan to deliver the safe infrastructure we need. If we get it right, we will help tackle many of Wales' most pressing problems, such as carbon emissions, air quality, physical inactivity and traffic congestion."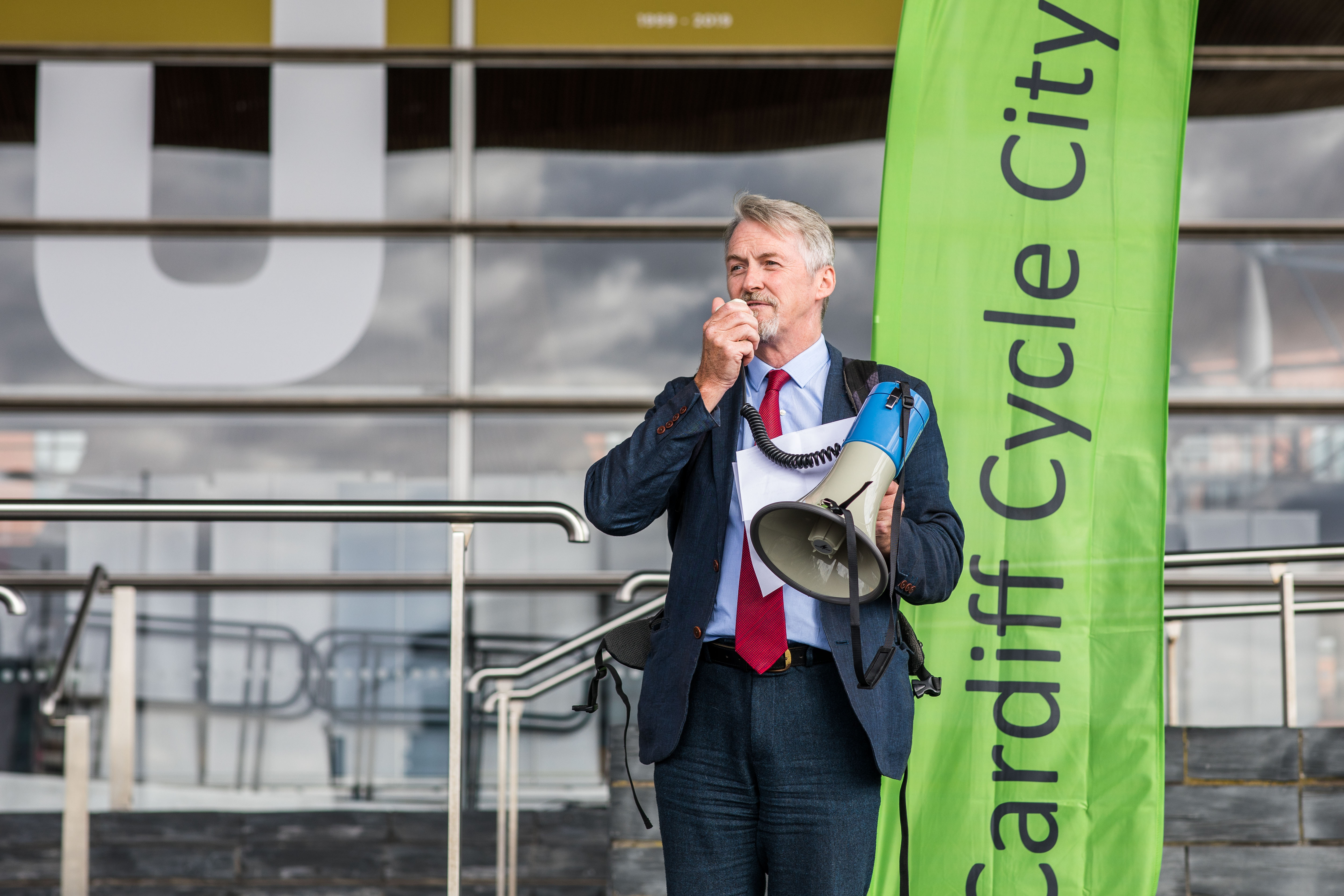 Led by Huw Irranca-Davies AM, the group of cyclists rode sedately along the Taff Trail to the Senedd enjoying the early autumn sunshine, chatting and laughing as they picked up members of the public along the way.
Motor traffic was halted to allow the procession to pass uninterrupted along the three mile route, and by the time the peloton arrived at the steps of the Senedd at 1pm, the numbers had swelled, and not just with more cyclists but also people on foot who had come to share their support and call for more funding.
Speaking to the crowd gathered in Cardiff Bay, Health Minister Vaughan Gething AM talked of his own experience of cycling with his five year-old son and the need to encourage the normalising of cycling. He said "Walking and cycling needs to be integrated into our daily lives, from getting to work, to taking the kids to school, we can all make these adjustments to ensure we're being more proactive as a society and reducing our use of cars.
"It is vital to the health of the nation that people are able to build physical activity into their daily routines."
It is vital to the health of the nation that people are able to build physical activity into their daily routines.

Vaughan Gething AM, Health Minister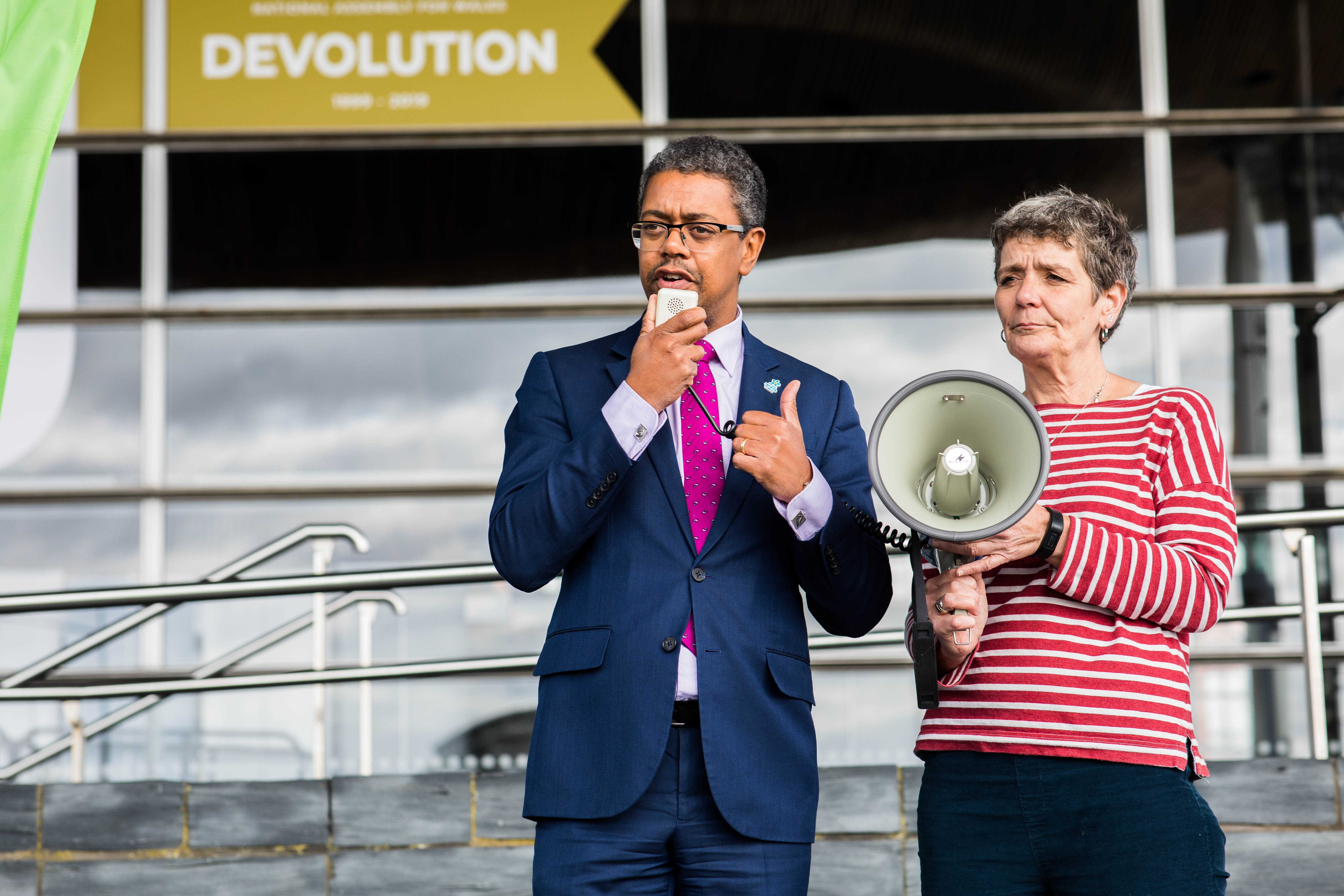 While the Minister did not discuss the issue of funding to help make this possible, his fellow Assembly Members made the point.
Rhun ap Iorwerth AM (Ynys Môn) said: "I really enjoyed the cycle to the Senedd today as part of an event to promote active travel. We're already aware of the benefits of active travel – active travel to school can increase concentration by up to four hours, for example, as well as health benefits.
"We must now see an increase in active travel spending to make it easier and safer for people to make short daily journeys on foot or by bike. £20 a head is a very reasonable ask!"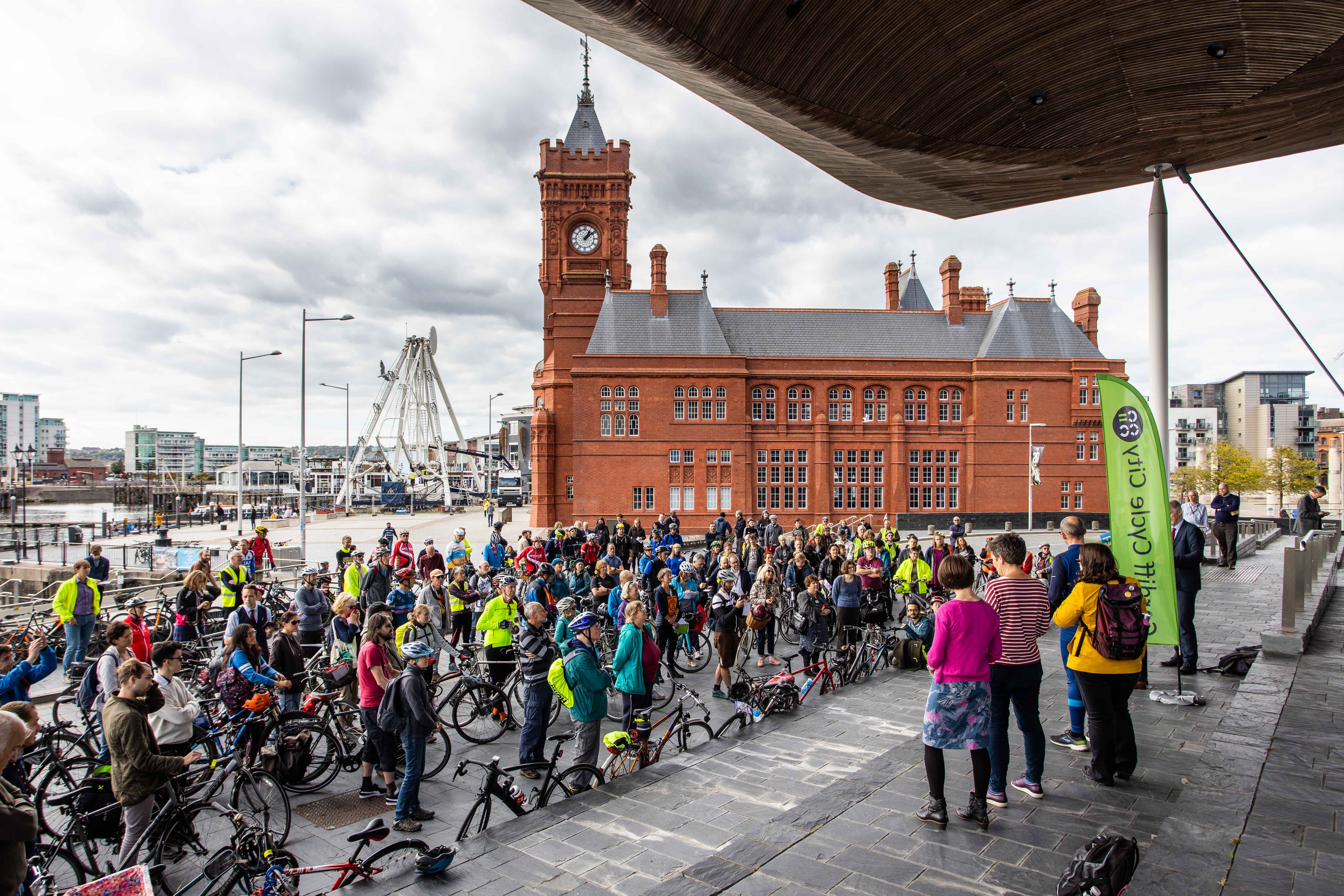 Gwenda Owen of Cardiff Cycle City emphasised the importance of ensuring active travel appealed to people who don't currently walk and cycle. "If the Active Travel Act was to be successful," she said, "It has to reach people who currently use the car for all their journeys and show them that getting about by foot or on bike can be safe, healthy and convenient."
Duncan Dollimore, Cycling UK's head of campaigns took part in the Cycle on the Senedd and said: "The Active Travel Act was a visionary piece of legislation, but without increased funding the people of Wales will be left with a legislative aspiration to increase levels of cycling, but nothing to make it happen. That's why people have cycled on the Senedd today to ask Assembly Members to commit to proper levels of investment in active travel, to deliver the Act's vision of making walking and cycling the most normal and natural ways of getting about."