Roadworks - a test of priorities
In other countries cyclists often get a better deal.
This photo, from the centre of Copenhagen, shows that when building work requires space to be taken away from the pavement and cycle track, a temporary facility is constructed on the road.
Admittedly, the provision is narrow and well below the width of the cycle facility that had been replaced, but cyclists at least have been considered.
In Britain, though, cyclists are often utterly ignored. Where roads are closed to traffic, cyclists are often not given an exemption - even where it would be simple to allow cyclists to pass through. I've also had complaints from members that where temporary lights are installed, the amount of time given for traffic to pass is far too little to allow cyclists to pass through safely. 
Recently Ron Stewart, a CTC campaigner in the north of Scotland, sent some photos showing how a cycle track alongside was being used to display signs informing motorists of roadworks ahead. I'm not sure the sign is apologising to cyclists!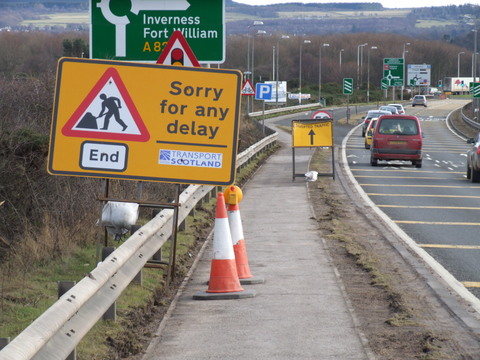 This route, which is part of National Cycle Network Route 1 (and features on many Land's End to John o'Groats routes), runs across the Kessock bridge, near Inverness. A major refurbishment has started, with little consideration for cyclists, who are expected to take a lengthy diversion including very steep gradients. A discussion of the situation, including comments from Ron, can be found on the CTC forum.
In Britain there are guidelines for dealing with cyclists at roadworks, which even explicitly state that "where there is cycle provision, such as cycle lanes or tracks, efforts should be made to keep these open or to provide an acceptable alternative during the road works. They should not be blocked by signs, debris, plant, etc." Instructions, which, in this case, Transport Scotland has utterly ignored.
Other photos from Ron Stewart, illustrating similar examples of blockages of cycle facilities can be found below.