Ambitious plans for cycling and transport in Cambridge
Wednesday, 07 December 2022
Cambridge is a beautiful city – and the unofficial cycling capital of the UK with around 29% of work trips made by cycle – but it is small, has narrow roads and is congested and polluted.
It is also growing at a tremendous pace: the population has increased by 17.6% over the last decade and even more growth and house building is planned. 33,500 new homes are expected to be built by 2031, creating 26,000 extra car trips per day. And that's on top of the significant population increase that's already happened as new homes have been built over the past decade.
To address this looming crisis – and to help reduce our region's emissions from transport (which are higher than the national average) – the Greater Cambridge Partnership (GCP - the City Deal delivery body for our area) has recently proposed creating a Sustainable Travel Zone (STZ).
A consultation on this proposal is open now until midday on Friday 23 December. For quick links on ways to find out more and have your say.
The STZ proposal contains three key elements:
Transforming the bus network, with more frequent, more reliable, cheaper services running on an expanded network plus 'demand-responsive transport' for places that are not on the main scheduled routes.
Making more investment in other sustainable travel options such as walking and cycling. This will include improving the network of routes - for example delivering all 13 cycling schemes included in a previous consultation (for which there is at present funding only for two), improving cycling parking and adding more pleasant and accessible public spaces.
Creating a Sustainable Travel Zone (STZ) within the main trunk roads that encircle Cambridge (an area roughly four-by-four miles). The zone will be inside the ring of five Park & Ride sites that already exist. The GCP is proposing that drivers who choose to drive into the zone will be charged £5 per day (more for goods and passenger vehicles) on weekdays between 7am and 7pm. There would be a series of exemptions and discounts, for example, applying to blue badge holders and people on low incomes. The STZ would only be introduced once the upgraded bus network was in place and the money raised would be used to continue to fund better bus services and improvements to walking and cycling infrastructure. The scheme is predicted to reduce car trips within the zone by 50% which would free up more space for safe walking and cycling and enable the improved bus services to run on time.
Cambridge is the perfect place for a Sustainable Travel Zone
Cambridge is small enough to cycle across the proposed zone in less time than it currently takes to drive across it. E-bikes can extend the practical range for most people to all the surrounding villages and the growing use of cargo bikes for business would be further stimulated by the GCP's plans for investment in a last-mile distribution hub.
However, the current traffic levels and dangers and poor infrastructure are stifling the potential for cycling, and the current car dominance means that its historic, narrow streets are congested and polluted.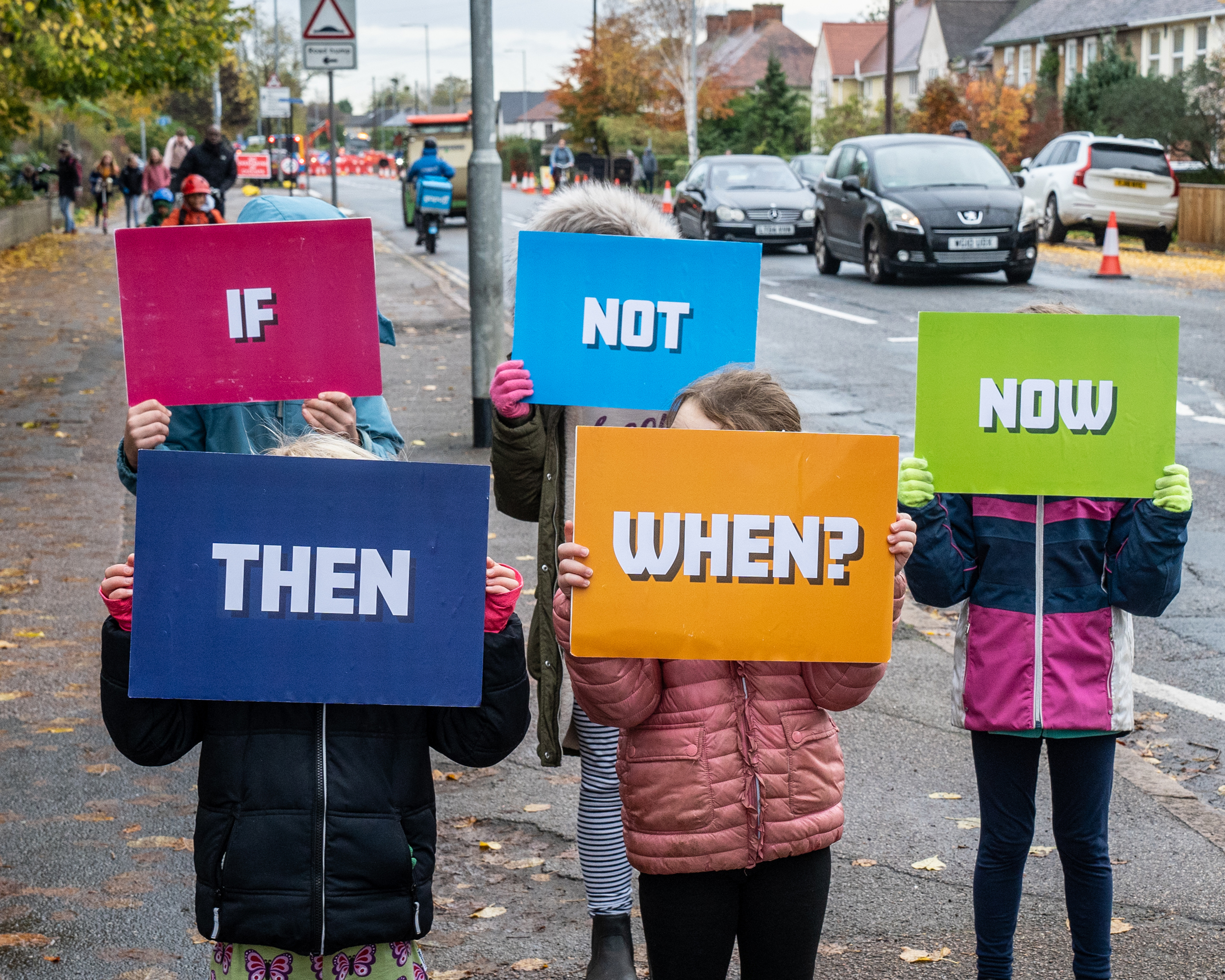 When it would happen
Road-user charging within the STZ would not be fully operational until 2027/28. This would allow time for improvements to buses and active travel to be implemented beforehand, so that people can experience genuine, attractive and cheaper alternatives to driving. These improvements would commence in 2023, if the overall scheme is approved.
Who is supporting it
Camcycle is part of the Cambridgeshire Sustainable Travel Alliance, founded alongside Living Streets (representing walkers) and Cambridge Area Bus Users, and now representing over 20 local and national organisations including Cycling UK and its local group, CTC Cambridge. The Alliance strongly supports the principle of the STZ, although together and as individual groups, we have many comments on the finer details of the proposed scheme. The GCP has made it clear that the qualitative parts of the consultation are important and the Alliance is campaigning to provide the Partnership with plenty of constructive feedback and demonstration of broad support that will give it (and the local authorities involved) the confidence to proceed with what will be a game-changing programme. We believe that the opportunity to deliver better transport, cleaner air and a better future needs to be taken now, because if not now, then when?
What we would like you to do
We believe that, as with many sustainable travel schemes, a noisy minority is at risk of drowning out the views of the silent majority that would like to see a more liveable Cambridge. Unless as many people as possible get involved there is a danger that a knee-jerk "No" to the charging elements of the scheme may prevent any change from happening. Back in 2008, Manchester rejected the idea of road user charging and this set back the prospects of reducing car dominance in the city for well over a decade. Other councils around the country will, no doubt, be watching to see what happens in Cambridgeshire as they plan their own sustainable transport schemes.
So please, have your say. Read our 5-minute consultation response guide and submit your own views – the consultation is open to anyone, including visitors, to take part. All our villages, towns and cities deserve to be people-friendly places for travel, and Cambridge could set the trend. 
After all…if not Cambridge, then where?