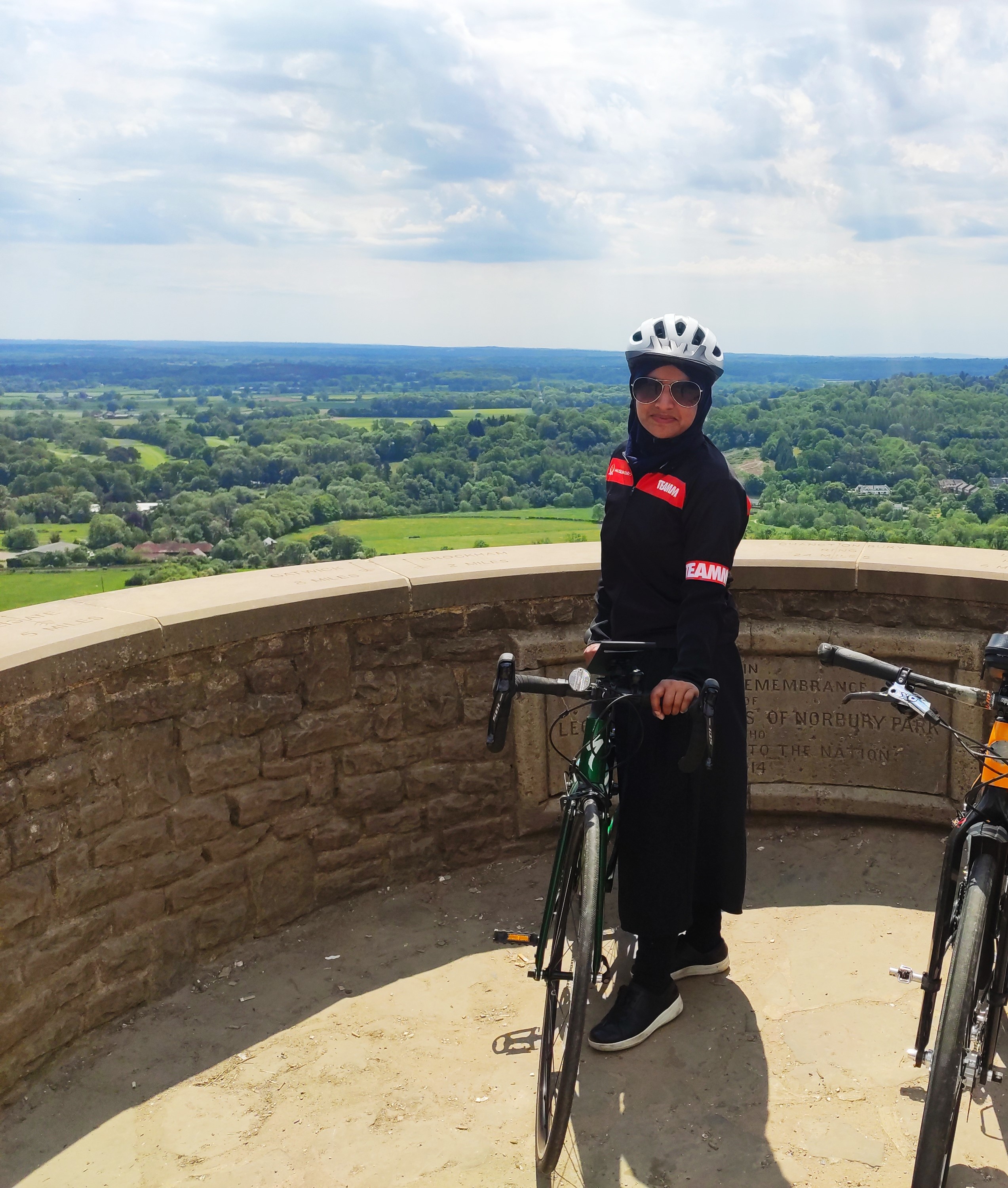 Syeda Akther
Volunteer ride leader and new cycle group founder
In February 2020 Syeda joined Cycle Sisters and discovered a love of cycling. Her cycle confidence quickly increased and she is now a ride leader inspiring others.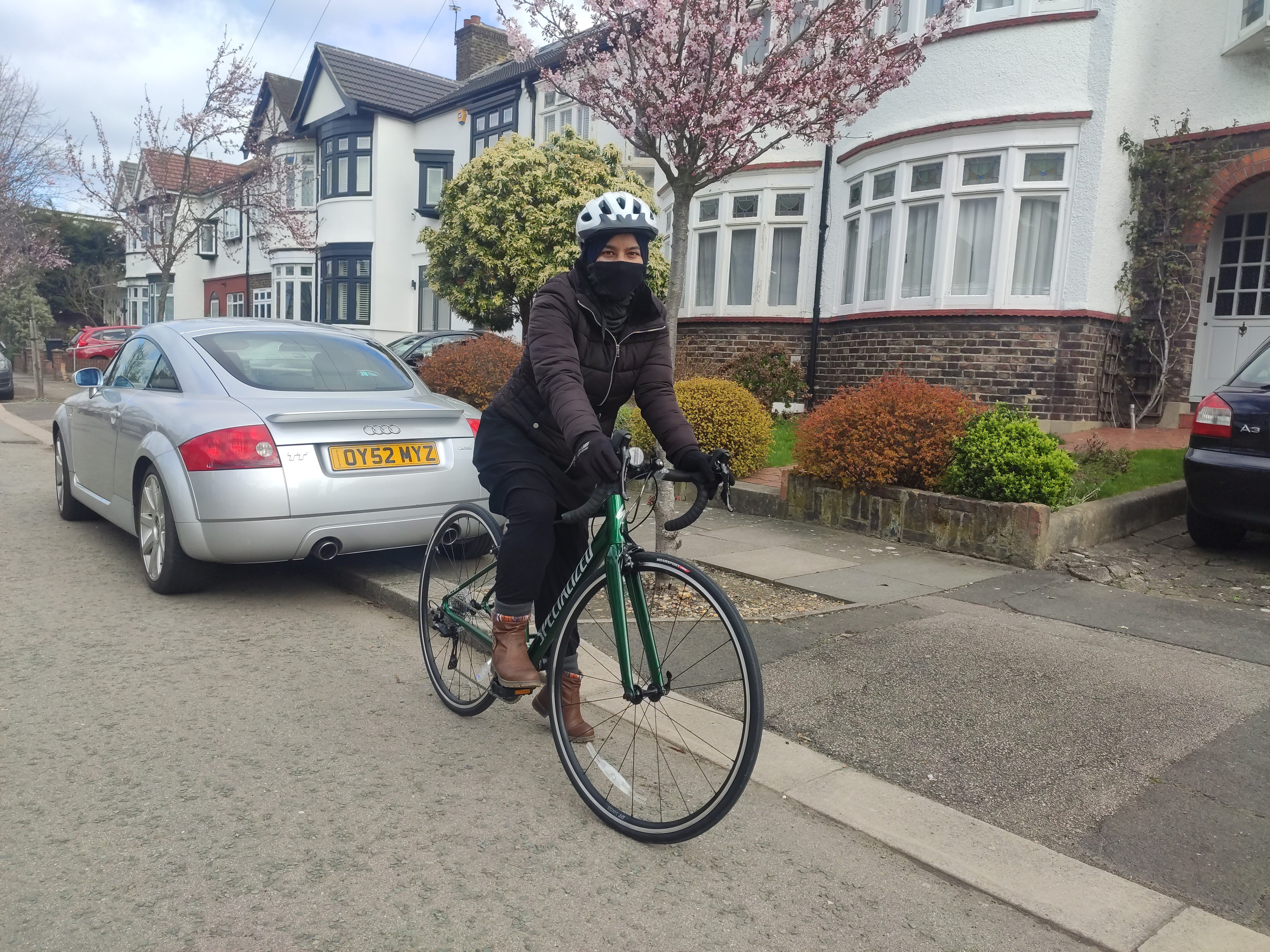 Syeda Akther said…
"Growing up in East London, I don't ever recall seeing an Asian girl or woman cycling. In fact, in those days it was a rare sight to see Asian men cycling. So it is hardly surprising that I learnt to pedal around the age of 10. It wasn't that my parents objected to me cycling; they were only able to afford one bike which my two brothers shared and which I hijacked on occasion.
"In my thirties, I taught my children to ride but never really took it up. Although more women were cycling, I saw none that looked like me. It wasn't until February of 2020 that I joined Cycle Sisters in Redbridge and started my cycling journey again.
"However the Covid-19 pandemic brought everything to a standstill, my cycling journey seemed to end prematurely. I became restless being stuck at home and decided that I needed to get back on my bike. On every journey I battled my fears, but I soon built my confidence and skills. Venturing out and experiencing new routes and sights gave me a new high. The decision to buddy up with other cycling sisters was one of the best I had made. I could see that some sisters were starting to build their confidence and stamina and I could relate to that as I was in their place only a few months back. It felt great to support them as others had helped and encouraged me on my cycle journey.
"Since then I went on to complete the ride leaders' programme and have become a ride leader for Cycle Sisters in Redbridge and Newham. My love for cycling has extended into raising money for charity and I have completed numerous charity rides; the most recent of which was Cambridge to London.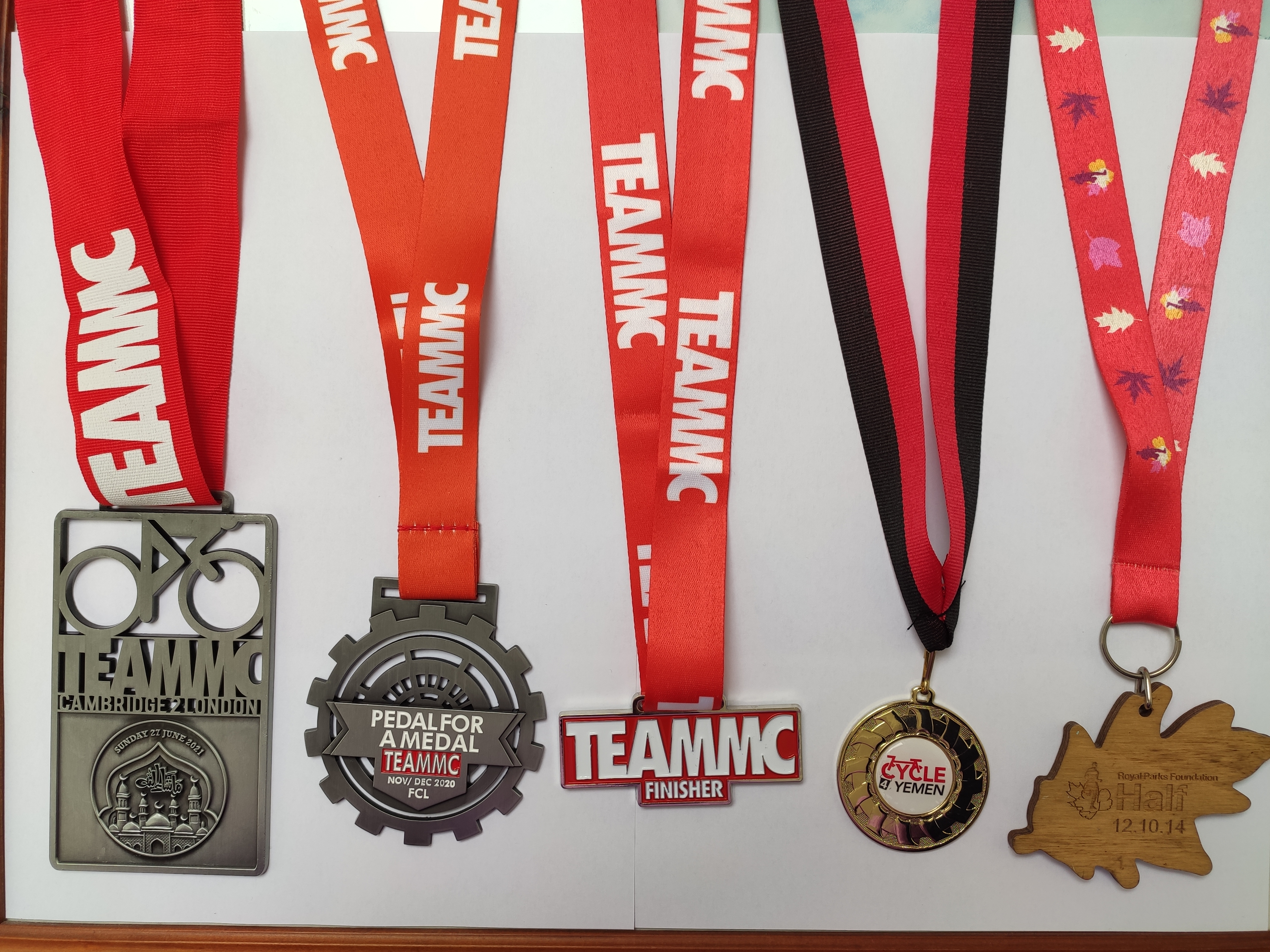 "Nowadays you would rarely see me without my bike and I love discovering the hidden gems in this amazing city that I live in. I have also gone from a 1970 hybrid that weighed 16.2kg to treating myself to a brand new road bike. I am not so fearful of hills anymore! I live and breathe cycling these days that my daughter calls me the crazy bike lady or CBL for short!
"Cycling has expanded my world exponentially; I have made some amazing friends and met many inspirational women. It has also taught me more about myself. The next step is to teach my husband how to ride a bike so that he can share this amazing journey with me."
Nominated by…
Syeda was nominated for the 100 Women in Cycling by many people.
Shaba Noore-Parvin said: "When I started to cycle during lockdown, all I knew was to keep balance. I wasn't confident on the road at all, didn't know anyone that cycles and my sense of direction was very poor. Syeda has been a true inspiration for me in my cycling journey!
"Before Cycle Sisters' rides resumed and even before she became a ride leader in my area, Syeda took me on many rides with her. I had the opportunity to learn so much from her. She helped me to build road confidence, stamina and better bike handling, and my route knowledge certainly improved. She always encouraged me to push myself harder. Passion for cycling is something she just didn't keep to herself but made effort to help others. Cycling is now a crucial part of my life and I am going places.... Syeda plays an important part in my cycling story."
Zainab said: "I had got back into cycling after many years but was only practising at a cycling club in Redbridge and needed more practice on the roads. This was when I met Syeda as even prior to becoming a ride leader she was active on our WhatsApp group and was always ready to take the reins and take beginners like myself on rides.
She works, has a family yet is always supporting us in building our cycling skills. This is all voluntary for her yet she is ever-ready and willing to help us whatever level we are

Zainab
"She taught me well, boosted my confidence and invited me on rides to push me to get out on the bike. She works, has a family yet is always supporting us in building our cycling skills. This is all voluntary for her yet she is ever-ready and willing to help us whatever level we are. She has got me into a good habit of getting out for a ride at least once a week which is great for me! She is also always sharing her cycling knowledge with everyone and goes out of her way to answer our questions and concerns."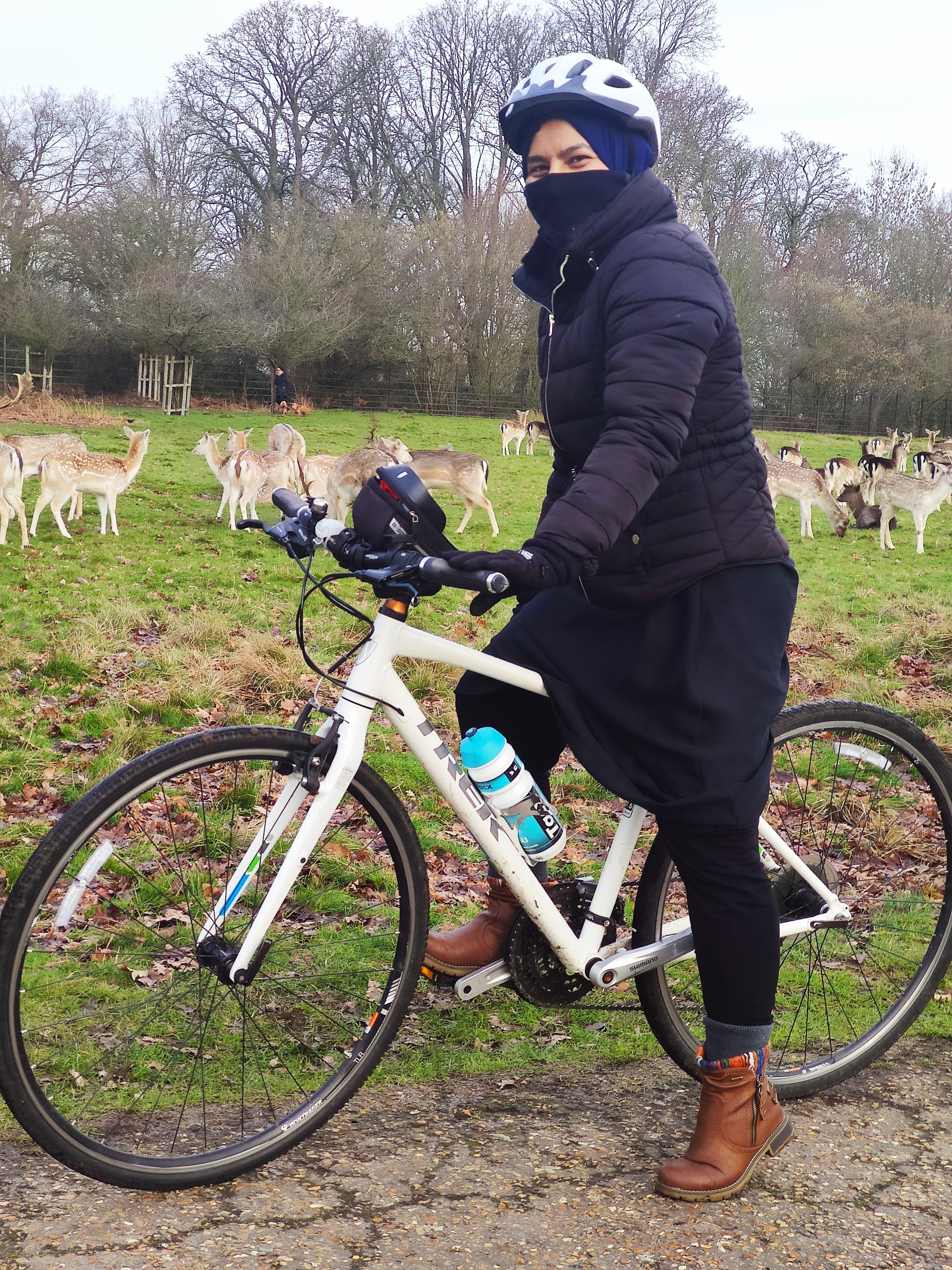 Founder of Cycle Sisters, Sarah Javaid, said: "Syeda has been an incredible inspiration and influencer for so many other Muslim women in her local borough of Redbridge and beyond.
"Not having had much of an opportunity to cycle as a child, Syeda returned to cycling after a long break around a year ago when she joined the new Cycle Sisters group in Redbridge as a beginner rider. She was nervous about cycling safely while wearing an abaya (Islamic dress) but soon found that it was completely doable and took a few cycle lessons with the council and started regularly attending the group rides. Her skills and confidence quickly developed and her natural leadership qualities shone through so we asked her to train as a volunteer Ride Leader for the Cycle Sisters group to support other women to cycle.
"Then the first lockdown happened and all our rides stopped. We started a Bike Buddies initiative to try to encourage our members to keep cycling through the lockdown and Syeda threw herself behind the idea, volunteering to take out other women who didn't feel confident to ride by themselves. Since then she has buddied up with many different women to help build their confidence, support them to ride on the roads and explore new areas, pushing them to challenge themselves and do longer rides with her positive, can do attitude. Many of these women have gone on to do charity challenges and now ride independently and confidently on the roads, and have said that they wouldn't have got started or achieved what they have if it hadn't been for Syeda's passion, encouragement and support.
"In such a short space of time she has also clocked up multiple personal cycling achievements which are incredibly inspiring for other women who are starting out in cycling. She has gone from being a novice cyclist just a year ago to participating in multiple charity rides and cycling her first century (actually 110 miles) by herself during the most recent January lockdown including conquering the hills of Essex. Syeda really is an unstoppable force. She's recently bought her first road bike and set herself the challenge to ride to Box Hill in Surrey and back in a few months' time as another charity fundraiser!   
She has given countless hours of time to developing new routes and helping to identify other volunteers to lead the rides in Newham

Sarah Javaid
"As well as her role as a volunteer Ride Leader in Redbridge, Syeda has also recently volunteered to help set up a new Cycle Sisters Muslim women's cycle group in the neighbouring borough of Newham to help open up cycling for even more Muslim women. She has given countless hours of time to developing new routes and helping to identify other volunteers to lead the rides in Newham.
"Syeda really has been a trailblazer in Redbridge by showing that Muslim women can cycle in Islamic dress and inspiring so many other women with her cycling adventures. Being included on the list would be a fantastic recognition of everything that she has achieved this year - not just on a personal level but also by bringing so many other women with her on the journey."
Syeda really has been a trailblazer in Redbridge by showing that Muslim women can cycle in Islamic dress and inspiring so many other women with her cycling adventures

Sarah Javaid