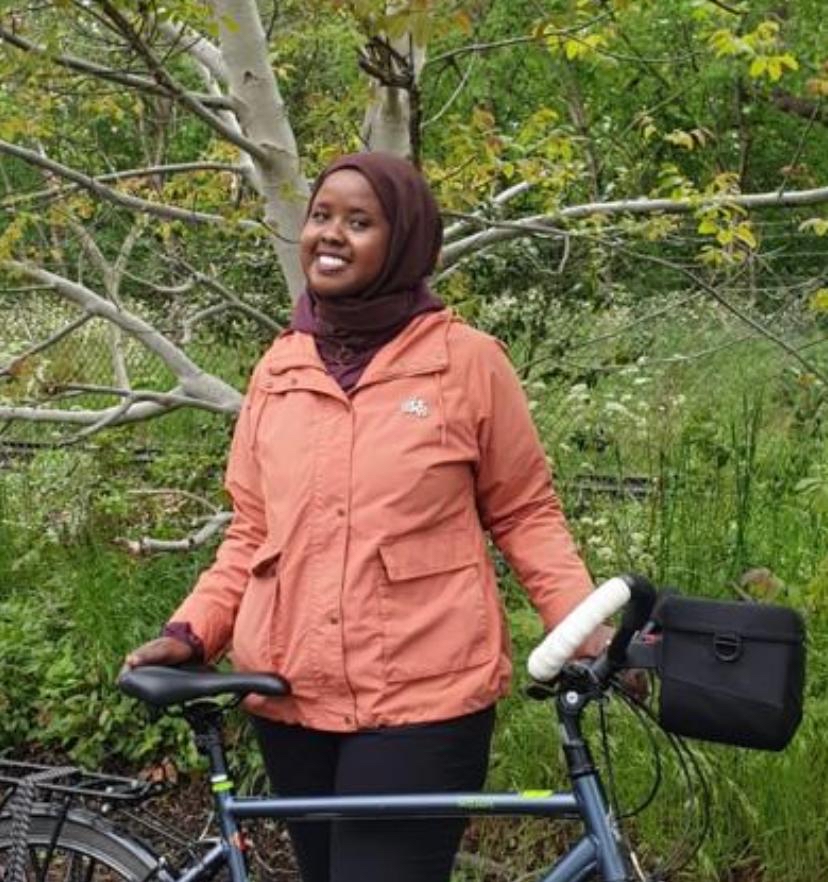 Samra Said
Samra taught herself to cycle by riding around Hyde Park. She bought her first bike in 2014 and took part in a 70-mile team relay, the Tour de Salah. She is a dedicated ride leader and Chair of the Board of Trustees for Cycle Sisters. Samra is passionate about engaging more Muslim women in cycling through weekly social rides, helping them develop new skills, explore their local area and make new friends.
Samra said...
"Cycling is my 4th language and most of its vocabulary is centered in joy and care. On my bike, I stand beautifully strong, aligned with the environment that I pass by while pedalling. I feel even my sight is enhanced, I see all the small details: the ladybird that's made its way onto my helmet, or the Robin that decides to greet me for few seconds, or the way spaces embrace my immense joy.
"I curate routes that satisfy my curiosity for what my body is capable of; I test its strength, reframe its patience and connect with my city, London, and my local borough."
Nominated by...
Samra was nominated for the 100 Women in Cycling by Emma Pajarillaga who said: "Samra joined our small trustee board in March 2020, just as the coronavirus pandemic started, and has thrown herself into the role having a significant impact as an active and dedicated chair. She has offered a wealth of fundraising, strategic and publicity experience and has attended various panels on our behalf including Cycling UK's 'Increasing diversity in cycling communities' event.
"She is an inspiring and engaging speaker and through this work she has ensured that diversity in cycling is championed and that the learnings of Cycle Sisters are shared and benefit many others in the cycling world. 
"As a key spokesperson for Cycle Sisters she is a role model, inspiring other Muslim women to cycle, giving them a voice and ultimately achieving greater equality for all." 
As a key spokesperson for Cycle Sisters she is a role model, inspiring other Muslim women to cycle, giving them a voice and ultimately achieving greater equality for all

 Emma Pajarillaga