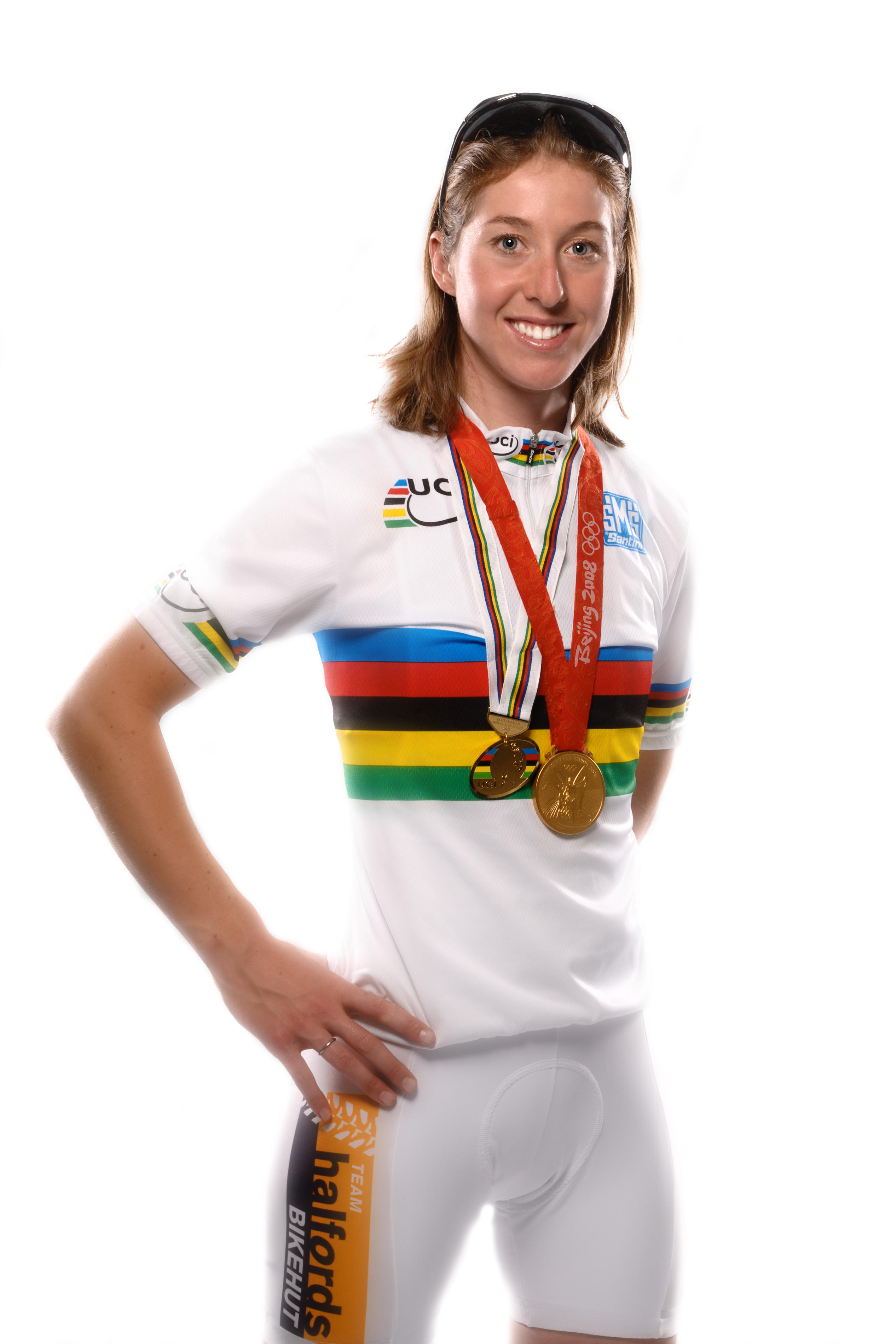 Nicole Cooke MBE
Olympic gold medallist and World road race Champion
Nicole Cooke is a very well-known champion having won Olympic and World gold, 10 National titles, two Tour de France, the Giro, two World Cup Series and the list would go on for quite a while. But her achievements go way beyond her sporting palmares: she is widely commended for having spoken out against drugs, sexism and exploitation in her mission to improve women's cycling. 
Nicole is one of the greatest female road cycling champions Britain has ever produced but, more than that, Nicole has changed the face of her sport for the better, leaving it in a far better place than when she entered it. 
One of her legacies was to get British Cycling to stage Under 16 girls track championships, in parity with the boys. After British Cycling initially refused, Nicole used her determination to get them to change their minds. Nicole said: "Now the track championships are a huge success and a key milestone for riders aspiring to make the Olympic track cycling team and I've very proud of having been able to contribute to such a change".
Among her initiatives, she wrote personally to the UCI President in 2005 asking for equality of cycling events for women at the Olympics, and to the World Anti-Doping Agency to highlight riders' abuse of PEDs and the loosening of anti-doping rules to allow previously banned products to be legal. 
Nicole was a witness at the Department of Culture Media and Sport's Select Committee into Doping and Corruption in Cycling, and has continued to campaign for a minimum wage for female road riders to provide security and protection which should be the minimum foundation in an employment relationship.
"Riders with Olympic dreams on the line are never going to be able to speak as freely as someone on the outside" added Nicole. Her passion and determination to improve women's cycling has kept the spotlight on issues.
Nicole wrote a book, Cycle for life, which combines her passion and enthusiasm for cycling, together with her knowledge, proficiency and experience. It is aimed at cyclists at all levels, with expert advice on everything from getting started to turning competitive, covering commuting, racing and riding with friends. 
Her second book was her autobiography, The Breakaway, published in the summer of 2014 to significant critical acclaim. The Guardian's Richard Williams described it as "a compelling and salutary account of the price she paid for the victories from which many others will benefit".
Nicole started cycling as a young child and it was through family holidays on tandems touring the countryside that Nicole discovered the fun and adventure that cycling can bring. "I am a cyclist at heart, I loved racing and now I love riding for the sheer pleasure of exploring new places, getting to the top of a hill or mountain and taking in the views."
I am a cyclist at heart, I loved racing and now I love riding for the sheer pleasure of exploring new places, getting to the top of a hill or mountain and taking in the views

Nicole Cooke