Julia MacLean
First female suspension technician on the World Cup circuit
Image credit: Connor MacLeod
After getting hooked on mountain biking in her mid-20s and then working in a suspension service centre, Julia has become the first female suspension technician working on the World Cup circuit for Fox Suspension. A qualified mountain bike coach, she also works for Go-Where Scotland leading Mountain Lassies trips. 
Julia MacLean said…
"I came in to cycling a bit later in life. I think I was about 25 when I agreed to do a charity cycling and hiking event with a friend. 
"I wasn't really into the idea, but I reluctantly went to my local bike shop and bought a very basic ex-hire mountain bike. It was a Ghost hardtail with V-brakes. We were both trying to get fit and this seemed like a good way to do it. 
"Within about three rides I was absolutely hooked! 
Fast forward a few years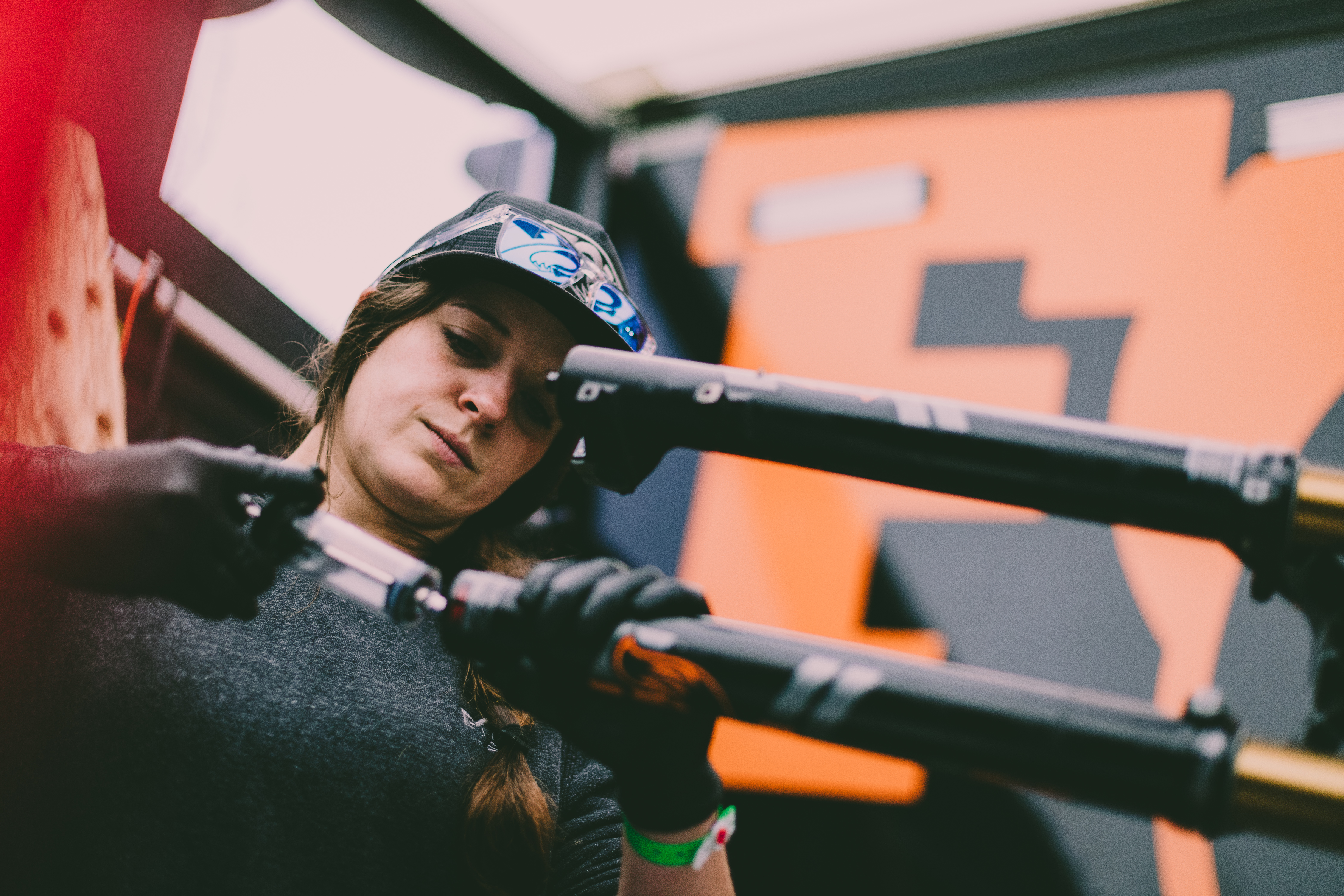 "I'm now a suspension technician for industry giants Fox working as part of their race department at World Cup and EWS races. 
"The journey to this was an unexpected one. Through biking I met my partner, Taj, who ran his own suspension service centre. He was too busy to do all the work himself and I fancied a change, so I decided to help him out. 
"It started with invoicing and answering emails, but thanks to his expert teaching I was soon working on the equipment myself and it turned out I really enjoyed it. 
"He was also working freelance for Fox at the time and I would sometimes go along to races to hang out and give them a hand. At World Champs I was always given the unpopular job of replacing the stock decals on the forks with the custom stickers for each athlete. 
"I loved the buzz of the races and being a part of the team, so I was chuffed to bits when they invited me to spanner for them too. Taj and I decided to close our service centre in favour of travelling the world with Fox full time."
"Although I started out cycling on off road vehicle tracks and paths (which I still love) I soon progressed onto the more technical trails. 
"I'm very lucky to live in small village in Scotland called Dunkeld, which is surrounded by some of the best trail riding you'll find. Between races I love nothing more than taking my Juliana Maverick into the woods around my home to play on the trails, or into the vast Scottish mountains to explore.
"I'm now also a fully qualified mountain bike coach and guide and in my spare time I do some work for Go-Where Scotland, a company I've admired for years, on their Mountain Lassies trips."
Nominated by…
The person who nominated Julia MacLean for the 100 Women in Cycling said: 
"First female suspension technician on the World Cup circuit. Working for Fox Suspension as a technician and featuring in their Dialed video series."