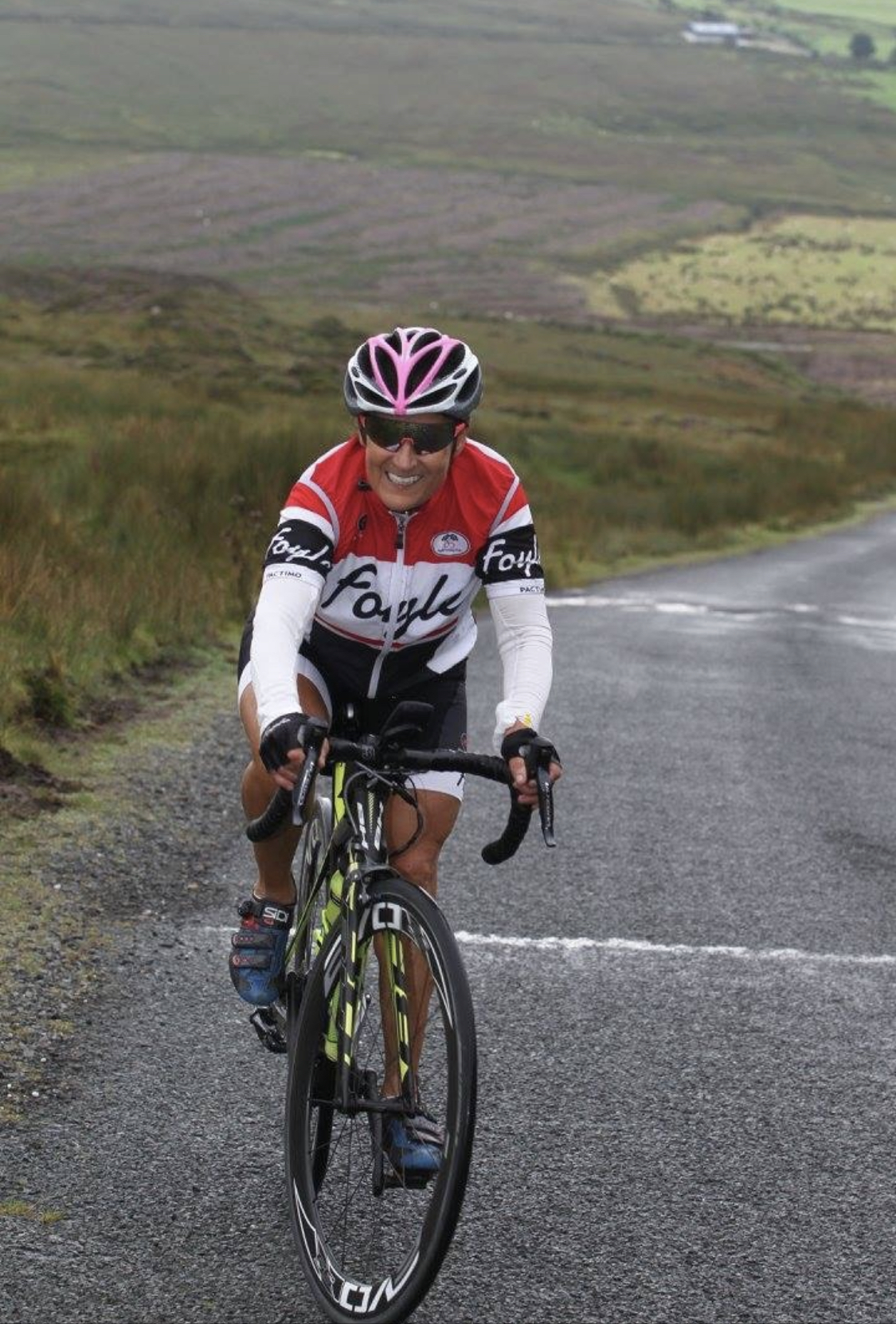 Evelyn Donnelly
Group leader for Cycling Ulster Women on Wheels
After a back injury led Evelyn to switch from running to cycling, she joined her local cycling group. Being the only female member, she set up a ladies-only cycling group to try to encourage more women to take part. It turned out to be a huge success and she is now also a group leader for the Cycling Ulster Women on Wheels programme. 
Evelyn Donnelly said…
"I own and run a holistic centre in Derry teaching yoga and other physical, mental, and spiritual practices. I have a passion for cycling with a desire to inspire and empower women on wheels. 
 
"During my running career I sustained a back injury which lead me to trade my running shoes for cycling shoes. 
"25 years ago, I joined my local cycling club, Foyle Cycling Club. I was the only female member in the club. This led me to form the first ladies-only cycling group, which turned out to be an amazing success.
I was the only female member in the club. This led me to form the first ladies-only cycling group, which turned out to be an amazing success

Evelyn Donnelly
"I soon realised that not all the woman were happy to go out on the roads, but they still wanted to get out on their bikes. So now I have three different levels and abilities out on their bikes and loving it. 
 
"Nine years ago, I was diagnosed with a tumour on my bowel. I was seriously ill for about six months. Whilst in hospital I decided to try and organise a women's-only sportive to raise money for the Foyle Hospice, our local cancer care home. This helped me from going crazy while recovering from my illness. This has been a great success and has grown from 30 woman to over 200. 
 
"For the last three years I have had the honour of been the group leader of the Cycling Ulster Woman on Wheels (WOW) and Bike to Life. The most enjoyable thing I find about cycling is the social side to it, coffee stops, weekends away to compete in sportives and so on. 
 
"My many challenges have included London to Paris, Wicklow 200, Gran Fondo (all three of them), Inishowen 100 (five times), Mizen Head to Malin Head, and Skoda sportives in different counties. Also my holidays include cycling in Mallorca and Italy to take in many of the difficult and steep climbs, much to the annoyance of my poor husband, Noel. 
"For my 60th birthday I had the pleasure of cycling the Inshowen 100 with my son, which was my favourite highlight. My motto is and always will be: Keep It Fun!
 
"During lockdown I ran a series of online yoga classes to help keep the people of Derry healthy and happy. These were free to anyone who couldn't afford to pay."
Nominated by…
Evelyn was nominated for the 100 Women in Cycling by Mark Moroney who said: 
"Evelyn has organised numerous women cycling groups in the Derry/Londonderry area. She has encouraged women to ride their bikes in a non-threatening environment. 
"Every year she organises the Foyle Hospice ladies-only cycle which gets women cycling and raises money for the Hospice. She also leads the Women on Wheels (WOW) program in Derry. This is a Cycling Ulster initiative designed to get more women cycling. Evelyn delivered an eight-week structured program to improve skills and foster fun on bikes."