Mountain biking in the South Pennines
The Penistone-Langsett 8
Distance: 14.2 miles
This ride combines the rolling green pastures and dry stone walls of the countryside around Pensitone with the grand, open vistas of the heather-clad moorland of the Peak District National Park just south of Langsett Reservoir. It can also easily be split into two smaller loops if time is scarce, as you can see looking at the GPX.
The 'northern loop' still starts at Penistone rail station and includes the lovely flat, scenic start along the TPT railpath, looping back via Fulshaw. The 'southern loop' has no rail access and is basically a loop around Langsett Reservoir, including a spectacular climb onto moorland. 
Type of Bike
Mountain bike – full suspension advised, especially due to the rocky descent to the Little Don descending the famous Cut Gate bridleway, though this is the only truly 'technical' section here.
What to Bring
Be prepared for the weather to change quickly on the moors, so even on a sunny summer day, bring clothing suited to a change in weather to cooler or windier.
Eat and Drink
Lots of choice in Penistone or at Langsett. Choose from Bank View Cafe (painted in Polka Dots to celebrate the 2014 Tour de France coming to Yorkshire) and the Waggon and Horses pub. If you love 'Tiny Campsites' then check out the Camping in the Orchard just to the north of Penistone.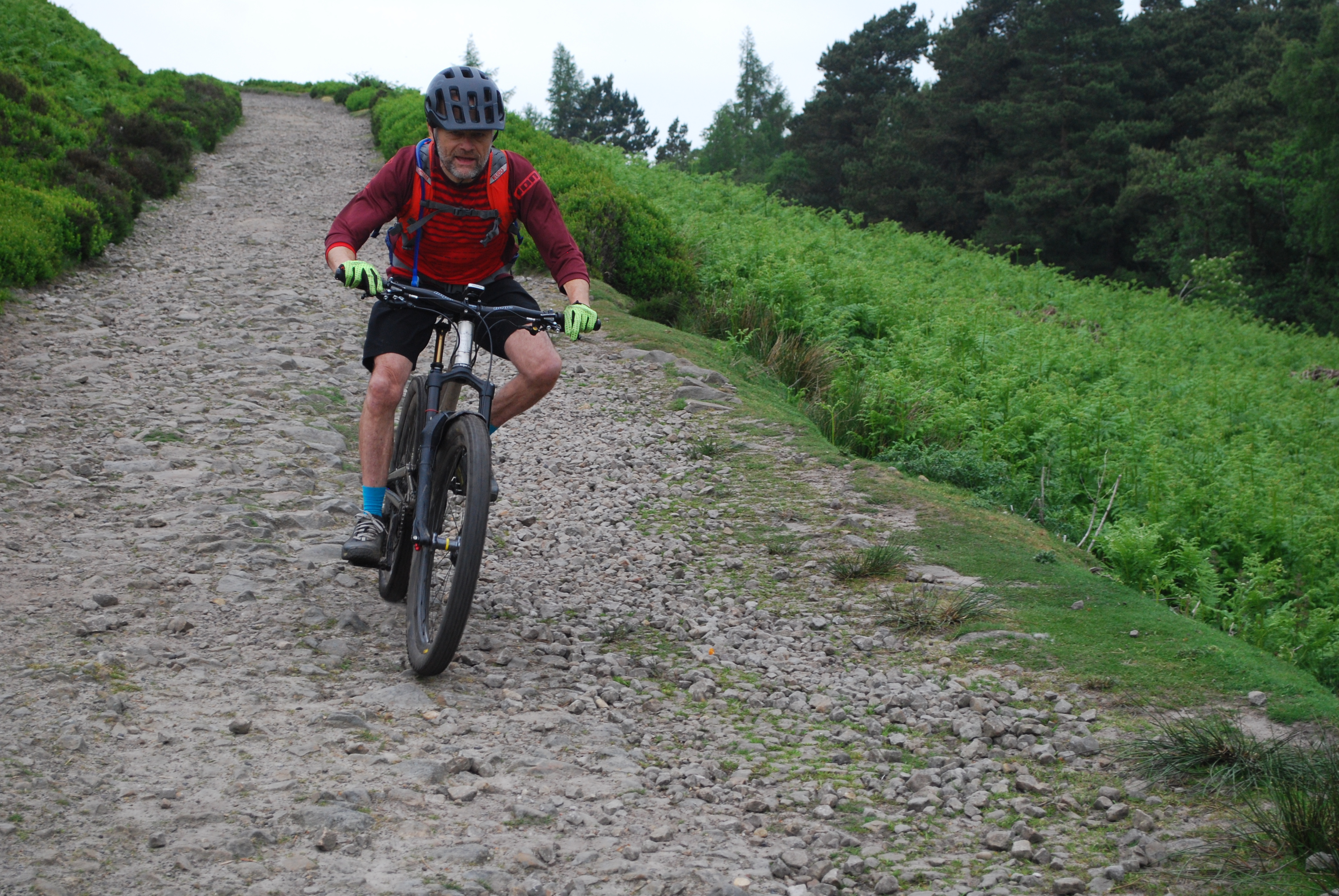 After an easy, scenic start along the TransPennine Trail railpath, easily accessible from Penistone train station, it's easy to miss the hole in the wall near the Carlecotes sign that doubles back over the trail on Cote Bank Bridge to cross Thurlstone Moor, using a section of the Peak District Boundary Walk.
Head along a short section on the old Manchester road before diving onto easy-riding forest tracks to the north-west of Langsett Reservoir and dropping and hairpinning steeply to cross the dam. A fascinating section now starts as you ascend a track through the idyllic hamlet of Upper Midhope, before descending to pick up a wide concrete road that was once part of a WWII tank testing range (nowadays signed 'privilege footpath' - but don't be put off, bikes are allowed).
Briefly dip into the woodland again – a change from coniferous 'monoculture' to biodiverse native species such as oak, before a long and breathtaking climb (in every sense of the word), up an often rocky track to meet the old drovers' road known as Cut Gate at the highest point on the route. The views on this section are stunning and if you do it in summer you may well see Curlews and Grouse. A steep and rocky descent to the Little Don river, complete with trout ladder, is the most testing riding on the whole circuit, so don't worry if you need to dismount.
Take a final cut through the woods to climb Fulshaw Lane bridleway, now on the Kinder Loop, promoted for horseriders but also available to mountain bikers. Again don't be deceived by a footpath sign down the final track descent that heads south to emerge at the hamlet of Ecklands; this is also part of the Kinder Loop and links to a minor road back to the railtrail and Penistone.     
Moors Above the Holme and Colne Valleys
Distance: 25 miles
This area was the backdrop for Last of the Summer Wine filming and as well as its obvious charm, it appropriately offers the opportunity to visit a spectacularly located vineyard. 
Type of Bike
Mountain bike with low gearing. Full suspension not vital (though it will be more comfortable and make for easier riding) as we use mainly reasonable quality tracks here – it's more a combination of some very, very steep climbs and the length that present the main physical challenge. The ride more suitable for regular to experienced cyclists.
What to Bring
Clothing suited to a change in weather to cooler or windier on the moorland. Plenty to drink - it's a physically challenging route with remote sections.
Eat and Drink
Lots of choice: Holmfirth, Marsden and Slaithwaite. Just out Holmfirth you pass the remarkable Holmfirth Vineyard with its beautifully located cafe and restaurant.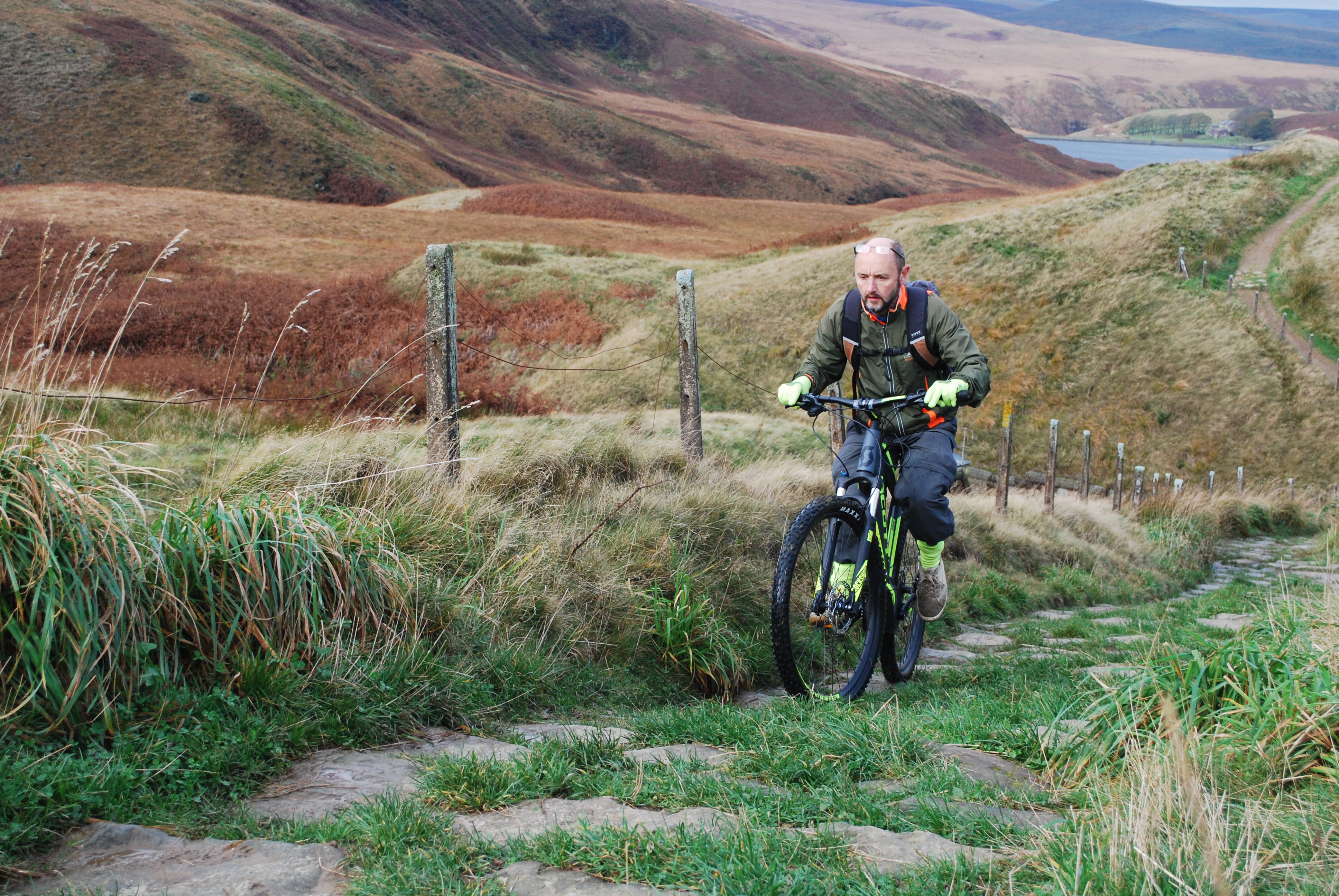 We start at Holmfirth as it's a favourite spot for local and visitors, with its attractive centre backed by steep hills and many cobbled streets. It also gives access to the lovely track over Cartworth Moor. This is the longest of the five rides featured here, but is a lovely combination of sweeping moorland vistas and homely Yorkshire mill towns.
After steep gradients out of Holmfirth and across the Holme valley, at Holme you pick up a wild-feeling track above Digley Reservoir, which hairpins back to the A635 (care needed as you use a short section of it). The descent down the Wessenden Valley is a freewheeling glory as the track has been much improved with drainage works and stone setts, meaning you can sit back and enjoy the glorious scenery for much of the way.
At Marsden, you can briefly head west on the canal towpath to visit the entrance to the Standedge Tunnel – the deepest, longest canal tunnel in the country – and take a cafe break and look in the visitor centre (coronavirus restrictions allowing). Heading back east on the Huddersfield Narrow Canal towpath, (can be badly eroded and with short steep drops at locks) you arrive at attractive Slaithwaite.
Between Slaithwaite and Meltham, the roads and tracks are much easier, and though the gradients are still challenging, you are crossing much lower moorland. A final testing off-road climb out of Meltham heralds a minor road return to Holmfirth, cruising above the Holme Valley.  
Hebden Bridge to Summit via Pennine Bridleway and Rochdale Canal
Distance: 17 miles
A magnificent ride that takes you high above the Calder and Roch valleys exploring ancient trails.
Type of Bike
Mountain bike. Full suspension advised as there are some rocky, technical sections mixed in with plenty of broad tracks and a long length of scenic canal towpath. Reasonable ability / experienced rider level advised as there are some steep gradients on fairly uneven surfaces.
What to Bring
Drink to quench your thirst after the steep climbs out of Hebden Bridge, up onto Rake End and then onto Reddyshore Scout (there are frequent pubs en route, coronavirus restrictions allowing).
Eat and Drink
Hebden Bridge is a mecca for all kinds of shops, from eco-cafes to more boutique style offerings. The Top Brink Inn at Lumbutts serves food as does the Shepherds Rest Inn just before the Salter Rake Gate causeway and the Summit Inn at Summit. On the canal return ride there's plenty of choice just off the canal at Walsden.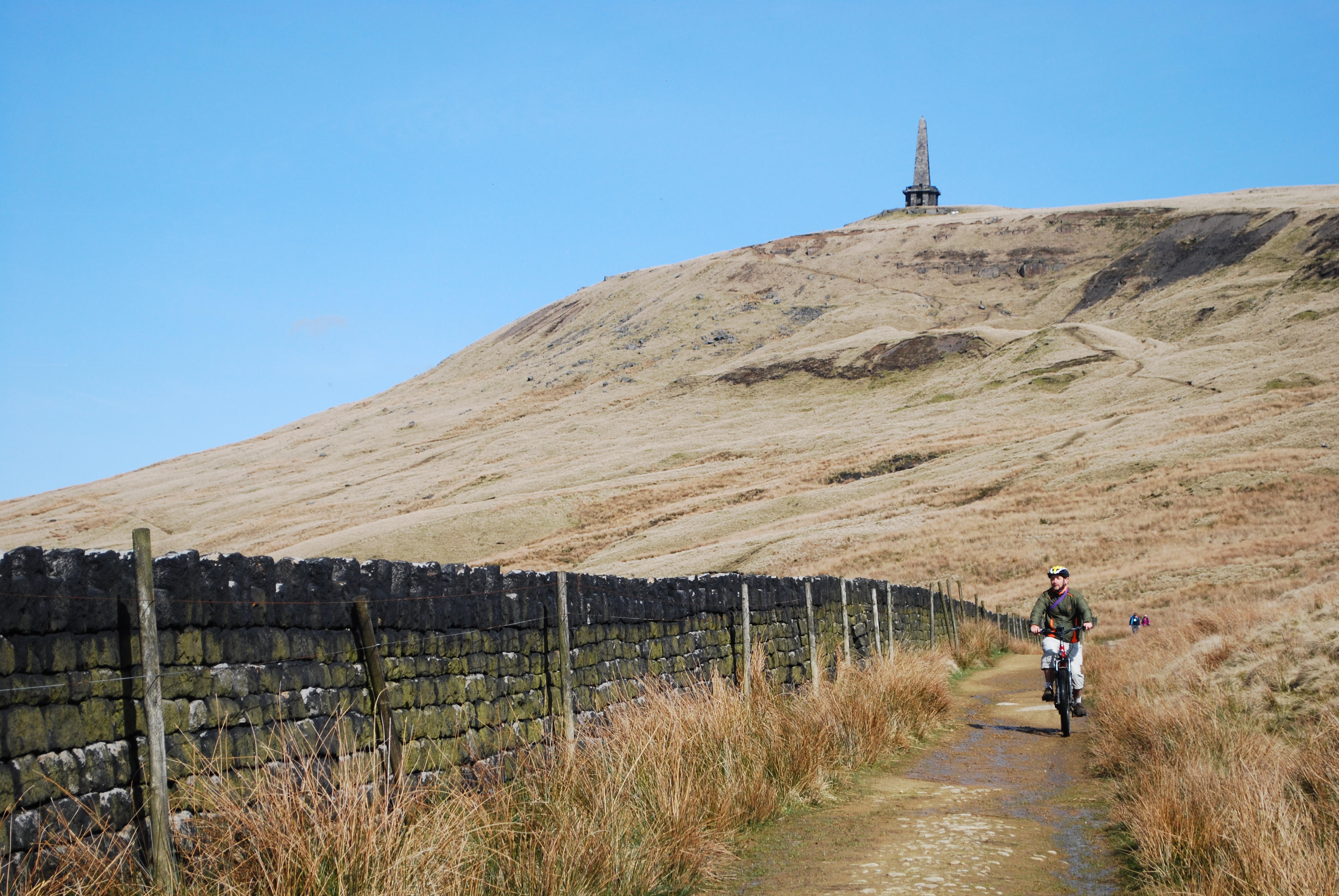 After leaving lively and pretty Hebden Bridge centre along the Rochdale Canal, you double back over a canal bridge and start a long climb – pretty steep in places – as tarmac gives way to cobbles then earth and stone and joins the Pennine Bridleway (PBW). The track levels out then descends under the unmissable Stoodley Pike Monument, proudly standing above you on the eponymous hilltop. It was built in 1856 to celebrate the end of the Crimean War.
The wonderful bridleway section continues to the lovely hamlets of Mankinholes and Lumbutts and bridleway resumes after a brief and easy road section. This is Salter Rake Gate, a huge length of largely intact original causeway made for packhorses in ancient times. You can see the wear of hundreds of years of human and animal traffic worn into the middle of the huge pavers.
After descending through Bottomley, we leave the PBW to briefly double back on the main road and climb back onto another fine section of PBW (this is much easier than actually staying on PBW all the way – the PBW climb to Reddyshore is for very fit expert riders only - or those who like pushing). This fine broad track narrows and becomes rocky at its very end, before we return on the scenic towpath of the Rochdale Canal.  
Around the Tame and Chew Valleys from Greenfield
Distance: 15.5 miles
A wonderful combination of tracks and minor roads hanging high above steep-sided valleys and small mill towns full of charm.
Type of Bike
Mountain bike – hard tail or full suspension advisable. Regular cyclist.
Eat and Drink
Station Brew near route start at Greenfield train station, Grandpa Greenes south of Diggle, Swan pub at Dobcross.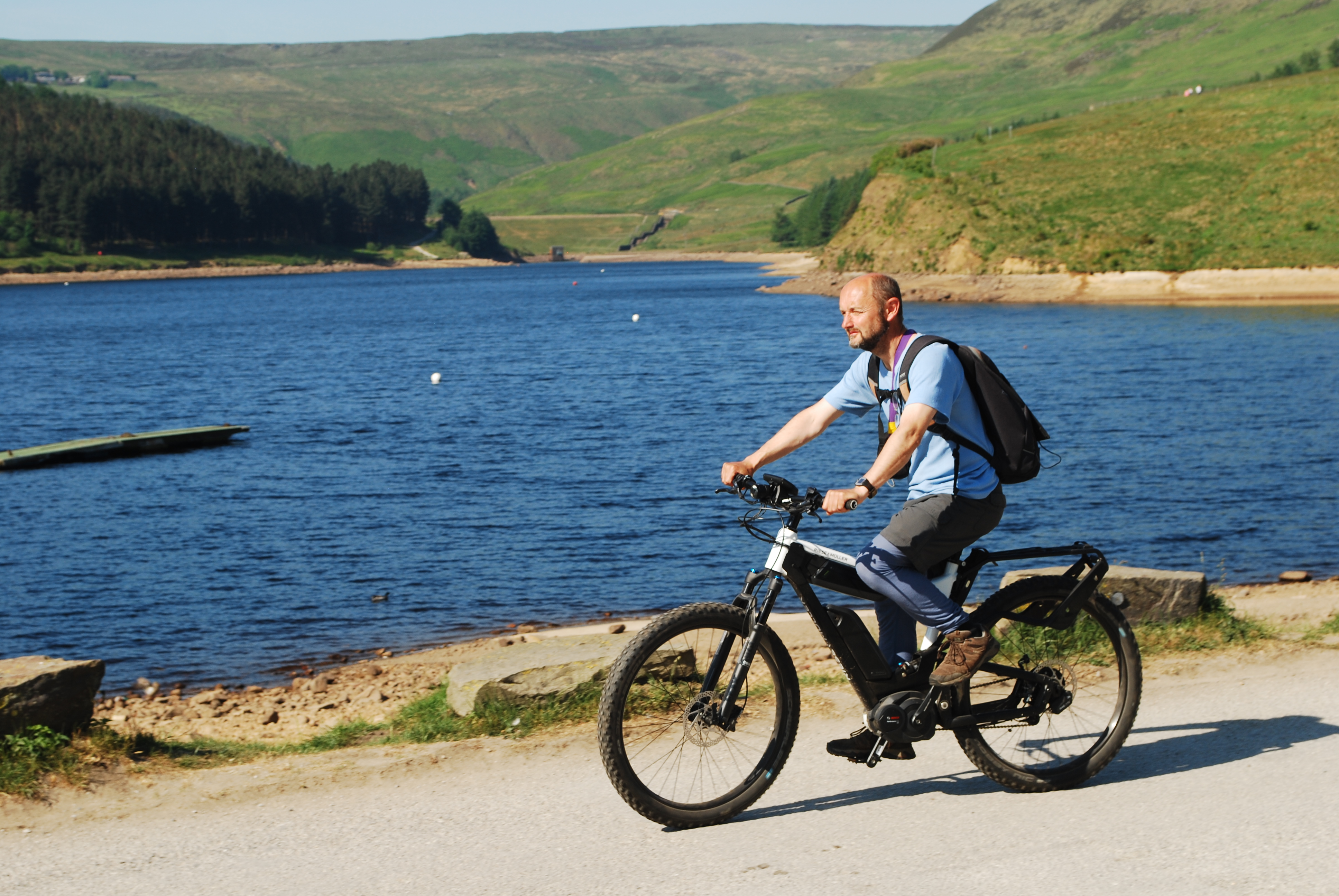 From Greenfield train station, you drop down and head alongside the river Tame, before heading north up the Pennine Bridleway on a gradually ascending, easy track. Road and more track takes you above the valley, before crossing it south of Diggle, passing near the remarkable Huddersfield Narrow Canal on the way (don't miss Grandpa Greene's sumptuous cafe offerings here just on the canal by the route - coronavirus restrictions allowing).
Your return along the west side of the valley involves a steady but steep climb via pretty Dobcross over Lark Hill and a rocky descent to Delph. Through the village's conservation area centre, you pick up the railpath known as the Delph Donkey then head back to Greenfield on Ladcastle Lane with incredible views over the valley.
There is then the option of a there-and-back ride along an old millworkers lane (passing their cottages along the way), for a quick spin around Dove Stone Reservoir perched at the foot of the Pennines proper.
Around Longdendale and the Etherow Valley from Old Glossop
Distance: 20 miles
From the charm of Old Glossop Conservation Area ride out to explore the Victorian dams of Longdendale with their brooding Pennine backdrop.
Type of Bike
Mountain bike or hybrid with large volume tyres. 'Regular' non-expert level, but beware brief sections of heavy traffic.
Eat and Drink
Bulls Head Tintwistle (a short detour off the route up the Pennine Bridleway), Lymefield Garden Centre tea rooms, lots of choice in Glossop (coronavirus restrictions allowing). If you are a camping fan, the Camping and Caravanning Club (CCC) site at Crowden is linked to this route via a wonderful traffic-free lane shown on the GPX file.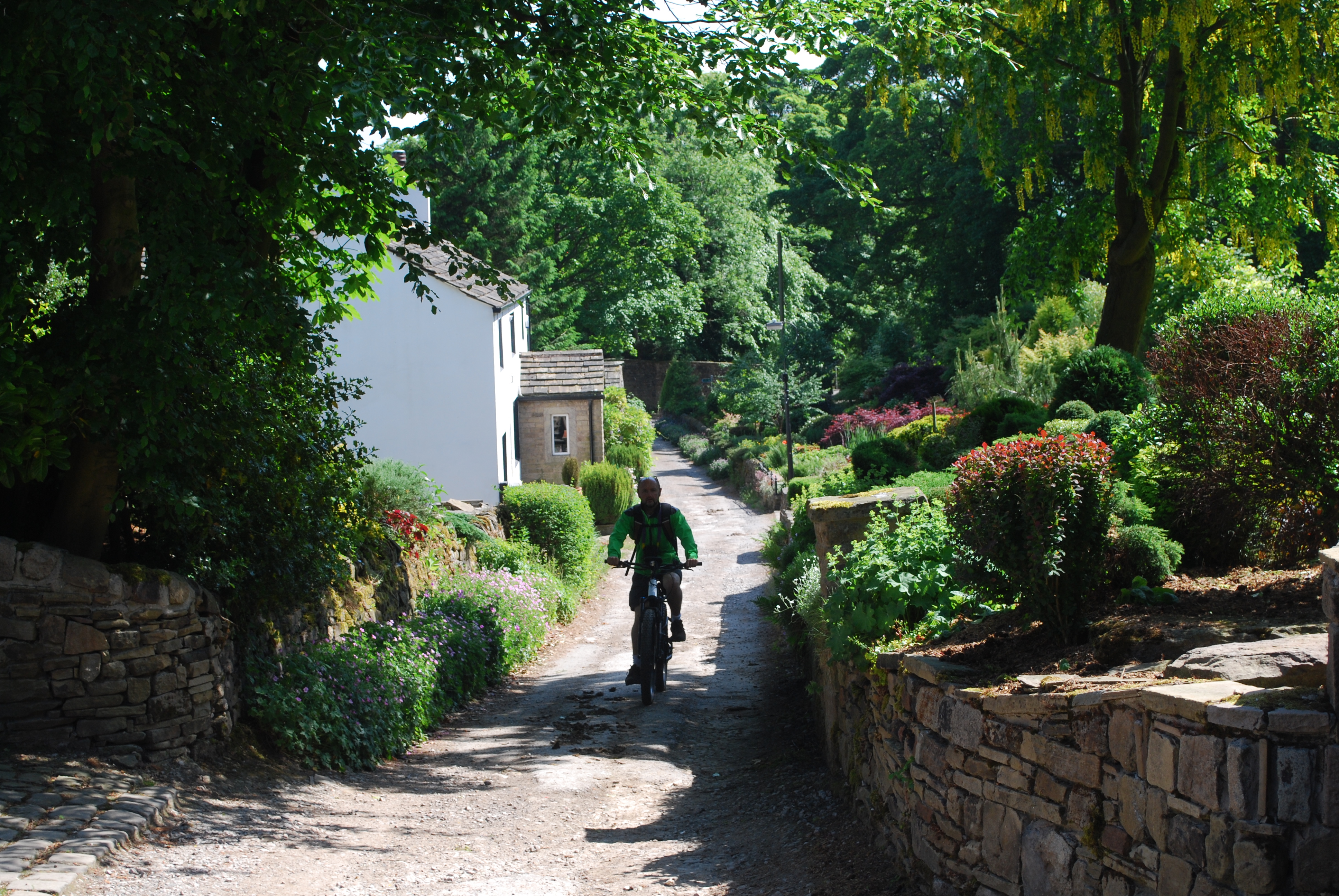 Old Glossop is a lovely little village, centred around its church and is easily reachable from the train station at nearby Glossop. From here, you climb through pleasant suburbs to a track with fine views back over Glossop, circling the site of Norman Mouselow castle. The latter part of the track descends and becomes a little rocky and is technically the hardest part of this route before passing through a park to emerge onto a road at Hadfield. If you don't fancy the rocky section, there is the option of leaving the track and descending by Park Road.
You pick up a section of the Trans Pennine Trail in the form of the Longdendale trail near Hadfield train station, and follow it until Torside dam, a spectacular crossing and a marvel of Victorian engineering, and follow a lovely track along the far side of this string of reservoirs (note that the GPX file shows a link to the excellent CCC site at Crowden along a magnificent traffic-free lane).
Back on the main route, skirt attractive Tintwistle (a worthwhile detour for the Bulls Head pub if you need refreshment - coronavirus restrictions allowing), then follow roads south of Hadfield and through Hollingworth (care on a brief section of the A57 required here), before more great vistas on a reasonably technical track bring you to Mottram. Quiet Rabbit Lane is lined with idyllic residences, and you then flirt with a couple of busy roads before splitting off at Warhill (check out the church and its aged sundial).
Having dropped down steeply to Broadbottom, Lymefield Garden Centre has a fine foodshop and tearooms (coronavirus restrictions allowing), and the site of the old mills here is now a scenic green area and makes a very fine picnic spot. An easy traffic-free section (signs indicating it may be a future section of the Trans Pennine Trail and Pennine Bridleway) known as Gamesley Sidings makes for an easy and pleasant finale to the route back into Glossop centre and down a bridleway to Old Glossop.