Handsworth Community Cycle Club gets dedicated carer zipping around Birmingham
"As a carer, I need to spend at least 30 hours a week sorting things for my mum," says Adrian. "Sometimes that's just phone calls and button pushing, but much of it is spending time with her, just being there for her."
But something was threatening the vital role Adrian had to play in his mother's life: distance. Travelling across Birmingham between his home in Smethwick, and his mother's in Moseley was an ordeal. Without a car he faced a three or four-hour round trip every visit, using a combination of buses and walking. Adrian's own health problems, his bouts of depression and anxiety, complicated this further, wearing him down. But he struggled on for his mum.
One day, a friend of Adrian's turned up for dinner on a bright orange bicycle. She explained that it was a Big Birmingham Bike, given out for free by the City Council to those who apply. It was a lightbulb moment for Adrian, but he was crushed to discover that his postcode wasn't eligible for the scheme.
Nevertheless, some kind people at the council forwarded details of Adrian's situation around the local cycling network, and it wasn't long before Cycling UK's Handsworth Community Cycle Club stepped up to the plate. Club Secretary Simon sorted through the club's recent bicycle donations, and found just the one for Adrian, fixing it up and hand delivering it over Christmas.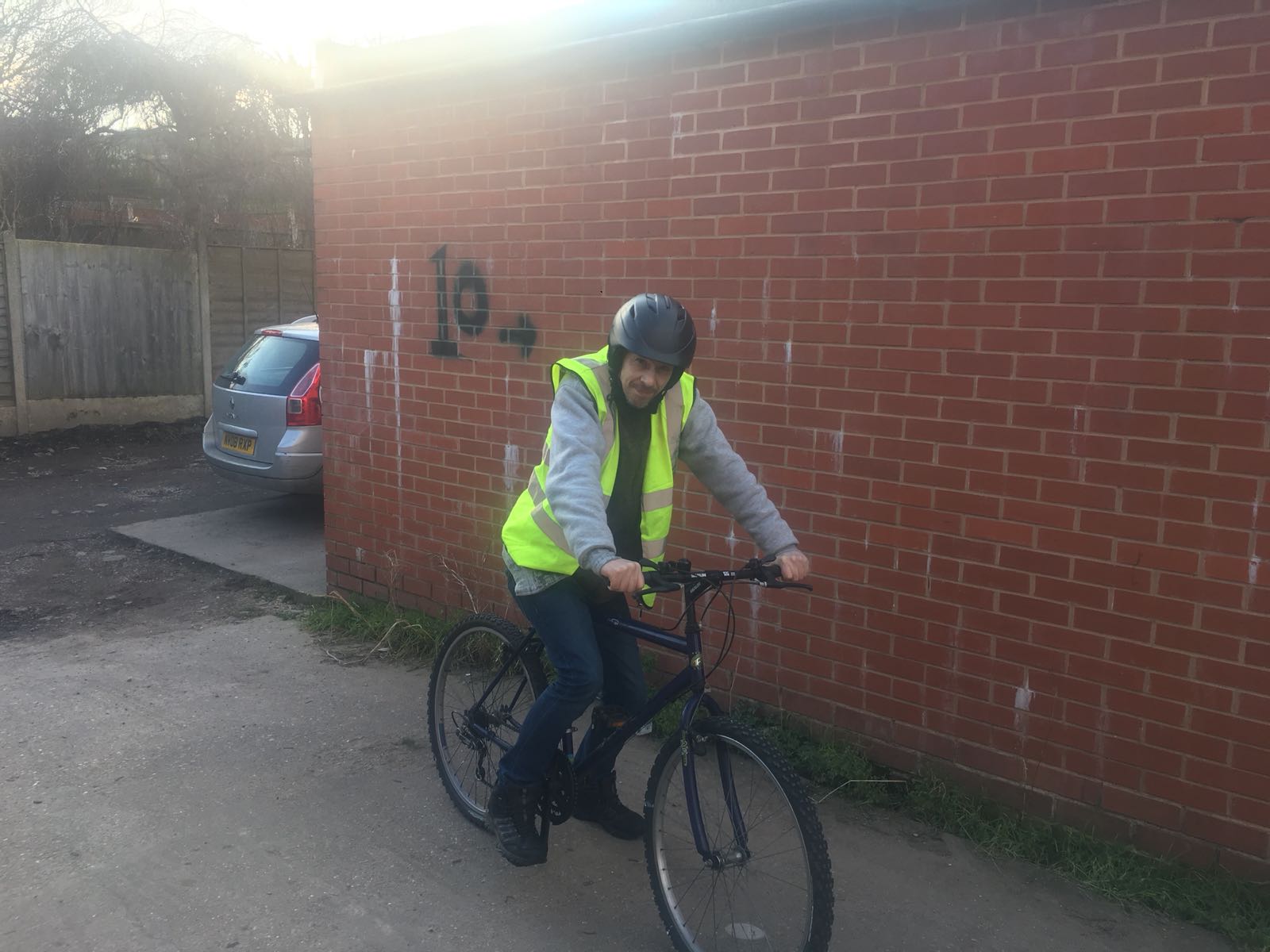 In the weeks since, it's been transformative to Adrian's life.
"It took me 45 minutes at first, but I've narrowed that down to 25 minutes," says Adrian, explaining how he now visits his mum. "A car can do it in 20, flat out and breaking some of the rules. And I get off the bike and my legs don't feel like jelly now!"
Adrian's health is better, his appetite has improved, and the exercise and lifted mood have curbed his smoking habit. This has had a knock-on effect; Adrian's own children aren't fussing and worrying him all the time. His son is looking forward to putting a garden shed together with his dad. The whole family is happier – even the dog enjoys chasing Adrian around the local park in the evening.
Cycling paints a smile on your face, just makes you want to smile.

Adrian
It's opened up a new world. Adrian's now a regular member of Handsworth CCC, and has even moved on from his donated set of wheels.
"When Simon gave me the bike and said it would get me to Moseley and back, he had a twinkle in his eye; he knew I would be upgrading it. It was a gateway bicycle!
 "Cycling paints a smile on your face, just makes you want to smile. When you are thinking about going for a ride, and you are visualising the route, it elevates the mind.
 "It's put some order in my life," reflects Adrian. "It's been a passport to a different way of doing things."