Guide to making Freedom of Information requests
On this page
1.     What are Freedom of Information (FOI) requests?
2.     Which organisations are covered by FOI law?
3.     What kind of information can I request?
6.     How long do I have to wait for a response?
8.     Will I have to pay for the information?
9.     If I'm dissatisfied with the response, can I complain or appeal?
10.    What if I'm dissatisfied with the Commissioner's decision notice?
11.    Sample request
12.    Tips
13.    Further reading
1. What are Freedom of Information (FOI) requests?
Maybe you want to know how many collisions have happened at a local blackspot, whether a risk assessment was carried out for new roundabout, when the council last inspected a road surface in poor repair, or how many drivers your local police force has charged for careless driving.
Sometimes, perhaps, you'll want approach more than one organisation to highlight wider trends, or see how your local authority measures up to its neighbours.
Official information like this isn't always published, but you are entitled to ask for it under legislation passed in 2000 for England, Wales & Northern Ireland, and in 2002 for Scotland.
2. Which organisations are covered by FOI law?
You can send FOI requests to public bodies such as:
Government departments (Dept for Transport, Ministry of Justice, Home Office and so on)
Government agencies (the DVLA, for example)
Councils (all tiers of them)
National park authorities
The NHS, state schools and police forces.
FOI law covers publicly owned companies too (Highways Agency), but not the private sector.
Although you're on relatively safe ground with government departments and councils with a compliant request, the law doesn't cover every single organisation that receives public money (some charities that receive grants, for example).
See the FOI Directory to browse the organisations covered by FOI law.
3. What kind of information can I request?
You can request any information you think the public body has recorded on, for example: computers, in emails or printed/handwritten documents, images, video and audio recordings.
Notes:
FOIs are not the right mechanism for requesting data held on you personally. For this, you need to make a 'subject access request' under the Data Protection Act
Similar but different regulations cover environmental information. If you're unclear about what environmental information is, you'll find it defined in the guide What are the Environmental Information Regulations? on the Information Commissioner's Office website. Think air, water, natural sites/noise, emissions/protective measures/human health and safety/analyses and implementation of legislation and so on. You can make environmental information requests to private or public companies that have public responsibilities (such as water companies).
4. How do I make my request?
You must make your request in writing, giving:
Your name and contact address (post or email)
A clear description of the information you want. Although it helps if you say you're making an FOI request, the organisation should treat it like one even if you don't.
You can send your request by:
Letter, email or fax
Online form (may be available on the organisation's website)
Using WhatDoTheyKnow, a site set up to help members of the public make FOI requests
And even social media (according to the Government).
You can specify a format for their response, for example:
Paper
Electronic
Large print.
Note, you can request environmental information (see 3 above) in person or by phone, and don't have to give your name.
5. How do I find addresses?
You should be able to find email and postal addresses on the organisation's website, many of which cite a dedicated FOI email address. The FOI Directory is a good source too – we find it largely accurate, with a very low bounce back rate.
If you make your request through WhatDoTheyKnow, it will automatically send it to the right address.
Why use WhatDoTheyKnow?
WhatDoTheyKnow makes the FOI process extremely simple.
You don't have to search for addresses, it will prompt you to keep tabs on the responses you receive, and will store, gather and publish everything for you online, including your original request, the reply, any follow-up queries and clarifications.
This means that everything is in the public domain, but it's a convenient feature if you need to make a complaint later on and accompany it with copies of your exchange.
Note, though, that the process for contacting more than one body at once is not yet automated, which means pasting and copying your request by hand to each of them. See Tips below for advice on how to make multiple requests in another way.
6. How long do I have to wait for a response?
The authority should respond within 20 working days. If it needs more time, it should tell you when to expect a later response, but this shouldn't be any longer than 40 days after the date of your request. Note, though, that coronavirus may have affected response times.
7. Can my request be refused?
In some cases, yes, but the organisation has to tell you why, and how to complain if you disagree.   
It might say that the information you've requested is:
Not available, either in part or wholly – that is, the organisation simply doesn't have it
Sensitive (for example, if it breaches national security or damages commercial interests)
Costs too much to provide (£450+ or – if the organisation is a government department, Parliament, part of the armed forces, the Northern Ireland Assembly, Senedd Cymru or based in Scotland – £600+).
Also, they aren't obliged to deal with vexatious or repeated requests.
See Tips on how to maximise your chances of success.
8. Will I have to pay for the information?
Not usually, but you could be charged for photocopies or postage. This shouldn't be much, and the organisation will tell you if it's going to do that.
9. If I'm dissatisfied with the response, can I complain or appeal?
Maybe the organisation hasn't responded, refused part (or all) of your request for no convincing reason, or taken an unreasonable amount of time to send it, then yes, you can complain about this, but you must stick to a process:
First, you must ask the organisation itself to review its response internally; the Information Commissioner's Office (ICO) recommends – but does not stipulate – that this should be done within 20 working days
If you're still not satisfied, you can appeal to the ICO. There are two: one for England, Wales and Northern Ireland (ICO-EWNI); and another for Scotland (ICO-S).
Complaining to the ICO involves:
Doing so within three months of your last meaningful contact with the organisation in England, Wales and Northern Ireland, six months of your review response in Scotland (but check ICO websites above just in case they revise this, for example because of coronavirus)
Completing a complaints form
Enclosing copies of the exchange you've had with the organisation to date. WhatDoTheyKnow (see point 3) reports that, if you use that site, a link to the online record you've created is usually fine with the Information Commissioners.
The ICO will investigate and issue a decision notice or tell you if your complaint isn't valid.
10. What if I'm dissatisfied with the Commissioner's decision notice?
The ICO-EWNI refers you to a tribunal
ICO-S refers you to the Court of Session, but only if you think the Commissioner has applied the law incorrectly, not because you don't agree with their view of the case
Think about other ways to find the information you're after – writing to your local councillor or MP, for example.
11. Sample request
Below is an example of an FOI request Cycling UK sent to the Department for Transport via WhatDoTheyKnow in January 2020. We make the same request every year, so that we can analyse trends, and requests are always answered in full. The mention of vehicles backing out of a private drive was the result of honing.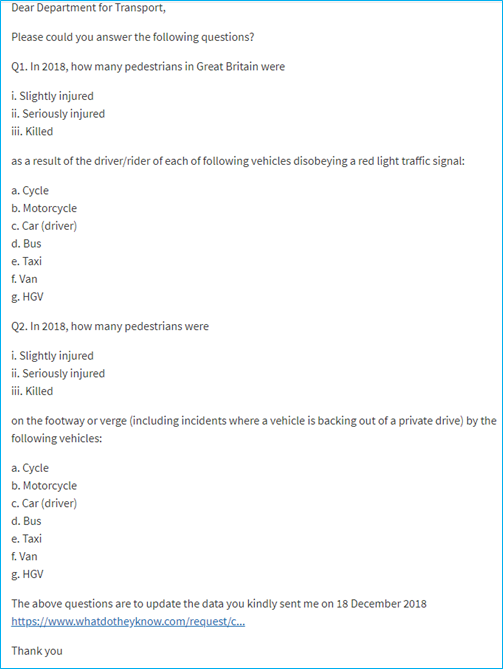 12. Tips
Check that the information you want isn't already available to the public and/or that the organisation hasn't answered the same request before (or repeatedly refused to answer it). Search the websites (some have an FOI section) or WhatDoTheyKnow
Check that your target organisation is covered by FOI law (see point 2)
Satisfy yourself that you're asking the right organisation (although they should tell you if they're not and who is)
Don't make overwhelming requests; you can ask follow-up questions if you need to. Remember that you could be charged a fee
Keep questions focussed and clear. Browse existing requests for some pointers
It sometimes helps to explain, briefly and clearly, why you're making the request
Always be polite, never rude or personal, and don't muddle your request with accusations, complaints or barbed comments
The better structured your request is, the more structured the answer is likely to be. Remember that you're going to have to analyse the results
Before dispatching your request, ask someone else to check your wording for any mistakes or ambiguity
If you're asking for statistical data, you might want it to cover a period of five years or so; single years may reflect nothing more than misleading blips. Remember that it takes a while for some data to be compiled; for example, road casualty statistics for a year don't appear until the following year. To get round this, time your requests accordingly, or ask for data covering the latest five years for which data is available. Being clear about your timespan is crucial when posing FOIs to multiple organisations – if not, you may well get mixed, inconsistent and potentially confusing results
Specify the format you prefer for your answer. For example, supply a spreadsheet/table template – this is especially useful if you're approaching multiple organisations – some uniformity makes analysis so much easier. For requests through WhatDoTheyKnow, you'll need to upload it somewhere and provide a link to it, or paste it into your request
Keep copies of your request and all subsequent correspondence, just in case you decide to complain later on. WhatDoTheyKnow logs your complete exchange, which makes keeping records considerably easier
Always double-check the relevant guidelines, especially for complaints. They may change.
Making requests of multiple organisations:
Download the relevant spreadsheet from the FOI Directory
Format it so that you can send the question as a simple mail merge; there's no shortage of online instructions on how to do a mail merge
Consider asking a small sample first (for example, 10), to assess the response/refusal rate and/or whether you haven't made something clear. This gives you a chance to hone your question(s) before you send off the whole batch
Expect an inbox clog. Avoid this by setting up a mail filter so that all auto-replies and other responses end up in the same folder. If you don't know how, click on your email service's 'help' or 'options' button (email services differ), or search online if that draws a blank
Trim your questions, asking only for the data you absolutely need. This helps maximise your response and makes the job of analysing it less time consuming and tedious
Comparing data from several organisations can be fraught. You must make sure you're comparing like-for-like and that your conclusions are fair (for example, if you find that one council has fixed thousands of potholes, but another only a handful, it may be simply because the first covers a massive area, and the second not much).
13. Further reading
WhatDoTheyKnow's comprehensive explanation of the process, how to avoid pitfalls and make the best use of FOI legislation
FOI Directory, a site run by a journalist advising on who, how and what.